Hair Transplant Turkey Price
Compare Hair Transplant Costs Starting from €1,100
Are you thinking of a hair transplant in Turkey? The cost of a hair transplant in the UK or Europe can be extortionate, but the price of a hair transplant in Turkey is up to 70% less.
Arrange a Free No-Obligation Consultation
We Can Help You Find the Best Price of a
Hair Transplant In Turkey
Checking out the clinics and comparing prices can be a long job, with all the questions to be answered and forms to fill in. We have hair transplant prices from leading clinicians in Turkey. Compare the costs of a hair transplant in Turkey using different hair transplant procedures by filling out one online form. On receipt of your completed form, we will provide the hair transplant prices of several clinics that match your requirements—giving you an overview of the hair transplant cost in Turkey on which to base your decision. We will then pass along your filled-in form to the selected clinics saving you the time of having to do it again.
We provide an all-inclusive package for those choosing to have a hair transplant in Turkey. All your hair transplant costs are included in the price; along with select hotel accommodation and transfers. We have several all-inclusive packages for hair transplant Turkey so you can choose the one that fits your needs and budget. We are with you all the way, our experienced team are on hand to ensure your hair transplant in Istanbul goes smoothly.
No Surprises: Offers for Hair Transplant Costs in Turkey are All-Inclusive
Before You Travel
You will receive several hair transplant prices from clinics in Turkey. On selection of the clinic you want, we will organise your free consultation. All the clinics we work with are renowned clinics with high levels of expertise, offering a range of high-quality hair transplant procedures like FUE hair transplants. You will be put in touch directly with the clinic; we do not use intermediaries.
Once You Arrive
You will be collected from the airport and taken to your hotel to relax before your appointment with your chosen hair transplant clinic Istanbul, all included in the price of hair transplant in Turkey. Your hair transplant treatment is usually one session of 5-8 hours with a postoperative consultation after 24 hours. If you have any questions, we are here to help.
Getting to Turkey
Book a flight ticket like you would any holiday, fitting your timetable and budget. Most of the hair transplant in Turkey clinics we work with include a transportation package, so you do not have to organise any transfers. The only part that you need to take care of is the international travel, and you can bag a bargain if you book at the right time. We will take care of the rest.
Back in The UK
Included in the price of hair transplant in Turkey is a post-care package, with the relevant products and instruction on how to care for your newly implanted graphs. We will also continue to be available to help with any questions or queries on your hair transplant. You will feel taken care of before your transplant, and long after.
A Quick Guide on Hair Transplant Costs in Turkey and How to Save Thousands
A great head of hair is great for confidence, and on the contrary, hair loss can be detrimental to self-esteem. Losing hair is a common problem and it affects people differently, with some of us experiencing baldness much earlier in life than we would like to. You no longer have to accept it for what it is and deal with hair loss – hair transplants have changed that.
Be sure to have your hair loss properly diagnosed before approaching a clinic, as you may not be deemed a suitable candidate if you don't actually have male pattern baldness. This diagnosis can be made by a dermatologist or a hair loss specialist using a physical exam. Hair transplants are an excellent solution for male pattern baldness (MPB) and are becoming incredibly popular. The stigma of having the procedure done of old has long disappeared, and now men of all ages are enjoying the benefits.
Fact. If you are losing your hair and along with it your self-esteem, you may have looked into the possibility of having a hair transplant. Most people looking into the treatment are shocked by the hair transplant costs, and that's usually where the research ends as it's typically very expensive.
Selecting A Hair Transplantation That Fits
We offer a free assessment of your situation to determine if a hair restoration procedure will lead to a natural look. How many grafts you need and if any contributing factors can be solved to stop your hair loss is included in the price for hair transplant in Turkey. Conditions for a hair transplant are individual and depend on the extent of the hair loss problems.
Why The Different Prices For Hair Transplants Turkey?
You will receive several hair transplant prices from clinics in Turkey. On selection of the clinic you want, we will organise your free consultation. All the clinics we work with are renowned clinics with high levels of expertise, offering a range of high-quality hair transplant procedures like FUE hair transplants. You will be put in touch directly with the clinic; we do not use intermediaries.
Different Procedure and Prices For Hair Transplant In Turkey
Book a flight ticket like you would any holiday, fitting your timetable and budget. Most of the hair transplant in Turkey clinics we work with include a transportation package, so you do not have to organise any transfers. The only part that you need to take care of is the international travel, and you can bag a bargain if you book at the right time. We will take care of the rest.
Travel Abroad For The Lowest Transplant Prices
Perhaps you are currently using topical treatments such as minoxidil to help. However, you feel that it is limiting in its effectiveness and would like something more permanent. You can afford the £30 a month for the minoxidil treatment, but the £5-10,000 hair transplant costs in the UK and Ireland may be out of your reach. 
You are not alone. That's some serious cash for many people and not something we all just have laying around. Plastic surgery and aesthetic procedures often come with a hefty price tag in the UK, and unfortunately, hair transplants are no exception. 
The great news is that traveling abroad can significantly reduce hair transplant costs. You might even be able to get a hair transplant at some clinics for as little as €1100. Albeit, depending on your circumstances, this may seem like a lot of money still, it's a relatively small price to pay for a new lease of life and confidence. It's also a dramatically cheaper option than having the procedure done in the UK.
Factors That Influence Hair Transplant Costs
Choosing Which Country to Have Your Hair Transplant
As previously mentioned, where you have your transplant is a significant factor in how much your hair transplant costs. Albeit the level of care may differ from country to country, the techniques and methods of hair transplants are standardised, so the procedures themselves will be near identical wherever you go. Here is some guidance on hair transplant costs for different countries:
As you can see from the table, a hair transplant in the US or UK costs thousands more than in Eastern Europe. It begs the question as to why anybody would have the hair transplant in the UK and risk forking out up to €33,000 for it when the worst-case scenario in countries like Poland would be just €6,300.
There is a certain aspect of comfort and preference for having a procedure done in your own country, we know. The shorter travel times, the closer distance to family and friends for recovery, and so on. But these factors really need to be seriously compared to the cost differences – is it really worth an extra 20 thousand to not have to get on a plane?
You may be wondering exactly why the prices fluctuate so much if the treatments and techniques are practically the same. There's a lot of factors involved, but ultimately it comes down to demand and how sought after a location is. People in the UK would prefer to have their transplant done in the UK, and so the prices are driven up by this desire as traveling abroad would be seen as an inconvenience. The weight of aesthetics and cosmetic surgery just isn't as high in many other European countries either, as it is in the UK, or especially in the USA. Foreigners make up a large number of people in these countries having procedures, so the lower demand keeps the prices lower, too. 
It might be that hair transplant costs in your country are prohibitive or difficult to come by. Or if you can easily afford a hair transplant, who actually wants to throw money down the drain needlessly, when you could save thousands? By choosing an Eastern European country such as Poland, Lithuania, or Turkey, you can dramatically reduce your hair transplant costs and still get the same level of care.
Don't fall into the trap of categorising a 'hair transplant' as being just for the hair on the top of your head. Yes, it's the most common, and it's most hair transplant clinics flagship procedure, but you can have hair transplants in different places, too.
The 21st century has seen a significant increase in the popularity of beards, and pop culture has us believing that a beard is a sign of masculinity. This natural shift in body hair preferences has increased the supply and demand of beard transplants. More men than ever are choosing this kind of transplant to increase their confidence. In short, hair is taken from somewhere else on your body and transplanted to your jawline, for a natural-looking, full and thick beard.
Along the same lines of the male grooming trend, eyebrow transplants are also on the up. More men are considering full eyebrows a priority these days, and an eyebrow transplant is a perfect solution to this. As both beard and eyebrow treatments require less time and usually fewer grafts, these types of hair transplant costs are lower. So the type of transplant you need, whether your head, beard, or eyebrows, will influence the price.
Hair transplants used to be the FUT method. But as time has gone on, even more techniques and advancements have been made. The doctor will recommend the type of hair transplant for your hair loss, and it may be you are given a choice. 
Once upon a time, a hair transplant was seen as a pretty serious procedure to have done and was known to be painful too. Fast-forward a number of years and actually, it's become minimally invasive and essentially painless. So the technique used isn't a case of most or least invasive, it's more about what suits your particular type of hair loss instead. Here is a quick rundown of methods and relative hair transplant costs:
The most important aspect when it comes down to choosing your transplant method is research. You will, of course, receive advice and recommendations from your doctor during your consultation, but you should also be as clued up as possible. Read case studies, look at before and after shots, and equip yourself with plenty of knowledge before you step into a world of unknowns. 
None of the aforementioned procedures are described as painful, and as medicine continues to develop, they are finding new techniques to ensure that it really is a painless process. An example of this is the recently introduced needleless anesthesia.
Be the first to grab our all-new e-book
Before you can truly commit to a hair transplant it is important to understand hair loss. Together with the experts at IdealofMeD, we wrote an e-book explaining everything you need to know about hair loss. From hair loss causes to practical tips on how to deal with hair loss and the best hair loss products.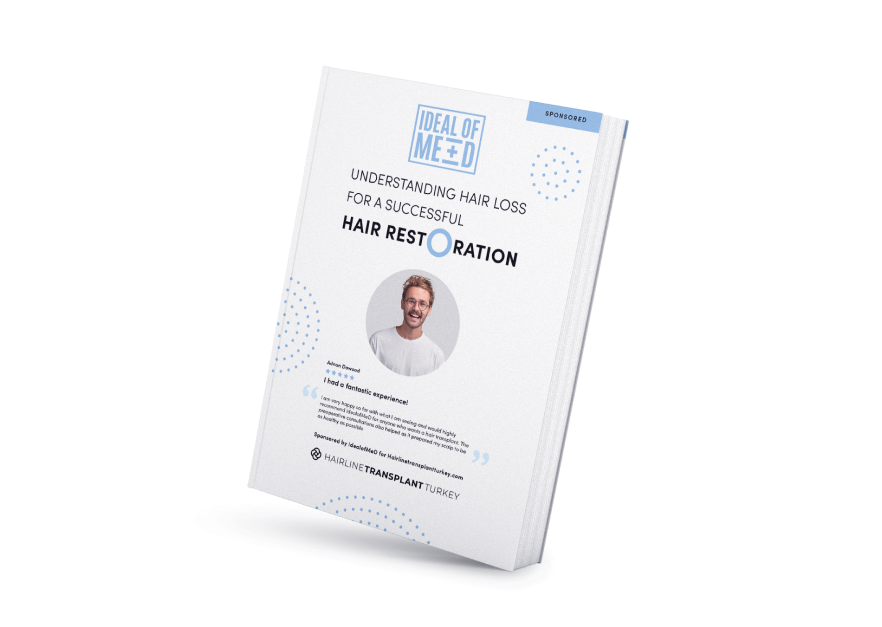 Number of Grafts and Impact on Hairline Transplant Cost
The number of grafts required is the next determining factor for hair transplant costs. Hair loss can be described by using the Norwood scale, which has 7 stages. 
The first stage on the Norwood scale is, unsurprisingly, no significant hair loss or recession. Stage two is described as slight recession, and stage three is when the first signs of clinical baldness actually begin to appear. The stages then continue to increase in severity, with stage seven being described as "the most severe stage of hair loss, with the hair not dense and very fine."
When you have a hair transplant overseas, the clinic will ask to see some photos of your hair. As with anything online, It's not as good as in-person consultation, but it's very useful and the doctor can suggest the number of grafts needed to give you a good result. This is one of the sacrifices you will have to be prepared to make when it comes to cutting costs – having online consultations and appointments won't provide the same level of service as having them face-to-face, but again, we come back to the incredible price difference. 
These doctors performing these procedures have done hundreds, if not, thousands, of procedures on people from overseas. They're more than used to having to assess and make recommendations on Skype and over the internet, so don't think that this is going to result in poorer service, because it won't. It just may not make you feel as comfortable as it would if you were in your home town. 
The number of grafts best suited to your hair loss will vary from 1,500 to 5,000 or more. How many you will need will come down to the severity of your hair loss and the desired result, this will be influenced by your doctor's advice but will also require your input. If you want thick, fuller hair, you're going to want to be at the higher end of the number of grafts, but with this comes much higher hair transplant costs.
Talk to one of our experts about the cost of a hair transplant in Turkey - there is no obligation.
The Cost of Accommodation
It's common for clinics to offer package deals that include a 3-night stay in local accommodation, usually in something pretty luxurious. Since the doctors send so many patients to their partnering hotels, they get the best deals, which will usually be cheaper than booking directly, but it's not always the case. But the clinic you choose may give you the option of choosing what type of accommodation you stay at. You may be able to reduce your total hair transplant costs even further by staying in budget accommodation as opposed to a more luxurious stay in a four or five-star hotel. 
Some clinics will offer a procedure-only package, leaving you to source your own accommodation. The likes of Airbnb is a popular choice amongst patients looking to make a saving on local hotel hosts. 
When considering booking your treatment, do the maths and work out what is the best value for you. If the clinic outlines a procedure-only price, and an all-inclusive price with hotel and transfers, research what the hotel actually costs individually. If it's cheaper to book directly, then do it that way. There's also the option of taking just the procedure and booking something basic.
Albeit it does increase the hair transplant costs, the inclusion of luxurious 5-star hotels is a real perk to these packages. So you're not having a particularly painful or invasive surgery as such, but you're still doing long hours in the clinic and so a nice hotel to come back to can make all of the difference. It's comfortable, enjoyable and will aid your recovery. So weigh up the pros and cons of making a cost-saving to having great accommodation. 
If you're looking for something dirt cheap, book the procedure-only package and find the lowest price accommodation available at the time, even the likes of a hostel or shared accommodation. As long as it's clean and comfortable enough for you to recover, you can get your transplant done at absolute rock bottom prices this way. That said, it's not the most desirable way to do it and isn't something we would necessarily recommend, but it's down to the patient.
Varying Transplant Prices Across Clinics
Hair transplant costs vary with the clinic you choose, for many different reasons. Like with anything, you may be paying for a name or brand if you decide to go with a famous hair transplant clinic. You won't necessarily get anything more for your money here, but some people prefer the branded name over the local one.
Another aspect of the clinic by clinic pricing includes the doctors who will be carrying out the procedure. All hair transplant clinics will have experienced specialists, but those who have doctors with 20+ years of experience or specific accreditations will charge more.
The facilities available at the clinic also play a huge part in the hair transplant costs. If the facility is basic with no frills, you're likely to pay less. With the high-end equipment and state-of-the-word clinics tends to come to a much higher price tag. 
Whether the clinic carries out any other aesthetics or surgical treatments usually plays a part in the hair transplant costs. This is mostly down to the fact that the running costs and operations of larger, more advanced clinics are higher, and so the cost of procedures there too is also inflated.  
Some clinics are just simply cheaper than others. We provide details of several clinics on our website, including full reviews of all aspects including doctors, procedures, and pricing. We're here to make the process of choosing your hair transplant clinic much easier so that your only focus needs to be preparing, recovering, and enjoying your results. You should always choose a reputable clinic that you feel comfortable with, so do plenty of research and remember to read our reviews for further information on each clinic.
Choosing The Right Time of Year
Depending on where you travel from, you will have to pay for flights. This may be a considerable cost if you're traveling from the US. However, flights from the UK are relatively inexpensive to Turkey, Poland, or Lithuania. But, you can further reduce hair transplant costs by picking up a budget flight during off-peak months. Naturally, flying to any country seen as a holiday destination during the summer months, you will find there is an uplift in the cost of your flights. 
Unfortunately, hair transplant clinics never include the cost of international travel in their packages. This is because of the unpredictability of costs, and they may end up out of pocket for doing so. It's a small inconvenience for you as the patient, and a small price to pay for what is a considerably cheaper service overall.
Expect to pay more for flights during popular vacation times from June through to September. Outside of these times, you can get even cheaper flights. Flight costs will still make up only a small part of the overall hair transplant costs. Expect to pay just over £100 for return flights to Istanbul at off-peak times, such as November. Flights to Warsaw, Poland are even cheaper and can be picked up for less than £80. Flights to Lithuania are also very inexpensive and less than £100 during off-peak months. 
There are plenty of travel bargains to be had if you book at the right time and from the right place, so a good tip is to have a good look at travel comparison sites for flights. Some will even allow you to set up alerts when there's a reduction in price. Typically, the earlier you book the better, but this isn't always the case – there are also bargains for booking last minute.  Always remember to try to avoid school holidays too, both local and international. You will experience colossal increases in flight prices if you travel during these windows.
Of course, there are other ways to travel. It doesn't always have to be a flight. If you're really looking to reduce your hair transplant costs and do it for a bargain price, consider alternative travel methods. Depending on where you're going, you may be able to travel by sea, Eurostar, or even coach to some European destinations. Keep in mind that your return travel should be comfortable as you may have some discomfort from your procedure.
Pre-Booking to Save Money
Finally, you can save hundreds of pounds by booking your hair transplant in advance. Just turning up is not going to get you the best deal, whatever you are buying. Hair transplant clinics will reduce your hair transplant costs when you pay a deposit or the full balance before you arrive. 
We would never recommend just showing up, not even just from a pricing perspective. Getting a hair transplant is a big deal, and you should arrive fully prepared and pre-booked with a good idea of what to expect. Check out our reviews section to learn more about individual clinics and book a free consultation today. 
Read 100+ Clinic Reviews To Choose The Best Option For Your Hair Transplant