Plus Hair Clinic Istanbul Review

Plus Hair Clinic Istanbul has been around since 2000, providing hair restoration services and minor aesthetic procedures. There are plenty of options for a hair transplant in Istanbul but Plus Hair promises the finest in patient care and the latest in transplant technology. In this review, we've taken a look in detail at the clinic, the services it offers and exactly what you get for your money.
Plus Hair Clinic Istanbul review content:
Plus Hair Clinic Istanbul Rating
Plus Hair Clinic Istanbul Review Summary
Although the Plus Hair Clinic Istanbul website is available in English, it still doesn't make for the easiest read. Some sections haven't been translated and so there's a confusing blend of Turkish and English in places. This can make it pretty difficult to find all of the answers you may be looking for, so this definitely needs some improvement. As part of the booking process, you will be invited for an online hair loss consultation which is free of charge.
Following your hair loss consultation, you will be given a much better idea of which method is best for you, how many grafts you will need, and how much your transplant will cost. There is no fixed pricing on the website, so this consultation process is the only way to find out.
Pre-Operational Consultations
Plus Hair Clinic does not offer patients any pre-operational kits ahead of their procedure. This is not out of the ordinary and is the sacrifice for not paying any deposits or having any upfront costs. Pre-op care is expensive, and hair transplant clinics aren't paid until after the procedure, so this is a way of protecting themselves.
Although we can justify the lack of a pre-op kit, there's no excuse for their lack of flexibility on rescheduling. Life can be unpredictable, and if you need to rearrange your appointment, we believe you should be able to do so for free. This isn't a service available at Plus Hair Clinic, and it is reflected in their score for this section.
Taking care of all aspects of patient arrivals and accommodation is something we expect as standard. Plus Hair Clinic do just about enough, but there are some improvements required.
You will be met at the airport by an English-speaking coordinator, arranged by the clinic. This is a great way to start your journey in Istanbul, as travelling abroad for a transplant can be daunting, especially if you come alone. This friendly face will help you to settle in ahead of your procedure and ensure everything runs as smoothly as possible.
You will be transported in style with a VIP transfer, taking you to your pre-booked hotel. Accommodation is one of the most important aspects of any clinic review, as it is important for you be relaxed and comfortable, before and after your transplant. It's common for clinics in Istanbul to put their patients up in 5-star luxury hotels, and we've come to expect nothing less. Unfortunately, Plus Hair Clinic provide no information about the hotels they use and so we cannot provide a high score.
Plus Hair Clinic have all of the required technology for a great hair transplant, such as laser measured hairlines and donor area selection tools. Albeit this is great for the procedure itself, there are other important aspects we also take into consideration within this section. As well as great tech, we want to see the best in patient care and comfort at the facility, and some of this information is missing.
There's no mention of important comfort aspects like beds and pillows, or reference to entertainment and food available onsite. Patients will spend hours on end at the clinic and so this is important to have. Plus Hair also does not hold an A-License and is regulated by the Turkish Government, which is a huge tell-tale sign of a professional clinic. They operate from a shop, so this is to be expected and not the ideal setting for a medical operation.
Surgery & Doctor Involvement
Plus Hair Clinic has a Zelal Sağlam on their team, a reputable hair transplant specialist. Despite making reference to Dr. Sağlam, a name is the only information available. We have no indication of the doctors qualifications, background or years of experience. There is also no third-party doctor auditing the procedures, and no guarantee of an English-speaking team. These aspects significantly reduce the score for this section.
You booked your hair transplant, you travelled abroad and had your procedure in Turkey. So what next? In an ideal world, there would be a whole load of aftercare to look forward to. Unfortunately, Plus Hair Clinic do not provide many important aspects of patient aftercare. You will not be provided with any shampoos or medications to aid recovery, and will need to source these yourself. Perhaps the most disappointing thing is the omission of a 90% hair growth guarantee. Without this guarantee, there is no promise of specific results.
We Rate Plus Hair Clinic Istanbul
Following our reviewing process, the modest score of 1.33 out of 5 was awarded to the Plus Hair Clinic. The high-scoring booking process is made as easy as possible for patients, and there's plenty of information available on methods and techniques.
The most disappointing aspect is the lack of aftercare. It feels as though it's made as easy as possible to book your procedure, and then once you've paid, you're sent on your way. Plus Hair Clinic could improve easily on this area, which would result in a higher score overall.
Some of the low scores given to Plus Hair Clinic are due to lack of information. We expect a high quality hotel and a 3-night stay as part of a hair transplant package, and neither of these are promised. This is something that the large majority of clinics use as a selling point, so it's disappointing to see that it has been missed.
Get a free hair loss report today and make sure you get fair offers from clinics
Are Plus Hair Clinic Istanbul procedures done by qualified doctors?
Those booking a hair transplant at Asmed are often interested in having a hair transplant done by Dr. Koray Erdogan himself.
Dr. Erdogan is regarded as a pioneer in the field of hair transplantation. Many of the methods and tools used at the clinic have been designed by him, such as the KEEP, Koray Erdogan Embedding Placer, the KE-Bot, and the KE-Rest. But Dr. Erdogan can't perform all the hair transplants that take place at the Asmed medical centre.
The hair clinic works in a way that is not dissimilar to a designer hairdresser. For an additional fee, you can have Dr. Erdogan make the incisions. An expert team will then complete the process and embed the hairs, once the direction and angle of the hair have been determined by him.
Most people will have a hair transplant that is overseen by Dr Erdogan and performed by other highly trained doctors.
Before and After Pictures
Plus Hair Clinic Istanbul Results And Before and After Pictures
Plus Hair Clinic Istanbul does not publish any before and after pictures on their website. These are arguably the most important element that potential patients want to see, and give the impression of an established clinic. These pictures are, however, available on their Instagram profile and other social media channels.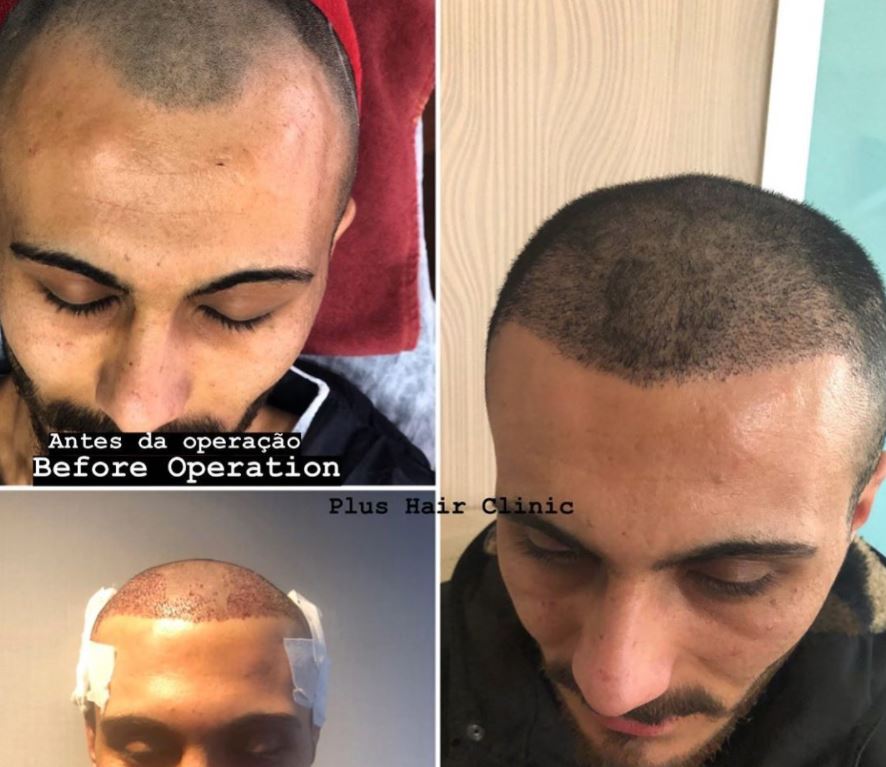 Getting a Hair Transplant in Istanbul Was Never Easier
Plus Hair Clinic Istanbul Transplantation Methods & Treatments
While Asmed performs FUT hair transplantations, the most popular method is FUE where hair follicles are harvested individually. Innovations that you'll find at the Asmed clinic can improve the effectiveness of this treatment. 
If you require a larger number of grafts, then a mega session can be arranged involving more surgeons to harvest and embed the follicles. A maximum number of grafts per session is still 3,000, so the surgery can be conducted over consecutive days for some patients.
Plus Hair Clinic Istanbul Hair Transplants Costs, Available Packages And Extras
Plus Hair Clinic Istanbul does not disclose pricing on its website, and a consultation is required before you can obtain a price for your procedure. The method of transplant will always dictate price, with DHI usually being the most expensive. The standard package at Plus Hair Clinic includes the following:
Regardless of transplant technique and pricing, the standard package will always include the above details. If you're travelling abroad for a transplant, it's important that as much is taken care of for you as possible. These types of all-inclusive packages leave you with very little to do other than book your flights.
Be the first to grab our all-new e-book
Before you can truly commit to a hair transplant it is important to understand hair loss. Together with the experts at IdealofMeD, we wrote an e-book explaining everything you need to know about hair loss. From hair loss causes to practical tips on how to deal with hair loss and the best hair loss products.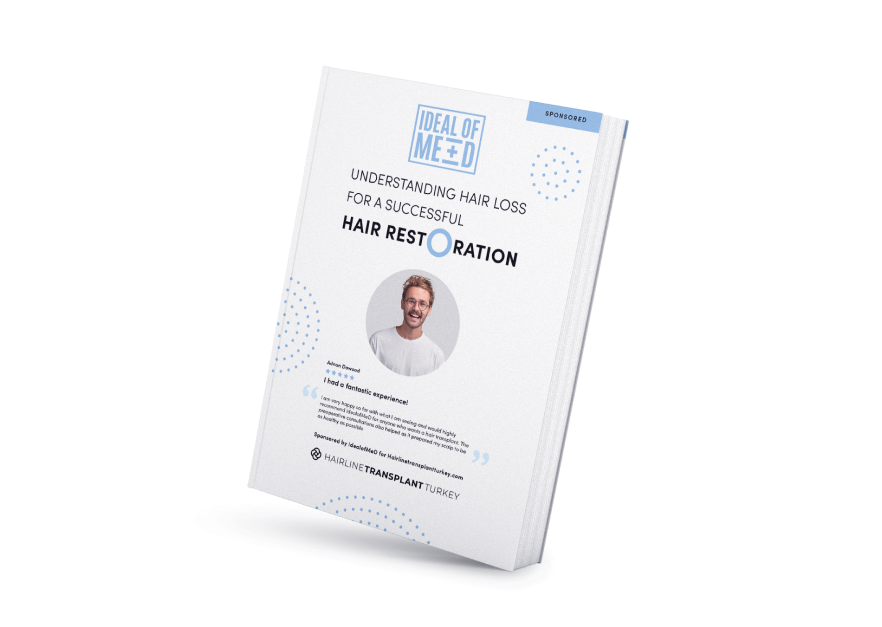 Yes, Plus Hair Clinic Istanbul have a pretty active Facebook profile, featuring plenty of before and after examples. You can find their profile here: https://www.facebook.com/plushairclinic/
No they are not. Plus Hair Clinic is a specialist hair transplantation facility only, and hair restoration accounts for the large majority of their surgeries.
No. Plus Hair Clinic Istanbul does not have an A-License, and is not regulated by the Turkish Government. Although a nice thing to have, this does not mean that the clinic isn't safe.
Contact Hairline Transplant Turkey
Our team of experts are always here to help you. You can call us or fill the contact form for any questions about hair transplantation cost or procedure. We are more than happy to assist you. You can also leave your contact information, and we'll give you a call.
Let us answer your questions