Bellus Clinic Istanbul Review

Bellus Clinic Istanbul is one of the newest places for a hair transplant in Istanbul. Offering many other services, including teeth whitening and laser eye surgery, the clinic is putting itself on the map for cosmetic procedures.
Bellus Clinic Istanbul review content:
Bellus Clinic Istanbul Rating
Bellus Clinic Istanbul Review Summary
The Bellus Clinic Istanbul website is available in multiple languages, including English. This is really handy as it eliminates the need for any poor Google translations, and makes the browsing process much easier. There's plenty of detail about the procedures offered at the clinic, as well as a brief overview of the head doctor, so you're not left wondering what they do and who does it. This all helps massively towards the booking process, but there are some important details missing, too.
The lack of pricing available is frustrating but surprisingly common in the hair transplant world. The nature of the procedure can make it difficult to price, as the amount of grafts and time needed will depend on the individual circumstances. That said, most clinics offset this by offering a free consultation to discuss techniques and pricing, but this is not something available at Bellus, which is a disappointment.
Pre-Operational Consultations
Things don't improve greatly after you've made your booking, with little to say in the way of pre-op service and care. There is a clear travel itinerary available which is a great thing to have when booking your flights and making your own plans, but there's also plenty of other things missing.
There are no pre-op consultations, or nutritional advice and supplements included as part of your package. From the point of booking to do the day of your procedure, you're left to prepare with little input from the clinic. Any medications required will also come at an extra cost to you, so be sure to factor this in.
One of the most impressive elements of the package offered by Bellus Clinic is the service upon arrival in Turkey. It all begins you're greeted by an English-speaking driver who will transport to your 5-star Best Western hotel.
You are promised a comfortable, modern and spacious hotel room with breakfast included for 3 nights, as well as luxury transportation to and from the airport. All of this goes a really long way in terms of helping with your recovery and keeping you comfortable throughout your stay in Istanbul.
The only thing missing, from making this being a 5 out of 5 score, is the lack of blood tests done on arrival. Should you require any blood tests, they will need to be carried out separately and so will result in additional costs outside of the standard package you have paid for.
Bellus Clinic in Istanbul promises comfortable beds and surroundings, good entertainment and lunch included, all of which will help to make your stay at the clinic much more enjoyable. So between your 5-star hotel and this comfort at the clinic, you know you are going to be well looked after.
The technology available at the clinic is of a high standard and they can carry out the most complex of hair transplants. The facility predominantly carries out hair transplantation services, but does have other aesthetic procedures available such as teeth whitening and laser eye correction surgery, all done by specialists.
Surgery & Doctor Involvement
Hair transplants at Bellus Clinic are carried out by Dr Kurshat Yalvach, a respected specialist in the field. Dr Yalvach has been a speaker and trainer at numerous medical aesthetics events and conferences. Having such a reputable doctor is an important aspect when booking at any hair transplant clinic, so Bellus definitely ticks this box. The medical team are English-speaking so you will feel reassured during the operation.
The great news with Bellus clinic is that there is a 90% hair growth guarantee, meaning that you will see significant improvements following your procedure, or you will get your money back. Only a clinic that is completely confident in its ability would offer such a guarantee. Patients are also given 3 months worth of aftercare vitamins, medications and shampoos to help with the recovery process, something that isn't given everywhere. The reason for the lower score is that there are a few elements missing, including no financing options. For better affordability, we would like to see all clinics offer some kind of monthly payment option, without having to pay in one large lump sum.
We Rate Bellus Clinic Istanbul
We've given the Bellus Clinic a modest score of 2.5 out of 5 as there's a pretty even split of things they do well, and things they don't do so well.
The booking process is simple and the Bellus Clinic website contains plenty of information for prospective patients looking for more information. The accommodation offered and the service from the second you arrive in the country is impeccable, with the VIP transfers and English-speaking coordinator just putting the cherry on top of the whole thing.
The lower-scoring areas such as the aftercare could really do with some improvement. It's a shame to be so well looked after when you arrive in Turkey, and throughout your procedure, and then to be let down with the level of aftercare once you leave. The Bellus Clinic could improve this fairly easily, and this would increase their score greatly.
Get a free hair loss report today and make sure you get fair offers from clinics
Are Bellus Clinic Istanbul procedures done by Dr Kurshat Yalvach?
Dr Kurshat Yalvach has involvement during every hair transplant procedure carried out at Bellus Clinic. His many years of experience in the field gives him the superstar status, and he's often used as 'the face' of the clinic in their promotional material. With such a reputation, it's no surprise that all patients would prefer to be taken care off by Dr Yalvach. Despite overseeing the department and treatments, there's no guarantee that he will be the one performing your procedure.
There are other doctors at the clinic carrying out hair transplants, all of which are also specialists in what they do. So despite the potential disappointment of not working with Dr Kurshat Yalvach, you have nothing to worry about when it comes to which doctor actually does your procedure. Generally speaking, the likelihood is that Dr Yalvach will oversee your case, while other team doctors will perform the actual hair transplant. You will still receive a great level of service and professionalism regardless.
Before and After Pictures
Bellus Clinic Istanbul Results And Before and After Pictures
Bellus Clinic Istanbul has a whole section of its website dedicated to before and after pictures. The gallery features hundreds of examples from a wide variety of cases, including patients of all ages and varying degrees of hair loss. This is a great place to start if you're considering using the clinic for a transplant.
Getting a Hair Transplant in Istanbul Was Never Easier
Bellus Clinic Istanbul Transplantation Methods & Treatments
Bellus Clinic offer a variety of techniques for hair transplantation, including: FUE (Follicular Unit Transplantation), DHI Technique (Direct Hair Implantation), Perkutan Technique and Sapphire Technique. The type chosen will depend on a number of factors, including severity of hair loss, doctor recommendation, patient preference and budget, as they all vary in price.
The FUE technique is the most well-known technique used in hair transplants, but with the technology developing quite rapidly, the Sapphire method is quickly becoming the preferred way. The Sapphire way is known for exact precision and pain-free transplants. The clinic also offers several other minor aesthetic procedures like teeth whitening and Botox injections.
Bellus Clinic Istanbul Cost of Hair Transplants, Available Packages And Extras
Bellus Clinic Istanbul do not specify a price for their treatments, and put it down to a case-by-case basis. This is fairly common practice, and it's true that the level of treatment required will differ depending on the individuals hair loss. Either way, in the standard package you can expect plenty of value for money, with the following coming as standard:
The accommodation and pre-care services provided by this clinic are first-class, and patient comfort is clearly of the upmost priority which is always great to see. You will need to contact the clinic directly and book a consultation for a clear outline of price, as this is quoted by the doctor after a full assessment.
Be the first to grab our all-new e-book
Before you can truly commit to a hair transplant it is important to understand hair loss. Together with the experts at IdealofMeD, we wrote an e-book explaining everything you need to know about hair loss. From hair loss causes to practical tips on how to deal with hair loss and the best hair loss products.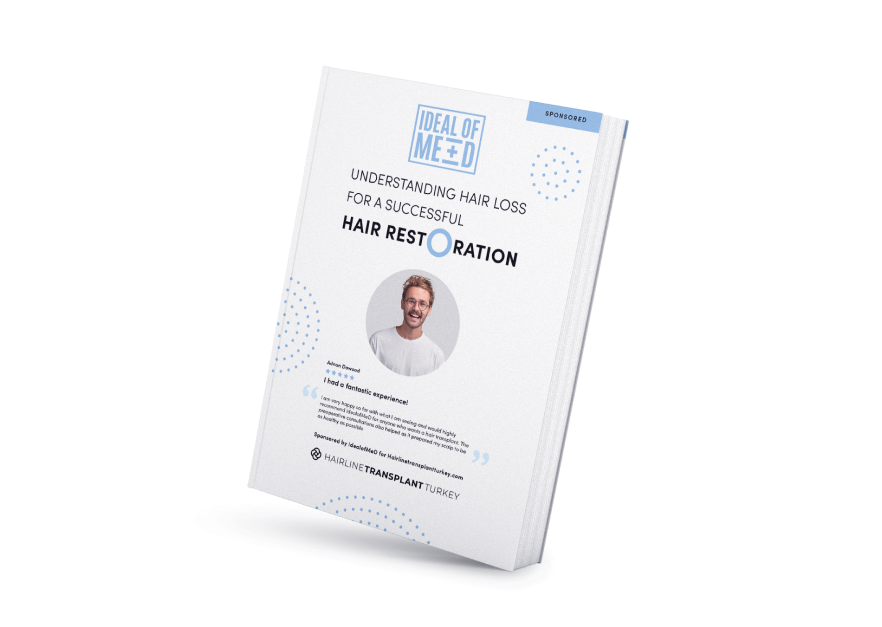 Bellus Clinic is indeed on Instagram and their profile is active with a lot of great content, all written in English. You can follow them using the handle bellusclinic_en
No. The Bellus Clinic is a specialist aesthetic clinic, carrying out hair transplants and minor aesthetic procedures. It is not a hospital but has a clean medical environment with procedures carried out by specialist hair transplant doctors.
No, Bellus Clinic Istanbul does not have an A-License. That said, they still maintain high levels of safety, cleanliness and professionalism. Many clinics operate without this license and it shouldn't be a reason not to use one.
Contact Hairline Transplant Turkey
Our team of experts are always here to help you. You can call us or fill the contact form for any questions about hair transplantation cost or procedure. We are more than happy to assist you. You can also leave your contact information, and we'll give you a call.
Let us answer your questions