Hairtransplantation.com Review

Hairtransplantation.com provides affordable hair transplants in Turkey. They concentrate on providing extremely high-quality hair transplants as part of their all-inclusive packages, as opposed to many other clinics that place more emphasis on a wonderful all-inclusive experience than on high-quality hair transplants, which is obviously not the main concern for all hair transplant patients. 
What other services does this business provide, and how does it stack up against other Turkish clinics?
Hairtransplantation.com review content:
Hairtransplantation.com Rating
Hairtransplantation.com Review Summary
Using Hairtransplantation.com, reservations are simple. In addition to WhatsApp, Messenger, and the contact form, there are phone numbers and email addresses on the site's footer. When tested, the Whatsapp and Messenger services were responded to in just a few minutes.
Pricing is also prominently mentioned on the website. Every month, the clinic offers about 100 Early Bird Packages. The package cost is €2,200 and covers a 12-month aftercare period, a premium FUE or DHI hair transplant, transportation from the airport and between the hotel and the clinic, and four-star accommodation. Unfortunately, there's not much in the way of additional perks or luxuries involved.  These  packages are in limited quantity, so it is advisable to book early.
Hairtransplantation.com are part of the Medinor Sağlık Hizmetleri ve Turizmi Group. This is the same company as the IdealofMeD Clinic, which is known for providing the highest quality hair transplants in Turkey.  The site has a lot of information about hair transplants, before and after results and more.
Pre-Operational Consultations
Before the surgery is arranged, a free consultation is held to examine the patient's eligibility for a hair transplant and the most effective approach to the process. You will also receive information on how to best prepare for your hair transplant, along with your detailed itinerary.
Additionally, Hairtransplantation.com provides a good amount of guidance on its website such as tips, nutritional advice, what to expect and more.  The site has a lot of information when compared to many other websites, much of which can further assist you to prepare.
Hairtransplantation.com does not offer financing options. A deposit is payable on booking and the rest can be paid when you arrive in Turkey. You maybe reschedule one time for free, then there will be a fee involved.
Patients are catered to by Hairtransplantation.com as soon as they arrive in Turkey. A driver that handles collection from the airport as well as trips from the hotel and clinic, as necessary. From the airport, you will first be taken to the hospital for a blood test, before heading off to the hotel which is situated close.
Hairtransplantation.com aims to assist you in avoiding irrational expenses associated with extended stays in Turkey and opulent travel. Instead, they provide quality where it should be, namely in the hair transplant's quality. As such, a 4-star hotel is on offer for 2 nights and you have to pay extra for additional nights. Transport back to the airport is on the same day as the first wash.
Consider Hairtransplantation.com for a 5-star surgery same as with their premium brand IdealofMeD, if you don't mind a little reduced stay in Turkey and want to focus on your hair transplant, and not tourism.
This is clearly the area where Hairtransplantation.com stands out from the crowd. The clinic's infrastructure is flawless, and only high-quality and secure procedures are provided there.
The clinic performs hair transplants in a pristine environment with access to all contemporary instruments necessary for the surgery. The same reputable and well-regarded IdealofMeD clinic operates Hairtransplantation.com.
Surgery & Doctor Involvement
The personnel at the clinic are industry leaders. The clinic has made the biggest investment in this area. Depending on what you and your doctor agreed upon during the appointment, they can do a premium hair transplant on you using either the DHI or FUE technique and make use of the ground-breaking ICE method to ensure success. Dr Demiral, MD is on site and oversees all operations.
Communication should be simple because everyone on the team speaks English. You can request an interpreter if you don't speak English well, however there may be an additional fee. This can be arranged prior to your visit.
As previously mentioned, financing is not an option at Hairtransplantation.com. However, this facility has considerably more affordable costs than other hairtransplantation clinics, which makes paying for the surgery easier in several ways. The facility provides excellent post-procedure care as well as informational materials. For aftercare, you will have 10 days of aftercare. The clinic offers a mobile app, which is something we have not come across before. 
Even though there wasn't any further information about the application on the website just yet, the clinic can benefit greatly from this as not many other organisations have something similar accessible just yet.You will also receive a post-op care package, which further assists with the success of a hair transplant. Additionally, the facility promises that new patients will see a transplant success rate of 90%, although the overall success rate is listed as 98.8%.
We Rate Hairtransplantation.com
Hairtransplantation.com received 4.0 out of 5 stars from us. This places it at Number 5 on our Review list.
The services offered don't only include a top-quality 5- hair transplant, but extend to support, both before and after the treatment, and with the addition of the mobile app, you will never feel alone. Looking at Trustpilot, at the date of writing they have an overall rating of 4.4 stars, which is impressive for a facility that only recently opened its doors.
When comparing to other hair transplant clinics, we found that this package comes in as a "No-frills attached" option, that offers top-quality hair transplants, with an excellent success rate, that doesn't make you pay for the non-necessary luxuries.If you're considering getting a hair transplant, you should consider the hairtransplantation.com clinic. These packages tend to sell out quickly, so make sure that you book soon!
Get a free hair loss report today and make sure you get fair offers from clinics
Are Hairtransplantation.com procedures done by qualified doctors?
Yes! All of the medical team is highly trained and experienced in their field. Dr Devrim Demirel, the Head of Medicine, oversees all hair transplants.
Before and After Pictures
Hairtransplantation.com Results & Before and After Pictures
There is an entire page dedicated to Before and After, which includes pictures of previous clients. They also use this section to describe, in detail, what you can expect after the surgery. 
Getting a Hair Transplant in Istanbul Was Never Easier
Hairtransplantation.com Transplantation Methods & Treatments
The techniques employed, such as FUE and DHI, are the most up-to-date in the industry with the greatest outcomes. Despite the popularity of both of these methods, DHI offers the most natural outcomes and the quickest recovery times. In addition, they make use of the revolutionary ICE Method to preserve the hair during transplantation.
As well as conventional hair transplants, Hairtransplantation.com also have packages for beards and eyebrows.
Hairtransplantation.com Costs, Available Packages And Extras
The information available on the website is very detailed and explains exactly what you get for your money,
The Early Bird Package costs €2,200, which is a saving of €200 and includes;
Other Clinics People Are Reading About
Other people who are looking for simialr hair transplantation packages also looked at 
Be the first to grab our all-new e-book
Before you can truly commit to a hair transplant it is important to understand hair loss. Together with the experts at IdealofMeD, we wrote an e-book explaining everything you need to know about hair loss. From hair loss causes to practical tips on how to deal with hair loss and the best hair loss products.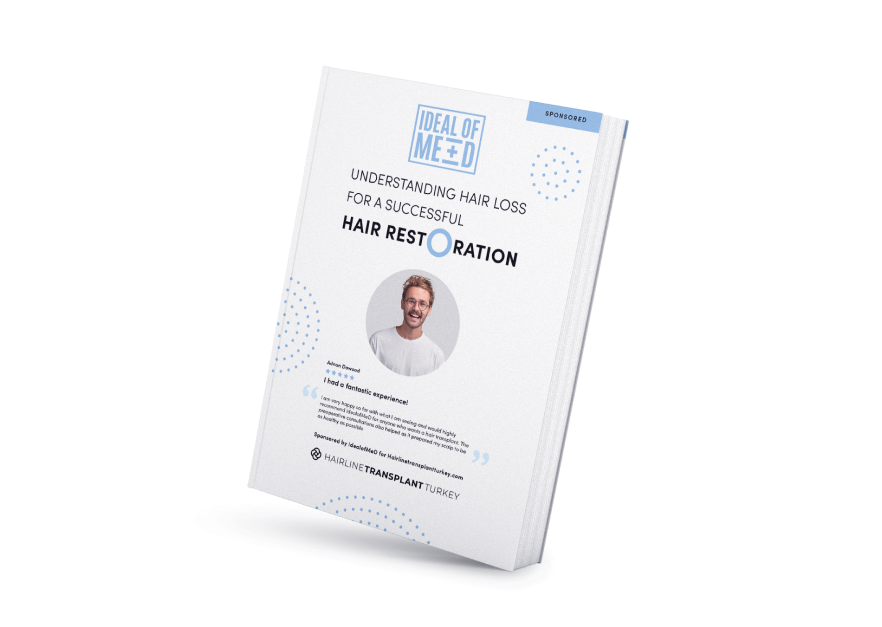 Not yet. At the moment, you can only vist their website.
Yes, they share facilities with IdealofMeD Hospital. It's located in central Istanbul and is considered to be one of the main locations for exclusive overseas patients with over 29 specialist doctors.
Yes! The pioneering app is desgined to help you get the best possible results from your hair transplant journey.
Contact Hairline Transplant Turkey
Our team of experts are always here to help you. You can call us or fill the contact form for any questions about hair transplantation cost or procedure. We are more than happy to assist you. You can also leave your contact information, and we'll give you a call.
Let us answer your questions