Cosmedica Clinic Turkey Review
Expert review from Tom Davis (updated 2023) + Patient reviews collected bi-weekly from:

Thinking about a hair transplant in Istanbul? Then you're in the right place, We're here to tell you all about the Cosmedica Clinic Turkey, where you can get a whole new head of hair for as little as €2,300 but frankly most likely would pay € 5,000 to get what you want.

Cosmedica Clinic Turkey review content:
Cosmedica Clinic Turkey Rating
Cosmedica Clinic Turkey Review Summary
This clinic review was first published in July 2020, with the most recent update performed in August 2023 to maintain its relevance and up-to-date information. Should you have any remarks or desire to connect with past clients of Cosmedica, kindly express your thoughts through the Hair Back App.
Our Experience with Cosmedica: Step-by-Step
What is the customer experience like at Cosmedica? Tom decided to put this clinic to the test by contacting them as a potential hair transplant patient.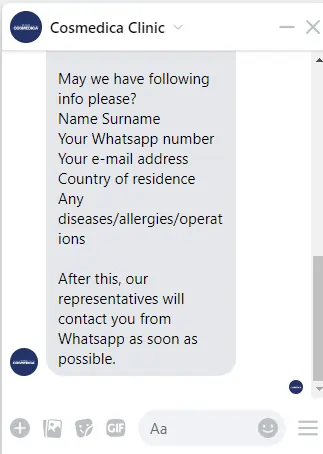 Cosmedica offers two contact options: Facebook Messenger and WhatsApp. I (Tom) initially reached out to Cosmedica via Messenger. I was presented with two options: booking a consultation or learning more about prices. Opting for the second choice, I promptly received an automated response asking me to provide details and my WhatsApp contact number.
It is advisable to contact Cosmedica directly via WhatsApp. However, there was some waiting involved before they got back to me later the same day.  The person who responded to my inquiries was friendly but did not provide an exact price. Instead, they discussed the different options available based on grafts, emphasizing that the exact price would be given during the initial online consultation.
As part of our testing criteria, we inquired about their response to same-sex couples. When I asked if I could bring my male partner, there was no indication that it would be a problem.. Overall i felt that the WhatsApp contact was informative, friendly and not too pushy.
Cosmedica Turkey make the booking process fairly simple, starting with a free consultation. Your consultation can be booked using a form on the website, or through sending pictures on Whatsapp to one of the team, The Whatsapp option is a pretty unique one, and is a much easier way to communicate about a potentially sensitive subject if you don't fancy a phone call. The team at Cosmedica Clinic Turkey will respond with personal advice depending on your hair loss situation, and will recommend the perfect course of treatment.
The pricing is clear from the get-go, so there's little hard selling involved during the consultation and booking process. However, there are a couple of optional extras that we will go into further detail about later in this review. The unfortunate thing is that the website lacks any real detailed information on the procedure itself, which isn't massively comforting to those considering making an appointment.
Top Rated Clinics in Turkey September, 2023
IdealofMeD
#1 Clinic in Turkey (4.33 / 5.00)
Asmed
#2 Clinic in Turkey (4.20 / 5.00)
Cosmedica
#3 Clinic in Turkey (4.00 / 5.00)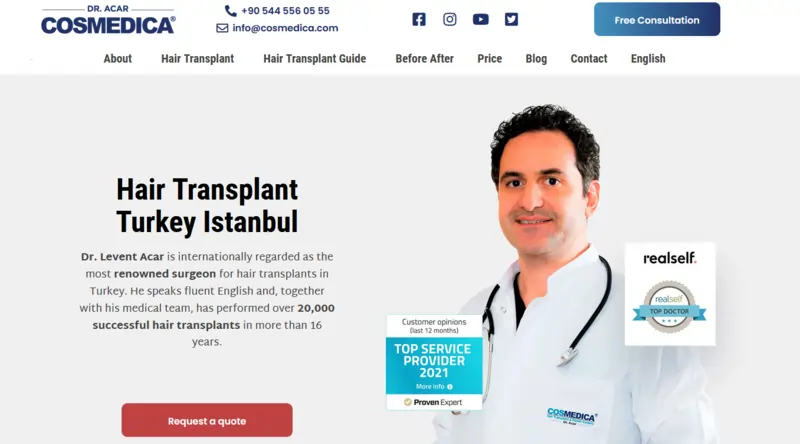 Pre-Operational Consultations
The pre-operational information begins well at Cosmedica, with a complete list of what's included in the price you're paying. There are plenty of other clinics that would charge additional fees for a number of things that Cosmedica include for free, so we were pretty impressed with the value for money.
The real drawback though, is the fact that you're left in the lurch when it comes to pre consultations and advice before your procedure. The website explains very little in the way of what happens from the point of booking to the day of your appointment. When undergoing such a procedure, you're going to want to know every intricate detail and it's a real oversight on their behalf.
Cosmedica prioritise their patients' comfort. With luxury transfers and 5-star accommodation at the Radisson Blu hotel, no stone has been left unturned. As mentioned previously, it's just a shame that you're not given any indication of travel plans before booking.
All transfers, accommodation and travel expenses are included in your price with Cosmedica, which means that you don't have to worry about incurring large bills while you're over in Turkey. This price promise also includes your medical expenses, from pre-operative care to post-op medication and check ups. The clinic basically takes care of everything, meaning you only need to focus on relaxing ahead of your procedure.
The English-speaking driver and medical staff is a nice touch, and not something available at every hair transplant clinic in Turkey. Not only is this an an important aspect to making you feel at home, but you'll also be able to ask any questions you may have and receive clear responses.
Scoring the facilities at Cosmedica is quite difficult, as very little information is provided about the clinic itself. Despite being dubbed as a '5 star VIP hospital' and sporting some pretty impressive pictures, that's about as far as it goes in terms of detail. One thing we do know though, is that ideal location in the centre of Istanbul is a great spot for some sightseeing.
There are many other procedures outside of hair transplants carried out at the Cosmedica clinic. This include breast augmentation, liposuction and rhinoplasty, to name a few. This is evidence that the clinic has the capacity to carry out both aesthetic and cosmetic surgeries in a hospital-like environment with a large team of medical professionals.
Surgery & Doctor Involvement
Dr. Levent Acar is an award-winning hair transplant specialist with an impressive CV under his best. This is great to know, if you're willing to foot the €4,490 bill to have him do your procedure. This is a whopping €1,490 more than the basic package. Considering the clinic use Dr. Ascar's experience as a huge selling point, it's disappointing that only those paying the maximum fee will have the pleasure of actually having him as their doctor.
Although the clinic has some boxes ticked for certain elements of heir after service, we would expect these things to come as standard anyway. Cosmedica focus so much on their patients pre-operative luxury that they seem to forget about some fundamentals of aftercare. The hair power boost pack is only included in the higher-tier pricing, costing an additional €200 with the basic package, and it's not even really clear as to what this actually entails. There's no mention of affordable financing or satisfaction guarantees, either.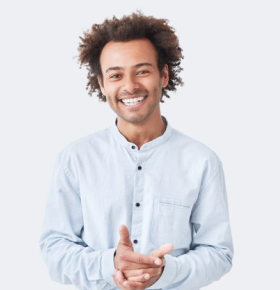 We Rate Cosmedica Clinic Turkey
There are things to like about Cosmedica, for sure, and we give this rating for the most premium package, the other ones are not really alternatives we feel. 
There are a number of before and after pictures, as well as reviews from satisfied customers which backs up their claims of being one of the leading hair transplant clinics in the country. 
If you ignore the smaller packages, Cosmedica is an advanced medical centre offering both hair transplant and cosmetic surgery procedures. There's a team of specialists including award winners (if you're willing to pay the extra cost), and guaranteed comfort in luxurious surroundings. 
Get a free hair loss report today and make sure you get fair offers from clinics
What do others think about

Cosmedica Clinic Turkey?
Cosmedica Turkey Patient Reviews
4.9 out of 5 stars (based on 444 reviews)
Erfahrung
Das Herr Dr. Acar deutsch spricht und mir alle meine Fragen beantworten konnte.
Great
I had a hair transplant here early March 2023. After 4 months and 15 days there is nothing to worry about. great hair growth, you can count on a hair transplant
Excellente clinique
Après tout juste 6 mois, les résultats sont très bons et je suis très satisfait de ma greffe de cheveux effectuée par l'équipe de Cosmedica. La prise en charge est très professionnelle et très bien rodée, ils ont de l'expérience et sont très bien organisés. Je vous recommande cette clinique qui doit surement faire partie des meilleures à Istamboul.
Expérience extraordinaire avec Cosmedica
C'est une clinique incroyable avec de hauts standards de qualité. Cosmedica a agréablement dépassé mes attentes. Au départ, je voulais faire la chirurgie à Montréal, mais beaucoup trop cher et 4$ canadien le greffon. J'ai contacté 3 cliniques à Istanbul et j'ai choisi cette Cosmedica car je pouvais avoir 2 jours de chirurgie FUE. Comme je viens du Canada, je ne pouvais me permettre un autre voyage pour une 2e séance l'année prochaine. Le prix a été un peu plus cher, mais deux jours de chirurgie donnent de meilleurs résultats. Les autres cliniques consultées ne proposaient qu'un jour de chirurgie. En passant, si votre calvitie n'est pas trop avancée pour pouvez aussi choisir le forfait moins cher à 1 jour de chirurgie. Jour 1 : Transport de l'aéroport vers hôtel qui est à 45 minutes de l'aéroport IST, hôtel très bien, possibilité de prendre une navette gratuite et régulière pour visiter la place Taskim (tourisme) et repos. Jour 2 : 06:30 Petit déjeuner de qualité, départ rapide à 07:00. Arrivée à 07:30 à la clinique très propre et au goût du jour. Remplissage du questionnaire de santé/antécédents, prise de sang pour vérifier certains paramètres de santé et également pour récolter le plasma riche en plaquettes si vous prenez l'option. Mise en place d'un cathéter IV pour soluté antidouleur. Photos et ensuite vérification des zones donneuse et receveuse avec une caméra/microscope appliquée sur les cheveux. On constate alors la densité réelle des cheveux. Décourageant dans mon cas !!! Rasage par la coiffeuse et Tracée initial au crayon par l'assistant du médecin avec la présence de la traductrice. Visite au Dr Acar pour déterminer nos objectifs, les zones à combler et l'état des zones donneuse. Cette clinique propose gratuitement l'utilisation des poils de barbe et du torse (BHT) pour augmenter la quantité de greffons pour l'option de 2 jours de chirurgie. Si vous prenez l'option 1 jour de chirurgie, je pense qu'il faut payer un supplément, mais je ne suis pas certain. La traductrice est présente. Traçage approfondi par le médecin incluant l'orientation des cheveux et des zones à garnir. Discussion de nos antécédents. Paiement et pour ma part l'opération a débuté à 09:30 et s'est terminée à 17:30. Lunch copieux inclus et servi à la mi-parcours pour 15 minutes dans une petite salle. Au début de la chirurgie, anesthésie locale et j'ai pris l'option sans aiguille, mais attention le poinçon pour percer de petits trous est douloureux mais tolérable, ensuite dépôt de l'anesthésiant qui chauffe à l'application dans les petits trous. Très bien anesthésié. 09:30 à 14:00 extraction des greffons dans la couronne arrière près du cou donc on est dans une position couchée sur le ventre. Possibilité de prendre une pause sur demande. Après le lunch, anesthésié, mise en place d'un soluté IV pour anti-douleur et implantation des greffons dans mon cas de l'arrière jusqu'au milieu de la tête et injection du plasma riche en plaquettes pour stimuler la croissance des greffons. Le tout sur le dos. Pansement sur la zone donneuse et retour à l'hôtel. Il est recommandé de prendre un antidouleur au coucher et dodo sur le dos seulement avec oreiller de cou, le tout fourni. Jour 3 : 2e jour de chirurgie très fructueuse sans la portion administrative, de 07:30 à 17:00, dans mon cas, incluant lunch de 15 min et mini-pause. Installé sur le ventre pour prendre greffons de la couronne tout en veillant à ne pas trop clairsemer la zone et ensuite, on a pris des cheveux de barbe et de la poitrine avec ma permission. Après le lunch, implantation. J'ai eu en tout 6000 greffons sur la tête. Jour 4 : retrait des pansements vérification des zones donneuse et receveuse. Ensuite, Explication très détaillée par la traductrice des précautions à respecter, des transitions à venir, des différents produits à appliquer en post-opératoire et médicaments à prendre, bandeau anti-œdème pour 2 jours et chapeau pour extérieur (le tout inclus dans le forfait). Proposition d'acheter des produits complémentaires, mais sans pression. Remise de la garantie. Dans mon cas, Retour à l'hôtel et certains autres départ à l'aéroport. Jour 5 (optionnel): Déjeuner et Check out de l'hôtel, rendez-vous à la clinique pour premier lavage des greffons et zone donneuse (sinon vous le faites à la maison) et départ à l'aéroport. Bref, le personnel est incroyable et se donne au maximum pour nous rendre heureux. Service de traduction en français ou autre langue très aidant. Ma représentante clinique Enes m'a pris en charge dès ma demande d'évaluation par internet, a produit un devis détaillé après consultation du Dr Acar, a été infiniment patiente et rassurante tout au long du processus initial et a répondu à toutes mes questions. J'ai pu la contacter pour certaines précisions.
Pessima esperienza
Recentemente mi sono rivolto alla Microfue Italia per un trapianto di capelli nell'area vertex (la cosiddetta chierica). Il giorno del trapianto, evidentemente per un banale ed incomprensibile errore, iniziarono a mettere i bulbi da trapiantare in un'altra zona della testa che invece era già perfettamente coperta dai miei stessi capelli. Trascorso un po' di tempo, e resomi conto di quanto stesse accadendo (la mia testa era completamente anestetizzata), chiesi spiegazioni all'operatore il quale mi diede una risposta molto vaga ed elusiva (non parlava bene Inglese). Solo dopo la mia osservazione iniziò quindi ad impiantare i bulbi nell'area vertex che doveva essere quella oggetto di trapianto.
Hervorragende Klinik
Hervorragende Klinik mit wirklich gutem Support und ambitionierten Arzt.
DHI, 4.200 Graphs - amazing experience
When i was looking old pictures of myself on the phone, i saw, that a bit of my front scalp hair is missing and they were becaming thiner.
Dr...
Dr. Acar performed an excellent FUE 4200 graft procedure on me. Unlike other clinics, which require two separate surgeries, the professionals were able to complete the surgery in only one day. My results are fantastic a year later, and my representative is still very responsive to any problems I might encounter. Cosmedica has an extremely trustworthy crew, and I would recommend them to anyone.
I was a bit nervous going in for the…
I was a bit nervous going in for the hair transplant procedure, but I was so impressed with Dr. Acar and his staff. They were so kind and understanding, and made me feel completely at ease. I'm very happy with my new hairline.
Dr. Acar and his crew were wonderful!
Dr. Acar and his crew were wonderful! Throughout the 8-hour process, the personnel were attentive to my needs and ensured that I was comfortable. Given how much I loathe needles and medical devices, I was likewise shocked that I didn't feel anything. Furthermore, I loved how my representative made certain that my progress was on track.
Der Kundenservice ist sehr gut
Der Kundenservice ist sehr gut. Man bekommt zu jeder Frage eine schnelle und konkrete Antwort. Alles war sehr gut organisiert für den Operationstag.
I had my FUE procedure in June 2021…
I had my FUE procedure in June 2021 which I feel like is a good amount of time to evaluate my experience. This was an amazing experience, I must say. Cosmedica surpassed all of my hopes. The hotel was spotless and pleasant, and the shuttle was prompt. The fact that Dr. Acar and his team made me feel as though they cared about me has to be the greatest aspect of the entire experience. Dr. Acar paid special heed to my suggestions concerning the hairline and the technicians continued checking up on me during the procedure. My customer service representative kept in touch with me throughout the process, even after I returned to my own country. So far my hair looks wonderful, it's already becoming so long but it could just be my genetics.
Leave your own Cosmedica Clinic review
Get a free hair loss report today
Cosmedica Turkey
Background Information
Cosmedica Turkey Hair Transplant & Dr. Levent Acar
The Cosmedica Turkey hair transplant team is headed up by Dr. Levent Acar, an award-winning doctor with experience stemming as far back as 1999. After graduating from Istanbul University in 2005, Dr. Acar went on to train in laser therapy and aesthetics, perfecting the art of hair transplantation. Dr Acar, and the clinic, are both licensed by the Turkey Ministry of Health, a seal of approval given to the most trusted and professional of doctors.
Other vital members of the Cosmedica team worthy of a special mention include both the nursing staff and the other medical doctors, overseeing patient care and complicated cosmetic surgeries. One of the biggest selling points of the clinic is the guarantee of English-speaking doctors and nurses on hand. This is something that isn't always available when having procedures done in a foreign country, and a number of Cosmedica's competitors cannot guarantee the same level of customer service.
Before and After Pictures
Cosmedica Clinic Turkey Transplant Results And Before and After Pictures
In this Cosmedica hair transplant Turkey review, we have also taken a look at how transparent they are with their results. The website is packed with before and after pictures, including several being the focal point of the homepage. This is the sign of a clinic that backs their work and has nothing to hide.
Getting a Hair Transplant in Istanbul Was Never Easier
Cosmedica Clinic Turkey Transplantation Methods & Treatments
Each of the Cosmedica hair transplant procedures use the Follicular Unit Extraction (FUE) method, but the transplantation method itself differs between the basic and more premium packages. Those paying for the standard package will have their follicles transplanted with a forceps tool. If you're opting for the pricier service, this will be done with the Direct Hair Implantation tool (DHI) instead.
A FUE hair transplant takes more time, usually requiring patients to be in and out of the clinic over a 3-day period for a transplantion requiring a high number of grafts. A DHI hair transplant can be done in a day, and is often the popular choice, regardless of the heftier price tag. The clinic also offers  moustache, eyebrow transplants and beard transplants in Turkey.
Cosmedica Turkey Cost of Hair Transplants, Available Packages And Extras
The Cosmedica Turkey cost differs, depending on which package you choose. For understandable reasons, the prices have been going up since first wrote this article. The prices as of June 2023, for up to 4000 grafts are as follows: The standard option comes in at a reasonable €2,300. The mid-range option is €2,990, and the priciest of all is the top-tier package at €5,000. Each of these options comes inclusive of travel, accommodation and complete procedure costs. It's important to note that the so-called "mega sessions" hair transplants (4,001 to 5,500 grafts) add between €900 and €1,000 to the bill. The following is included in the standard package:
It's important to remember that all of the above quoted prices not only include the hair transplant itself, but also the expenses for travel and accommodation. This really helps with budgeting of your trip to Turkey, as you shouldn't incur any surprising costs outside of food, drink and optional sightseeing.
Reviews from former patients
Cosmedica Reviews From Former Patients
As part of our evaluations, we examine the feedback received by hair transplant clinics on online platforms such as TrustPilot. As of June 2023, Cosmedica has garnered just over 440 reviews on TrustPilot , and an impressive 95% of these reviews have been awarded 5-star ratings. 
Based on our observations, it appears that the clinic requests patients to write reviews immediately after their hair transplant procedure. Many of the reviews are from individuals who have only left one review on TrustPilot, and they often state that they had their hair transplant in the same month as writing the review. While it is common for clinics to seek feedback, what is somewhat surprising is the scarcity of updated reviews from patients who return to share their results after a few months. These reviews, which are usually highly informative, were notably absent during our search.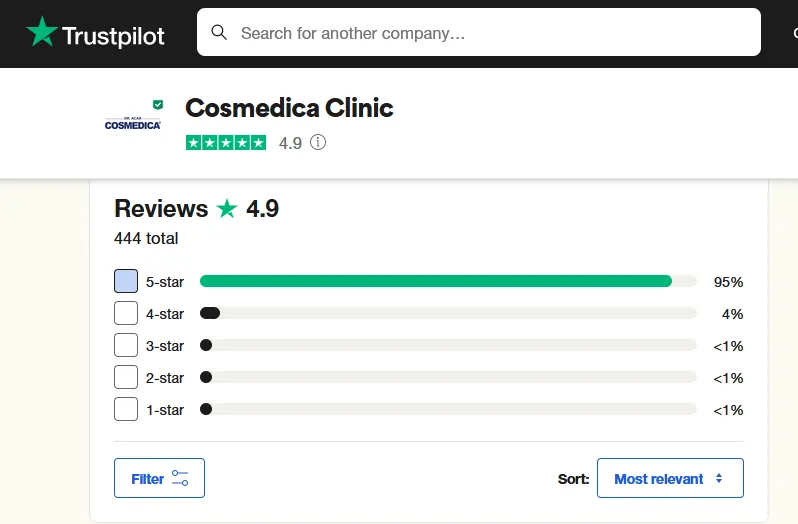 Be the first to grab our all-new e-book
Before you can truly commit to a hair transplant it is important to understand hair loss. Together with the experts at IdealofMeD, we wrote an e-book explaining everything you need to know about hair loss. From hair loss causes to practical tips on how to deal with hair loss and the best hair loss products.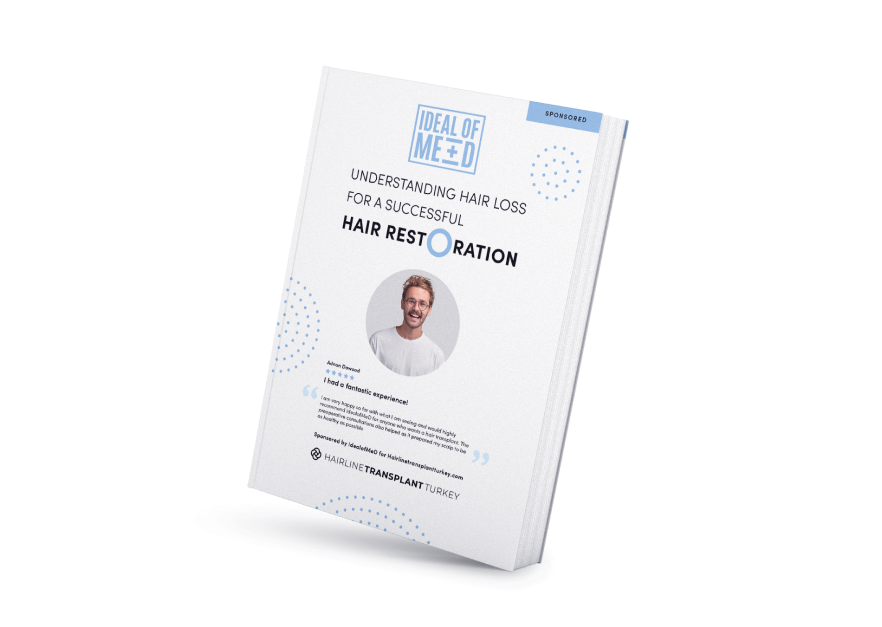 Yes, they are on Instagram. You can follow them using the handle @cosmedicaclinic to see more of their before and after shots and real-life success stories.
Yes they are. Both the hair transplantation and all of the cosmetic surgery procedures at Cosmedica are carried out in their 5-star hospital environment in Instanbul.
No, the clinic does not currently hold an A-License, but does have a number of other accreditations including a license from the Turkey Ministry of Health.
Contact Hairline Transplant Turkey
Our team of experts are always here to help you. You can call us or fill the contact form for any questions about hair transplantation cost or procedure. We are more than happy to assist you. You can also leave your contact information, and we'll give you a call.
Let us answer your questions
Last updated in Aug, 2023