Expert review from Tom Davis (updated 2023) + Patient reviews collected bi-weekly from:

Hermest Hair Clinic has a reputation for offering top-notch hair transplant procedures owing to its staff of reputable doctors and cutting-edge equipment. We'll dig into what actual clients have to say about their interactions with Hermest in this in-depth research, looking at everything from the booking process to the aftercare given.

Hermest Hair Clinic review content:
Hermest Hair Clinic Rating
Hermest Hair Clinic Review Summary
If you have any feedback about Hermest Hair Clinic or want to talk to former patients of Hermest, post it in the Hair Back App.
Our Experience with Hermest Hair Clinic: Step-by-Step
The Hermest Hair Clinic website provides comprehensive information about hair transplants and patient guides. There is a lot of information regarding the different types of hair transplant methods it offers, although I couldn't find any regarding its Unique FUE ® Technique. In addition to generic hair transplant guides, there are handy patient guides.
Many clients have consistently praised the clinic for its professionalism, expertise, and outstanding results, leading to a high level of patient satisfaction, according to Hermest hair transplant reviews. From the initial consultation to the aftercare, Hermest Hair Clinic appears to ensure that they handle every step of the process with the utmost care and attention. 
Patients' experience at the clinic, especially when cosmetic procedures are involved, is of great importance. We have come across certain cases when patients' expectations, particularly in terms of customer service and hairline results, were not met in this respect.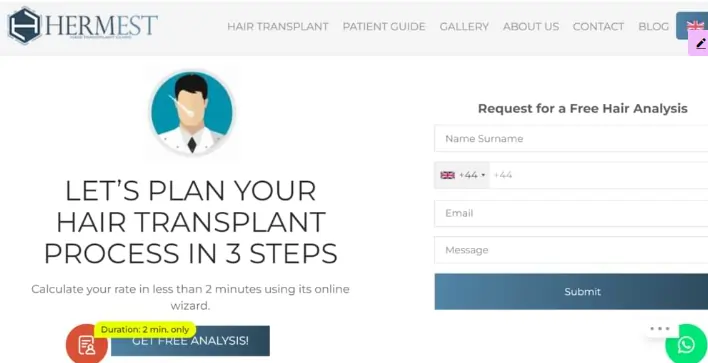 According to its website, Hermest Hair Clinic can be contacted by phoning them on their landline in Turkey. If you prefer, you can also email them by email, or WhatsApp. When we tried using the WhatsApp option, we had a response after about 3 hours.
The website also has a handy "Request for a Free Hair Analysis" section. You will be required to provide information such as how you are losing your hair and when you would like the procedure to be done. This step also asks you about any known health conditions and medications. You will need to upload 3 pictures of how your hair currently looks.
One of the first steps in embarking on a Hermest hair transplant journey is the booking process. The clinic understands the importance of convenience and efficiency, and they have streamlined the process to make it as simple as possible for their patients. 
The booking can be done online through their user-friendly website or by contacting their responsive customer service team. The initial hair analysis process is free and simple to use. Once the booking is confirmed, the clinic provides detailed instructions to help patients prepare for their procedure.
They will decide on the best method when planning your hair transplant operation. Since it is the least expensive procedure and usually results in satisfactory results, follicular unit extraction is the most commonly performed procedure at Hermest Hair Clinic. They also offer the DHI, as well as Long Hair FUE, unshaven hair transplants, and hair transplants for women. In addition to the methods mentioned, they also perform beard transplants.
Top Rated Clinics in Turkey December, 2023
IdealofMeD
#1 Clinic in Turkey (4.33 / 5.00)
Asmed
#2 Clinic in Turkey (4.20 / 5.00)
Cosmedica
#3 Clinic in Turkey (4.00 / 5.00)
Pre-Operational Consultations
Before the surgery, Hermest Hair Clinic conducts thorough pre-operational consultations to ensure that patients are well-informed and prepared. These consultations are conducted by experienced medical professionals who assess the patient's hair loss condition, discuss treatment options, and set realistic expectations. Patients are given the opportunity to ask questions and address any concerns they may have. This personalized approach helps to build trust and ensures that patients have a clear understanding of the procedure.
The Hermest Hair Transplant Clinic in Istanbul package will include airport transfers, medications, 2-night stay in a 4 or 5-star hotel. You will receive your full itinerary on arrival at the hotel. They can also provide a translator if necessary. They do not arrange flights or visas, meaning that you will have to arrange these yourself.
Once you are collected from the airport, you will be taken to the clinic for a blood test, and then to your hotel. Some client reviews reported that their hotel is within walking distance of the clinic and preferred to walk.
The packages listed on the website only offer 2 nights accommodation. If you prefer to stay longer to take in the sights of Istanbul, or prefer a longer recovery period, ensure that you discuss this with the clinic. We also suggest that you get a breakdown of all included costs, as well as any optional extras that you may like to consider.
Hermest Clinic Turkey boasts a modern and well-equipped facility that meets international standards. The clinic is equipped with the latest medical technology, ensuring that patients receive top-notch treatment. The surgical rooms are sterile and designed to provide a comfortable environment for the procedure.
Additionally, the clinic maintains strict protocols for cleanliness and hygiene, ensuring the safety and well-being of their patients and is certified with TURSAB (The Association of Turkish Travel Agents) as well as the Turkish Ministry of Health. There is further peace of mind with a Cardiologist, Medical Doctor, Dermatologist and Plastic Surgeon on site.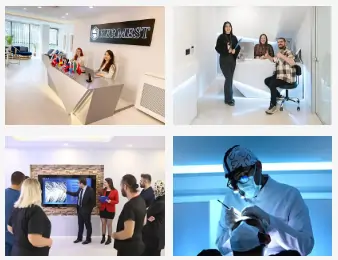 Surgery & Doctor Involvement
The surgical procedure at Hermest Hair Clinic is performed by highly skilled and experienced doctors who specialise in hair transplantation. Depending on the technique used, the size of the team operating will differ. At a minimum, there will be a hair transplant surgeon and an anaesthesia surgeon present, as well as nursing staff.
The doctors' involvement doesn't end with the surgery; they provide post-operative instructions and are available for follow-up consultations to monitor the progress of the transplanted hair.
Hermest Hair Clinic provides detailed instructions on how to care for the transplanted hair and what to expect during the recovery process. The clinic offers personalised guidance and support with a 1 year, 24/7 health consultancy service before and after the operation.
After the Hermest hair transplant, you will receive products such as a pillow, shampoos and lotions to aid with recovery and comfort. They offer any medicines such as painkillers or blood thinners as needed.
In Turkey, many clinics will require you to put down a deposit and settle the bill on arrival, while a few offer financing. It is unclear if financing options are available at Hermest.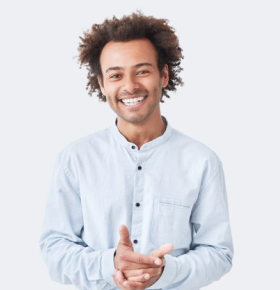 We Rate Hermest Hair Clinic
Hermest hair transplant reviews are positive, and the clinic established itself as a reputable and reliable hair transplant clinic. We could not find an overall success rate or a guarantee on the site. Hermest Hair Transplant Clinic in Istanbul claims a 99% success rate when using its Unique FUE ® method. 
The price of a hair transplant as listed on the website can be difficult to follow, with some contradictory prices listed on the same page. However, there are packages listed for packages;
Sapphire FUE Package – €2,300
DHI Package – €2,900
Unique FUE Package – €3,500
While these prices are indeed comparable, Hermest Clinic Turkey doesn't include as long a stay or many of the benefits as some of the leading clinics in the area, as we discuss below. 
Get a free hair loss report today and make sure you get fair offers from clinics
What do others think about

Hermest?
Hermest Hair Clinic Patient Reviews
0.0 out of 5 stars (based on 0 reviews)
There are no reviews yet. Be the first one to write one.
Leave your own Hermest Hair Clinic review
Get a free hair loss report today
Hermest
Background Information
Hermest Hair Clinic is located in Istanbul, Turkey, a city renowned for its expertise in the field of hair transplantation. The clinic offers a wide range of services, including FUE hair transplants, which stands for Follicular Unit Extraction.
Dr Ahmet Murat: Hair Transplant Surgeon and Cardiologist
Dr Murat trained as a hair transplant specialist in Turkey and continues to train others in his specialist field today. He is known to be passionate about all aspects of medicine and chose to further his expertise by studying cardiology. He remains a highly respected hair transplant surgeon.
Alongside Dr Murat, there are various other doctors and specialists, each having at least 10 years of experience as a hair transplant specialist.
Before and After Pictures
Hermest Hair Transplant Before And After Results
We have featured several before and after pictures available under the gallery section at Hermest Hair Clinic. Information includes the number of grafts and the technique used. They also provide information about what you can expect at each stage, up until the 12-month mark.
Getting a Hair Transplant in Istanbul Was Never Easier
Hermest Hair Transplantation Methods And Treatments
The majority of Hermest's clients appear to have chosen the FUE hair transplant. How many grafts you receive using any method will depend on the extent of your hair loss. Another popular method is the DHI hair transplant, which is minimally invasive and doesn't need any incisions on the scalp.
They also offer hair transplant procedures for women in the form of FUE, FUT and SMP (Scalp Micro-pigmentation). Using a pen, SMP injects pigmentation into the scalp to create the appearance of hair follicles. SMP is an alternative to hair transplantation.
Treatments include PRP treatment, which is an injection of platelet-rich plasma. The plasma is extracted from the client's own blood and has been shown to improve recovery.
Hermest hair transplant cost and price - What is included in the hair transplant package?
The cost of a hair transplant at Hermest varies depending on the individual's needs and the extent of the procedure. The clinic offers competitive pricing tailored to each patient's specific requirements.
The price of all of the available packages includes airport transfer, surgical procedure, post-operative medication, aftercare services and a translator. What is not mentioned is the number of grafts you receive, which will influence the pricing. Although Hermest recommends a 4 -5 day stay in Turkey, the accommodation included is only for 2 days. This is another factor that can increase the cost of your hair transplant Turkey package.
Hermest Hair Clinic is a leading hair transplant clinic located in Istanbul, Turkey. With a team of highly skilled surgeons and state-of-the-art facilities, they have gained a reputation for providing excellent hair transplant services.
Be the first to grab our all-new e-book
Before you can truly commit to a hair transplant it is important to understand hair loss. Together with the experts at IdealofMeD, we wrote an e-book explaining everything you need to know about hair loss. From hair loss causes to practical tips on how to deal with hair loss and the best hair loss products.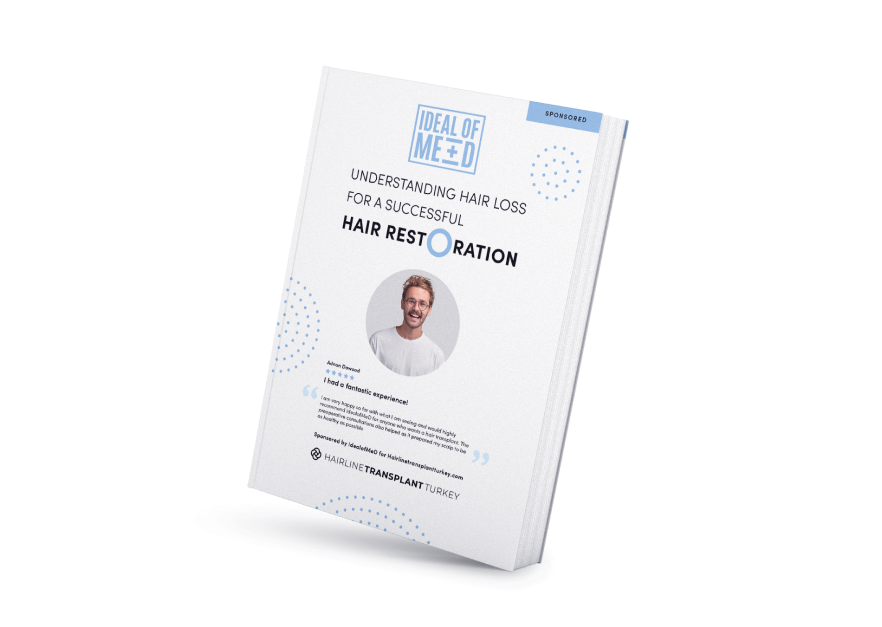 They can be found on Facebook as Hermest Hair Transplant, as well as on Instagram. 
No, they are performed in a specialised hair transplant clinic.
Yes, by the Turkish Ministry of Health and under the Turkish Health Tourism regulations. 
Contact Hairline Transplant Turkey
Our team of experts are always here to help you. You can call us or fill the contact form for any questions about hair transplantation cost or procedure. We are more than happy to assist you. You can also leave your contact information, and we'll give you a call.
Let us answer your questions
Last updated in Oct, 2023