Dr Serkan Aygın Hair Transplant Clinic Review
Expert review from Tom Davis (updated 2023) + Patient reviews collected bi-weekly from:

While Dr Serkan Aygın is an experienced practitioner in providing hair transplant in Turkey, does the Dr Serkan Aygın Hair Transplant Clinic offer as much as you would expect? Read on and discover what this review has to stay.

Dr Serkan Aygın review content:
Dr Serkan Aygın Hair Transplant Clinic Rating
Dr Serkan Aygın Hair Transplant Clinic Review Summary
The initial release of this review for Dr. Serkan Aygın Clinic dates back to June 2018. In order to maintain its relevance and precision, the review has been revisited and updated in August 2023. We've included feedback from users and now offer you the opportunity to contribute your own review directly. Should you desire to connect with past clinic patients and share your insights, you can do so through the Hair Back App.
Our Experience with dr Serkan Aygin Clinic in Istanbul: Step-by-Step
Let's take a closer look at how the customer experience at the Serkan Aygin website unfolds. During my (Tom's) visit to the Dr. Serkan Aygın hair transplant clinic website, I was immediately drawn to an enticing offer for a complimentary hair transplant analysis that promised to take just a mere 2 minutes of my time. The website offered various ways to get in touch, including a contact formor reaching out via WhatsApp.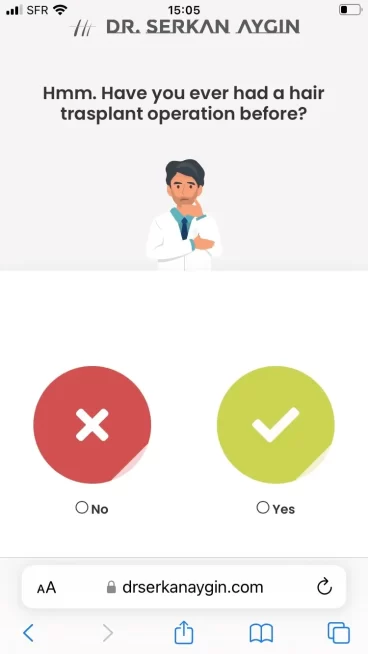 The 2 minute analysis turned out to be a standardized form. Quite similar to the form we use on this site to calculate hair transplant cost. This kind of form proves to be effective for individuals who may be hesitant about undergoing a hair transplant and seek an initial interaction that isn't overtly sales-oriented. Nonetheless, I had hoped for a swift response based on the information I provided in the form; unfortunately, that wasn't the outcome.
Speaking from my perspective as someone who has undergone a hair transplant, I believe that every clinic stands to benefit from providing clear and transparent price lists early on in the process. Patients shouldn't have to search for this information; it should be readily available.
When you visit the Dr Serkan Aygın hair transplant clinic website, you will find the offer for a free hair transplant analysis, which takes all of 2 minutes! To request an online consultation, you can use the contact form to which you need to attach photos. Directions are provided on which photos to send with the form. You can also contact via WhatsApp. The site indicates that Dr Aygın will perform the consultation. Following this, one of his assistants will contact you to discuss the procedure, clarify expectations and make arrangements for your visit to the Dr Serkan Aygın clinic.
It is a little confusing when you open the site as to whether the hair analysis is part of the online consultation, which it isn't. You need to apply for that separately. The site has a lot of relevant information as to the procedures offered with interesting, informative blog posts and a comprehensive FAQ section. Unfortunately what it does not have is a price list anywhere on the site.
Top Rated Clinics in Turkey September, 2023
IdealofMeD
#1 Clinic in Turkey (4.33 / 5.00)
Asmed
#2 Clinic in Turkey (4.20 / 5.00)
Cosmedica
#3 Clinic in Turkey (4.00 / 5.00)
Pre-Operational Consultations
The website does offer a lot of information about what to expect pre-procedure and during the procedure—using a question and answer format to cover this wide subject. In fact, there may be a little too much information to take in one go. Every page has its question and answers which tells you a lot about the subject of hair transplantation, but nothing on hair transplant packages.
The site does not indicate anything about what is included if you choose to have a hair transplant procedure at Dr Serkan Aygın's clinic. Nothing about the financial costs, except general comments on why the procedures are cheaper in Turkey than elsewhere. Neither could anything be found about the accommodation or the transfers provided.
All patients should have had their photos seen by Dr Serkan Aygın, but then you are told an assistant will contact you. Presumably, it is at this point when you discuss the costs and packages.
The promise of VIP transfers, English speaking drivers and co-coordinators can be found on external reviews. These reviews are mixed on the standard of this service, from excellent to communication problems and late pickups. The only comment regarding a package is a comment on the site that says 'even if you add accommodation costs to the billing…' which leaves you asking is it included or not?
The Dr Serkan Aygın site does not provide any information on the available hotels, so, they could be from 2* to 5*, it's a guessing game. It appears that all of this practical information is only discussed with the patients directly and not seen as an essential element to have on their website.
The images of the Dr Serkan Aygın clinic show a very well-designed and beautifully decorated environment. Based in the 32-storey Key Plaza in the Istanbul district of Şişli. This area is a central area of Istanbul on the European side and an easy ride to Taksim, and some of the famous historical sites.
The clinic itself is not a hospital and has not got an A-licence. It does offer a modern treatment room, maintained to high standards, alongside equipment providing Laser hair therapy, density measurement and donor selection tool. Lack of the A-licence means it does not have emergency services, and any health problems arising will entail the transfer of the patient to the nearest hospital.
Surgery & Doctor Involvement
Dr Serkan Aygın has an impressive CV. that is clearly stated on the website. There are references to his assistants and co-ordinators but no introduction to the medical team. The actual procedures are very well-documented as is the pre-operative patient guide, which clearly indicates what you should or should not be doing prior to the hair transplant procedure.
There is a comprehensive post-hair transplant guide on the site that covers from day 1 to 12 -18 months after the procedure, answering many questions on what to expect. The post-procedure hair wash is clearly documented and explains what to do and when. it also states Dr Serkan Aygın clinic will provide a shampoo and lotion to use in the first month following the procedure. The clinic also provides paperwork that contains detailed information on the hair transplant procedure.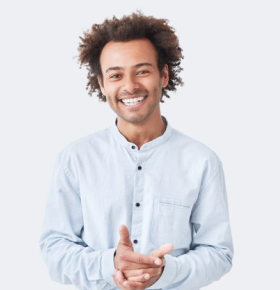 We Rate Dr Serkan Aygın Clinic
Dr Serkan Aygın is an accomplished award-winning hair transplant doctor, and the clinic website reflects his knowledge and experience. The difficulty is, it's too much information, in that it is overwhelming and spread over several pages.
The site offers several treatments including FUE & DHI for men and women, but if you are searching for prices and hair transplant packages, you will be left wanting, as neither are on the site. Nor are any costs for the hair transplantation procedures done at the Dr Serkan Aygın clinic available.
The website needs some work in providing information on the cost of procedures and what extras a patient has to pay. Information like are there any all-inclusive packages or is a deposit required? Included in the mission statement of the Dr Serkan Aygın clinic is a promise that there will be no additional charges above the quote provided. But what the quote includes is unknown.
Get a free hair loss report today and make sure you get fair offers from clinics
What do others think about

Dr Serkan Aygin Clinic
dr serkan aygin clinic reviews
4.6 out of 5 stars (based on 737 reviews)
Esperienza eccellente
Esperienza eccellente, professionalità e organizzazione, sotto tutti i punti di vista, TOP
Clinica fantastica!!!
E' normale partire con dei dubbi, sopratutto quando si pensa a questo genere di operazione ed andare in un paese straniero che non si conosce, ma personalmente i miei dubbi sono spariti in un istante non appena sono entrato nella clinica direi fantastica sotto ogni punto di vista … ho trovato cordialità e grande professionalità da parte di tutto lo Staff del Dott. Serkan … i miei sinceri complimenti!
Bad attention from the beginning.
Very difficult to communicate with the team. They don't give any specifics or details. I asked for a Skype call in order to see the face of someone before making a long trip like this, but they "don't give this kind of service". This kind of decision has to be completely informed. I am sorry they don't see it that way.
I migliori!
Veri professionisti, struttura di altissimo livello e organizzazione impeccabile. Ti guidano passo passso
why hair if no brain
please folllow to Quora for more
Delighted with results
I had 4,800 grafts transplanted to the central and frontal areas last November 22nd.Ten months on the results are amazing with thick hair growth in these regions.I look forward to returning to the clinic to have work done on my crown area.I cannot speak highly enough about the excellent team led by Dr.Serkan Aygin.They are all thoroughly professional, friendly and supportive both before and after the transplant procedure.Everything went like clockwork from the pick-up at the airport to the return 72 hours later.I have no hesitation in recommending this clinic and I want to thank all the staff for providing such an excellent service
Je ne recommande pas cette clinique
Je ne recommande pas cette clinique
Esperienza fantastica
Esperienza fantastica dai autisti dal hotel e per non parlare dei ragazzi della clinica tutti educati e molto disponibili. Non ho parole sono fantastici lo consiglierei mille volte . È stata un'esperienza fantastica
Das Team war sehr…
Das Team war sehr organisiert,freundlich und professionell vor allem kenza, Mustafa und Adil. Die Service vom Flughafen bis zur Klinik und vom Klinik bis zum Hotel war super immer pünktlich. Ich bin sehr zufrieden und möchte mich bei allen bedanken für die tolle Service.
Un'esperienza magnifica
"Un'esperienza magnifica: ho avuto modo di sperimentare una clinica con attrezzature mediche all'avanguardia. Medici, infermieri e collaboratori si sono dimostrati estremamente competenti e sempre disponibili a soddisfare ogni mia richiesta. L'intervento è stato praticamente indolore, il che ha contribuito a rendere l'esperienza ancora più positiva. Non posso tralasciare il contesto: tutto ciò si è svolto nella splendida cornice di Istanbul, aggiungendo ulteriore valore a questo viaggio complessivamente straordinario."
fuir cette clinique
J'ai eu une greffe au mois de mars 2023 et je suis totalement déçu.
Organizzazione e professionalità sono…
Organizzazione e professionalità sono sicuramente le caratteristiche principali. Un po' costoso ma ne vale la pena
Leave your own Dr Serkan Aygin Clinic review
Get a free hair loss report today
Dr Serkan Aygin Clinic
Background Information
Are Dr Serkan Aygin Clinic HairTransplants Done By Dr Serkan Aygın?
According to the website, hair transplants at the clinic take between 5 -6 hours. Watching the interesting videos of the procedures on the site, it does appear that Dr Serkan Aygın does the pre-consultation on the procedure day, but it appears an assistant does the extractions with supervision from the doctor. The team at the clinic is not introduced on the website, so how many other doctors there are or how well trained is unclear, although the mission statement does refer to, "specialized doctors, all experts in their fields."
Dr Serkan Aygın has considerable experience in the field of hair transplantation—in practice since 1996. In addition to his BA in Medicine, he has a Masters in Clinical Pharmacology and Dermatology and is a member of the International Society For Dermatology. As one of the first doctors performing DHI hair transplant and FUE hair transplant procedures in Turkey, he has considerable expertise. This experience was honoured at the 2019 European Awards in Medicine receiving the award for Europe's Best Hair Transplant Surgeon.
Before and After Pictures
Dr Serkan Aygin Hair Transplant Before And After Results
There are plenty of dr serkan aygin clinic photos available to view on the clinic website. The clinic also has active social media accounts on Facebook, Twitter, Instagram and YouTube. The Dr Serkan Aygin reviews on Trustpilot were from 90 reviews, 2018 -2020, the majority, 86%, were favourable with 14% from bad to ok. Several reviewers commented on the lack of involvement of Dr Serkan Aygın himself in the procedures.
Getting a Hair Transplant in Istanbul Was Never Easier
Dr Serkan Aygın Clinic Transplantation Methods & Treatments
The clinic offers hair transplantation services for men and woman, including beard and eyebrow transplants. The procedures used are FUE, Sapphire FUE and DHI. The clinic also offers hair mesotherapy & hair treatments for hair loss problems alongside LLLT, Low-Level Laser Treatment. LLLT is an FDA approved therapy that Dr Serkan Aygın provides for his patients.
Dr Serkan Aygın's experience and skill are without a doubt top-quality, but it is unclear if the top man himself will perform your procedure. So make sure to discuss this during an online consultation. As we are unaware of who the medical team are cannot review them, although images on the website indicate this is a large team. Incorporated into the Doku Medical Centre, opened 2017, hair transplantation is available alongside cosmetic surgeries, dermatology and medical aesthetics options.
Dr Serkan Aygin Cost of Hair Transplants, Available Packages And Extras
Unfortunately, we cannot comment on the Dr Serkan Aygin price for hair transplants or any packages available as not included on any of the clinic's websites; there are three sites. Reviews on Trustpilot do not contain any costs. However, our reviewer did find an unsubstantiated review on Google. This indicated prices started from 2,500€, but not how many grafts or what else was included.
The area of Şişli is a business hub of Istanbul, and there are plenty of hotels of every grade, but there is no indication of which hotels are in use for the patients of the Dr Sekan Aygın clinic. Patients undergoing a hair transplant procedure will need at least a two-day stay in the city. More if you wanted time to explore fascinating Istanbul.
Be the first to grab our all-new e-book
Before you can truly commit to a hair transplant it is important to understand hair loss. Together with the experts at IdealofMeD, we wrote an e-book explaining everything you need to know about hair loss. From hair loss causes to practical tips on how to deal with hair loss and the best hair loss products.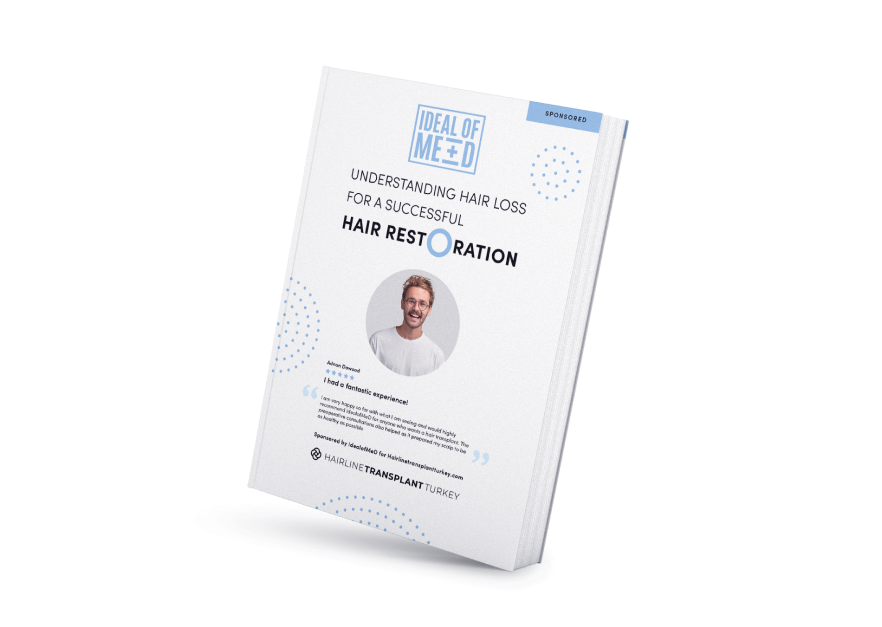 Yes, as well as Twitter, Instagram and YouTube. The clinic has a large number of videos available to watch on procedures, the clinic and Dr Serkan Aygın.
No, procedures are carried out in a licensed clinic. There are blog posts and videos detailing how the clinic is maintaining its high standards of hygiene.
No, the clinic does not have an A-licence. Not having an A-Licence means that the clinic can only conduct one transplant per doctor per day. If a medical emergency arose, the patient would be transferred to a local hospital.
Contact Hairline Transplant Turkey
Our team of experts are always here to help you. You can call us or fill the contact form for any questions about hair transplantation cost or procedure. We are more than happy to assist you. You can also leave your contact information, and we'll give you a call.
Let us answer your questions
Last updated in Aug, 2023