Asmed Hair Transplant Center Review
Expert review from Tom Davis (updated 2023) + Patient reviews collected bi-weekly from:

With prices between €5,000 and up to €12,500 for a hair transplant, Asmed Hair Transplant Center is one of the best, but most expensive hair transplant clinics in Turkey. Is it worth it or is it better to look at alternatives for your hair transplant in Istanbul?

Asmed Hair Transplant Center review content:
Asmed Hair Transplant Center Rating
Asmed Hair Transplant Center Review Summary
This review was originally published in June 2018 and has been updated in August 2023 to ensure its relevance and accuracy. We have also added user reviews and the possibility for you to leave your review directly. If you wish to engage with former patients of Asmed, share your thoughts on the Hair Back App.
Our Experience with Asmed: Step-by-Step
How does the customer experience at Asmed actually unfold? The manner in which the clinic handles its patients holds great significance, particularly in the context of cosmetic procedures. We have encountered several accounts where patients' expectations were not met in this regard.
Asmed offers three contact options: website forms, Messenger, and local phone numbers in 12 countries. They can be reached in several languages including English, German, French, Spanish, and Korean.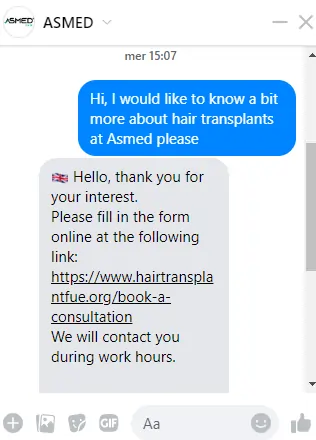 I attempted to contact Asmed through Messenger, but unfortunately, I didn't have much success. Despite reaching out during Turkish business hours, I received a generic response saying, "Hello, thank you for your interest. Please fill out a form to book a consultation." I left the chat open for 24 hours to keep an eye on it, but the clinic did not get back to me.
On the other hand, I had better luck when I called them. The person I spoke to over the phone was friendly and fluent in English. However, based on my experience, most individuals taking the initial step towards a hair transplant prefer to have initial written communication and information at hand before booking a first consultation.
The contact form found on the website of Asmed Hair Clinic is highly comprehensive, consisting of inquiries regarding health conditions, allergies, family history of baldness, and the specific type of hair transplant that the client is interested in. Additionally, Asmed requests up to six photos of both dry and wet hair.
While this level of detail is excellent for individuals who are already certain and ready to undergo a hair transplant, my feeling is that it may appear overwhelming for those seeking information or comparing hair transplant prices.
The booking process on the Asmed site is clear and details the procedures well. If you're looking for a free hair transplant consultation at Asmed hair restoration clinic, then Asmed clinic offers a sleek and thorough way to submit your details. The site has an extensive form where you can submit twelve photographs of your head. Once you have done this you are assured that you will receive a preliminary evaluation and an estimate of the approximate costs for free, from Dr. Erdogan, himself.
While it might be time-consuming to take 12 photographs of your head, the consultation appears to be very thorough and you'll receive an extensive report for free about how to proceed. The site  also lacks a clear price list of procedures with details of additional upgrades and costs for different packages. Typically the clinic charges per graft, starting from 2,5€, which makes Asmed one of the most expensive clinics out there. 
Top Rated Clinics in Turkey September, 2023
IdealofMeD
#1 Clinic in Turkey (4.33 / 5.00)
Asmed
#2 Clinic in Turkey (4.20 / 5.00)
Cosmedica
#3 Clinic in Turkey (4.00 / 5.00)
Pre-Operational Consultations
Once you have booked your procedure, there will be some involvement by the clinic to help you. However, none of this information is clearly detailed on the site. It appears as though patients will need to arrange any required visas needed, themselves.
There aren't details of preoperational shampoos or serums provided to patients. There is advice about smoking on the site but nutritional advice for patients is given upon booking. However, you'll be given an itinerary to follow as soon as you land at the airport.
ASMED Hair Transplant Surgical Centre is located close to the five-star Radisson Blu where patients can take advantage of reduced hotel prices. Additionally, there is the option of staying in a luxury suite at the ASMED surgical centre.
The Asmed offers airport transfers which come at an additional cost between the airport, your chosen hotel, and the clinic. If you book an airport transfer, you can expect excellent service. The clinic will even send a photo of your driver, so you can easily identify your coordinator.
Again, it would have been useful to find a breakdown of costs for the extras offered by the Asmed medical centre. There are plenty of optional extras available that are not listed in an easy-to-view price list for reader
The Asmed Clinic, Istanbul is an impressive facility. Health and sanitary regulations are excellent and similar to hospitals and clinics in America, the UK, or Europe. The clinic has a special team guaranteeing the sterilization and overall cleanliness throughout and, in particular, the operating rooms.
The Asmed Clinic is a dedicated clinic with several doctors and an anaesthetist. But it's not a hospital. While it's unlikely that any emergency would occur because of local anaesthetic and small incisions, in the worst-case scenario, you would be transferred to the nearest hospital.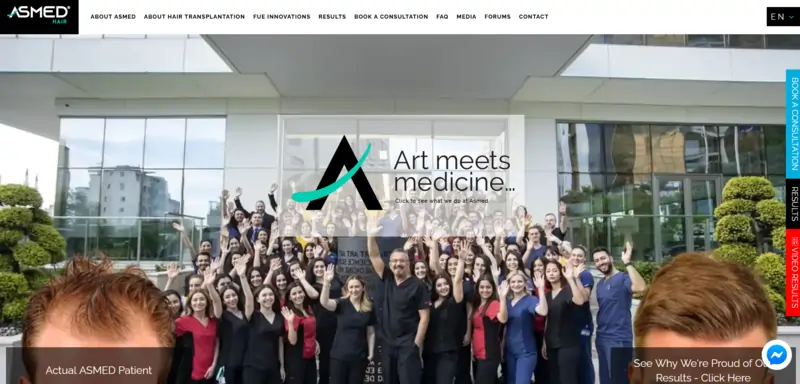 Surgery & Doctor Involvement
At Asmed doctors and nurses will be present during your procedure, you can also expect an anaesthetist to be in the room. In addition to several doctors that will perform the surgery who are likely to speak English, a native speaker is guaranteed to be with you at all times.
The Asmed clinic provides patients with an aftercare package included in the hair graft price. This includes instructions of what to do and when to expect results along with a pillow, shampoo, lotion, and spray.  The  post operational consultations are included as well.  Asmed doesn't guarantee any results as they do not consider this ethical, however the results are among the best in the industry.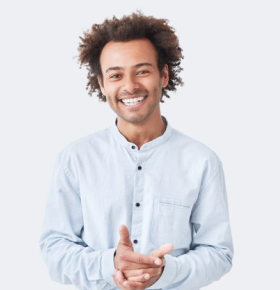 We Rate Asmed Hair Transplant Center
In reviewing the Asmed clinic, it's important to not lose sight of the average cost of a hair graft in Turkey which is just €0.80. This is less than a third of the basic price at the Asmed of €2.50 per graft. 
Asmed certainly offers a top-of-the-range option and several people take it. If you are looking for a short luxury stay in Turkey with state-of-the-art facilities, accommodation, and expertise, then Asmed is an excellent choice. But it all comes at over triple the average price in Turkey. You can find better value options around, still with first-class facilities by browsing our other reviews.
People are often happy to pay more when it comes to cosmetic surgery and their hair, but it's important to note that there are no guarantees with any surgery. Despite the price point of Dr. Erdogan and the Asmed clinic, there are no guarantees offered.
Get a free hair loss report today and make sure you get fair offers from clinics
What do others think about

Asmed?
Asmed Hair Transplant Center Patient Reviews
4.9 out of 5 stars (based on 64 reviews)
You won't be sorry.
I had a hair transplant at ASMED Clinic year ago between 6-10th May 2022, suppose to share my experience about it, but I prefer to wait until I see results which was fantastic, I didn't believe that I will have this look again, it was a dream for me to see my hair covering my head after a long time being semi bald,
Mükemmel
Mükemmel tedavi, mükemmel hizmet ve mükemmel servis.
Consigliato al 100%
Clinica professionale e all' altezza delle aspettative. Pulizia , organizzazione impeccabile, accortezze che qui in italia , in alcune realtà (strutture sanitarie ,sopratutto P.A.),ci sognamo…complimenti davvero. Team fantastico (i traduttori ed assistenti Cihan ed Ester sempre disponibili durante qualsiasi fase pre e post operazione) ,sempre presente , ,cordiale ,paziente e super professionale!!!il dott Koray Erdogan sa come circondarsi di ottimi collaboratori 👍🔝l ' operazione e' stata seguita in ogni minimo dettaglio, garantendo sempre la sicurezza e la tutela del paziente . Anche il team di operatori e chirurghi e ' sempre stato attento e cordiale , nonostante l'operazione è durata diverse ore.Super consigliato .
Highly recommend
From start to finish this was an outstanding experience. The help and support offered throughout, coupled with how polite, kind and friendly everyone is at this clinic made it an exceptional service. I would highly recommend.
The best …
Last week I had a hair transplant done by Dr. Korai Erdogan. It is important to say that I am a very thorough person, so before the procedure I did a research examination of the field for a few months. Really a test of other clinics and other doctors. After my examination I came to the conclusion that Dr. Korai Erdogan is the best in the field. I would also like to mention that the service given to me by the coordinator Suzanne was amazing. I received an answer to every answer before the treatment, during the treatment and after. It is true that I am at the beginning of the recovery process and I need patience for the whole process, but I have no doubt that this is the place and the most suitable doctor for a hair transplant. Those who are interested can contact me Michael Gavish
Thanks for everything
My hair transplant went very well, I did not expect it to be this good in terms of hygiene and cleanliness, it cannot be better. They took very good care of me while I was in the operation, while I was staying there, even after the operation. The whole team made me feel like I was the most important thing right now. I don't need someone by my side, there is always someone to help from team. Mrs. Alina has been a constant support in all processes. months have passed since the operation, she provides constant support, instant answers, constantly checking how the situation is going. people feel very good at ASMED. thanks, thanks Mrs. Alina, thanks Mr. Koray Erdogan.
The ASMED clinic delivers superb results!
I decided to go for a hair transplant at the age of 52 after finding out that my two nephews and my niece's husband all travelled (at different times throughout Covid) from Ireland to the Asmed Clinic for their hair transplants. Their results were incredible!
In Summary
In Summary: Overpriced and seriously under delivers – for the price paid i should have stayed in Europe. Requested the B package which states the incisions are performed partially by the ASMED Team and partially by Dr. Koray Erdogan – this never happened. Dr. Koray came in and created the incisions for the hairline itself, and then left, must have been in the room less than 10-15min of an operation which took 14hrs (x2 7-8hr sessions) – how is that partially? Furthermore, aftercare after leaving the clinic has been abysmal. My client coordinator, Sevinc, has been disinterested and has to be chased for answers and information. Seriously, if I could do it all again I would avoid ASMED. I feel there are much better options out there for the same price, that WILL give you the service you pay for.
Dr Koray Erdoğan is a true visionary and a pioneer
Dr Koray Erdogan's knack for perpetual innovation coupled with his perfectionism bordering on obsession gave birth to a utopic institution where both the patients and the staff are extremely happy.
Tarkan - Thank you very much for everything!
I am grateful for everything to Koray Erdogan, Alina and all the staff.
Très très Bonne Clinique.👍
Très très Bonne Clinique.👍
Leave your own Asmed review
Get a free hair loss report today
Asmed
Background Information
Asmed Fue Hair Transplants Are Done By Dr Koray Erdogan
Those booking a hair transplant at Asmed are often interested in having a hair transplant done by Dr. Koray Erdogan himself. Hair Transplants at Asmed are versions of the FUE hair transplant.
Dr. Erdogan is regarded as a pioneer in the field of hair transplantation. Many of the methods and tools used at the clinic have been designed by him, such as the KEEP, Koray Erdogan Embedding Placer, the KE-Bot, and the KE-Rest. But Dr. Erdogan can't perform all the hair transplants that take place at the Asmed medical centre.
The hair clinic works in a way that is not dissimilar to a designer hairdresser. For an additional fee, you can have Dr. Erdogan make the incisions. An expert team will then complete the process and embed the hairs, once the direction and angle of the hair have been determined by him.
Most people will have a hair transplant that is overseen by Dr Erdogan and performed by other highly trained doctors.
Before and After Pictures
Asmed Hair Transplant Before And After Results
Below you can find some of the before and after pictures provided by Asmed Hair Transplant Center. During our review update in June 2023, we observed that Asmed had made changes to their results pages, allowing users to sort them based on the Norwood scale from 2 to 6. This feature stands out as we have not encountered it at any other clinics, providing a comprehensive overview of their results.

Getting a Hair Transplant in Istanbul Was Never Easier
Asmed Hair Transplantation Methods And Treatments
While Asmed used to perform FUT hair transplantations, the method used by the clinic as of June 2023 is FUE. The FUE is a method where hair follicles are harvested individually. Innovations that you'll find at the Asmed clinic can improve the effectiveness of this treatment. 
If you require a larger number of grafts, then a mega session can be arranged involving more surgeons to harvest and embed the follicles. A maximum number of grafts per session is still 3,000, so the surgery can be conducted over consecutive days for some patients.
Asmed hair transplant cost and price - What is included in the hair transplant package?
There are several packages that you can have at the Asmed. But, there is not a detailed price list on the site to see how much extras are included in each hair transplant Turkey Package.
Costs are detailed as 2.5 euros per graft which include:
There are options to upgrade to the Radisson Blu with reduced rates at this five-star hotel. Or you can take a luxury suite at the Asmed clinic, if it's available. An airport transfer is also an extra to be added to the price.
Be the first to grab our all-new e-book
Before you can truly commit to a hair transplant it is important to understand hair loss. Together with the experts at IdealofMeD, we wrote an e-book explaining everything you need to know about hair loss. From hair loss causes to practical tips on how to deal with hair loss and the best hair loss products.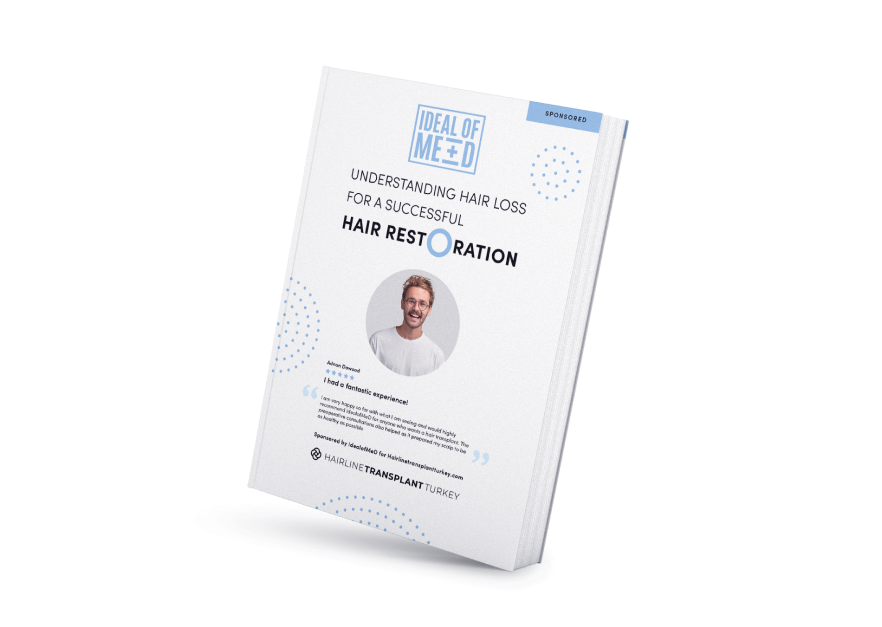 Yes, Asmed is on IG as well as YouTube, Twitter and Facebook.
No, they are performed at a licensed Medical Center with a range of facilities.
Yes, by the Turkish Ministry of Health and under the Turkish Health Tourism regulations. Hair transplant surgeons at the clinic are also accredited members of the ESHRS, ISHR & IAHRS.
Contact Hairline Transplant Turkey
Our team of experts are always here to help you. You can call us or fill the contact form for any questions about hair transplantation cost or procedure. We are more than happy to assist you. You can also leave your contact information, and we'll give you a call.
Let us answer your questions
Last updated in Sep, 2023