Clinic Center Turkey Review

Clinic Center through its offices in London, Istanbul and Izmir is offering patients a hair transplant in Istanbul to take advantage of experienced doctors and personnel at a much more competitive rate than in Europe or the US. With all-inclusive prices and finance payments to help you spread the costs, our review looks at what choosing Clinic Center – hair transplant clinic Turkey entails.
Clinic Center review content:
Clinic Center Turkey - Clinic Review Summary
Registered in the UK, the Clinic Center Turkey, is where you can opt for a physical consultation in London, as an alternative to an online one. The website is in English and provides information on the different treatments available through them. At the the Clinic Center – hair transplant clinic Turkey, they also provide cosmetic surgery, dental surgery and IVF. What is not clear on the website is the cost of these treatments. There is one offer of £1390 for an all-inclusive package. for hair transplantation. But, this does not indicate what the offer includes in the way of treatment.
Their website has clear information about the procedures available from them. The hair transplant procedure being mainly FUE or DHI. There is also informative pre & post instructions. The Clinic Centre offers finance options to assist with the hair transplant treatment costs—although until you contact them, that cost is not completely clear. There is a list of doctors and trichologists (hair and scalp specialists) on the website with a brief CV of their training and experience.
Pre-Operational Consultations
Contact is encouraged through the online form which asks you to upload images of your hair loss problem. Following this, Clinic Center will contact you with treatment plan options and costings. The ability to have a hands-on consultation at an office in London is a boon for this clinic. Virtual consultations are also available.
The Clinic Center website also introduces you to the Norwood scale that determines the extent of your hair loss. Unfortunately, the female equivalent scales, the Ludwig and Savin Scale are not explained. In addition, some nutritional advice alongside instruction re exercise, smoking and drinking caffeine is available. The site also indicates how important taking into account your medical history is for the outcomes for hair transplantation.
A VIP transfer service is included in the package with an English speaking driver. The Clinic Center coordinator, or host, will be present at the arrival airport to greet you
Clinic Center does not provide information on the accommodation provided, other than it is 4-stars, nor where they can be found in relation to the hospital. Our reviewer thought that clearer indication of the hotel options and what board is included would be useful. If not full-board, this will have to be taken into account when budgeting for the trip.
Because the clinic operates by using different facilities it seems likely that they also use several partner hotels, so that you will be close to the clinic you are having your procedure at. However, it would have been good to see which possible hotels you might be staying at, detailed on the website.
Clinic Center promises all and the above and more. The reviews appear to indicate that they fulfil them, but our reviewers felt that the site should provide more information on the facilities where the hair transplants take place. The clinic website does make it clear that there are several options for where you will have your treatment.
While this is acceptable as long as you get the best treatment for your needs, informing patients that Clinic Center does not operate solely from one base would be the way forward. However, they do offer a Clinic Center guarantee, in the unfortunate event of malpractice. Whichever, the facility it will be a hospital with an A-license.
Surgery & Doctor Involvement
If your surgeon is Dr Cagatay Vural, then it's good to know he has specialised in hair transplants since 2004, treating over 3,000 patients. The doctor is well-known for his 'hands-on' approach, doing the transplants himself. When and where the two experienced trichologist members of Clinic Center staff are involved is not clear. It is a big plus that Center Clinic has trained nurses, placed at your hotel, who provide you with an aftercare service following your procedure.
Aftercare is an essential aspect of the Clinic Center packages. The website contains an explanation of what to expect immediately following the procedure, which includes the day-after wash of the area and aftercare instructions. An interesting note is that Clinic Center provide nurses at the hotels. This is a huge reassurance to patients that they are not alone in a different country following a long and tiring medical procedure. It's a very proactive action from the company, as often it is only interpreters, who are not medically trained, to answer health queries. You get both with Clinic Center – a big thumbs up. On the site you will also get to know what to expect over the coming weeks and months. Follow-up is part of the package, and reviews do confirm this happens. Patients also have an option for either online follow-ups or a visit to the London office for aftercare. The website does aftercare products are provided but not what they are or for how long the supply is for. You can apply for finance for your treatment via the website, with the assurance that it will not affect your credit score if refused.
We Rate Clinic Center Turkey
The Clinic Center carries consistent good reviews from previous patients, the website is informative without being overwhelming. Overall our reviewer found information easy to access, although costs not being broken down on the site is a bit dissappointing. However, what is a great plus for this high scoring clinic is the fact you can opt for a consultation in London before making a decision to go ahead. It does appear that the Clinic Center is not one clinic or hospital. Treatment plans are arranged with the appropriate doctor and treatment site once your hair loss problem has been accessed. The procedures are performed at regulated venues. The clinic scores well in our review due to excellent facilities, doctor involvement and after care. With near perfect scores in these critical sections, Clinic Center has an excellent overall score. While it's not possible to get an accurate price from the site without consultation, on the plus side, finance is available, making thic clinic accessible and affordable for most. It's a shame that the Clinic Center only provides a 4-star hotel and doesn't give details of which hotels you might be staying at. However, we haven't seen another clinic that provides nurse service at the hotel, so if we could have awarded extra points here we would. Overall, we believe this is a safe and high quality clinic to have a hair transplant at.
Get a free hair loss report today and make sure you get fair offers from clinics
Clinic Center Turkey Hair Transplants Are Done By Dr. Cagatay Vural
Dr Cagatay Vural conducts all the procedures himself. Having worked in this specialism since 2004, you can be confident he has extensive experience in the hair transplant technique on offer from Clinic Center. However, according to WhatClinic, the doctor is based in Kusadasi. What needs better clarification from the company is that different doctors and staff do perform the procedures. This includes the trichologists names on the site—all of whom have an extensive background in hair transplantation.
The site states that 'All of the treatments are performed at internationally accredited hospitals'. That is great news, but which hospitals are selected? It appears that the Clinic Center's treatment plan, given following your consult, will be sourced from different avenues. As they offer group discounts, and hair transplants take 6 – 8 hour to perform, it is not possible for a group to receive individual attention by one doctor, in one centre, in the 3 days you stay. Our reviewer felt that the Clinic Center could be more transparent in telling patients that they may undergo treatment at different centres.
Before and After Pictures
Clinic Center Turkey Transplant Results And Before and After Pictures
When we conduct a review on a hair transplant clinic, we explore numerous avenues like with Clinic Centre Turkey Istanbul reviews on Trustpilot, Facebook, WhatClinc, LinkedIn and Instagram. The overall impression is a positive one; on Trustpilot, it is rated 4.5 from around 900 reviews., not all are for hair transplants but certainly give an indication on the high level of professionalism of Clinic Center.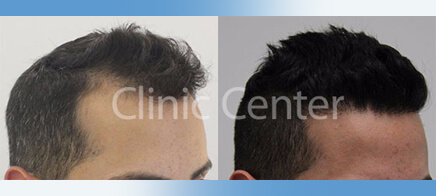 Getting a Hair Transplant in Istanbul Was Never Easier
Clinic Center Turkey Transplantation Methods & Treatments
Clinic Center offers several medical treatments that include, dentistry, cosmetic surgery, non-surgical cosmetic treatments that include options like botox to a Vampire facial. IVF is also available, alongside hair transplantation. The hair transplants are open to men and women. The procedures for head, eyebrow and beard transplants include FUE, Follicular Unit Extraction, and DHI, Direct Hair Implant.
The FUE hair transplant procedure leaves no cut or stitches on the extraction. Neither is there scarring, and surgical pain is minimal. FUE is the most popular treatment for hair transplants; you can also opt for Sapphire FUE where the difference is in the blades that create the tiny incisions for transplant. The other procedure available to Clinic Center patients is the DHI method. DHI differs from FUE at the transplantation stage—where the hair grafts are transplanted directly without the need for the tiny incisions that are necessary for the FUE procedure. A Choi pen is the tool used in DHI for the graft transplant. An FUE procedure is often slightly cheaper than a DHI.
Clinic Center Turkey Cost of Hair Transplants, Available Packages And Extras
This appears very straightforward, as the main hair transplant page offers a procedure for £1390. Unfortunately, it does not clarify which procedure. There needs to be a better breakdown so people can work out their budget. The Clinic Center Turkey does have a further breakdown on costs, on the WhatClinic site. Here it states costs from £1.000 – £1,580, but it is not clear how up-to-date these prices are.
A good standard of hotel is provided for patients, at 4-stars in Istanbul you can expect a high level of standard and quality amenities. Our reviewer would have like to see more information on the hotels but understands these facilities can change due to circumstances. What isn't known is the level of board included with the package, which in turn effects the budget for the treatment. A big plus, is that Clinic Center nurses are based at the hotel to help patients following treatment.
Be the first to grab our all-new e-book
Before you can truly commit to a hair transplant it is important to understand hair loss. Together with the experts at IdealofMeD, we wrote an e-book explaining everything you need to know about hair loss. From hair loss causes to practical tips on how to deal with hair loss and the best hair loss products.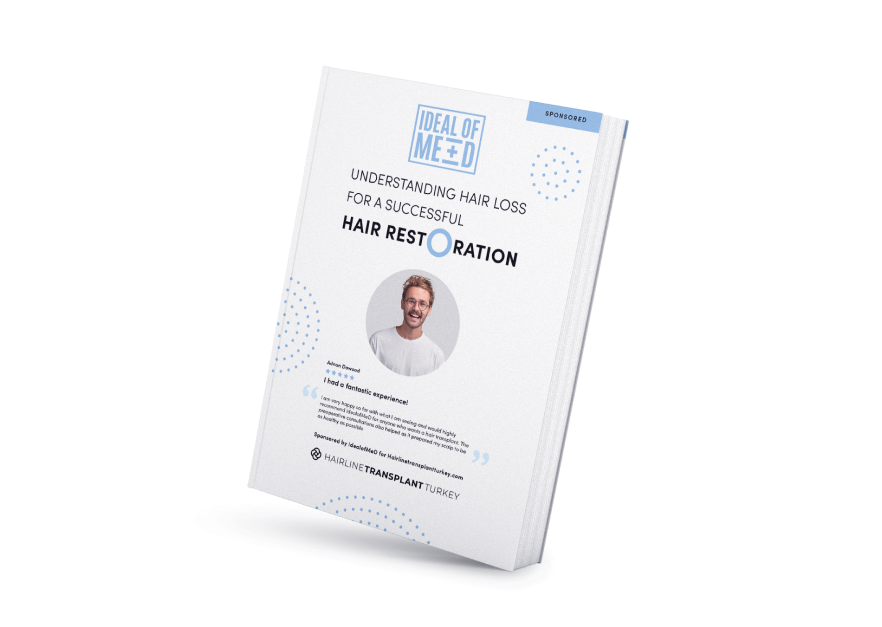 Yes, Clinic Center has an active presence on Instagram and other social media outlets. There are over 15K following and regular posts on all the treatments available from them.
One hospital has a mention on the website. This belongs to a private medical group, Medicana, and is one of 12 hospitals in the group. The hospitals in the group are fully licensed and operate to European standards.
The medical facilities where your hair transplant procedure is undertaken have an A-Licence The private hospitals can offer a broader range of services like A&E and laboratories.
Contact Hairline Transplant Turkey
Our team of experts are always here to help you. You can call us or fill the contact form for any questions about hair transplantation cost or procedure. We are more than happy to assist you. You can also leave your contact information, and we'll give you a call.
Let us answer your questions