Expert Hair Transplant Turkey Review

At Expert Hair Transplant Turkey, all the procedures are conducted in the Medipol Mega hospital, which is fully equipped and advanced. For this reason, they can combine the finest technology and aesthetics to provide natural and appealing results. If you are looking to have a hair transplant in Istanbul start by reading our detailed review of this clinic.
Expert Hair Transplant Istanbul review content:
Expert Hair Transplant Istanbul Rating
Expert Hair Transplant Istanbul Review Summary
Expert Hair Transplant Turkey has made it possible for patients to have their entire procedure planned online. To book your appointment, all you have to do is fill a contact form available on their website. Following this, one of their doctors will reach out to you via WhatsApp, email, or phone call. He/she will offer you a free online consultation and examine the photos of your head to determine the number of grafts that will be needed. They will also answer all your questions and give you professional advice on hair loss.
Their site provides extensive information about all their procedures. They also have a detailed FAQ section that answers common questions concerning hair transplants. However, there is no mention of the cost of their procedures, but the clinic does say its services are affordable. Any pricing information is given to the client after the hair analysis when the number of grafts has been determined.
Pre-Operational Consultations
Unfortunately, the Expert Hair Transplant clinic's site provides very little information concerning the offering of their services before you arrive in Istanbul. It only mentions that they offer medical attention during and after the surgery, but nothing is said about pre-op consultations. Neither do they give any details about their provision of pre-op medication.
They also don't have any instructions on nutrition guidelines to follow or drugs to avoid during the weeks leading up to your surgery. Plus, there are no details on whether they give clients a chance to reschedule their procedures once they finish the booking process. The failure to provide essential pre-op information on the website could prove to be a significant inconvenience for their prospective clients.
The Expert Hair Transplant Turkey makes arrangements for its clients from the moment they arrive in Istanbul. Upon landing, you will find their driver waiting to take you to your hotel.
During your stay, they provide VIP internal transfers from the hotel and clinic. The clinic offers translation services in English, Turkish, French, Arabic, Spanish, Chinese, and German to facilitate seamless communication. They run a blood test for their patients on the day of the procedure which is fine, but we prefer the blood test to be done on the day you arrive, so that you can relax knowing your operation will go ahead.
The clinic offers accommodation for their patients but fails to specify the length of the time they book the hotels. Apart from mentioning that their choice of hotel is luxurious, there isn't any information on the ratings of the hotel. They do, however, detail that all these services are covered in their all-inclusive package.
At Expert Hair Transplant Turkey, surgeries are conducted at Medipol Mega University Hospital. This hospital is fully equipped with the latest technology to ensure excellent results for the satisfaction of all its patients. The hospital also provides emergency services, so in the worst-case scenario, the necessary treatment and care will be available.
The university hospital they operate in respects all the international medical and professional standards, making it safe and hygienic. The clinic does not have an A-license, therefore, they may only perform one hair transplant per day as is required by the Turkish Ministry of Health. The clinic does not provide any information about how they will help you relax and if they will offer refreshments during your lengthy surgery.
Surgery & Doctor Involvement
Aesthetic surgeons perform the surgeries at Expert Hair Transplant Turkey. The doctors are highly skilled, and their expertise in hair transplants goes beyond five years. They also stay updated on the latest hair transplant techniques by attending international conferences to ensure their clients get the most advanced treatments. During your procedure, the clinic provides a translator so that there is no language barrier. However, beyond this claim there is little. No specified doctor, no nurses, no needleless anaesthetic which accounts for their poor score.
Expert hair doesn't manage to score any points in our aftercare section, however, after you travel back home, the Expert Hair Transplant clinic team will remain in contact. They do a follow-up on your recovery and are ready to give you advice until you attain your desired results. It is not clear on their website whether they provide any aftercare medication, but they advise on this during the post-op consultations. Also, the clinic doesn't offer any hair growth guarantees to their clients. Instead, it has detailed the results you should expect from their transplant in stages, from the first week to one year after the surgery.
We Rate Expert Hair Transplant Istanbul
At Expert Hair Transplant clinic, you are provided with advanced, state of the art techniques to restore the fullness of your hair. However, they are not keen on the provision of some of the essential services for an ideal experience.
The Expert Hair Transplant clinic doctors claim to have performed more than a thousand successful surgeries and are experienced. They say they are dedicated to providing the most natural results thanks to the high level of equipment they use for the hair transplants. Additionally, the team follows up with your recovery process to answer all your questions and ensure you are satisfied with the results.
Unfortunately while they mention doctors there are no specific ones detailed, by name. Furthermore, the facilities are lacking, and there is little to no information on their pre-op package. Whatsmore, aftercare at Expert Hair Transplant appears limited and your hair growth is not guaranteed, which is very off-putting. All in all, a poor score and we believe there are far better clinics in Turkey to have a hair transplant.
Get a free hair loss report today and make sure you get fair offers from clinics
Are Expert Hair Transplant Istanbul procedures done by qualified doctors?
It is claimed that professional plastic surgeons conduct all the surgeries at Expert Hair Transplant. They are all licensed and have the necessary certifications required to give their patients the best treatment. These aesthetic surgeons understand the role hair has in the confidence of their clients, which is why they combine art with a variety of techniques to ensure your hair transplant looks natural and healthy. They also advise patients on the steps of their treatment and provide tips on how to prevent further hair loss.
In addition to their skills, reviews suggest they are also professional and friendly. The Expert Hair Transplant team also ensures to continually research the new developments in the field of hair transplants. The clinic can provide specialized treatments for both male and female hair loss, tailored as per the requirements of their patient. Sadly, there are no doctors detailed by name to check out their claims. But, without any 'real' doctors mentioned these claims remain just that.
Before and After Pictures
Expert Hair Transplant Istanbul Results And Before and After Pictures
The Expert Hair Transplant Turkey has various social media platforms including, Facebook, Instagram, and Twitter, where they continually post reviews. However, we have noticed that these pages do not have many followers and likes. Neither are there any reviews posted on Trust Pilot nor has it posted clients' reviews or before and after pictures on their website.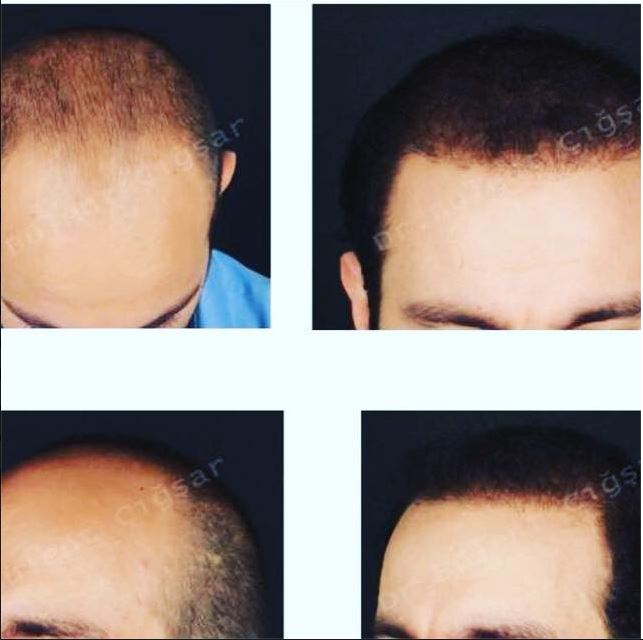 Getting a Hair Transplant in Istanbul Was Never Easier
Expert Hair Transplant Istanbul Transplantation Methods & Treatments
At Expert Hair Transplant Turkey, they specialize in the Follicular Unit Extraction (FUE) method of performing hair transplants. This method promises natural-looking hair with a fast healing process to enable you to get on back to work sooner. They also perform the Follicular Unit Transplantation (FUT) technique which can harvest more hair follicles than other methods.
The clinic, through hairline lowering, can also conduct a forehead reduction surgery, which ensures that your forehead looks proportional to your facial features. Furthermore, they perform beard and eyebrow transplants, scar repairs, and plasma treatment. All these procedures are beneficial for both men and women and aim towards restoring their hair permanently.
Expert Hair Transplant Istanbul Cost of Hair Transplants, Available Packages And Extras
The Expert Hair Transplant Istanbul website has no information about the costs of their services. Neither do they state whether they charge per graft or depending on the hair transplant method they will use. These details are only given to their patients once the online assessment is done, that is, during the booking phase.
Not included in their cost plan are the post-op consultations. It is unclear whether they offer any treatment products such as shampoos or lotions. Also, there are no financing options available for their clients, which could have at least saved you some currency. On the plus side, the clinic offers the possibility to organize sightseeing trips for patients but at an extra price.
Be the first to grab our all-new e-book
Before you can truly commit to a hair transplant it is important to understand hair loss. Together with the experts at IdealofMeD, we wrote an e-book explaining everything you need to know about hair loss. From hair loss causes to practical tips on how to deal with hair loss and the best hair loss products.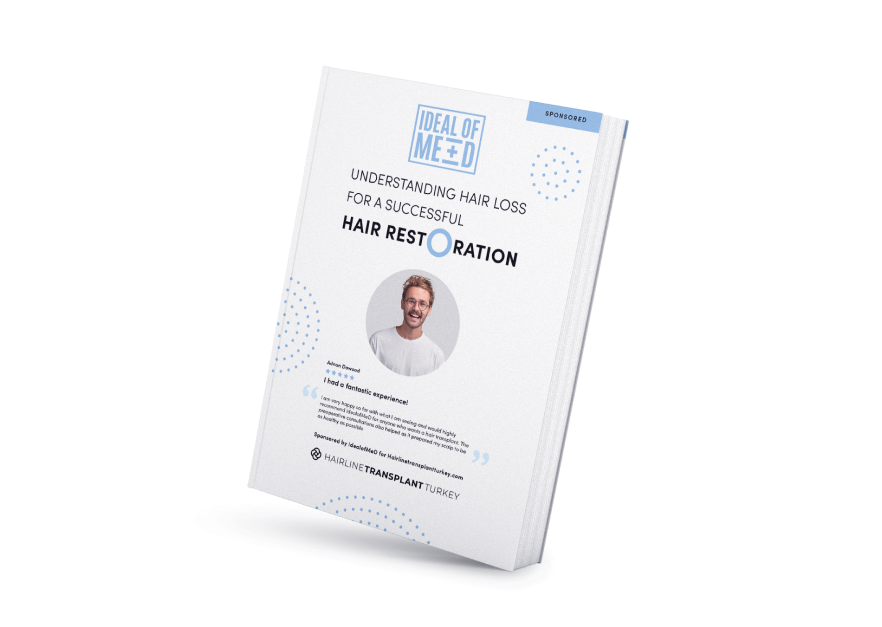 Yes, Expert Hair Transplant Istanbul is on Facebook. They are also on Instagram, Twitter, and YouTube, where they post the results of their procedures and useful tips on how to get rid of hair loss.
Yes. Expert Hair Transplant Istanbul conducts their surgeries in the Medipol Mega University Hospital. This means that they have adequate, high-quality equipment, which they use for their hair transplants.
No, Expert Hair Transplant doesn't have an A-license. They do, however, perform their surgeries in a hospital with a JCI certification, and adheres to high standards of cleanliness and safety.
Contact Hairline Transplant Turkey
Our team of experts are always here to help you. You can call us or fill the contact form for any questions about hair transplantation cost or procedure. We are more than happy to assist you. You can also leave your contact information, and we'll give you a call.
Let us answer your questions