Clinichub Istanbul Review

Clinichub Istanbul is a premier plastic surgery clinic, specialising in all things aesthetics, from Rhinoplasty to Brazilian Butt Lifts. They claim to be one of the leading places for a hair transplant in Istanbul so we've taken a closer look.
Clinichub Istanbul review content:
Clinichub Istanbul Rating
Clinichub Istanbul Review Summary
The Clinchub Turkey website is easy to use and very well-written in English, which is always a good start when assessing suitability. There is an wealth of information about the clinic itself and the team, as well as detailed insights into the procedures they carry out. The booking process at Clinichub Istanbul is simple and easy to follow, and it all begins with booking your free online hair loss consultation. There's a handy form to fill out, which only takes a minute, and one of the team will get back in touch.
As far as first impressions go, the Clinichub website is one of the best we have seen. Not only from a look and feel perspective, but also from the sheer level of information and patient resources. During the booking process, the clinic certainly gives the impression of being professional and trustworthy. The only drawback is the lack of pricing available, so this is something you have to enquire about before making any decisions.
Pre-Operational Consultations
The pre-operational care is a real disappointment at Clinic Hub, especially after starting so well with the booking process. There is plenty of information and guidance for patients around personal care before the operation, which is a nice touch, but this is mostly down to the fact that the clinic don't provide any themselves.
There is no pre-op kit or medication included in the treatment cost, and so you will incur extra costs ensuring you're fully prepared for your transplant. In fact, the Clinic Hub website even goes as far as providing a 'shopping list' of things you will need, which is a bitter pill to swallow when you've already forked out for the procedure.
There are 3 hotels offered to patients by Clinichub, each offering something different. The one thing each accommodation has in common is that they are all 5-star, the key difference being the location.
The Silence Istanbul hotel is peaceful, and perfectly designed for those looking for nothing but time and space to recover from their procedure. The alternatives, Bostanci Dedeman and the Raddison Blu, are both in much busier city-centre locations, ideal for those interested in sightseeing and more of the hustle and bustle.
Regardless of which hotel you choose, you will still be able to enjoy the same high-end luxurious comforts and additional perks like free WIFI, room service and a spa. Clinichub emphasises the importance of patient comfort throughout their stay in Istanbul, and the quality of accommodation offered is evidence of this promise.
The Clinichub calls its facility 'your clinic away from home', with a mantra of providing the very best standards of care and comfort to all patients. The elements of medicine, cosmetics and care all perfectly combine in this state-of-the-art centre for aesthetics. Your customised treatment plan begins from the moment you step in, and you're well looked after throughout.
The clinic also sports a number of impressive and equally important accreditations. Not only is Clinichub regulated by the Turkish Government with its own A-License, but it's also an EU accredited private hospital. These accolades don't come easy, and it's not something every hair transplant clinic has, so it's a real selling point.
Surgery & Doctor Involvement
There are 5 members of the medical team noted on the website, each with their own a picture attached. This is a great feature, as it's very helpful to be able to put a face to the name of your doctor. Each doctor also has a detailed profile page, outlining specialities and accreditations. Dr. Dogus, a plastic and cosmetic surgeon, heads up the team at Clinichub and has a wealth of experience in hair transplantation.
There have been a lot of great things to say about Clinichub in the lead up to your procedure, but unfortunately, it goes downhill when it comes to aftercare. There are a number of aftercare features that the clinic do not offer, which we would consider to be a standard level of care. There are no aftercare packages offered to patients, there are no financing options to make payment more affordable and there's also no 90% hair growth guarantee.
We Rate Clinichub Istanbul
Clinichub has some fantastic facilities, an easy booking process, and they do a lot of things right. That said, they get some of the fundamentals of pre-op and post-op care wrong, and so the mid-range score seems fair.
The surgical capabilities of Clinichub is above-and-beyond many of the other clinics we look at, and the extent of procedures offered is very impressive. That said, because of this, there's less of an emphasis on the basics of hair transplantation services as it clearly isn't their most commonly performed treatment.
It almost feels as though the hair transplants are an afterthought, and so although Clinichub might be the perfect place for a surgical procedure, it probably wouldn't be our first choice for a hair transplant. There are pros and cons to both a specialist hair clinic and an entire medical centre, but here the cons are hard to ignore.
Get a free hair loss report today and make sure you get fair offers from clinics
Are Clinichub Istanbul transplants done by Dr Dogus or other qualified doctors?
Clinichub has an impressive team of doctors on the staff to carry out the procedures. There are a range of specialists in different fields, but Dr Dogus is the go-to guy when it comes to hair transplantation. Dogus graduated from Istanbul university back in 2004 and specialised in aesthetic, plastic and reconstructive surgery. Sporting a European Board of Plastic and Reconstructive Surgery Certification, he is one of the most decorated doctors on the team at the clinic.
There are 2 other general plastic and cosmetic surgeons on the team, starting with Dr. Furkan. Dr. Furkan specialises in liposuction, tummy tucks and other reconstructive surgeries, and is an accomplished surgeon with over 10 medical articles published worldwide. Dr, Burak is the third cosmetic surgeon on the staff, and he focuses on facial aesthetics mostly. Having such a strong and experienced team is a real selling point of Clinichub and your procedure is sure to be of the best quality.
Before and After Pictures
Clinichub Istanbul Results And Before and After Pictures
Because of the nature of the clinic itself, there is a distinct lack of before and after pictures and Clinichub reviews when it comes to hair transplantation. There are plenty for other surgical procedures like results of a rhinoplasty and tummy tuck, but very little in terms of hair treatments.
Getting a Hair Transplant in Istanbul Was Never Easier
Clinichub Istanbul Results And Before and After Pictures
There's not a lot that Clinichub doesn't do – from cosmetic surgery, to dental care, weight loss and non surgical procedures, they cover the whole spectrum of aesthetics. For hair transplantation, the two main methods offered are FUE (follicular unit extraction) and DHI (Direct Hair Implantation), with DHI being the main preference.
The reason that DHI is preferred amongst specialists is because it is the newer technology, and usually requires a shorter recovery time when compared to that of FUE. Both of these techniques promise painless anaesthesia and no scarring and the method used will depend on your individual case and desired results.
Clinichub Istanbul Transplantation Methods & Treatments
The frustration about the Clinichub prices is that there are none. The website doesn't give us any idea of how much the procedure costs, which is disappointing, considering the amount of other information it provides. The best we get is that they state UK patients can expect to save 70% on the cost of the treatment in the UK.
Although we don't know the specific pricing structure, what we do know is that the standard package is all inclusive. This means that it includes treatment, as well as travel and accommodation upon arrival in Istanbul. As mentioned earlier in the review, though, there is not much in the way of aftercare included.
Be the first to grab our all-new e-book
Before you can truly commit to a hair transplant it is important to understand hair loss. Together with the experts at IdealofMeD, we wrote an e-book explaining everything you need to know about hair loss. From hair loss causes to practical tips on how to deal with hair loss and the best hair loss products.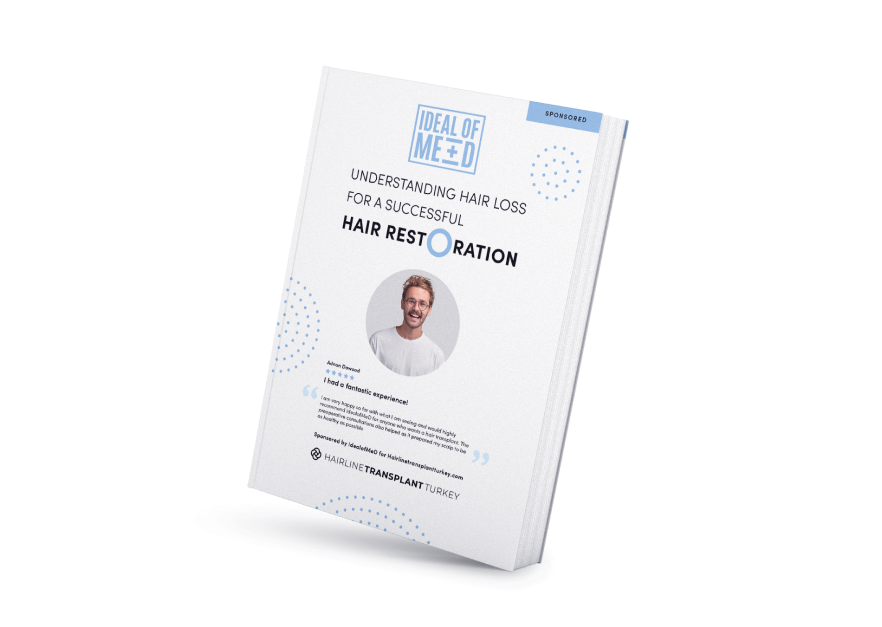 Yes. The clinic has an active Facebook page with regular updates and before and after pictures. You can give the page a like here: https://www.facebook.com/ClinichubUK
Yes. The Clinichub facilities are medical hospitals with the capability of carrying out advanced aesthetic procedures. Your hair transplant will take place in a state-of-the-art hospital.
Yes. Clinichub has an A-License, meaning that is both accredited and regulated by the Turkish Government. The clinic also has EU accreditation and other certifications.
Contact Hairline Transplant Turkey
Our team of experts are always here to help you. You can call us or fill the contact form for any questions about hair transplantation cost or procedure. We are more than happy to assist you. You can also leave your contact information, and we'll give you a call.
Let us answer your questions