DrT Hair Transplant Clinic Turkey Review

DrT Hair Transplant Clinic Turkey has been around since 1998, making it one of the first clinics offering a hair transplant in Istanbul to international patients. The clinic is run by Dr. Tayfun Oguzoglu, a real pioneer in the world of hair transplantation, having performed thousands of procedures. In this review, we look at all of the important aspects of the DrT Clinic from a patient perspective and provide a final score out of 5 based on our findings.
DrT Hair Transplant Clinic Turkey review content:
DrT Hair Transplant Clinic Turkey Rating
DrT Hair Transplant Clinic Turkey Review Summary
DrT Hair Transplant Clinic Turkey has an easy-to-use website that is written entirely in English. This caters perfectly for the UK audience, who may looking into the option of saving money and having their transplant abroad. You will find a plethora of information in the very helpful 'patient guides' published on the website, including intricate details about each hair transplant technique. There is also a brief outline of the medical team at the clinic, including a profile on Dr. Tayfun Oguzoglu himself.
The process to book a free consultation couldn't be any easier. All you have to do is fill in a few minor details and one of the team will get in touch to book something in. Only after this consultation will you have an indication of price, as the pricing is not listed on the website.
Pre-Operational Consultations
There is an entire page on the website dedicated to a complete walkthrough of the patient experience from start to finish. It discusses in detail what happens from the moment you arrive in Turkey, how you'll be taken care of, what to expect during your procedure and much more. If you're somebody that has never travelled abroad for such a treatment, this can help to give a real peace of mind and manage expectations.
Unfortunately, once your procedure is booked, it cannot be rescheduled for free. If there are extenuating circumstances, you may be able to negotiate, but other than that, you risk losing any deposits for cancelling or rescheduling. There is also a disappointing amount of pre-op care, including no medication or pre-op consultations before arrival.
DrT Hair Transplant Clinic puts the comfort of their patients at the forefront of what they do, and this is clear in their efforts with arrival and accommodation.
You will be put up in a 5-star Best Western Hotel, guaranteeing a great level of comfort during your stay. The only issue is that it's not exactly clear whether the stay included in your package is 2 nights or 3 nights. We would always expect 3 nights for enough time to rest and recover before travelling home.
You will have an English-speaking driver and coordinator collecting you from the airport as part of your inclusive VIP transfers, and when it's time to go, you'll be dropped back off for your return flight too. The only negative we could find in the entire process is that a blood test isn't carried out on arrival, so this would need to be done on the day of your procedure.
DrT Hair Transplant Clinic don't seem to do much in the way of selling their clinic to prospective patients. There's a load of information about the procedures, and some about the doctors doing them, but very little about the clinic itself. What we do know is that it's a specialist hair transplant clinic, and therefore no other procedures are carried out there.
There's no A-License or regulation from the Turkish Government, which isn't a must-have, but always a great bonus. There also isn't much information about patient comfort when at the clinic – we would expect to be told about ergonomic beds and chairs, as well as any bonus facilities available. Unfortunately, none of this information is given.
Surgery & Doctor Involvement
The clinic was founded in 1998 by Dr. Tayfun Oguzoglu, who remains very much involved to this day. The very well-respected doctor is one of the obvious reasons to choose DrT over its many competitors. That said, there's not much said about the other members of the team, such as nurses, other doctors or technical staff.
It's always disappointing when a clinic does such a great job during booking and pre-op, but falls short during aftercare. Unfortunately, DrT Hair Transplant Clinic are guilty of just that. There is next to nothing included in the way of aftercare. Once your procedure is over and you're back in the UK, that's pretty it from the clinics perspective. You will receive no post-op medications, shampoos or follow ups as part of your package price.
We Rate DrT Hair Transplant Clinic Turkey
There are many things to like about DrT Hair Transplant Clinic, but also a lot of improvements that could be made. It's because of this that we feel as though the score of 1.83 is justified.
The huge amount of information available on the website is something incredibly helpful for prospective patients at DrT Hair Transplant Clinic, and it creates the ideal first impression. This, followed by the seamless booking process is the ideal start, but there are then areas where the clinic lacks and lets itself down.
The main area for improvement with DrT Hair Transplant Clinic is the aftercare procedures. In short, there are none. The clinic offer a 5-star service from the very beginning, but then seemingly disappear after the hair transplant is done. We would love to see more in the way of post-op consultations and care included.
Get a free hair loss report today and make sure you get fair offers from clinics
Are Dr. T procedures done by Dr Tayfun Oguzoglu?
DrT Hair Transplant Clinic was founded by Dr. Tayfun Oguzoglu, who still has involvement in the procedures carried out today. He's been a member of the Society of Hair Restoration Surgery (ISHRS) since 1998, and has more experience than many of the doctors we look at in these reviews. Dr. Oguzoglu is involved in every procedure carried out at the clinic, from doing some of them himself to overseeing the entire hair transplantation operation and other doctors.
Dr. Alev Eceviz and Dr. Fevzi Kortay are the two remaining hair transplantation specialists at the clinic, and the team of 3 are a force to be reckoned with in the hair transplant industry. With decades of experience between them, you will struggle to find a better and more qualified team of doctors for your procedure. Your hair transplant will be carried out by one of the doctors, all with impressive backgrounds in the growing sector.
Before and After Pictures
DrT Hair Transplant Clinic Turkey Results And Before and After Pictures
DrT Hair Transplant Clinic Turkey has helped thousands of patients since its opening in 1998. Thankfully there are a ton of before and after pictures and reviews to look through on the website. Nothing helps to decide whether or not to use a clinic than real-life cases and feedback, so be sure to check them out.
Getting a Hair Transplant in Istanbul Was Never Easier
DrT Hair Transplant Clinic Turkey Transplantation Methods & Treatments
There are 3 different hair transplant methods used at the DrT Hair Transplant Clinic. First is the Follicular Unit Extraction (FUE) technique, which has replaced the previous FUT method in most cases. FUE allows doctors to extract hair grafts one by one, and is popular for the great results it produces.
The Sapphire Premade Slit (SPS) Method is a newer technique used in hair transplantation, and is offered at this clinic. This allows doctors to be faster with their grafting but provide more dense results. Finally, DHI (Direct Hair Implantation) is also available at the clinic. The type of hair transplant used will vary on a patient-by-patient basis, depending on the hair loss type and severity.
DrT Hair Transplant Clinic Turkey Cost Available Packages And Extras
Unsurprisingly, as is often the case, there is no clear and transparent pricing available at DrT Clinic. You would need to have a consultation beforehand to determine the amount of grafts required and the ideal technique. Both of these variables are mostly what dictates the price of the package. The standard package includes:
The good news is that the package at the DrT Hair Clinic is all inclusive, meaning that everything from the procedure to your airport transfers and hotel are included in the price. The only thing left for you to organise is your flights, the rest is taken care of for you.
Be the first to grab our all-new e-book
Before you can truly commit to a hair transplant it is important to understand hair loss. Together with the experts at IdealofMeD, we wrote an e-book explaining everything you need to know about hair loss. From hair loss causes to practical tips on how to deal with hair loss and the best hair loss products.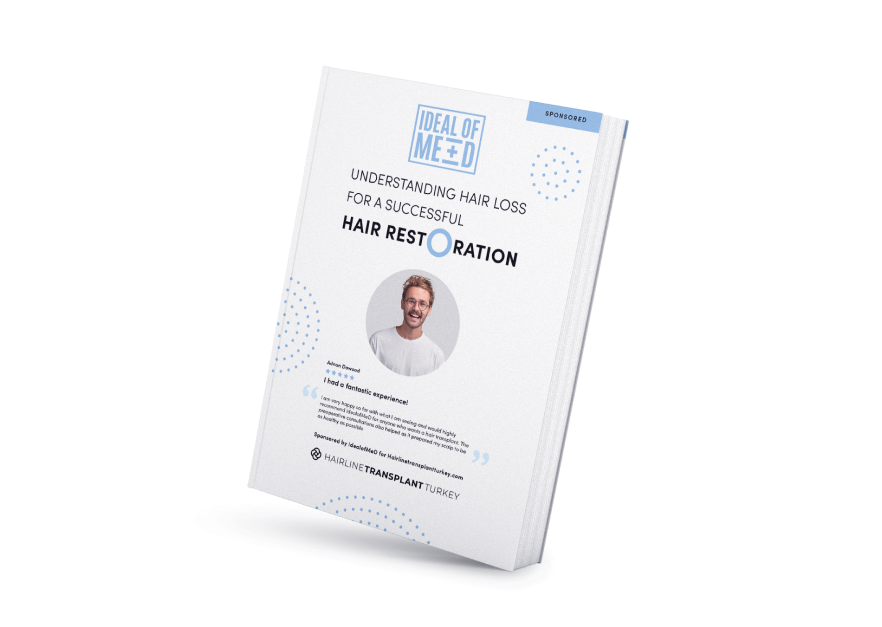 The DrT Hair Transplant Clinic can be found on Instagram with the handle @drthairtransplant. Their profile includes before and after pictures as well as answers to the most frequently asked questions.
No, the DrT Hair Transplant Clinic is not a hospital. It is a specialist hair clinic with qualified doctors carrying out the procedures, but not in a hospital environment.
DrT Hair Transplant Clinic Turkey does not currently hold an A-License. Although it's a nice thing to have, this does not mean that the clinic doesn't still meet very high standards of care.
Contact Hairline Transplant Turkey
Our team of experts are always here to help you. You can call us or fill the contact form for any questions about hair transplantation cost or procedure. We are more than happy to assist you. You can also leave your contact information, and we'll give you a call.
Let us answer your questions