Cosmeticium Clinic Istanbul Review

Cosmeticium Clinic Istanbul is one of the many hair transplant clinics in Turkey, but how does it try to stand out from the rest? For starters, the clinic has top doctors, world-class facilities and offers luxurious accommodation making it score highly in our review. Is this the perfect clinic for your hair transplant in Istanbul? Our review shows what more the clinic has to offer.
Cosmeticium review content:
Cosmeticium Turkey Review Summary
Cosmeticium Clinic Istanbul is a clinic with a comprehensive and appealing website. Whether you want to know more about its doctors or its procedures, click on the subpages and you will find all the information you need. The website is published in English and can also be read in ten other different languages. Cosmeticium Turkey offers a free hair loss consultation and assures its clients that their information will be kept private and won't be shared to any third party.
The clinic provides an online form where you will fill in your details, choose the type of procedure you want and finally attach three photos of your head. One of the three doctors, Dr Çağlar, Dr Batuhan or Dr Barış, will respond within a day. If you want to find out more about the doctors, check out the "Doctors" subpage and you will find their summarised CVs. Unfortunately, the same cannot be said about the costs of their procedures as there is no price list on the site.
Pre-Operational Consultations
Cosmeticium Clinic does fairly well when it comes to its pre-operational services. One of the top priorities of the clinic is patient's satisfaction, and the staff attempts to earn their clients trust from the start. Even though the clinic doesn't provide a pre-operational kit, the doctors are ready to answer any questions you might have about the procedure, and the staff is also willing to assist you in planning your trip.
The booking process is transparent, and in case an engagement comes up, the clinic is willing to reschedule your booking at a convenient time. For more information on what you need to know before the procedure, check out the FAQ section as well as the blogs on their website. They are informative and recent and will provide you with all the relevant info.
At Cosmeticium Clinic, their all-inclusive package covers all your requirements in Turkey. Once you land at the airport, the clinic has organised VIP transfers, and an English-speaking driver will be waiting for you in an executive Mercedes van.
The driver will take you to the DoubleTree by Hilton Istanbul—a 5-star hotel with exquisite rooms and amenities. You can view photos of the luxurious hotel on the clinic's website. Your driver will facilitate your internal transfers to the clinic and hotel, and can also take you on tour through the streets of the beautiful city of Istanbul.
The accommodation provided by the clinic only covers two nights, but if you would wish to extend your stay, the clinic can arrange that at a fee. Doctors at the clinic are conversant in English and a few other languages, but if the need arises for a translator, the clinic is ready to provide one.
Cosmeticium clinic gets a thumbs up and a 5/5 rating from us when it comes to its facility. Again, the clinic earns trust by mentioning that they operate in a JCI accredited hospital multiple times on their site. The private hospitals in which the clinic operates from include Medicine Hospital Istanbul and Reyap Hastanesi, all of which have been certified nationally and internationally.
As for the clinic itself, it does its due diligence and has an A-License from the Turkish Government. The facilities of both the clinic and hospital are modern and use the latest technology to ensure they provide world-class healthcare services. To confirm this, the clinic has been awarded a 5-star Treatment & Quality rating as well as a Best Customer Service award.
Surgery & Doctor Involvement
Cosmeticium assures its clients that all members of its medical staff are highly skilled, educated and certified by the relevant associations. Dr. Kurtoğlu is one hair transplant surgeon at the clinic with five years of experience in FUE and three years experience in the DHI technique. The doctor is assisted by other hair transplant specialists, Dr Çağlar and Dr Barış, and also highly trained nurses.
One unique service provided by Cosmeticium is that it offers full medical travel insurance. Most clinics don't offer this, so such an offer is a huge plus for the clinic. Their doctors are confident with their results that they guarantee a 95% success rate with their hair transplants, and provide insurance in case of a complication. One of the doctors will also contact you regularly to follow-up on your recovery and confirm that everything is going on as planned. However, there was no information as to whether the clinic provides any aftercare products such as shampoos, lotions or medication, which can be expensive.
After a thorough evaluation of the clinic's qualities, Cosmeticium Clinic scored 3.67 out of 5. The clinic is straightforward and provides all the necessary information you may need, and that's why we can recommend it to you.
Starting from the booking process, Cosmeticium clinic has it all laid-out, and its doctors respond promptly. Even though details about the costs aren't available, feel free to enquire about it during the first online consultation, and you will get your answer. However, the clinic says that procedures are affordable as the Turkish Government financially supports it.
Information and photos about the facilities, doctors and all-inclusive package are available on their website so you can know what to expect. Also, potential clients can feel more confident in Cosmeticium clinic because it guarantees a successful hair transplant and has a team of three qualified doctors. The fact that the clinic provides 5-star accommodation, has a competent medical team and operates in a certified and accredited facility makes it one of the top hair transplant clinics in Turkey.
Get a free hair loss report today and make sure you get fair offers from clinics
Are Cosmeticium hair transplants done by Dr. Kurtoğlu?
Any potential client would like to know who exactly will be in charge of their life-changing hair transplant. Cosmeticium clinic puts your worries to rest by providing full details of its lead doctors. Dr. Kurtoğlu is one of the hair transplant surgeons at the clinic and has performed over 1,500 procedures. The doctor graduated from Istanbul University, Medicine Faculty and started working as a general practitioner in emergency care units before specialising in hair transplants. He is fluent in English and Turkish and has performed FUE procedures on clients from different parts of the world.
The clinic also has two more hair transplant specialists, Dr Çağlar and Dr Barış. Dr Çağlar was also a graduate of Istanbul University, Medicine Faculty, and has also performed over 1,500 hair transplants. The doctor has 5 years experience in FUE and three years experience in DHI hair transplants. Last but certainly not least is Dr Barış, who joined the clinic later and has performed over 1,000 hair transplants since joining the team. He is fluent in English and Turkish and has specialised in FUE and DHI as well. Committed and highly trained nurses assist the doctors at the clinic.
Before and After Pictures
Cosmeticium Clinic Istanbul Results And Before and After Pictures
A clinic is only as good as its results, and according to Cosmeticium Turkey reviews online, the clinic delivers on its promises. You can check out the before and after pictures of their patients on their website or social media pages. The clinic has a rating of 4.6/5 on Trust Pilot with positive comments on their results.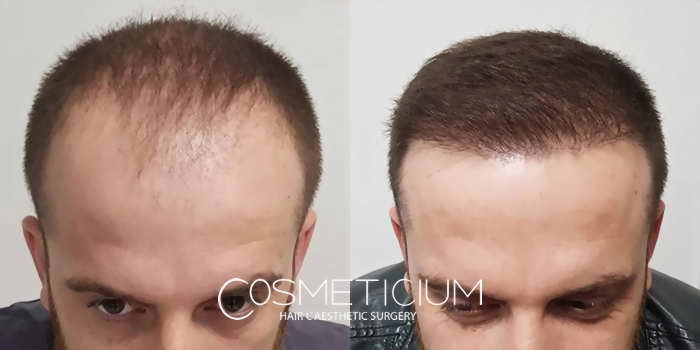 Getting a Hair Transplant in Istanbul Was Never Easier
Cosmeticium Clinic Istanbul Transplantation Methods & Treatments
Cosmeticium is a clinic that performs several procedures and has a team of more than ten doctors specialising in different surgeries. The different treatments include bariatric surgery, ENT surgery, plastic & reconstructive surgery and hair transplant surgery. For hair transplant procedures, the clinic uses the latest FUE technique which uses sapphire blades instead of the traditional steel blades.
The sapphire blades make the procedure more precise and reduce scarring on the scalp. Operations take 6-8 hours depending on the patient's hair, and the doctor is fully involved throughout the operation. As part of their hair transplant package, the clinic offers a plasma therapy session to boost the growth of the newly planted hair follicles.
Cosmeticium Turkey Cost of Hair Transplants, Available Packages And Extras
Cosmeticium Turkey doesn't include a price list on their website but does tell you what their all-inclusive package entails. The clinic claims to have the best affordable prices stating that they receive financial support from the Turkish Government, but you can always reach out to them and confirm their costs. Their all-inclusive package includes the following:
Cosmeticium clinic provides a luxurious hair transplant experience with VIP transfers and 5-star accommodation. If you are considering a hair transplant in Turkey, Cosmeticium is a good clinic to go for. However, the price will be a significant factor in your decision and since there is no price given we cannot comment on whether they offer the best value for money.
Be the first to grab our all-new e-book
Before you can truly commit to a hair transplant it is important to understand hair loss. Together with the experts at IdealofMeD, we wrote an e-book explaining everything you need to know about hair loss. From hair loss causes to practical tips on how to deal with hair loss and the best hair loss products.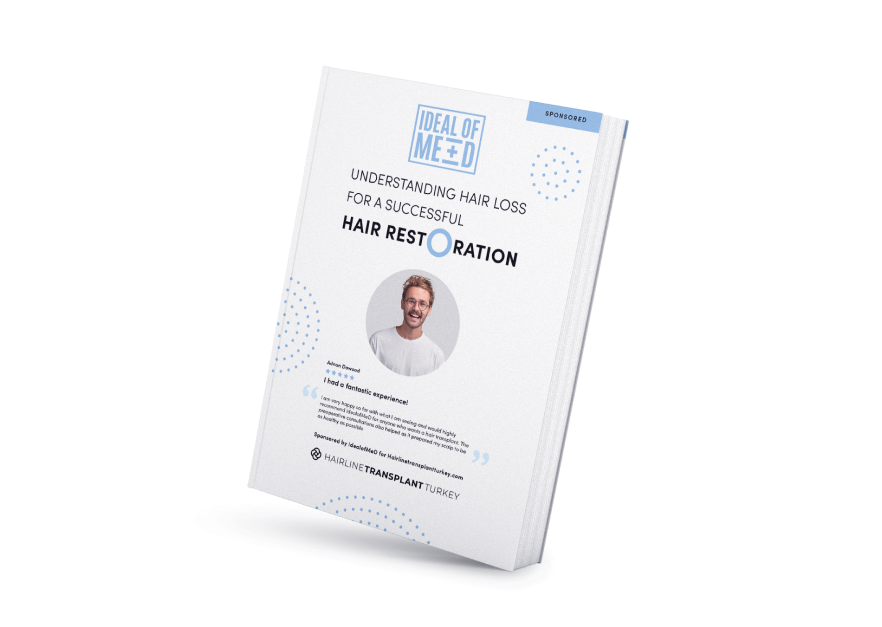 Yes. The clinic is also on Instagram, Twitter and YouTube. They have a following of about 2,800 people and post before and after photos of their clients.Yes. The clinic is also on Instagram, Twitter and YouTube. They have a following of about 2,800 people and post before and after photos of their clients.
Yes. Cosmeticium clinic is very specific on the hospitals it operates in and only chooses those that are accredited by the JCI and are regulated by the EU.
Yes. The clinic has an A-License from the Turkish Government and adheres to the policies provided. Cosmeticium goes the extra mile and offers full medical travel insurance.
Contact Hairline Transplant Turkey
Our team of experts are always here to help you. You can call us or fill the contact form for any questions about hair transplantation cost or procedure. We are more than happy to assist you. You can also leave your contact information, and we'll give you a call.
Let us answer your questions