Getting a hair transplant in Istanbul could significantly boost your confidence and improve your quality of life. In this Dr Hair review, we assess one of the most affordable options in Turkey, starting from as low as €1,350 for the popular procedure.
Dr Hair Clinic review content:
Dr Hair Clinic Review Summary
The Dr Hair Clinic website is packed with helpful information about the hair transplant process and what to expect as a patient, which is all really important for those considering the procedure. There is also a detailed profile of the doctors at the clinic, helping to put a face to the people behind the name. While conducting this Dr Hair review, we noticed that their website is quite poorly written, with plenty of grammatical errors and broken English. Albeit this is no reflection on their ability to provide a good service, it can be off-putting for some.
The thorough FAQ section addresses most of the common questions patients have before making a booking, including information about preparation for the procedure and the aftercare process. All of this is very helpful, and it's a breath of fresh air to see transparent pricing on the website without having to do much digging around.
Pre-Operational Consultations
As well as your consultation at the point of booking, you will also have a pre-op consultation with your doctor before the procedure, which is included in the price. However, this seems to be about the extent of your pre-op guidance from the clinic, with many other things left a little unclear.
The Dr Hair Clinic website has plenty of useful information such as pricing, reviews and procedure details, but there is a distinct lack of specific pre-operational guidance. There's a broad overview of what to expect throughout the process, but no real itinerary information about the trip. This is a real shame, as going abroad for a cosmetic procedure is a pretty big deal, and you want to be as prepared as possible.
It is clear that you get bang for your buck with Dr. Hair, with 5 star accommodation and luxury VIP transfers included as standard in what is already a reasonable price.
The clinic is close to several tourist sites, so you will be able to make the most of your trip and do some sightseeing if it is your thing. This is a real perk of Dr Hair Clinic and is particularly important if you're travelling alone and do not wish to feel isolated.
Dr Hair provide a translator should you require one, and it appears that there's some help on hand to help you settle in. The difficulty is that, again, there's very little information on the actual details. It's unclear as to what happens after you land and between the time before your procedure.
The Dr. Hair Clinic is exactly that, it's a hair clinic, what it's not is a large state-of-the-art medical hospital, There's nothing wrong with that, but it's important to know what to expect when you arrive. The clinic is JCI accredited which means that it meets high standards of patient care, so you know you're in good hands.
The unfortunate thing is that the emphasis is placed so much on the procedure itself, that very little is said about the clinic and the facilities on offer. Beyond a description of comfortable beds and great food, there's no mention on the quality of the aftercare or what it is like to actually be a patient. This makes it very difficult to judge.
Surgery & Doctor Involvement
Dr Kinyas is one of the most renowned hair transplant specialists in the whole of Turkey, having treated more than 6,000 patients from 60 different countries across the world. He promises to provide the most natural results that are perfectly suited to your age and facial structure, and has plenty of experience in doing so. Dr Kinyas adopts the no-shave technique for both male and female patients, so you can keep as much of your natural hair as possible. There is no dedicated English-speaking surgical team, but there is a translator on-hand if needed.
The Dr. Hair clinic has a market-leading lifetime guarantee, giving you complete piece of mind that you'll be taken care of long after your procedure. If, for any reason, you are not satisfied with your results, the team promise to rectify any issues you may have. This, alongside the 24/7 support team, are real perks to choosing the the clinic. That said, there are a few things that could certainly be improved when it comes to aftercare, particularly with more financing options to lessen the financial burden.
There are still too many questions about the Dr. Hair clinic for us to be comfortable enough to rate it any higher than 2.5. Even the information that is available is written poorly, so it doesn't fill us with great confidence.
The Dr. Hair promise of luxury and comfort is appealing, and when combined with a specialist hair transplant doctor with plenty of procedures under his belt, the price would be appealing to many. A city centre location also provides the opportunity to be a tourist and make the trip about more than just the procedure. All of these are positive elements, but it's not quite enough.
The website omits a lot of key information regarding travel plans and itinerary, as well as aftercare and expectations. The lack of English-speaking doctors and staff at Dr. Hair may be uncomfortable and isolating for nervous patients, despite the presence of a translator. We feel as though this should be a priority for the best possible patient care from a clinic encouraging medical tourism.
Get a free hair loss report today and make sure you get fair offers from clinics
Dr Hair Clinic hair transplants are done by Dr Kinyas
The Dr. Hair is owned and operated by Dr Kinyas, who has a wealth of experience in Micro DHI technology. His global recognition draws in patients from all over the world who flock to Turkey for natural and painless hair transplant procedures. The website describes his techniques as the most effective in the whole of Turkey, and with their lifetime guarantee, it's clear that they back this claim up and put their money where their mouth is.
Unfortunately, like many other aspects, little is said about the rest of the team at the Dr. Hair clinic. Beyond promising that the specialist team are there to ensure that your hair transplant goes smoothly, there's no other information. It would be great to know more about the people who will be taking care of you, and perhaps even some pictures of the friendly faces. It all feels a little cold, and although the big shot doctor is the main selling point, there are probably many others involved in the process.
Before and After Pictures
Dr. Hair Clinic Results And Before and After Pictures
The Dr Hair Clinic shares a number of before and after photos on their website, each as impressive as each other. The results speak for themselves, but there's also plenty of real customer feedback and a 5* Google rating across 100s of reviews. There are also a few pictures of the clinic itself, although they aren't particularly informative.
Getting a Hair Transplant in Istanbul Was Never Easier
Dr. Hair Clinic Hair Transplantation Methods & Treatments
There are four main services offered by Dr. Hair; hair, beard and eyebrow transplants as well as PRP (platelet rich plasma) treatments. The main technique used within the transplant is direct hair implantation, otherwise known as DHI. This is considered the least painful procedure and provides the most natural-looking results and long-term success.
The treatments are available for both males and females, and the Dr. Hair Clinic website provides detailed information of each procedure and the processes involved, so that you know what to expect when the big day comes. Selling points of the services at Dr. Hair include them being 100% painless, as natural as possible, and, of course, that lifetime guarantee.
Dr Hair Clinic Cost of Hair Transplants, Available Packages And Extras
The Dr Hair Clinic is completely transparent when it comes to pricing and doesn't require you to make a call before finding out how deep your wallets need to be. In fact, the price is very reasonable in comparison to many other clinics in Turkey, and is substantially cheaper than many other parts of the world. The standard package includes:
There is just a standard one-size-fits-all pricing structure at this clinic, and there's no additional costs or optional upgrades, The procedure itself, as well as luxury accommodation, comfortable transportation and aftercare medication is all included in the modest €1,600 price tag. It's nice to know that what you pay is what you pay, with no nasty surprises.
All Dr Hair Clinic Reviews
0.0 out of 5 stars (based on 0 reviews)
Be the first to grab our all-new e-book
Before you can truly commit to a hair transplant it is important to understand hair loss. Together with the experts at IdealofMeD, we wrote an e-book explaining everything you need to know about hair loss. From hair loss causes to practical tips on how to deal with hair loss and the best hair loss products.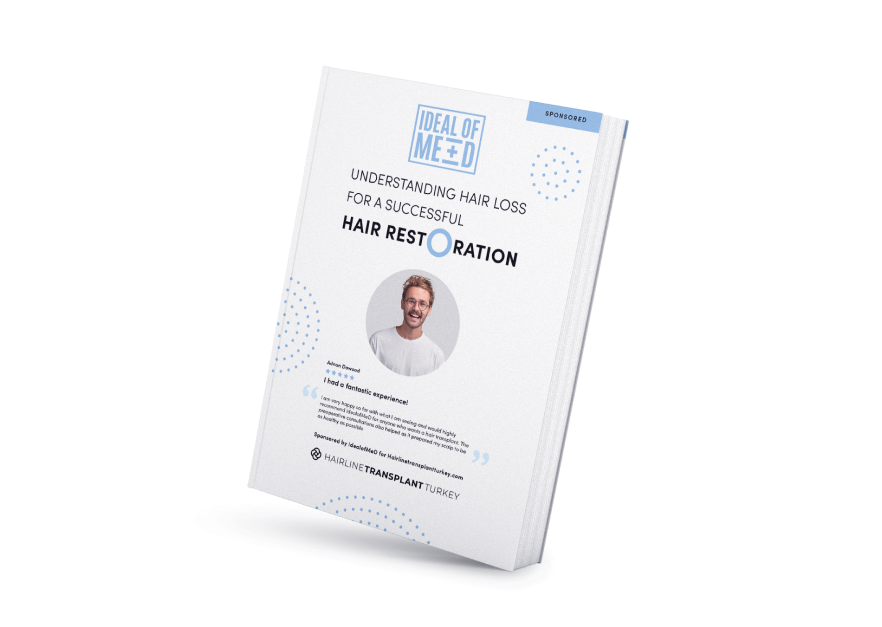 Yes. The English version of the Dr. Hair clinic Instagram is ran by Dr. Kinyas himself, and you can find it with the handle @drhair_uk.
No. All of the Dr. Hair Clinic surgeries are carried out at a specialist hair transplantation clinic in the presence of medical specialists and professionals.
No. The clinic is JCI certified when it comes to outstanding patient care, but Dr. Hair does not currently possess an A-License at this time.
Contact Hairline Transplant Turkey
Our team of experts are always here to help you. You can call us or fill the contact form for any questions about hair transplantation cost or procedure. We are more than happy to assist you. You can also leave your contact information, and we'll give you a call.
Let us answer your questions
Last updated in Aug, 2023