Este Future Turkey Review

Este Future Turkey is a clinic that specializes in not only hair transplants but also plastic surgery and dental surgery. The hospital guarantees potential clients of the best 
hair transplant in Istanbul
 by offering extra services such as plasma therapy and ensuring that a qualified doctor fully supervises all treatments. In this review, we evaluate what else the clinic has to offer, so read on for more.
Este Future Turkey review content:
Este Future Turkey Rating
Este Future Turkey Review Summary
Este Future Turkey has its website in four language—English, French, Arabic and Spanish. The site has a decent layout with options easily accessible to find out more about the hospital and treatment methods available. The far-right icon is the free consultation option which clients can use to book an appointment for a free hair analysis. After which, a staff member from Este Future Istanbul will get back to you via WhatsApp and request for three pictures of your head—the frontside, upside and backside.
The doctor will then evaluate the photos and take you through your treatment plan within an hour. You can find out more about the procedures offered by the hospital by checking their "Treatments" subpage, which has all the information you need. Better yet, check out their FAQ section for quick answers to some of the common questions asked by potential clients. What was rather disappointing about the hospital was that there was no price list nor any information about the medical team at the hospital.
Top Rated Clinics in Turkey September, 2023
IdealofMeD
#1 Clinic in Turkey (4.33 / 5.00)
Asmed
#2 Clinic in Turkey (4.20 / 5.00)
Cosmedica
#3 Clinic in Turkey (4.00 / 5.00)
Pre-Operational Consultations
Most hair transplant clinics in Turkey hardly offer any pre-operational consultation to save on cost. Pre-op care is expensive, and clinics that provide it ask for a deposit before the procedure. Clinics in Turkey will not offer pre-care treatment and prefer to begin their services once you land in the country. Think of it as a way of saving on the expense to only those clients who are fully committed. However, that doesn't mean that the hospital does absolutely nothing. In case you need any help or have any questions about your medical journey, the staff is ready to assist. Since the website has no info on their price list or team, this is the best time to fill in those gaps.
Este Future clinic is located in Istanbul and gives you the chance to experience the hospitality of this historical city in the centre of Turkey.
Once you land in Turkey, the clinic will have a VIP driver ready to pick you up from the airport and will also facilitate your internal transfers. Also, the clinic provides a personal interpreter for your stay in Turkey so you won't have to stress over the language barrier. The vehicle for your transfers is a classy one that offers nothing but luxury.
As for your accommodation, the clinic isn't specific on the choice of hotel but assures its clients that it has 4-star or 5-star status. The only detail available is a photo of a luxurious room with a king-sized bed and a spectacular view. We expected the clinic also to provide more information on the duration of the stay as well as the boarding arrangements, but there was none, and so it lost a few points.
When it comes to its facilities, Este Future scores highly with no doubt. The clinic has an emphasis on high standards and quality services, and there is no better way to do it than operating in a regulated and accredited hospital. Clients are assured of a safe environment with all the necessary equipment for the procedure and also emergency facilities; though it would rarely be needed.
From the photos of the hospital, Este Future is a state-of-the-art facility with a splendid exterior and interior design. The clinic also uses laser technology to determine the exact extent of the hairline, resulting in the best results. Another plus for the clinic is that highly skilled doctors complement their high-standard facility.
Surgery & Doctor Involvement
Qualified doctors supervise all procedures in the clinic, and the assisiting staff are highly trained. The lead doctors are fluent in English so communication won't be an issue, but in case you prefer another language, a multilingual interpreter is available. One thing that the clinic got wrong, however, is not providing an online CV for their doctors.
Every client is always concerned about the results after the procedure since they don't show immediately but instead take time. Este Future clinic offers its clients a certified Life Guarantee from the Turkish Ministry of Health as a way of earning your trust in their procedures. Other than that, the clinic provides an aftercare treatment package which includes antibiotics, pain killers, shampoo, lotion and a medical pillow. The doctor will also brief you on the precautions to take after the procedure and will carry out regular follow-ups.
We Rate Este Future Istanbul
As you have seen from our review, there is much that goes into evaluating a clinic, and certain aspects are more crucial than others. Este Future at the end of the day performs better than average and ticks some vital boxes.
The fact that Este Future operates in an EU regulated hospital and has an A-license is a good indicator that the clinic is safe. Also, the doctor's involvement is quite commendable as every client needs to feel comfortable trusting their hair to a professional hair transplant doctor. After the procedure, the aftercare package provided will save you some costs, which is another plus for the clinic.
Este Future clinic could have scored even higher if only it provided information on its prices. There was no price range to at least have a rough idea, so you will have to contact their team for more info. On the upside, the clinic details what their all-inclusive package entails, so you will know what to expect.
Get a free hair loss report today and make sure you get fair offers from clinics
Are Este Future Istanbul procedures done by qualified doctors?
The only information we could find on Este Future doctors is that they supervise all operations at the hospital. There was no CV on any doctor detailing their skills and competence; all that was stated is that a doctor will head up each treatment. The site is full of photos of different doctors and medical teams, making it hard to know who exactly are the doctors at the clinic. None of the comments on Trust Pilot mentioned anything about the doctor or team of the clinic, so we can't tell how their services are.
Este Future also lacks detailed information on the rest of the team at the clinic. All we could find was that the team compromises of pharmacists and nurses, and that the staff is fluent in English, Turkish, Italian, Arabic and Spanish. To have a rough idea of the doctor or the team, you have to check out their social media pages. Even though the clinic emphasises on having compassion, competent and experienced doctors, not having any info about them reduces clients' confidence.
Before and After Pictures
Este Future Istanbul Results And Before and After Pictures
Our Este Future review found out that the clinic has published before and after pictures on their website and social media pages. All of which are up-to-date and show the number of grafts each patient had. A look at Trust Pilot showed us that the clinic has a 4-star rating but only had four reviews which were posted in 2019.
Getting a Hair Transplant in Istanbul Was Never Easier
Este Future Istanbul Transplantation Methods & Treatments
Este Future is a hospital that provides a range of treatments which include plastic surgery, dental surgery and hair transplants. For hair transplants, the different procedures offered include FUE, DHI, beard, eyebrows and women hair transplants. The most popular technique used in the clinic is the FUE which uses a micromotor to extract grafts and implant them.
Este Future offers a free plasma therapy session after the procedure to increase the rate of hair growth. The clinic is also transparent and highlights how the FUE procedure will be done as well as the conditions to meet for a good and seamless operation. Likewise, the clinic has provided all the necessary information for the DHI technique.
Este Future Istanbul Cost of Hair Transplants, Available Packages And Extras
Este Future Istanbul leaves us in the dark when it comes to its costs. There was no mention of the specific cost of the procedure or any price range to at least have an approximate figure. For any details related to costing, it's best to contact the team at the clinic. Here is what their all-inclusive package entails:
From their all-inclusive package, we would say that the services they offer are well above average. The plasma session and sufficient aftercare medical bag are an addition that we don't see in most clinics. However, with no price list, the enticing package might be out of your budget, so its important to reach out to the clinic first and confirm their prices.
Be the first to grab our all-new e-book
Before you can truly commit to a hair transplant it is important to understand hair loss. Together with the experts at IdealofMeD, we wrote an e-book explaining everything you need to know about hair loss. From hair loss causes to practical tips on how to deal with hair loss and the best hair loss products.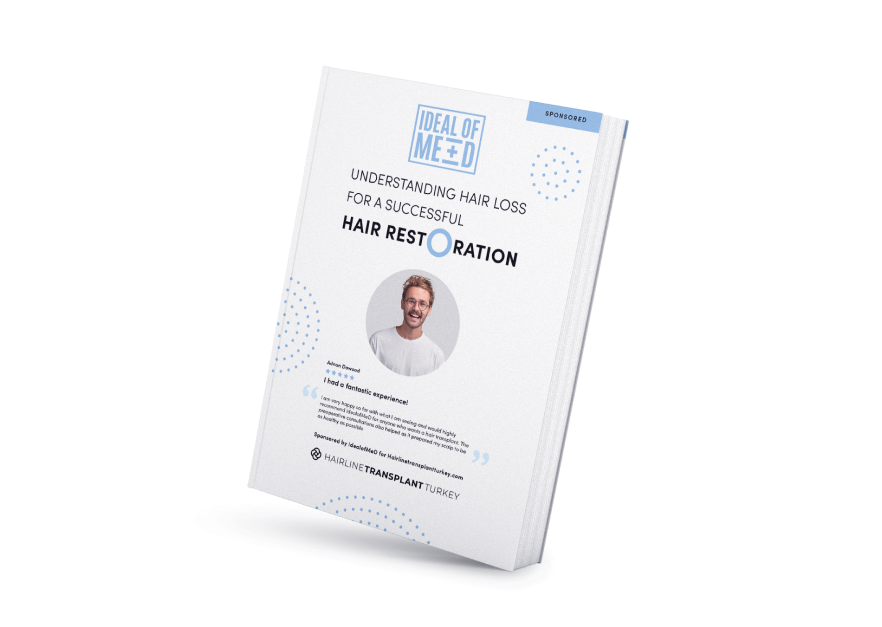 Yes. The clinic is also on Instagram, Twitter and YouTube, and uploads content regularly. You can also find before and after pictures on their website.
Yes. Este Future operates in an EU regulated hospital with all the necessary facilities and equipment. The private hospital is accredited both internationally and nationally.
Yes. The clinic has an A-License from the Turkish Ministry of Health and adheres to the regulations and policy set by the ministry. Este Future also maintains high levels of cleanliness and hygiene.
Contact Hairline Transplant Turkey
Our team of experts are always here to help you. You can call us or fill the contact form for any questions about hair transplantation cost or procedure. We are more than happy to assist you. You can also leave your contact information, and we'll give you a call.
Let us answer your questions