EstePera Hair Transplant Turkey Review

For those looking for a hair transplant in Istanbul EstePera Hair Transplant Turkey offers three separate packages from which to select the hair transplantation procedure you want—a standard FUE package, a VIP FUE package and a DHI package. Unfortunately, there are no prices indicated.
EstePera Hair Transplant Turkey review content:
EstePera Hair Transplant Turkey Rating
EstePera Hair Transplantation Clinic Turkey Review Summary
There are several options available to contact the EstePera hair transplant Turkey; you can initiate direct contact from their website using their contact form. You can also phone the clinic directly or by using social media, in-particularly What's App and Messenger. The consultation is free and part of their 5-step process of organisation, from the consultation to a visit to the EstePera hair transplantation clinic in Istanbul. Then there is a one-on-one consultation with the doctor, the agreed procedure and the first wash post-procedure.
There is not much detail about the first contact consultation, but the site provides a little more info about the questions that need considering before deciding on a hair transplant procedure, but it is not clear when these are conducted. The site has a lot of information, some repetitive, but you do have to hunt for answers to very straightforward questions.
Pre-Operational Consultations
The EstePera clinic website, while providing some in-depth information on hair loss and its treatment, does not really address the pre-op process. You can hunt around for information in the blogs, but that is time-consuming and does not necessarily answer questions you may have on the process. You will have to make contact with the clinic to identify how the pre-consultation is conducted.
The site does provide three treatment packages. There is a video on the website showing collection from the airport, delivery to a hotel and then the clinic. What it does not show is who does the one-to-one consultation, if it is the doctor operating or if it's one of his team.
You need to select your hair transplant package and book your trip to EstePera clinic in Istanbul. Part of all their packages is a VIP transfer from the arrival airport to your hotel, which should be 5-star accommodation.
There is no clear indication which 5-star hotels are included, but the area of Şişli does have a good selection of top-class hotels. One hotel, highlighted on the EstePera YouTube channel is the Grand Cevahir. The website does not advise on the airport to fly to, but as the hospital in on the European side of Istanbul, then the Istanbul Grand Airport would be the closest.
The information on the EstePera hair transplant packages indicate that interpreters are included, but it is not clear that they will be at the airport to greet you. Be prepared that the driver may not speak English. Most 5-star hotels in Istanbul have multi-lingual reception staff so your first meeting with an interpreter could be when you arrive at the clinic.
EstePera clinic is situated in the Florence Nightingale hospital. The hospital is part of a group of JCI accreditated hospitals with international standard departments including 24/7 emergency units and intensive care. Dr Güzey and Dr Güngör perform their surgeries within the hospital environment and are a private clinic with access to the hospital facilities. The standards of care and hygiene at the hospital are considered high, operating as it does at an International level.
Dr Serbülent Güzey speaks English; it is not clear if Dr Şule Güngör does. Other members of the team are referred to, but no information is available on them. In our reviews, we look not only at the standards of the environment but the comfort level of the patient. The EstePera clinic has very modern facilities, and lunch and snacks are available during the 5 -8-hour procedure.
Surgery & Doctor Involvement
Dr Şule Güngör is an associate professor of good repute both in Turkey and abroad. Her speciality is dermatology, and she has been working in this field since 2006. Dr Serbülent Güzey completed his medical degree in 2005 and went on to train as a plastic surgeon, which he completed in 2013. The information on the site does not indicate who performs which surgical procedure—a question to ask at your consultation.
Whilst not offering a clear post-operative follow up for the 2 standard packages the VIP package includes a 6 months treatment package. There is a promise on the site that one of their multi-lingual medical co-ordinators will be in contact throughout the year following your procedure. The EstePera website also states they offer a 100% lifetime guarantee. All of the packages provide a special neck pillow and hat. Post-operative medications, shampoo and spray, are also provided. All of the clients having a hair transplant procedure will have the first post-operative wash at the clinic, detailing the correct process to do this for subsequent washes.
We Rate EstePera Hair Transplant Turkey
EstePera provides an excellent service to patients wanting a hair transplant in Turkey. Whilst the website is not very clear on certain aspects, or you have to hunt through the site for answers to questions—it does provide a lot of relevant information on hair loss and hair transplant procedures.
Unfortunately, the price is not one of them! We found one price on a 2016 external review for £1,643 from a very pleased patient who gave EstePera a 5-star review. The clinic would probably have scored higher with us if they had indicated their package prices. Plus it would have been better to read about the initial contact consultation on the website. However, you can discover that info on a 2020, Manchester Evening News Special Feature, and on the Daily Record.co.uk.
This review thought clinic website could do with an overhaul, one, to improve its English and secondly, to answer questions about the clinic that people want to know before committing to a procedure. Thirdly, remove the repetition, it is not necessary and makes the website appear unfinished. After a little searching, we did find that EstePera does not request a deposit. Payment is made at the clinic on the day of the procedure; we could find no indication of any finance payment packages.
Get a free hair loss report today and make sure you get fair offers from clinics
Are EstePera Hair Transplants Done By Dr Şule Gungor?
It is not clear which of the two EstePera clinic doctors perform the hair transplant procedure, it's possible that both do. Dr Şule Güngör is an associate professor in Dermatology with 14-years of experience. Dr Serbülent Güzey is a plastic surgeon with 7-years of experience in his field. The clinic's website clearly shows both Dr's CV but does not indicate if the doctors are members of any hair transplantation associations or have trained as hair transplant surgeons.
Nowhere on the site can information be found on the team they work with, other than references to their excellent experienced team. On their website, there is a photo, taken outside the ophthalmology department, that shows several members of staff, but no indication that they belong to the clinic team or what their roles are. It would help in the decision-making to be aware of the skill and knowledge base of the staff who are assisting with your hair transplant procedure.
Before and After Pictures
EstePera Hair Transplant Turkey Results - Before & After Pictures
If you look on Facebook and Instagram EstePera Hair Clinic reviews show plenty of before, and after pictures, their social media pages are well supported and regularly updated. EstePera's website has a Before and After section. Here you can take a look at several before and after pictures of their clients. It would have been more informative if the photographs had dates on them, how many grafts used and in what procedure and the cost. The clinic has some good reviews on Trustpilot being rated 4.6 from 75 reviews. The site also has a link to ProvenExperts. Unfortunately, the link does not open their review page. Plus our reviewer noted that they are not displaying any of the ProvenExperts' seals of approval.
Getting a Hair Transplant in Istanbul Was Never Easier
EstePera Hair Transplant Turkey Transplantation Methods & Treatments
EstePera clinic is focused solely on hair transplants. The clinic offers three procedures for a range of hair loss problems, that include Afro, beard, moustache and male and female hair transplants. The main techniques available in the clinic's packages is FUE, Sapphire FUE and DHI. You can also select the FUT method if you wish.
The main difference between FUE and FUT is that in FUT, a strip of the donor's skin is removed from which to extract the follicles. With FUE, the donor's hair is taken directly from the scalp. With Sapphire FUE, the tool used to do this is sapphire-bladed, making for denser transplantation.
EstePera Hair Transplantation Clinic Costs And Packages
As we have already commented, the website does not indicate any EstePera hair transplant cost. While there are the three all-inclusive packages, Standard FUE, VIP Sapphire FUE, and a standard DHI package, but none carry prices. The only way to find a price is to contact them. Some of the reviews indicate what has been paid. But, these are either old reviews or not clear on what the price was for. The other point to bear in mind is there is no mention of what is included in the accommodation. This means you have to check what board arrangements, i.e. meals are in the package. If not, then that is going to impact your budget.
The standard packages from EstePera appear comprehensive; there is no indication that extra costs are involved. Payment is made on the day of the operation with no deposit required. The hotel that appears to be favoured is the Grand Cevhir, but there is not a definite promise that is the hotel they will use. The difference between a standard and VIP package is 3-elements—a treatment package for 6-months, a 3-day stay in a five-star hotel and a 1-day Istanbul tour. Without prices though it is difficult to assess their value for money.
Be the first to grab our all-new e-book
Before you can truly commit to a hair transplant it is important to understand hair loss. Together with the experts at IdealofMeD, we wrote an e-book explaining everything you need to know about hair loss. From hair loss causes to practical tips on how to deal with hair loss and the best hair loss products.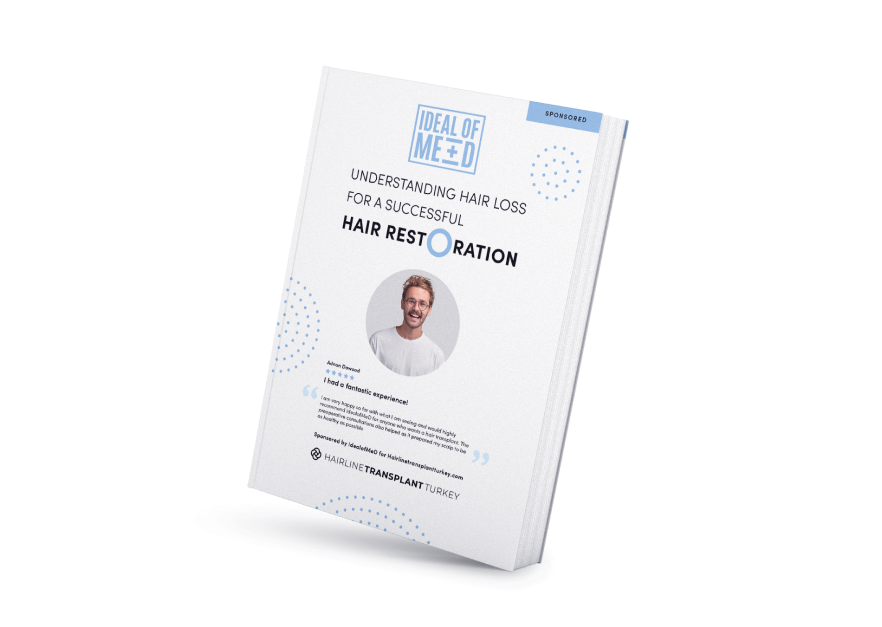 Yes, EstePera clinic has a Facebook page; it is an active page with around 23,000 followers. They regularly post videos, that includes some client comments and blog information.
Yes, the clinic is based within the Florence Nightingale Hospital. This is a private hospital with laboratories, 24/7 A & E department and an intensive care unit.
Yes. Having the A -Licence provides a guarantee on the safety and hygiene standard. It also allows for more than one hair transplant procedure in a day.
Contact Hairline Transplant Turkey
Our team of experts are always here to help you. You can call us or fill the contact form for any questions about hair transplantation cost or procedure. We are more than happy to assist you. You can also leave your contact information, and we'll give you a call.
Let us answer your questions