Estepol Hair Center Review

Estepol Hair Center has been awarded the title, Best Hair Transplant Clinic 2017 and 2018, making it among the top clinics to get a hair transplant in Istanbul. So, what exactly do they do right to be awarded these titles?
Estepol Hair Center review content:
Estepol Hair Center Rating
Estepol Hair Center Review Summary
The Estepol Hair Center has an easy-to-navigate website, and you can easily adjust the language to view the information, depending on your preference. Also, they have a contact form where you fill in the details of your name, phone number, and email address to get a free consultation. The doctor will then provide detailed information tailored to your case based on a photo analysis, and if you are eligible for a hair transplant, the booking process begins.
During the booking phase, they do not require payment of any deposit. All you have to do is send the clinic a copy of your plane ticket, and they will proceed to book your hotel, transfers, and necessary services. That said, you should note that Estepol Hair Center does not have a clear price list on their site, and apart from staff pictures, not much else is detailed about their team.
Pre-Operational Consultations
Estepol Hair Center sends detailed documentation of your hair transplant via email and communicates on the precise date and timing of the procedure via WhatsApp. The clinic has an intensive consultation on the day of your treatment, and the doctor will carry out the necessary tests as well as answer any questions you might have.
On the downside, they do not offer any pre-op consultation or kit before you arrive in Turkey. Also, once you are done booking your appointment, you can only reschedule it at an additional price. The site, however, provides important information on some of the drugs to avoid and diet to follow in the weeks before your surgery.
Estepol Hair Center provides an agent to welcome you once you arrive at the airport, avoiding any confusion. The agent will also inform you of the methods of transfers and schedules you will follow during your stay.
Accompanied by the agent is a private driver who will pick you from the airport and also drive you to and from the clinic. The accommodation provided is in Dedeman Istanbul, a 5-star rated hotel. Here, you'll be able to enjoy high-class hospitality, especially during the post-operative phase. The clinic does not specify the duration of your stay at the hotel on their website, but they will communicate this after your online evaluation.
The clinic carries out a blood test on the day of your operation and will also examine your medical history. You should know that the cost of your accommodation will not be included in the cost plan, making their services all the more expensive. On a positive note, Estepol does ensure a native coordinator is at your service throughout the process so that there are no communication barriers.
The Estepol Hair clinic is a modern facility packed with the latest equipment to guarantee the best possible care and treatment. Also, the clinic has tons of pictures on their website, showing that it is a state-of-the-art facility that provides the perfect environment for its clients. Most of their reviews online commend their staff, deeming them friendly, professional, and highly-skilled.
This clinic, however, only provides meals, clothes, and any other comfort services at an extra cost. Fortunately, thanks to the support they get from the State for health tourism in Turkey, these services are not as expensive. They perform their surgeries in a clinic and are therefore not equipped to handle emergencies, in the unlikely event there's a complication during your operation.
Surgery & Doctor Involvement
The Estepol Hair Center has a highly qualified team made up of experts in the field of hair transplants. Furthermore, their lead surgeon, Dr Emine, is known as one of the best hair transplant specialists in Istanbul. The surgery is performed under local anaesthesia to ensure you do not feel any pain. The clinic also provides translation services to keep you aware of everything that happens during your procedure.
On their website, the clinic provides relevant and detailed instructions on how to wash your head, lie down, and activities to avoid after your operation. Their staff also remains in contact with you even after you leave Istanbul and will ensure they answer all your questions. However, all the follow-up consultations and medications provided by the clinic are not included in their standard package. And, Estepol does not give a hair growth guarantee, but we feel that this should not necessarily be a reflection of the offering of their services.
We Rate Estepol Hair Center
The Estepol Hair clinic scores well in some places and not in others. There is a lot of information concerning its services that is not available on their website. This lack of transparency could prove to be a problem for their prospective clients.
The Estepol team of doctors is friendly and has a lot of experience. This much we know from the reviews of their previous clients and the information we gathered from their website. They also use a variety of hair transplant methods to ensure you get the best results. Despite this, the clinic does not seem to be keen on providing pre-op services as most of these necessities come at an extra price.
We also think that the post-op care Estepol provides is unsatisfactory and does not meet the standards of many other hair transplant clinics in Turkey. This minimal offering of aftercare services is a cause of concern, especially since this phase is very crucial for excellent results. On the bright side, the clinic provides a translator who is conversant in English, Italian, Spanish, Arabic, and Turkish at your disposal.
Get a free hair loss report today and make sure you get fair offers from clinics
Are Estepol Hair Center procedures done by qualified doctors?
At Estepol Hair Center, there is an outstanding team of doctors dedicated to solving your hair loss problems. Among them is one Dr Emine, who founded the clinic in 2010. The doctor was educated in Turkey, and she has gained a lot of experience in the field of hair transplantation. Additionally, she won the award for the Best Hair Transplant Expert of 2016, making her one of the most recognized hair transplant specialists in Turkey.
With over 5,000 hair, beard, and moustache transplants performed at Estepol Hair the staff has gained more experience. Furthermore, doctors at the clinic use the latest methods of hair transplants to ensure they deliver optimal results. The website also specifies that during the procedure, a doctor is always involved throughout the process. From previous reviews of their patients, what comes out is that the team is very welcoming and maintains contact with their patients long after their procedures.
Before and After Pictures
Estepol Hair Center Results And Before and After Pictures
Estepol Hair Center is active on various social media platforms, including Facebook, Instagram, and Youtube. Their posts are up-to-date and include before and after results as well as reviews from their patients. Other than social media, the fastest way to find their photo gallery is on their website. Google review summary rates the clinic 4.4/5 based on 52 reviews while Trustpilot rates it 4.0/5 from 3 reviews.
Getting a Hair Transplant in Istanbul Was Never Easier
Estepol Hair Center Transplantation Methods & Treatments
Following the advent of new technology, there has been a development of hair transplant techniques. At Estepol, they specialize in the classic FUE transplantation method that allows their patients to achieve a natural appearance with a speedy recovery and minimal scars. However, for patients with more advanced hair loss, the clinic uses the sapphire FUE method, which reaches a higher density of hair follicles.
The clinic also uses the DHI method of hair transplantation. This technique is performed to minimize the time that the hair follicles are left without blood supply and leaves minimal stitch scars or incision marks. In addition to hair transplants, Estepol also performs beard and eyebrows transplants. Plus, to stop hair loss and thicken your hair, the clinic offers a laser hair loss treatment.
Estepol Hair Center Cost of Hair Transplants, Available Packages And Extras
Besides the mention of budget-friendly prices, there is very little on the website concerning the costs of the services at Estepol Hair Center. You can only get this information from the doctor after the free online evaluation is done. However, we do know that all payments in the clinic are made on the day of the operation. The package includes:
Unfortunately, the price of pre and post-operative examinations is excluded from your cost plan. The hotel arrangement, as well as aftercare products, are also part of the extra costs you'll have to incur. Additionally, the clinic does not provide its clients with financing options meaning you'll have to have the money available to pay for the operation and additional costs upfront.
Be the first to grab our all-new e-book
Before you can truly commit to a hair transplant it is important to understand hair loss. Together with the experts at IdealofMeD, we wrote an e-book explaining everything you need to know about hair loss. From hair loss causes to practical tips on how to deal with hair loss and the best hair loss products.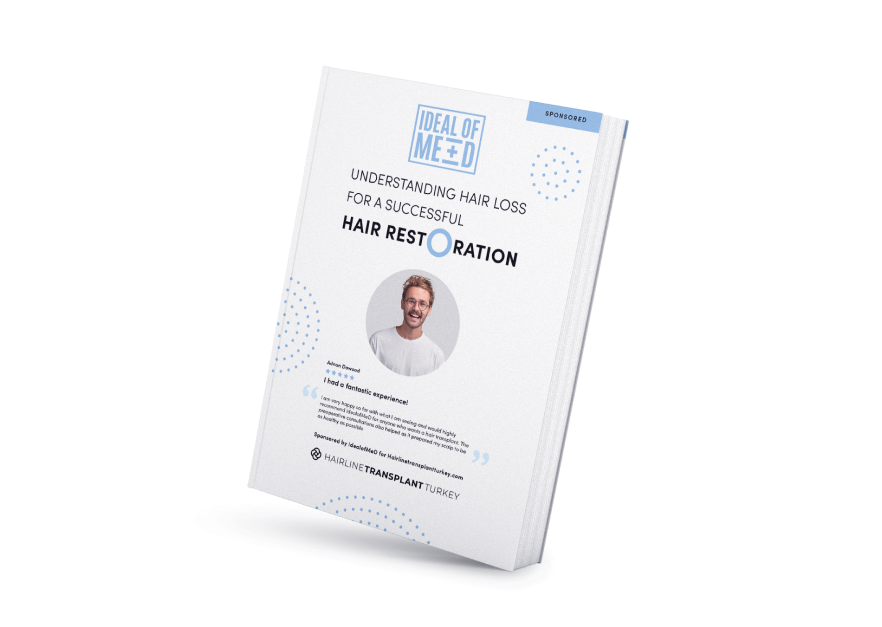 Yes. The clinic is also on Instagram, Youtube, and Twitter, where they post reviews with before and after pictures of their successful surgeries and client testimonials.
No. Estepol Hair Center does all their procedures in a clinic, which means that they lack the equipment to deal with any emergencies that may arise in your surgery.
No, Estepol Hair Center does not have an A-License. However, all their medical specialists have licenses issued by hair transplant associations, showing their credibility and competence.
Contact Hairline Transplant Turkey
Our team of experts are always here to help you. You can call us or fill the contact form for any questions about hair transplantation cost or procedure. We are more than happy to assist you. You can also leave your contact information, and we'll give you a call.
Let us answer your questions