With a renowned doctor, Dr Aslan Ayaz, Esthcare Istanbul specialises in hair transplants, cosmetic dentistry, and cosmetic surgeries. This, along with their top-notch facilities, makes the clinic one of the top spots to get a hair transplant in Istanbul. We assessed this clinic in detail and have scored the clinic in our complete review below.
Esthcare Istanbul review content:
Esthcare Istanbul Review Summary
Once you visit the Esthcare Istanbul website, you will find that they offer all their clients a free online hair analysis. To request this consultation, all you need to do is fill a contact form that is easily accessible on the site. Following this, a doctor will carry out the consultation via video call and will fully explain the procedure to put you at ease from the get-go. Their site provides a lot of useful information concerning the procedures available and also has blogs and videos to clarify your expectations.
The Esthcare website is not only easy to navigate, but it also has accurate English making it easy for you to read through. Unfortunately, apart from the mention of affordable costs for all clients, there is no available pricing on the site, which makes it difficult to compare to those of other clinics. However, the site does offer all the relevant information concerning the clinic's facilities and doctor, with pictures of both of them.
Pre-Operational Consultations
Esthcare Istanbul provides a reservation form on its website for its clients to fill in, to book their appointments. Upon completion, they will get back to you with a confirmation, and you will also receive an itinerary to follow from the moment you land at the airport. It is unclear whether the clinic gives its clients a chance to reschedule their booking though.
However, the clinic does not provide any in-depth information on a proper diet or the supplements to take in the weeks leading up to your surgery. There is also no mention of providing kits which medications and shampoos which can be used to prepare the scalp for the surgery. However, very few clinics abroad do this. You'll only likely get this kind of service if you were to have a transplant in the UK.
Once you land in Istanbul, the Esthcare team will be at your service. They offer pre-arranged transfers to the Clarion Hotel, which is 4-star rated and is close to some of the local attractions.
Additionally, native translators will always be at your disposal to ensure there are no communication barriers. Blood tests are compulsory and performed at the clinic on the day of your treatment. The clinic does not, however, specify the length of stay at your pre-booked hotel on their website, so it could be 2 or 3 nights.
The Esthcare clinic provides its clients with VIP transfer services between the clinic to the hotel and back to the airport once your procedure is done. If a client wishes, the clinic can also provide an interpreter. The information on the costs of your all-inclusive package is given to you during the booking phase.
The clinic states that its doctor, Dr Aslan Ayaz, is well-trained and experienced, a claim which is backed by the positive reviews from previous clients. Plus, the images on the site show that the clinic is well designed and is very spacious. Esthcare also operates in an EU accredited private hospital; thus, it adheres to high standards of hygiene and provides comprehensive treatment planning to ensure the best results.
The Esthcare clinic operates in a hospital that has advanced equipment and facilities including, a 4-bed operating theatre, 8-bed care units, laboratories & radiology units. For this reason, the clinic can conduct not only hair transplants but also dental and cosmetic surgeries. The hospital is also equipped with emergency facilities and can take care of their clients in the unlikely occurrence of complications during the procedure.
Surgery & Doctor Involvement
Dr. Aslan Ayaz is recognised among his peers for being very well-experienced in the hair transplant field and is the lead surgeon at Esthcare. Additionally, his assistants and coordinators are well trained and experienced to guarantee excellent results. The clinic will also provide translation services as the doctor offers a step-by-step guide throughout your procedure, so you'll be fully aware of everything that is happening.
Esthcare proudly declares it has successfully performed thousands of hair transplants but, does it deliver when it comes to aftercare services? The clinic provides vitamins as well as the necessary medical shampoos to ensure the recovery is a success. They also allocate a team of experts to follow up after your surgery for one year. However, the offered aftercare products and post-op consultations are at an additional cost. On top of that, the clinic does not give their clients any hair growth guarantee.
We Rate Esthcare Istanbul
From the reviews on trust pilot and the clinic's website, it's clear that there are a lot of positives when it comes to the services offered. But, Esthcare also has many glaring gaps making it seem average, overall.
The major selling points of Esthcare are the well-laid-out website with detailed information on all their procedures and medical team. Also, the involvement of a highly experienced doctor in the operations, along with the availability of modern and high-quality equipment is very impressive. Pre-op and post-op care makes up for 30% of a successful surgery, and they do a good job providing both.
However, it is disappointing that unlike many other clinics in Turkey, Esthcare fails to highlight the pricing of their packages on their site. Furthermore, some of their offerings, such as accommodations services are pretty standard and do not go above our expectations. That said, we feel as though our score of 2.5 out of 5 is completely justified.
Get a free hair loss report today and make sure you get fair offers from clinics
Are Esthcare Istanbul procedures done by Dr Aslan Ayaz?
Dr. Aslan Ayaz is the lead surgeon in Esthcare and is a member of the Turkish Association of Aesthetic Plastic Surgery. He joined the Istanbul University, Faculty of Medicine in 1999, where he won the Plastic and Reconstructive Surgery Department by having the highest score recorded in history. He later graduated in 2004 and took his medical license. Since then, he has achieved numerous successful operations in the field and has published several scientific papers both in native and foreign magazines.
During the procedures, an Esthcare team of professionals who have been praised for their friendliness and expertise in many reviews join Dr Aslan. The doctor is always keen to maintain the density of the donor area while using the latest techniques in every circumstance for optimal and uniform results. To top it off, Dr Aslan pays close attention to detail and is careful with every hair graft. All in all, the team is dedicated to treating your hair loss using a variety of methods for the perfect results.
Before and After Pictures
Esthcare Istanbul Results And Before and After Pictures
There is plenty to see when it comes to before and after pictures and videos on the Esthcare clinic website. Plus, they also display results on their social media platforms including, Twitter, Facebook, and Instagram, all of which have a large following. As for Esthcare clinic reviews; Medical departures, a reviews site, gave the clinic an outstanding score of 5/5 based on 44 votes, while Trustpilot rates it 4.8/5 from 54 reviews.
Getting a Hair Transplant in Istanbul Was Never Easier
Esthcare Istanbul Transplantation Methods & Treatments
At Esthcare, they offer a customized hair transplant plan to suit every patient's needs. They specialise in the FUE technique and use sapphire blades to achieve natural results and reduce scarring. They also perform the DHI method that ensures high hair density, controls the hair growth direction and has a fast healing process.
Dr Aslan also offers a range of treatments including, beard and eyebrow transplants. And, you can get that Hollywood smile back by signing up for their dental cosmetic surgeries. There are also various other cosmetic procedures, should you be interested. All these procedures are well-detailed in their website, which is very convenient for all their prospective clients.
Esthcare Istanbul Cost of Hair Transplants, Available Packages And Extras
Unfortunately, Esthcare Istanbul clinic does not disclose any information concerning the prices of their hair transplant packages. These details are only given once the online assessment is done, and the number of hair follicles to be transplanted is determined. However, for the standard all-inclusive package available, this is what they offer:
It's also important to note that some of the basic services at Esthcare come at an extra cost making the clinic likely to be considerably more expensive when compared to other clinics in Turkey. Also, you will only be informed of the prices of services such as accommodation, pre-op and post-op examination, and transfers during the booking process. However, they promise that these services are of high-quality, and the staff will always be available for your convenience.
Be the first to grab our all-new e-book
Before you can truly commit to a hair transplant it is important to understand hair loss. Together with the experts at IdealofMeD, we wrote an e-book explaining everything you need to know about hair loss. From hair loss causes to practical tips on how to deal with hair loss and the best hair loss products.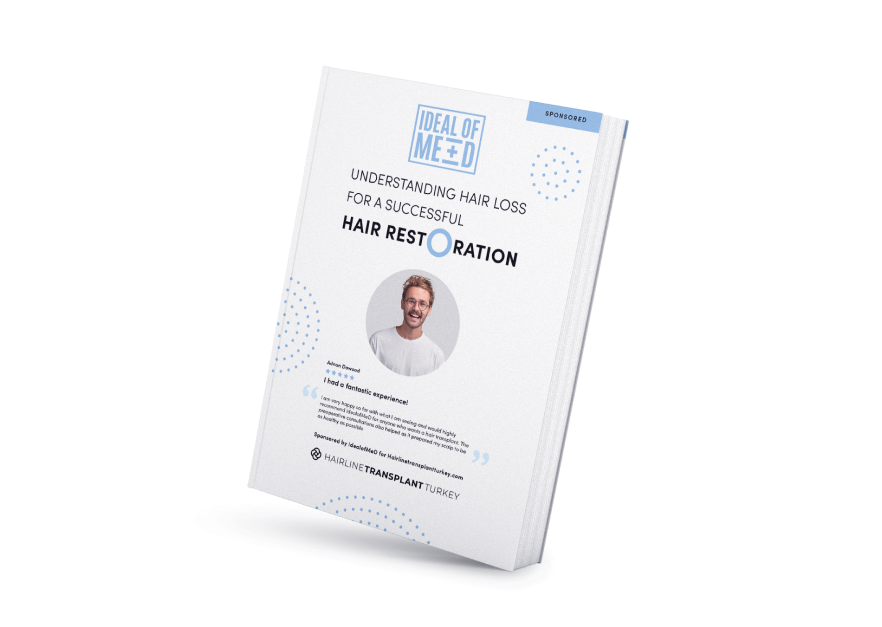 Yes, Esthcare Istanbul is on Facebook @esthcareEnglish, where they continuously post pictures and videos of their successful surgeries. You can also find many helpful reviews on the page.
Yes. Esthcare Istanbul clinic performs its surgeries in a private hospital, meaning that it has high-quality facilities and is readily equipped to deal with emergencies.
Yes, Esthcare Istanbul is regulated by the Turkish Ministry of Health through an A-license. Plus, the clinic's doctor is licensed and well-experienced in the field of hair transplants.
Contact Hairline Transplant Turkey
Our team of experts are always here to help you. You can call us or fill the contact form for any questions about hair transplantation cost or procedure. We are more than happy to assist you. You can also leave your contact information, and we'll give you a call.
Let us answer your questions