Hair Expert Clinic Turkey Review

The Hair Expert Clinic Turkey is one of the many options available for a hair transplant in Istanbul a location which has become a hotspot for the procedure in recent years.
Hair Expert Clinic Turkey review content:
Hair Expert Clinic Turkey Rating
Hair Expert Clinic Turkey Review Summary
The process at the Hair Expert Clinic Turkey begins with a free consultation to discuss your requirements. There is an interactive form on the website to make easy contact, allowing you to choose your hair type, age range and gender, which is a nice touch. The price of the procedure is clear for everybody to see and to say it's cheap would be an understatement. Starting at just €1,300 for FUE, Hair Expert Turkey offer some of the most affordable pricing options we have ever seen.
The itemisation of what is included in each package is also very helpful during the booking process, so that you're not left wondering about what other expenses you may incur. The level of information about pre-op and post-op care and the hair transplantation procedure is impressive, and a very good resource for making your mind up.
Pre-Operational Consultations
The pre-operational processes at the clinic leaves plenty to be desired. The initial assessments help doctors to decide the right protocol for you as an individual, and they will conduct your blood tests at the clinic to ensure there are no medical issues. The issue here is that these things are pretty standard practice, and should be expected, not celebrated.
Other aspects of pre-op care are essentially forgotten about, with nothing in the way of medical advice or support ahead of the procedure. There is also a distinct lack of any specific travel plans, with no mention of things like how long before the transplant you should arrive, how long you should wait before travelling home, etc.
Once we got to the point of looking at the transfers and accommodation offered by the Hair Expert Clinic, their low pricing began to make sense. The procedure cost does not include your transport upon arrival, or your hotel stay.
You are either left to book your own arrangements, or choose from additional packages at an extra cost. The package includes the 4-star Veyron Hotel, which is just 40 metres from the clinic. A 2 night stay in a double room will knock you back a further €200, or you can take 3 nights for €270.
So your experience and treatment on arrival when booking with the Hair Expert Clinic depends on how much extra you're willing to spend. We much prefer all inclusive pricing and so for us, it has a negative impact on the score rewarded to the clinic for their service when it comes to accommodation and arrival.
The Hair Expert Clinic has a prime city-centre location, making it a great option if you want to spend a bit of time exploring Istanbul and making the most of the trip. That said, most of the selling points of the clinic are about what it looks like, not necessarily its capabilities. The facility at Hair Expert offers just hair transplant services, and there are no other medical procedures carried out. There's a certain element of comfort in knowing that you're in a hospital in the very unlikely case that there are complications.
Surgery & Doctor Involvement
The team at Hair Expert is headed up by Dr. Ersun Cobanoğlu , an accredited aesthetics doctor who has carried out thousands of hair transplants. After graduating from Trakya University Medical Faculty in 1992, he went on to receive certification from the Ministry of Health in 2005. The great thing here is that your doctor is involved from the very beginning, from consultation right through to the procedure. This provides you with somebody who knows your case inside-out, and there's a handy guarantee of English-speaking available too.
Aftercare is something we take really seriously when conducting our reviews. A great booking process and a comfortable hotel is just the beginning. Once your procedure is over, it's important to still feel valued and taken care off, even after you've paid your final bill. With Hair Expert, your post-op medications and shampoos are included in the price, but that's about all that's included. There's no satisfaction guarantee, no affordable financing options and no repeat procedures if the results aren't as expected – all pretty disappointing.
We Rate Hair Expert Clinic
The final score given to Hair Expert is strongly influenced by the mediocrity of their facility and the complete oversight of aftercare. After the easy booking process, the offering to patients goes downhill from that point.
The fact that the pricing only includes the hair transplant itself and no accommodation is a smart way to look cheaper than the competition, but Hair Expert offers much less than a number of other clinics in Turkey in this respect. The emphasis on helping you to book is clear, but everything else is left to you.
Most of the selling points of the Hair Expert clinics are about the location, with the website highlighting the city centre access and proximity to tourist destinations. This is all well and good, but should be secondary to it being a world-class medical centre, with on this occasion, it isn't.
Get a free hair loss report today and make sure you get fair offers from clinics
Hair Expert hair transplants are done by Dr. Ersun Cobanoğlu
Despite many of the aforementioned cons, we can't take away from the fact that Dr. Ersun Cobanoğlu is a real leader in the hair transplantation field. Having such an experienced and well-respected doctor in the clinic is a real draw. We always like to know that there will be English-speaking staff and thankfully this is a guarantee with the Hair Expert clinic. For non English speakers, there are interpreters available to have everybody feeling comfortable.
Due to the nature of the clinic, not being a medical centre, the hair transplant team is fairly small. There is no mention of dedicated care or nursing staff members, so it all feels a little in-and-out, with no emphasis on the patients comfort before or after the procedure. Very little is said about any other members of the team outside of Dr. Cobanoğlu, which is a shame, because it's certainly not a one man show.
Before and After Pictures
Hair Expert Clinic Transplant Results And Before and After Pictures
Hair Expert Clinic Turkey are proud of their results and there are plenty of real examples to look at on their website. Previous patients had hair loss issues in different places, all with a unique case of their own. The before and after examples demonstrate the clinics ability to help every individual.
Getting a Hair Transplant in Istanbul Was Never Easier
Hair Expert Clinic Turkey Transplantation Methods & Treatments
There are 4 different methods offered at Hair Expert, they are; FUT (Follicular Unit Transplant), FUE (Follicular Unit Extraction), Sapphire FUE and DHI (Direct Hair Implant). There is a wealth of information available on the website about each procedure, including a helpful comparison table to help you understand the key differences.
The doctor will make a recommendation as to which method is best, depending on your type of hair loss. The good news is that each procedure comes with needleless anaesthetic and minimal pain, but some do require more of a recovery period than others. We strongly recommend you take a look at the Hair Expert FAQ section as there is so much information on each.
Hair Expert Clinic Turkey Cost of Hair Transplants, Available Packages And Extras
On the surface, the prices at Hair Expert Turkey are great, and much lower than elsewhere. As uncovered in our review, though, there are additional costs involved. Do not be blinded by the low cost of the procedure, as that's about it all covers. Do the maths and calculate what the total cost will be before comparing it to other clinics.
The 2 packages available at the Hair Expert Clinic will set you back €1,300 for FUE and €1,700 for the DHI method. We've said it a few times already, but just to reemphasize, this includes only your procedure and medications. You will need to pay extra for travel, hotel and transfers. This ranges from €200 to €270 if you use the selected hotel partner.
Be the first to grab our all-new e-book
Before you can truly commit to a hair transplant it is important to understand hair loss. Together with the experts at IdealofMeD, we wrote an e-book explaining everything you need to know about hair loss. From hair loss causes to practical tips on how to deal with hair loss and the best hair loss products.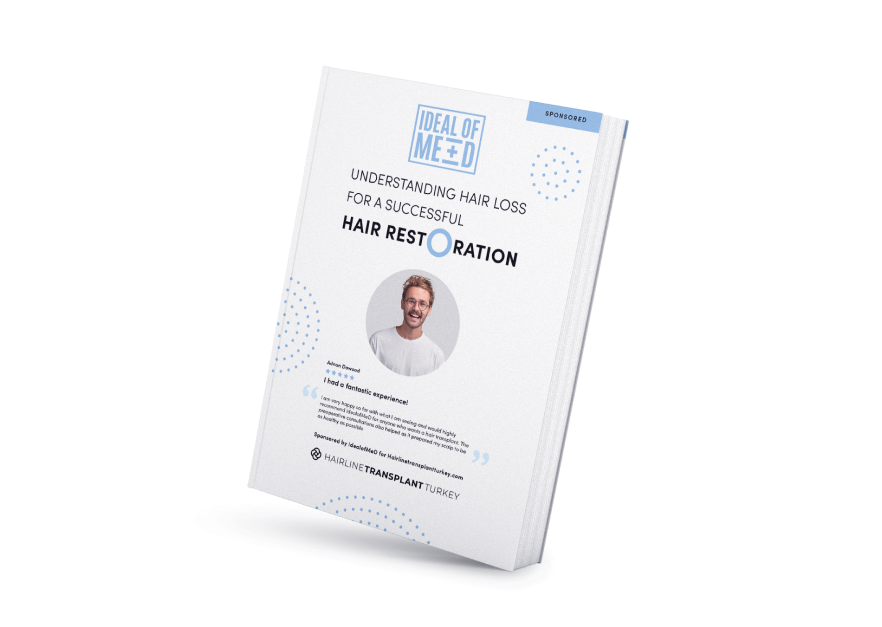 Yes they are. There is plenty of helpful information and regular updates available on the Hair Expert Facebook page which can be found here: https://www.facebook.com/hairexpert.net/
No. The Hair Expert Clinic Turkey performs their procedures in a purpose-built and dedicated hair transplantation clinic, it has no other medical facilities or staff.
No. The clinic does not have a license, however it is accredited by the Health Ministry of Turkey and sports a number of aesthetics certificates.
Contact Hairline Transplant Turkey
Our team of experts are always here to help you. You can call us or fill the contact form for any questions about hair transplantation cost or procedure. We are more than happy to assist you. You can also leave your contact information, and we'll give you a call.
Let us answer your questions