Hair World Turkey Clinic Review

Hair World Turkey is known as one of the leading clinics for a hair transplant in Istanbul but does it live up to the reputation or is it a bitter disappointment?
Hair World Turkey Hair Transplant Center review content:
Hair World Turkey Hair Transplant Center Rating
Hair World Turkey Hair Transplant Center Review Summary
The Hair World Turkey website is written in English which is easy to understand, albeit a bit broken in places. There is an impressive amount of information about the hospital, the team and the treatments themselves, answering many of the most likely questions potential clients will have. You can also get a free consultation at the Hair World Turkey Hair Transplant Center to give you a better idea of which treatments would be best for you.
Despite all of this helpful information, it's disappointing to not have a transparent pricing structure. Understandably, it's a bespoke service and so prices can vary, but even a ballpark figure would benefit readers. You're left with absolutely no idea what the procedure may cost, which will obviously influence your decision on whether to book or not.
Pre-Operational Consultations
Your travel plans are outlined from the beginning at Hair World Turkey, with a travel itinerary describing the 3-day process in detail. Unfortunately, that's about as good as it gets when it comes to pre-operative care. Far from the all inclusive option, It seems as though important things like consultations and medication are not offered as standard.
We're used to seeing a number of optional and expensive extras, like comfier beds and a better hotel, but we would expect a basic level of care before your procedure to be part of the package. This lack of inclusive pre-op care is likely to mean incurring more personal costs to you.
Hair World Turkey provide nothing short of a luxury experience when it comes to travel and accommodation. Think VIP transfers, a 5-star hotel overlooking Prince Islands and a great breakfast on each day of your 3-night stay. Sounds good right?
The issue is that the VIP experience shouldn't just include the hotel, it should extend right through to your treatment and time at the hospital. This isn't the case because of the serious lack of pre-op service included in the price. We'd much rather see a 3 or 4 star hotel and all of the extras thrown in if it's about reducing costs for the clinic.
That said, it's nice to know that you'll be well looked after in-between your appointments, especially if you're by yourself. If you're going to travel to a foreign country for your hair transplant, at least it can be done in style with the services offered by the Hair World Turkey Clinic.
The Hair World Turkey hospital goes above-and-beyond all standards when it comes to their facility. The ultra modern, state-of-the-art hospital has 5 floors and features a huge team of specialist doctors in a number of different fields including aesthetics, dentistry and skin care. This is far more than just a hair transplantation clinic, it's an EU accredited hospital.
The hospital prides itself on the 'this is your home' motto, emphasising that patient comfort and care is the number one priority. They encourage you to invite friends and family to visit, and to kick your feet back and relax while they take care of your every need during your stay.
Surgery & Doctor Involvement
Perhaps the only thing more impressive than the Hair World Hospital itself is the team behind it. The leading Medical Aesthetic Doctor is Dr. Burcu Zabun, who has been working in the field since 2000 and holds several Ministry of Health approved qualifications. Supporting Dr. Zabun are many other members of English-speaking staff, from nurses to the welcome team, designed to make you feel at home.
For such a high-end facility with such a focus on patient comfort, it's a real surprise that the aftercare at Hair World Turkey is as bad as it is. You can expect no post-treatment services included in your package, which means extra costs for medications and consultations. Despite the bills you're wracking up with these extras, there's no financing options available to help you pay for it, either. To put the cherry on top, there's also no satisfaction guarantee. There's not much else we can really say here, is there?
We Rate Hair World Turkey
This generous 3 out of 5 score for Hair World Turkey comes entirely down to their fantastic facility and medical team. It's a bitter disappointment that all other aspects of patient care are an optional extra.
With their potential, Hair World Turkey could be one of the best hair transplant options the world has seen. They've got all of the foundations, the hospital, the doctors, but you can't expect your clients to pay extra for every single element of the procedure outside of the transplant itself.
The recurring theme throughout this review comes back to the pricing structure at Hair World Turkey. For a higher score, they need to be much clearer about pricing and include several packages whereby patients can pay for everything required without the need of additional costs. This also needs to be made more affordable with financing options.
Get a free hair loss report today and make sure you get fair offers from clinics
Dr. Burcu Zabun carries out the procedures at the Hair World Turkey Hair Transplant Center
With so much experience and years of expertise, Dr. Burcu Zabun is the perfect doctor for your hair transplant. Supported by a huge team of other specialists, including aesthetics and psychiatry, the team as a whole at Hair World Turkey is incredibly impressive. One could argue that perhaps the questionable pricing is justified with such a team of doctors at the wheel, but for us, the two should come hand in hand – great doctors at a fair and affordable price.
Let's not forget about the welcome team, too, who are a really nice touch. The team is completely dedicated to welcoming patients, settling them in and making them feel like home. All the while, this happens in a beautiful world-renowned clinic, kitted out with the latest in medical equipment and comfort. You're sure to feel like a VIP from the minute you arrive at the hotel, and the welcome team work hard to make you feel the same while at the clinic.
Before and After Pictures
Hair World Turkey Transplant Results And Before and After Pictures
There are several Hair World Turkey reviews and testimonials featured on their website, including some great before and after videos and direct feedback from real patients who have been treated at the clinic. The use of video is great, as it makes the recommendations feel that little bit more personal.
Getting a Hair Transplant in Istanbul Was Never Easier
Hair World Turkey Hair Transplant Center Transplantation Methods & Treatments
Hair World Turkey offer standard hair transplants, as well as eyebrow and beard transplant procedures. Suitable for both sexes, it's nice to see a dedicated section for female hair loss, as it often feels like women are a second thought when it comes to hair transplantation. There's plenty of helpful advice about hair loss, and why it happens.
The clinic offers 3 methods for their hair transplants; FUT (Follicular Unit Transplantation), FUE (Follicular unit extraction) and DHI (Direct Hair Implantation). The particular method used in your case will depend entirely on how advanced your loss is, your hair type and a number of medical aspects. However, the clinic does primarily prefer the FUE technique.
Hair World Turkey Costs of Hair Transplants, Available Packages And Extras
In a nutshell, there's very little to no information available about the Hair World Turkey prices. The website explains that every case is unique and that pricing will depend on a number of variables, and absolutely no ball-park figure is given. They do express that their procedures are cheaper than other parts of the world, so that's something. Here's what's included in their package:
As well as not knowing the price, it seems that very little is actually included as standard. Yes, of course, you get a fancy hotel and travel, but that's about all. There's no mention of pre or post-op care or any additional extras in the way of medical help or advice.
Be the first to grab our all-new e-book
Before you can truly commit to a hair transplant it is important to understand hair loss. Together with the experts at IdealofMeD, we wrote an e-book explaining everything you need to know about hair loss. From hair loss causes to practical tips on how to deal with hair loss and the best hair loss products.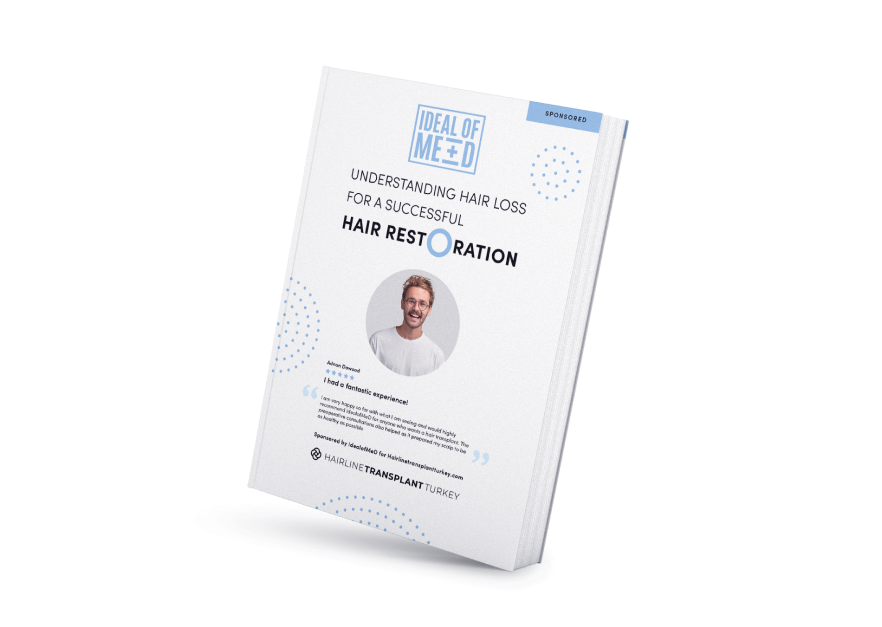 Yes they are. You can follow the Hair World Turkey Transplant Center on Instagram to see more before and after shots using the handle @hairworldturkey
Yes. The Hair World Turkey hospital is a state-of-the-art facility covering 1,500 square metres and 5 floors. They offer hair transplants and other aesthetic procedures.
Not specifically an A-License, no. However the Hair World Turkey Transplant Center is accredited by the EU and hold operating and aesthetics licenses within Turkey.
Contact Hairline Transplant Turkey
Our team of experts are always here to help you. You can call us or fill the contact form for any questions about hair transplantation cost or procedure. We are more than happy to assist you. You can also leave your contact information, and we'll give you a call.
Let us answer your questions