Before settling for a hair transplant in Istanbul there are certain critical questions that every potential client has. What are the costs? Who's the lead doctor? And how are the before and after pictures of previous clients? Our Hairmedico Turkey review found the answers you're looking for, so read on.
Here's our full Hairmedico Istanbul clinic review
Hairmedico Istanbul Review Summary
Hairmedico Istanbul Review Summary
Hairmedico Istanbul is a clinic with a well laid-out site and has all the information you need, from the price list to the doctor's portfolio. The price list of the clinic is readily available and includes the different packages offered. You can choose the standard package or the VIP package with additional perks, such as aftercare products and a 5-star hotel. Hairmedico Turkey also earns your trust by having a page dedicated to Dr Arslan Musbeh, detailing his hair transplants' experience and skills.
Any hair transplant experience starts by booking an initial consultation, and the clinic offers a free hair analysis. You simply fill in the contact form on their website and attach a couple of photos of your head for the doctor to examine the degree of hair loss. Afterwards, the clinic will get back to you on any of their five WhatsApp contacts for the different languages—English, Spanish, Turkish, French, and Russian.
(Pre-operational) Consultations
Scoring 2 out of 5 is a good attempt as most clinics don't offer any pre-operation services. Hairmedico clinic provides an itinerary before the trip and pre-operational consultation, which is done by Dr Arslan. Even though the clinic doesn't organise your visa arrangements, the staff is ready to give you tips on how to go about it.
Many clinics in Turkey tend to do the most for their clients once they book an appointment and land in Turkey. As for advice on the best nutrition practices to follow before the procedure, the clinic didn't have any info on this. UK hair transplant clinics are more ideally placed to offer pre-operative kits and medications as compared to clinics abroad.
At Hairmedico clinic, your stay and experience in Turkey solely depend on the package you choose. The standard package provides all the minimum necessities, but the VIP package has more perks.
For the standard package, your cab driver will be waiting for you at the airport and will facilitate your transfers to and from the airport only. The clinic has also made arrangements for a three nights stay with breakfast at a 4-star hotel. However, when it comes to the operation, the procedure is the same irrespective of the package.
If you want a luxurious experience, then go for the VIP package that comes with additional perks. This package includes a 5-star hotel stay and VIP transfers to and from the airport and clinic. For your 4-days stay in Turkey, feel free to visit historical sites in the city of Istanbul and don't forget to enjoy native cuisines.
One of the things we hope to see in a clinic's website are photos of its facility; whether it's a clinic or hospital. Such images provide clients with an idea of what to expect. We noted that Hairmedico doesn't have any photos of its facility, and this is one aspect of the clinic which makes it lose some points.
A check on trust pilot showed us that a few clients complained that the clinic operated from only a small room. Seeing that there aren't any photos of the clinic, one can't easily dismiss the claims made by previous clients. Your first view of the clinic will be once you land in Turkey, and that will be too late.
Surgery & Doctor Involvement
The doctor leading the team at Hairmedico clinic is Dr Arslan Musbeh, an experienced hair transplant surgeon. From the pre-consultation to the postoperative follow-up, the doctor seems to keep in touch with his patients. Again, the price list of the clinic is the best point of reference concerning the doctor's involvement. In the standard package, Dr Arslan only does the beginning of grafts extraction while in the VIP package, the doctor extracts all grafts himself. However, regardless of any package, the doctor opens the implantation channels himself.
When it comes to aftercare considerations, the clinic gets a thumbs up from us. All clients at Hairmedico are guaranteed of a 1-year postoperative follow up and medication. But for those clients opting for the VIP package, the clinic provides additional products which include a shampoo, lotion, and vitamins. Also, for a higher hair growth success rate, Hairmedico provides each client with one injection session of plasma therapy. You will also be advised on the best practices that will optimise your hair regrowth.
Conclusion - We rate Hairmedico Istanbul 3 out of 5
Overall, Hairmedico is a clinic that ticks a majority of the right boxes except one—its facility. Most of the comments were positive, and the few that were negative revolved around the facility.
Other than that, Hairmedico is among one of the best hair transplant clinics in Turkey. Dr Arslan is highly qualified, and his operational team is skilled, giving you the results you're looking for. The clinic also does an excellent job in its aftercare treatment by having a 1-year follow up and providing the necessary medication for its clients.
If you are interested in Hairmedico, we would advise that you request more info to find out more about the facility. The clinic can be reached via several platforms which include Whatsapp, email, and social media. They respond quickly and checking out their Facebook, and Instagram pages will give you more insight.
Get a free hair loss report today and make sure you get fair offers from clinics
Are Hairmedico Istanbul procedures done by Dr Arslan Musbeh?
Any operation at Hairmedico clinic will be done and supervised by Dr Arslan Musbeh. The doctor is a graduate of Odesa Medical University in Odesa, Ukraine, and has specialised in alopecia and hair transplantation treatments. He has been practising hair transplant operations since 2007 and was among the pioneer specialists of the FUE technique in Turkey. His patients come from all over the world, and the doctor is tri-lingual speaking Turkish, English as well as French.
Dr Arslan work with a team, and he has trained them to complement his skills. He is assisted by nurses and specialists who he has taught the different stages of the hair transplant procedure to, in detail. There is a specialist trained in graft extraction only and one trained in implantation. It would have been much better if the clinic provided more information on the two trained specialists or any other nurses it might have.
Before and After Pictures
Hairmedico Istanbul l Results And Before and After Pictures
A clinic is only as good as its results, and from the before and after pictures of Hairmedico Istanbul, the clinic does a good job. Even though the clinic offers no guarantee, the free plasma therapy session at the end of the procedure aims to optimise the results of your hair transplant. Hairmedico has before and after pictures on their website so you can easily check them out.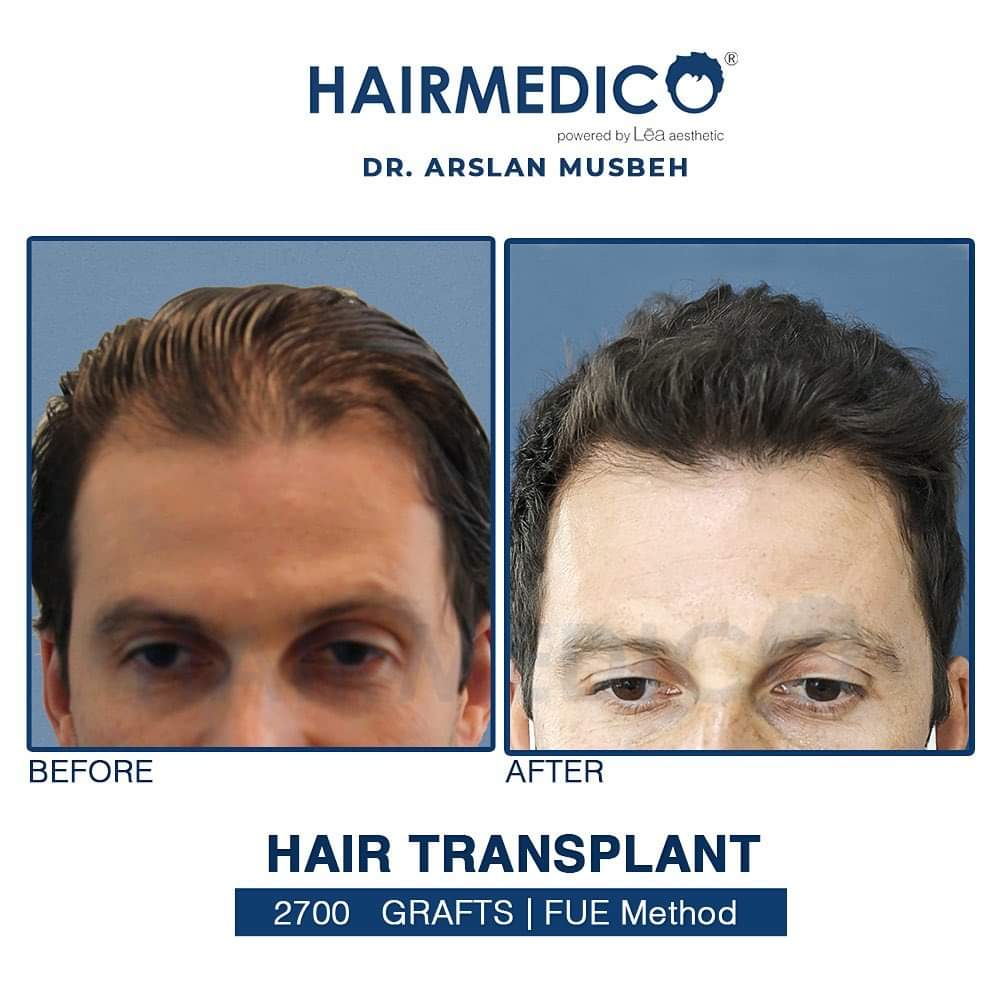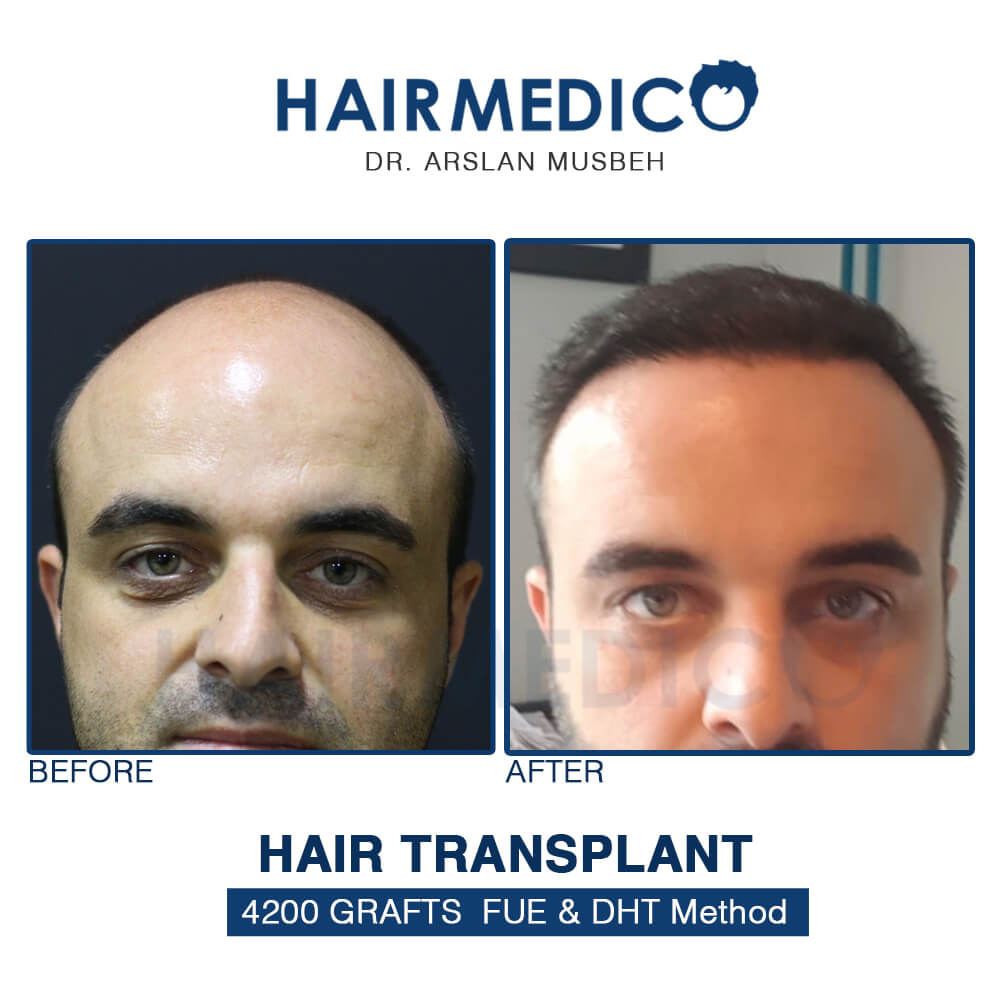 GETTING A HAIR TRANSPLANT IN ISTANBUL WAS NEVER EASIER
Hairmedico Istanbul Transplantation Methods & Treatments
Being among the pioneers of FUE in Turkey, Dr Arslan has gathered a lot of experience in hair transplants. FUE has advanced over time, and currently, the procedure used at Hairmedico is the Sapphire FUE method. The technique uses sapphire blades with fine needles to make incisions, resulting in a clean and accurate operation with minimal scalp trauma.
The clinic adheres to the "One patient per day" policy from the Ministry of Health, and each operation takes 6-8hrs. Other than hair transplants, Hairmedico performs other treatments such as beard transplant, eyebrow transplant, micropigmentation, trichology, laser therapy and mesotherapy. Some of the comments on Trust Pilot applauded the team for being professional throughout the whole process.
Hairmedico Istanbul Cost of Hair Transplants, Available Packages And Extras
The clinic has a "Hair transplant cost" option at the top of the site where you can find all the info on the packages they have. Hairmedico Istanbul offers two packages—a standard one and a VIP. Both packages provide the essentials of the procedure, and the standard goes for €2,500 while the VIP goes for €3,500. Here is what to expect of the standard all-inclusive package,
Maximum number of grafts
Pre-operative consultation
Beginning of graft extraction done by Dr. ARSLAN and the rest by a trained assistant
Opening of channels done by Dr Arslan
Implantation of grafts done by a trained assistant
One injection session of mesotherapy
3 nights at a 4-star hotel
Airport transfers only
Medicine and 1-year post-operative follow up
The costs at Hairmedico clinic are affordable and lie within the average costs of hair transplants in Turkey of €0.80 per graft. For such a low price and offers such as mesotherapy, aftercare products and Dr Arslan's involvement; we believe the cost represents value for your money. Hairmedico's site also offers other treatments such as afro hair transplant that costs €2,800 for the standard package and €3,800 for the VIP package.
Frequently Asked Questions
Yes, it is. And not only Instagram but also Facebook and YouTube. If you head over to YouTube, you can watch recordings of their clients' hair transplant journeys.
No. Even though the clinic seems to have the reputable Dr Arslan steering it, the clinic doesn't mention any hospital. In case of any emergency, you will be rushed to the nearest hospital.
No. From our review, we found no information showing that the clinic is licensed and neither did we see any photos of the clinic or hospital where it operates.
GET YOUR FREE HAIR LOSS REPORT
Get the information you need to compare hair transplant prices objectively