Infinity Hair Transplant Turkey Review

Infinity Hair Transplant Turkey is a well-established clinic with over 70 specialists on its team. Having performed over 25,000 procedures since opening a decade ago, Infinity is a popular choice for a hair transplant in Istanbul and draws in patients from all over the world.
Infinity Hair Transplant Turkeyreview content:
Infinity Hair Transplant Turkey Rating
Infinity Hair Transplant Turkey Review Summary
Getting started with Infinity Hair Transplant Turkey couldn't be easier. Their English website is packed with helpful information about their specialities and procedures, so there's plenty of reading for you to do. If you wish to proceed, a quick form with some basic information will book you in for a one-to-one consultation. This is a completely free service, and is a great way for the doctors to understand your individual needs and type of hair loss.
There is a clear outline of the three packages available, but no indication of what they cost. This is not unusual, and the price will usually be quoted at point of consultation, as it will be dictated by how many grafts you need. The technique of transplant will also have a direct influence on the price you pay.
Pre-Operational Consultations
Despite claiming to be the best clinic in Turkey, with client care at the forefront of their mission, the clinic does very little to prepare patients for their hair transplant. None of their three packages involve any pre-op kits, nutritional advice or supplements on the run up to the procedure.
The lack of travel itinerary makes it difficult to plan for your trip. Without knowing how long you will need to spend in Istanbul and how soon afterwards you can travel, booking your flights can be tough. Not to mention the fact that if something comes up, you will not be able to reschedule for free. It is unlikely you will need to, but it's a nice thing to have.
Should you opt for the package that includes accommodation, Infinity Hair Transplant will put you up in an impressive 5-star hotel for your stay. Unfortunately, the length of stay is not stipulated so that will need clearing up.
Your luxury hotel includes a spacious room, a comfortable bed and a buffet breakfast, completely taking care of you before your visit to the clinic and after. As well as the hotel, you will be transported to and from the airport with VIP transfers. This means you don't need to plan, or pay for, your own transport.
A very welcome extra is the inclusion of an English-speaking driver to greet you at the airport. Travelling abroad for a hair transplant is a big deal and it's normal to have the jitters, but a friendly face on arrival can go a long way. Your coordinator will get you to your hotel and the clinic at no additional cost.
The Infinity Hair Transplant service offering has so much potential, but they seriously let themselves down when it comes to the facilities offered to patients. Not only will you not be provided with a special bed and pillow, designed for hair transplant patients, but you don't get much else either.
There is no mention of comfort features, entertainment areas, or even whether you will be fed during your stay at the clinic. One would hope that this sheer lack of selling points would be made up for in the level of technology or equipment available, but they lack in this area, too.
Surgery & Doctor Involvement
Needleless anaesthetics have come to be part and parcel of the hair transplant process, offered by most clinics ahead of the procedure. The only option at Infinity Hair Transplant is to sedation, which is less than ideal. Not only is sedation an unnecessary measure, but it can make your immediate recovery take longer. There is also no guarantee of an English-speaking medical team, something that can be very daunting for a patient in a foreign country.
Infinity Hair Transplant offers its patients a 90% hair growth guarantee, meaning that you will see drastic results, or get your money back. This kind of guarantee gets a seal of approval from us, as it's a sign of a clinic confident in its capabilities. That said, there are no post-op consultations or medications included in your price, and also no flexible financing options to make the procedure more affordable. Both of these result in a lower score in this section.
We Rate Infinity Hair Transplant Turkey
The final score for Infinity Hair Transplant Turkey is a disappointing 1.16 out of 5. There are definitely some notable positives about the clinic, and a number of things that they get right. But unfortunately, there is a lot letting them down, too.
VIP transfers and 5-star luxury accommodation is great, and incredibly important to comfort and recovery, but there needs to be so much more. It feels as though the Infinity Hair Transplant clinic provides just the basics when it comes to patient care, and nothing about their service exceeds our expectations.
To achieve a higher score in future, Infinity Hair Transplant would need to improve in several key areas. Better pre-op and post-op care is a necessity, and more payment options would be well received. The other major reason for the low score is the lack of a mentionable doctor, however, the site does say that your procedure will be done by a qualified doctor or plastic surgeon.
Get a free hair loss report today and make sure you get fair offers from clinics
Are Infinity Hair Transplant Turkey procedures done by qualified doctors?
Every hair transplant carried out at Infinity Hair Transplant is done by a qualified doctor that has a specialism in the field. You will be taken care of by a medical professional, and this should never be in doubt. The unfortunate thing is that there is no lead doctor to mention, who usually heads up the department and sports a number of accolades. Although not a necessity, it is an important way to stand out in a very competitive market.
By hiring a doctor that has pioneered hair transplant technology, or perhaps won an award in the field, would be a great addition to the Infinity Hair Transplant clinic. Other important members of the team include nurses and care staff at the clinic, there on-hand to help patients have a comfortable stay. None of these teams are mentioned on the website, so it's hard to know what level of care to expect during your time at the facility.
Before and After Pictures
Infinity Hair Transplant Turkey Results And Before and After Pictures
You have to do some digging to find any Infinity Hair Transplant Turkey before and after pictures. They are available on their social media profiles, but there isn't all that many to look at. There is also none available on the website. Before and after pictures are very important for prospective patients, so we would like to see more case studies used.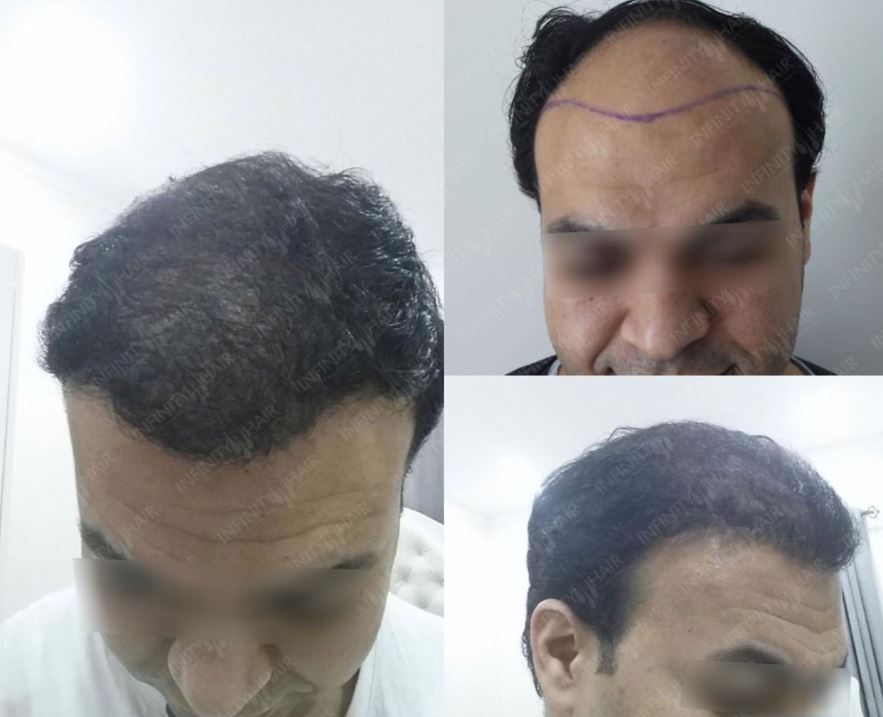 Getting a Hair Transplant in Istanbul Was Never Easier
Infinity Hair Transplant TurkeyTransplantation Methods & Treatments
Infinity Hair Transplant offer three primary techniques for hair transplants; Micro FUE, Nano FUE and DHI. The FUE technique has become popular in recent years, with the Nano approach promising the most precise of finishes. DHI is one of the latest methods on the market, and usually comes with the higher price tag.
The chosen method for a hair transplant depends on a number of things, including the individual circumstances of the patient. The severity of baldness as well as the problem areas will dictate which approach is best. Your budget will also come into play, as some techniques cost significantly more than others.
Infinity Hair Transplant Turkey Costs, Available Packages And Extras
Infinity Hair Transplant Turkey has three packages to choose from, the first of which involves just the procedure. The other two have differing levels of accommodation and the VIP one offers an exclusive tour of Istanbul. Pricing is only available on request and is not published on the website. The standard package (including hotel) includes the following:
If you want a little more out of your trip, opting for the VIP package is the way to do so. It will cost you more than the standard, but includes all of the above as well as a guided tour of Istanbul, a room upgrade and many extra perks.
Be the first to grab our all-new e-book
Before you can truly commit to a hair transplant it is important to understand hair loss. Together with the experts at IdealofMeD, we wrote an e-book explaining everything you need to know about hair loss. From hair loss causes to practical tips on how to deal with hair loss and the best hair loss products.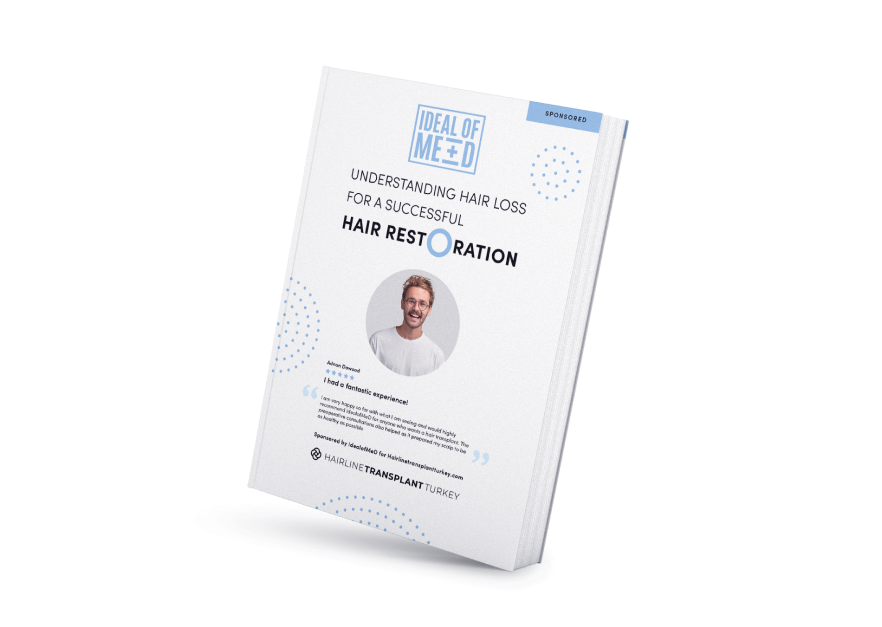 Infinity Hair Transplant does have an IG page, but disappointingly, it's not available in English. You can still check out some before and after pictures, though. The username is @infinityhairclinic
No. Infinity Hair Transplant Turkey is a specialist hair transplant clinic of its own, and their surgeries are not carried out in a hospital environment.
No. Infinity Hair Transplant does not have an A-License and is not regulated by the Turkish Government. It does meet all medical requirements though, and is perfectly safe.
Contact Hairline Transplant Turkey
Our team of experts are always here to help you. You can call us or fill the contact form for any questions about hair transplantation cost or procedure. We are more than happy to assist you. You can also leave your contact information, and we'll give you a call.
Let us answer your questions