Medeks Hair Center Review

Medeks Hair Center is a specialist clinic for a hair transplant in Istanbul with over 20,000 procedures under their belt. Located in a prime area of Istanbul, the clinic offers FUE transplants and PRP therapy.
Medeks Hair Center review content:
Medeks Hair Center Rating
Medeks Hair Center Review Summary
You can book a consultation at Medeks Hair Center, which is a great way to get advice about which treatment method may be best for you and your specific hair loss. The website is written entirely in English, but it's incredibly vague, to say the least. Information on the procedures is sparse, and there's no mention of the team that will be carrying them out either. In fact, there's practically no insight at all into the clinic, the staff, or the services they offer.
That said, it may not be surprising to hear that there's no indication of any pricing either. Considering the purpose of a website – to create a good first impression and provide information – this one does neither. If you're doing your research and seriously considering where to book your procedure, they really don't make it easy for you.
Pre-Operational Consultations
We're afraid it doesn't get much better at this point. From a very unclear booking process, straight to a to below-par pre-op service. We'd expect to see at least a basic travel itinerary, for an idea of how long you will need to be in the country, and how much time is given for recovery.
Basics like a pre-op kit and medications should be included in the standard package, and this doesn't appear to be the case. Not only are we left wondering how much the procedure costs, it's also unclear as to what you actually get for your money, and this explains the score of 0.
Medeks Hair Center provide patients with an English speaking coordinator and VIP transportation from the airport. Both of these services go a long way to helping you feel like you're at a home away from home.
It is a real shame that there's no mention of hotel or accommodation on the website, as this is often one of the biggest selling points to these Istanbul hair transplant clinics. It's common to offer patients 5* luxury comfort during their stay to aid recovery, but it's not clear as to whether you get this service.
Depending on the type of transplantation method used, the ideal duration of stay in Turkey would be 3 nights. Some techniques only require 24 hours, but others have a longer recovery time. Unfortunately, Medeks Hair Center only provide 2 nights, continuing the theme of providing a sub-par service in comparison to many other clinics we look at.
Things just go from bad to worse in this Medeks Hair Center review, as we have yet another section with a score of 0. We were hoping that, despite everything so far, we would be wowed by the clinic itself and the facilities it offers. Again, we were left disappointed.
There is no mention of the comfort touches for patients, such as the beds, food or entertainment facilities. When you are visiting a foreign country for a procedure, these are the things that really make all of the difference. The center does not hold an A-License, so it is not regulated or accredited by the Turkish Government.
Surgery & Doctor Involvement
For a clinic offering aesthetic procedures, it's outrageous that the website has absolutely no information whatsoever about the staff. No mention of the doctors carrying out the treatments, nor the nursing staff that will be taking care of patients. The confusion continues, from the point of booking, there are more questions than answers.
The good news is that there is an aftercare package available at Medeks Hair Center – the bad news is that it comes at an extra cost. Again, we can't tell you how much this is, as there is no pricing available online. Offering an extra package for aftercare is a common practice, but most clinics still offer a certain amount as standard. At Medeks Hair Center, it seems like you have to pay extra just to get the average level of care.
We Rate Medeks Hair Center
We feel as though this score is completely justified considering the above criteria. Medeks Hair Center has only been saved from an outright 0 thanks to their VIP transfers and English-speaking coordinator.
Medeks Hair Center fall short in almost every aspect. We would love to be able to justify it with a low price, or perks in other areas, but there's no evidence of any of this. We fail to see how the clinic expects to convert any customers with a website containing no information.
It could be that Medeks Hair Center offer more than their website outlines, but we can only assess what we can see, and as things stand, there really isn't much to see at all. We would not recommend the clinic to those considering a hair transplant, as there are many other better options in Istanbul.
Get a free hair loss report today and make sure you get fair offers from clinics
Are Medeks hair transplants done by qualified doctors?
The procedures at Medeks Hair Center are carried out by qualified doctors, yes, but we can't tell you much about them. Here is where we would usually list the accomplishments of the surgeons and the accreditations held by the team, but as with almost every aspect of this review, there is no information to use. The website fails to mention any specific doctors or expertise, so we're left asking even more questions about who will be doing the procedures.
Doctors, medical staff and expertise aside, the nurses and the caring staff are equally as important for a patients comfort and recovery. Many clinics will make a point of highlighting these teams, but Medeks Hair Clinic fail to mention whether they're available at the facility or not. It's impossible to expect potential patients to choose the center without even a basic understanding of who will be carrying out the procedure or taking care of them afterwards.
Before and After Pictures
Medeks Hair Center Results And Before and After Pictures
Medeks Hair Center don't really feature any before and after pictures on their website specifically, but there are plenty to see on their social media profiles like Facebook and Instagram. There is a lack of real-life reviews and testimonials though, which is something any potential patient is going to want to see.
Getting a Hair Transplant in Istanbul Was Never Easier
Medeks Hair Center Transplantation Methods & Treatments
Medeks Hair Center specialises in just hair treatments, which isn't necessarily a bad thing as it shows complete focus in one area. The drawback is that the clinic only offers 2 different types of treatment, Follicular Unit Extraction (FUE) and PRP therapy. The FUE process is often considered to be the older and less desirable method of hair transplantation, with many preferring DHI.
As well as their hair transplants, the clinic also offers beard, moustache and eyebrow transplants if you're thin in those areas too. The prospect of a fuller beard is something that appeals to many men, and the procedure has become more popular in recent years with the beard becoming more desirable.
Medeks Hair Center Cost of Hair Transplants, Available Packages And Extras
Medeks Hair Center don't give much away in the way of pricing. We know that there is a standard package, and an optional extra for further aftercare, but there's no information about what the price actually is and what you get for it. The things we do know are included are:
The all inclusive package includes the basic requirements you would expect when getting a hair transplant in Turkey. Unfortunately, there's not much in the way of additional perks or luxuries involved. We have seen absolutely no evidence of Medeks Hair Center going above-and-beyond in any aspect of our review criteria.
Be the first to grab our all-new e-book
Before you can truly commit to a hair transplant it is important to understand hair loss. Together with the experts at IdealofMeD, we wrote an e-book explaining everything you need to know about hair loss. From hair loss causes to practical tips on how to deal with hair loss and the best hair loss products.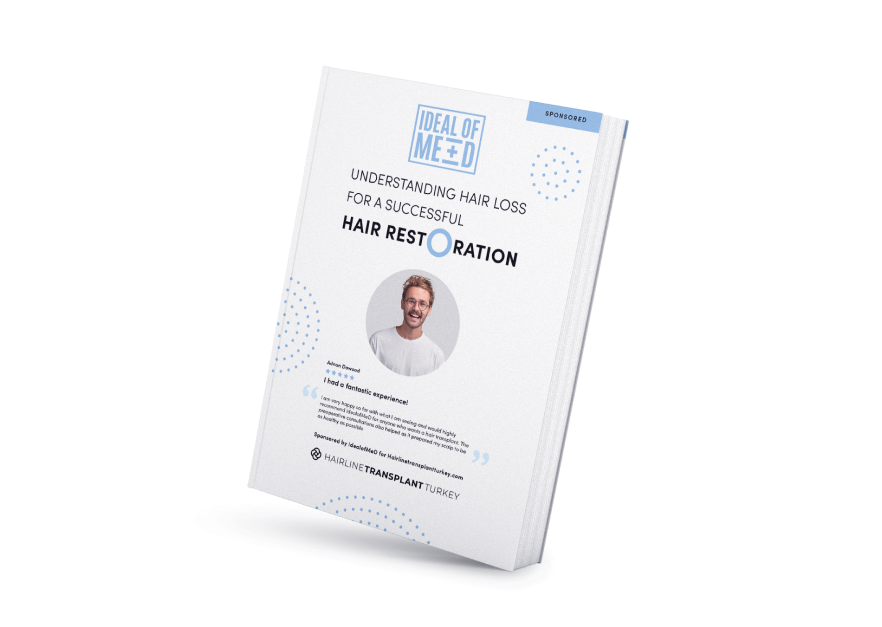 Yes, the Medeks Hair Center is on Instagram. Unfortunately, their profile and captions are written in Turkish, not English. Their handle on Instagram is @medekshaircenter.
No, the hair transplantation procedures are not carried out in a hospital. They are done in the specialist hair clinic and they are the only types of service offered.
No, Medeks Hair Center does not currently possess an A-License. Despite not being accredited by the Turkish Government, the clinic is perfectly legal to operate
Contact Hairline Transplant Turkey
Our team of experts are always here to help you. You can call us or fill the contact form for any questions about hair transplantation cost or procedure. We are more than happy to assist you. You can also leave your contact information, and we'll give you a call.
Let us answer your questions