Mega Hair Trans Istanbul Review

Mega Hair Trans Istanbul, set up in 1995, is among the pioneering hair transplant clinics in Turkey. A hair transplant in Istanbul has become famous for affordability and even has an official visa scheme given by the government of Turkey. However, are hair restoration clinics upfront about what's on offer?
Mega Hair Trans Istanbul review content:
Mega Hair Trans Istanbul Rating
Mega Hair Trans Istanbul Review Summary
Hair loss is a sensitive issue, and getting the best advice on your hair loss solution is essential. Mega Hair Trans Istanbul offers a free online hair restoration consultation through an easy-to-fill contact form on their website. There are buttons for a WhatsApp chat and an intercom on their website for a quick consultation. Whether it is you are looking for the perfect hairline or to reverse balding, you will be asked for pictures of your head. After this, an online chat can be arranged to make a treatment plan.
The website is interesting with graphics of the hair transplant techniques. Once you fill the consultation form, you are advised on what strategies would work for your particular condition. Despite being a quick way to get personalized consultation, there are no exact prices indicated. You only get to know this after consultation, which can be inconvenient for patients wanting a quick quote for their procedure.
Pre-Operational Consultations
In the rise of health tourism to Istanbul, Turkey, pre-operational consultation has become a critical service for overseas clients. Before the trip, a complete itinerary full of the details of the trip is sent to you. However, this is as far as Mega Hair Trans Istanbul goes in pre-operational services. If you book the trip, no indication is given that you can rearrange the appointment for free.
Tips from a specialist when preparing for surgery is the first step towards an optimal result. Despite this, the clinic provides limited information on the website on pre-operational care. Furthermore, no pre-operational kits or nutritional advice are advanced to their patients. This is a significant disservice to clients who are looking for guidance and a pre treatment paln. Based on the little to no input in pre-operational consultation, the clinic scores a lowly 1 out of 5 here.
Upon arrival in Istanbul, the best way to move about is getting a driver to guide and help you with communication. Mega Hair Trans provides an English-speaking driver to collect you from the airport and act as a coordinator for your time in Istanbul.
The norm for hair transplant clinics is to provide 5-star accommodation during the stay in Istanbul. That said, the name of the hotel does not have to be a household name. Some clinics have standing reservations for their clients, as is the case with this clinic. Sadly, they do not mention the length of stay at the hotel, which plays a big part in a client's planning.
Turkey's language barrier can be a problem, and it is pleasant that the clinic offers an English-speaking driver. You can also ask for translation services for other languages. The few negatives we found were that pre-operational testing might feel crammed into a small schedule. There is also the possibility that you have clotting issues with your blood, for example, so we feel it's best to have that test done on arrival rather than the day of the op.
Gülten Unveren set up Mega Hair Trans in 1995, and its facilities reflect its age. The interior design of the space it operates in is still in the period despite employing modern techniques. Hair transplants are an intensely aesthetic business, and the facilities' appeal plays a lot into the client experience. Besides old facilities, the clinic does not mention any comfort features associated with modern hair restoration operations. Since a hair transplant can take up to 8 hours, it would be unpleasant to spend it in uncomfortable surroundings.
Hair analysis is done quickly and wasily using a donor area selection tool, and a laser tool is also used for an accurate impression of your hairline. However, the lack of an A-license and the fact that this is a clinic and not a hospital are the reasons for the below-average score of 1 out of 5.
Surgery & Doctor Involvement
There isn't a one-size-fits-all solution to hair loss, and a doctor's involvement in the process is necessary to give confidence in the transplant. At Mega Hair Trans Istanbul, hair replacement has a doctor involved in every step. A hair transplant is a fairly straightforward process and works with both needled and needleless anaesthesia. However, needleless anaesthetics are preferred as they make the procedure painless and easy to recover from, with little downtime. A score of three out of five is worthy because no nurses or needleless anaesthetics are used in the transplant.
For hair transplants to be effective, the success depends on attention to nutrition, the healing process, and maintenance. Caring for transplanted hair involves washing, post-transplant information, consultation with the surgeon, and using products that improve your hair and scalp's overall health. Besides advertising lotions on the website, Mega Hair Trans does not provide anything for aftercare. Poor aftercare may lead to transplanted hairs not growing to their full potential. Therefore the clinic earns a deserved zero out of 5 in aftercare.
We Rate Mega Hair Trans Istanbul
A keen look into Mega Hair Trans reveals glaring gaps in the quality of services with obvious places to improve. The clinic gets a below-average score of 1.67 out of five. This score is attributed mostly to a lack of quality controls.
The difference between good and nightmare hair transplants experiences depends on the services that come alongside it. Excellent accommodation, a capable team, and a memorable pre-operational and post-operational experience inform high scores in most clinic reviews. However, the dismal execution of these critical aspects by Mega Hair Trans ruins the whole experience for clients.
Notwithstanding, most people care about the operation's result and overlook the experience, especially if hunting a bargain. Mega Hair Trans fails to give guarantees on the services and offers limited aftercare service resulting in a compromised experience all through. In general, there is massive room for improvement in its services from the booking process to aftercare.
Get a free hair loss report today and make sure you get fair offers from clinics
Are Mega Hair Transplant Center procedures done by Gülten Unveren?
Modern hair transplant techniques have improved the results of the procedure and made operations more efficient. Despite these advances in technology being at an all-time high, getting hair restored by an underqualified or inexperienced doctor can produce unwanted results. Mega Hair Trans was founded by Gülten Unveren, who is its general director, and not a doctor. No further information is available on the surgery team, and this is a reason to be wary. Apart from medical skills, a surgeon's experience and artistic ability are crucial to determining the optimum placement and angling of grafts.
Lots of people upon facing the reality of hair loss do not know who to trust to carry out a transplant. The fact is that many will settle for the a person who markets themselves as a hair transplant expert. However, the best way to answer this question is to review the credentials for each expert and the team flanking them. Hair transplants are a highly specialized cosmetic procedure; hence why having information about the team on the website is a nice touch for credible clinics.
Before and After Pictures
Mega Hair Trans Istanbul Results And Before and After Pictures
Before and after pictures help you judge the quality of work done by a clinic. There is a shortage of Mega Hair Transplant Centre reviews of their before and after photos, and the only real-life video available is on Facebook. The clinic fails to understand that a natural-looking appearance is what most clients look for. This is hard to judge if there is hardly any official album to go by.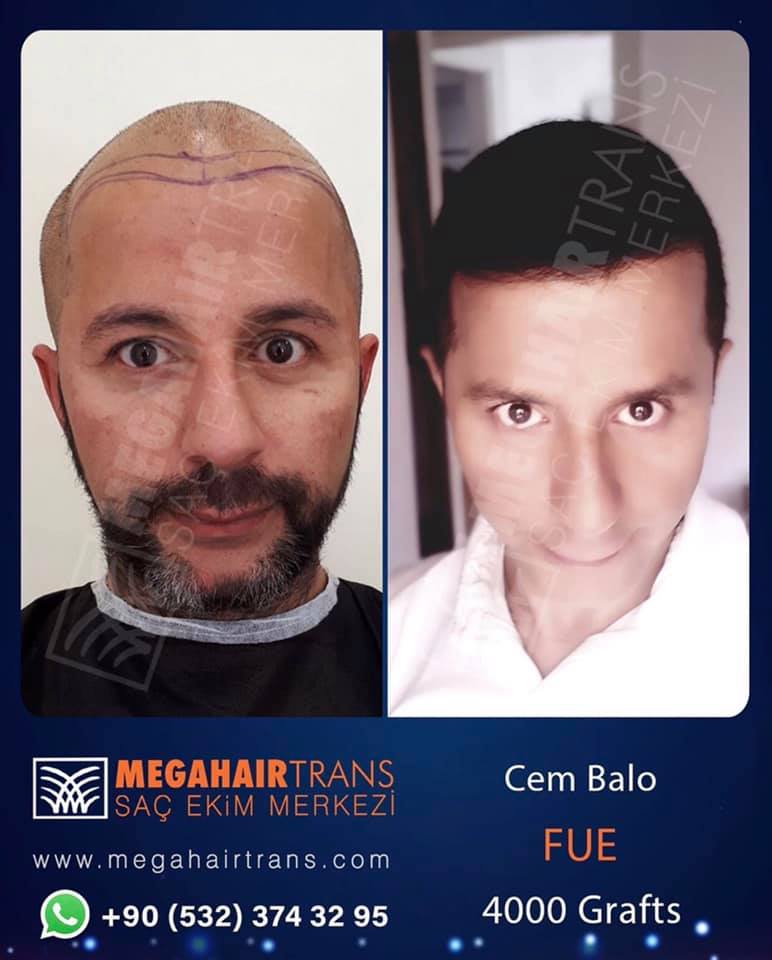 Getting a Hair Transplant in Istanbul Was Never Easier
Mega Hair Trans Istanbul Transplantation Methods & Treatments
The Mega Hair Trans Istanbul website is packed with information on hair transplant techniques. It provides information on what to expect and how it is carried out. Here DHI, FUT, and FUE are available. They work for both early-stage thinning and significant hair loss. The technique chosen may depend on preferences, costs, and specific hair loss problems.
With new surgical techniques such as FUE with sapphire blades, transplants are a minimally invasive procedure. This translates to less scarring, quick recovery, and reduced allergens during the transplant. The number of grafts depends on the affected areas and is determined after a hair analysis. Sessions can also be divided into two if the number of grafts exceeds 4,000.
Mega Hair Transplant Center Cost of Hair Transplants, Available Packages And Extras
There is no information on the prices of hair transplants on the Mega Hair Transplant Center website. The website only goes further to describe the various transplants techniques on offer without the mention of pricing. If you do make an inquiry an average cost of a graft in Turkey is 0.80 EUR. Conventional items included in a standard package include.
A poster on the homepage reveals that accommodation is at a four-star hotel in Istanbul and there's also VIP transport between the airport, hotel and the clinic. Further pricing information is given to you after submitting a request through the online contact form. This would be quite a cumbersome process, mostly if you were skimming to make quick price comparisons for budgeting. However, it is important to ask for a breakdown of all costs before confirming the transplant appointment.
Be the first to grab our all-new e-book
Before you can truly commit to a hair transplant it is important to understand hair loss. Together with the experts at IdealofMeD, we wrote an e-book explaining everything you need to know about hair loss. From hair loss causes to practical tips on how to deal with hair loss and the best hair loss products.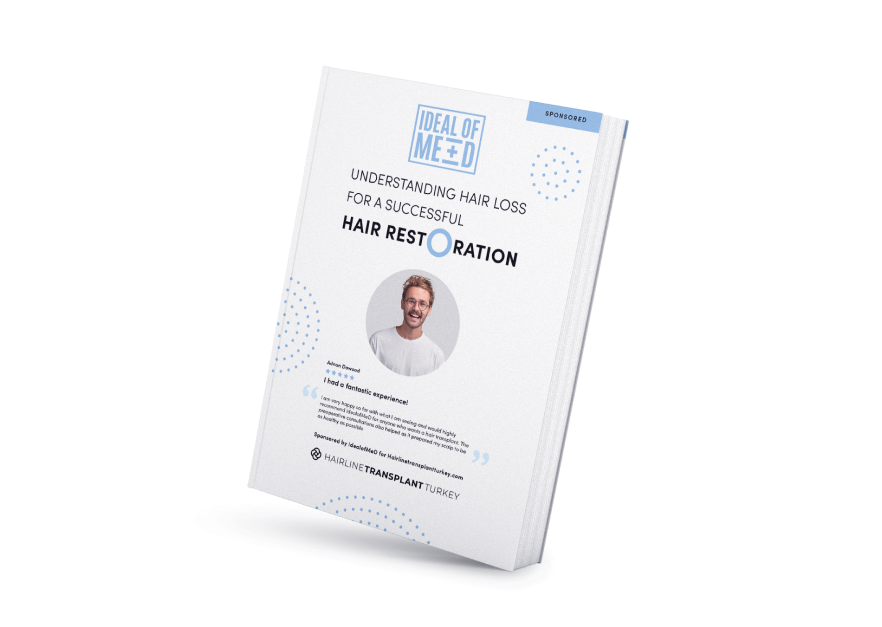 No, they aren't. This is surprising given the broad clientele for hair transplants can be reached on IG. The clinic is only active on Facebook. Follow them at @Mega Hair Trans Saç Ekim Merkezi Etiler / İstanbul.
No. Hair transplants at Mega Hair Tans Istanbul are done in a specialised clinic. Despite being equally as safe, they cannot handle emergency procedures should anything come up.
No. Mega Hair Trans does not have an A-Licence. Thus, the government of Turkey does not regulate it. They also don't operate in an EU regulated hospital and operate as a fully fledge private outfit.
Contact Hairline Transplant Turkey
Our team of experts are always here to help you. You can call us or fill the contact form for any questions about hair transplantation cost or procedure. We are more than happy to assist you. You can also leave your contact information, and we'll give you a call.
Let us answer your questions