Mira Clinic Turkey Hair Transplant Review
Expert review from Tom Davis (updated 2023) + Patient reviews collected bi-weekly from:

The Mira Clinic Turkey is one of several places where you can have a hair transplant in Istanbul. Does the clinic offer quality service? Is the price right? In this review, we will be answering these questions and more.

Mira Clinic Turkey Hair Transplant review content:
Mira Clinic Turkey Hair Transplant Rating
Mira Clinic Turkey Hair Transplant Review Summary
This review was first published in November 2020, with the most recent update performed in August 2023 to maintain its relevance and up-to-date information. Should you have any remarks or desire to connect with past clients of Este Turkey, kindly express your thoughts through the Hair Back App.
Our Experience with Mira Clinic Turkey: Step-by-Step
What is the typical journey a customer undergoes when engaging with Mira Clinic's services?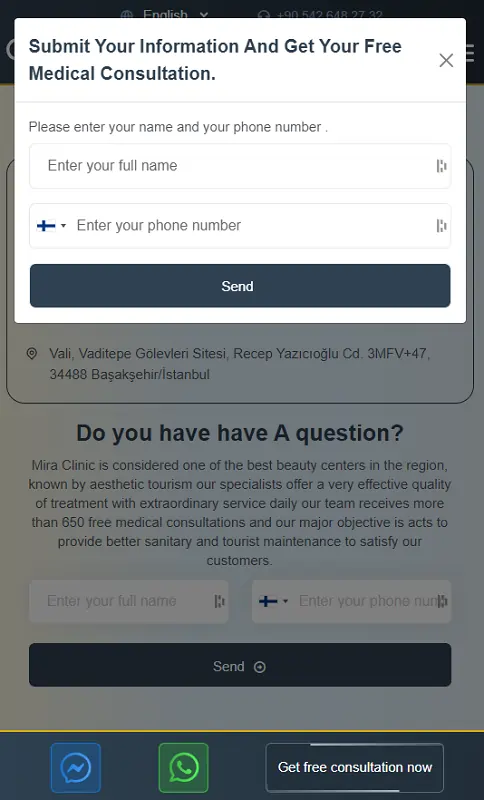 The Mira Clinic Istanbul website is written primarily in Arabic, but there are French and English versions. The English version has detailed information about the different hair transplantation techniques the clinic uses. However, it is poorly written and has a lot of grammatical, capitalization and punctuation errors. The videos on the English website are in Arabic, which could discourage English-speaking visitors. A medical consultant manages the booking process at Mira Clinic Turkey through Whatsapp. It appears to be the only way to get a price range for a planned hair transplant since there is no price list on the website.
Note that the clinic offers no free hair loss consultation. It would only do one to prepare a price range for a proposed hair transplant. Also, there is no information about the clinic's medical team. The lack of information about the medical team does not help in inspiring confidence in the clinic and its hair transplantation services.
Top Rated Clinics in Turkey December, 2023
IdealofMeD
#1 Clinic in Turkey (4.33 / 5.00)
Asmed
#2 Clinic in Turkey (4.20 / 5.00)
Cosmedica
#3 Clinic in Turkey (4.00 / 5.00)
Pre-Operational Consultations
Mira Clinic does not provide a guide as to what the patient experience would look like doing a hair transplant there. There is no checklist to help a patient prepare. There is no recommended travel plan. Can a patient reschedule a hair transplant for free or at a cost, should there be a change in travel plans? No one knows. This lack of information on several fronts will contribute to a patient's pre-operational anxiety.
Also, there is no information about any pre-operational checkup an intending patient might have or the content of any pre-operational kit the patient would receive. How would the patient's medical history be captured? How would the patient be assured of the success of the hair transplant? What food and supplements should the patient take before and after the hair transplant? There are no answers to these questions and more on the clinic's website.
There's no VIP touch to Mira Clinic's transfer service. It's basic. The clinic provides clients with a car and a non-English speaking driver for transportation from the airport to the hotel and during their stay in Turkey.
The clinic doesn't accommodate her clients in 5-star western hotels. Instead, the clinic lodges them in one of the several local hotel brands. What more, clients don't get to stay for three nights, so they can have at least one full night of rest, as is standard in the industry.
Lastly, the clinic will not do the obligatory blood tests required of her clients as they arrive in Turkey. The clinic will do the blood tests on the day of the surgery. Thus, clients will experience extra wait time and added anxiety on the day of their hair transplantation. In all, clients should come prepared for "surprise" charges in addition to the hair transplantation bill. Also, they shouldn't expect too much of the service experience.
Mira Clinic claims to use "the latest hair transplantation techniques." That is true. Doctors use laser equipment to measure hairlines and their densities, and an advanced donor area selection tool to mark out the donor area. The clinic's facility is top-notch, with a functional layout. As expected, every space – especially the operating rooms – is kept clean and sterilized. The "latest techniques" and the "top-notch facility" are huge selling points for the clinic.
The clinic is not as equipped as those in the western world. Patients get to experience average comfort as such amenities as ergonomic furnishings are absent. There's no lunch or entertainment. The clinic has no A-license issued by the Turkish government; neither is it accredited by the European Union. Thus, Mira Clinic cannot be regarded as a hospital able to handle emergency surgeries. Its operations are not endorsed by any hospital.
Surgery & Doctor Involvement
Mira Clinic claims to have the "world's most certified cosmetic surgeon" and a "very experienced medical staff." There is no evidence to support both claims. There are no Mira Clinic doctors or nurses that can be identified as being part of the clinic's operational team. And no one in the medical team speaks English. Also, there is no external doctor auditing the procedures being carried out at the clinic.
Mira Clinic does not provide any aftercare service to her clients. There is no treatment package given after hair transplants nor is any post-operational consultation set up. There are no answers to such relevant questions as the cost of aftercare, the financing options available and whether or not clients would receive any aftercare products after their hair transplant. The clinic gives no guarantee of at least 90% hair growth post-operation, as done by other hair transplant clinics in Turkey.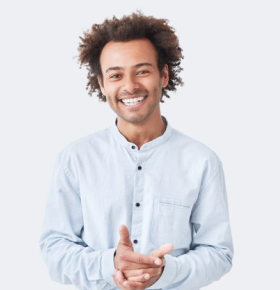 Mira Clinic's obvious failure is the lack of information about the hair transplant process in its facility. What would the transplant cost? Which doctor is going to perform it? What travel plan is advised? What pre-operational consultations are there? There is no information addressing all of these questions and more.
Mira Clinic's hair transplant service is average. The lack of clarity around it is the result of the clinic trying to gloss it up as a premium service. It's easy to see that there would be surprise charges in addition to the basic hair transplant charge; which is no way to create a good client experience. Little wonder then, that there are only three client reviews on the website and none on Trust Pilot.
Mira Clinic would do well if it is more forthright with information about the hair transplant service at its facility. For example, the cost for the standard package should be made clear. The clinic should spell out all optional cost. It should provide helpful travel information to help clients prepare adequately. In not doing these, the chance is the clinic succeeds more in turning off visitors to the website than converting them into paying clients.
Get a free hair loss report today and make sure you get fair offers from clinics
Get a free hair loss report today
Mira Clinic Istanbul
Background Information
Mira Clinic Istanbul hair transplants are done by qualified Mira Clinic doctors
Mira Clinic Istanbul would not be doing such critical procedures as hair transplants without having a qualified medical team on the ground. In reality, there is no information about this team anywhere on the clinic's website. However, a search of the clinic's Facebook, Instagram and LinkedIn accounts revealed a certain Dr Türker Özyiğit as a hair transplantation doctor working in the clinic. We see him dressed in scrubs and with a stethoscope hanging from his neck or on a desk he is seated behind. Our search did not reveal the names of any more Mira Clinic doctors.
Dr Türker Özyiğit is a cosmetic and reconstructive plastic surgeon who has practised for decades. Apart from being a Mira Clinic surgeon, he is the medical director of Harmonia Surgical Tourism in Istanbul. Also, he practices at the Istanbul Laser and Aesthetic Surgery Center. Again, further search did not reveal the names of any more doctors or any of the other support staff one would expect in a medical team such as a nurse. Instead, there were random pictures of medical support staff taking photos with the clinic's patients all over the clinic's social media accounts.
Before and After Pictures
Mira Clinic Hair Transplant Results And Before and After Pictures
The Mira Clinic website has just one set of before and after hair transplantation pictures in the gallery. Even though the pictures clearly show the transformation of the patient's head, there is no description of the technique used by the medical team to achieve the result. We came across some positive Mira Clinic reviews by patients on the clinic's Facebook and Instagram accounts. We did not see any reviews of the clinic on Trust Pilot.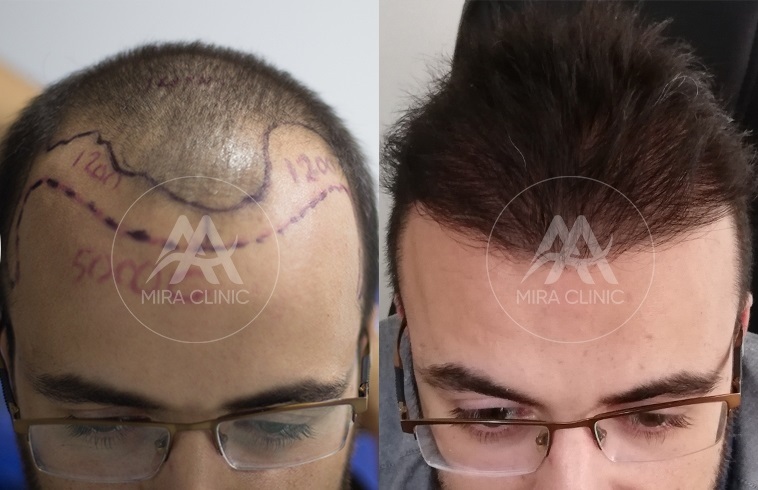 Getting a Hair Transplant in Istanbul Was Never Easier
Mira Clinic Istanbul Transplantation Methods & Treatments
Mira Clinic offers her hair transplant services using either of two techniques – the Follicular Unit Extraction (FUE) technique and the Direct Hair Implantation (DHI or Choi Pens) technique. The doctors decide whichever technique that works best on a case by case basis at the consultation stage. Compared together, doctors tend to achieve better results using the Follicular Unit Extraction (FUE) technique.
Asides hair transplant, the clinic also offers beard and moustache transplant, plasma injection PRP and eyebrow transplant. Other cosmetic or surgical procedures available at the clinic include dental cosmetology, facial plastic surgery and general plastic surgery services. There is no data to help us conclude whether or not the clinic's multi-disciplinary approach affects the quality of the clinic's hair transplant service.
Mira Clinic Prices of Hair Transplants, Available Packages And Extras
We mentioned earlier in this review that Mira Clinic prices for hair transplant services is not available on the website. There is a hint, though, of the price being "competitive" compared to other hospitals and clinics in Turkey. A patient would have to reach the clinic directly for a price which would be given only after consultation. The clinic's standard package includes the following features:
The clinic has a car and a driver on standby for the use of her clients. This is for as long as they stay in Istanbul for their hair transplant surgery. Also, the clinic offers her patients a "Lifetime Warranty Certificate" that is authorized by the Turkish medical ministry. It's not clear what benefit this warranty certificate confers on the client to whom it is issued.
Be the first to grab our all-new e-book
Before you can truly commit to a hair transplant it is important to understand hair loss. Together with the experts at IdealofMeD, we wrote an e-book explaining everything you need to know about hair loss. From hair loss causes to practical tips on how to deal with hair loss and the best hair loss products.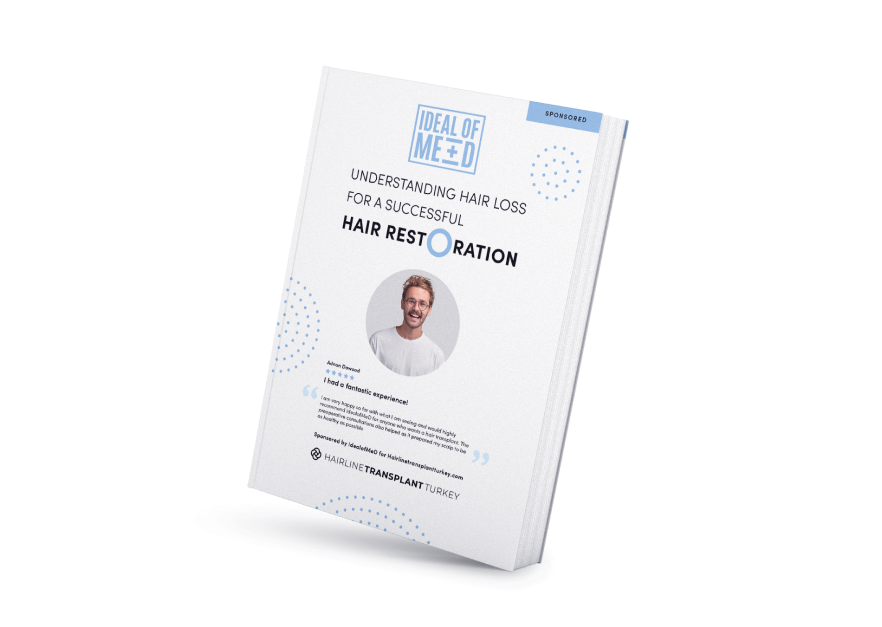 Yes, Mira Clinic can found on Instagram using the handle @mira_clinic.net_. There is several useful information on the clinic's Instagram account, even if some of the posts are in Arabic.
No, Mira Clinic's doctors do not do the hair transplant procedures in a hospital. Rather, all procedures are done in the specialist hair transplant facility the clinic owns.
No, Mira Clinic has no A-License. There is a mention of a warranty certificate that is authorized by the Turkish medical ministry, but that would not suffice for a proper A-License.
Contact Hairline Transplant Turkey
Our team of experts are always here to help you. You can call us or fill the contact form for any questions about hair transplantation cost or procedure. We are more than happy to assist you. You can also leave your contact information, and we'll give you a call.
Let us answer your questions
Last updated in Aug, 2023