Natural Hair Turkey Istanbul Review

Completing over 500 monthly operations, Natural Hair Turkey Istanbul is a popular choice amongst people choosing to have their hair transplant in Istanbul. The clinic offers a variety of treatments stemming far beyond just transplants, including rhinoplasty, breast augmentation and even face lifts.
Natural Hair Turkey Istanbul review content:
Natural Hair Turkey Istanbul Rating
Natural Hair Turkey Istanbul Review Summary
Natural Hair Turkey sport a pretty impressive website. As well as being aesthetically pleasing, and one of the most professional we have seen, it's also written in English for an international audience. There's plenty of information on the services and procedures offered, and a brief overview of the team, both of which are important aspects of our criteria. There doesn't appear to be a free consultation offered by Natural Hair Turkey Istanbul, though, and it seems as though you're only encouraged to get in touch to discuss pricing.
There is no pricing available onsite, which can be frustrating when trying to compare clinics. We understand that the very nature of hair transplantation can make it difficult to provide fixed pricing, and often requires a case-by-case assessment. However, plenty of clinics do manage to have packages with specific prices, and this is much more transparent and convenient for prospective clients.
Pre-Operational Consultations
Despite the great first impression, we were let down when assessing the booking process. There's an absolute ton of information to browse through beforehand, but when it comes to actually committing to the procedure, the clinic doesn't give much away. There are no plans or even outlines of travel arrangements,
Pre-operational consultations or kits are not part of the standard package, nor are any supplements or medications, so you're left with any additional costs this may incur. The level of service involved during the pre-op stage of your procedure is poor, and this is reflected in our overall score of 0 for this section.
You will be greeted on arrival in Istanbul by an English-speaking representative from the Natural Hair Turkey clinic, and your travel to and from the airport is included in the package.
These two elements are a nice touch, as travelling to another country for a medical procedure is a big deal, and a friendly face goes a long way. A luxury hotel is promised, but it's not a familiar name like Best Western that we have come to expect, instead it is a Turkish brand. That said, 5 star is 5 star, and it's likely to be just as comfortable.
You're only given a 2 night stay as part of the package, which despite technically being enough for the procedure, 3 nights would be the preferred option. An extra 24 hours to recover can never be a bad thing, and you don't want to feel rushed. There's no mention of what it would cost to book an extra night or two, either.
The Natural Hair Turkey clinic has some impressive facilities, including the equipment and expertise to carry out many complex aesthetic procedures. Despite not being a hospital, it's about as advanced as a clinic of this type gets. Unfortunately, it is lacking in some important areas that we look at in our reviews.
There is no mention of the level of patient comfort available. These things matter, as you are going to be spending quite a lot of time there during your stay, and you want to know what's available. The clinic also doesn't hold an A-License, meaning it is not regulated by the Turkish Government.
Surgery & Doctor Involvement
The hair transplantation team features Dr. Tarik Pak, who has been specialising in the area since 2007. Despite the clinic offering many aesthetic services, Dr. Pak focuses entirely on hair loss therapy and transplants. This way, you know you're being taken care of by somebody who really understands the field. The guarantee of an English-speaking medical team is very useful, as it's not ideal to require a translator. Unfortunately, there's no mention of nurses on the operational team, so it's unclear as to what level of care to expect.
Starting with the good news, there is a 90% hair growth guarantee by Natural Hair Turkey. This is an indication of a clinic that knows how good it is, as it guarantees great results, or a full refund. There are no financing options available, so patients will have to foot the bill in its entirety with no other affordable options. This isn't a deal breaker, but a clinic that offers multiple ways to pay will always score higher.
We Rate Natural Hair Turkey
The final score for Natural Hair Turkey is an underwhelming 1.67 out of 5. Unfortunately, there are just too many improvements required in too many areas to warrant a higher score.
The English-speaking coordinator and medical staff, as well as the impressive experience of the doctors are the highest scoring aspects of this Natural Hair Turkey review. Ultimately, the people that carry out the procedure have to be seen as the highest priority. The poor standards of pre-op care and equally as disappointing post-op care explain where some of the biggest gaps are.
When it comes to pricing, the clinic provide an explanation about it being difficult to provide a price without meeting the patient first. Although we understand and appreciate this, there are many clinics that can provide a fixed price, and Natural Hair Turkey could make their services much more appealing by doing the same.
Get a free hair loss report today and make sure you get fair offers from clinics
Natural Hair Turkey hair transplants are done by Dr Tarik Pak
Natural Hair Turkey has an experienced team of doctors, with the notable mention going to Dr. Tarik Pak. Working at the clinic since 2011, and specialising in the field long before, he's performed thousands of hair transplants. Despite everything else playing a part, the doctor that will be taking care of you is the more important aspect of any aesthetic procedure review. Dr. Tarik Pak has plenty of experience in the newest and most advanced techniques in the field.
Dr. Royal Khankishiyev is a qualified plastic surgeon and also makes up part of the medical team at Natural Hair Turkey alongside Dr. Pak. Specialising in reconstructive surgery like breast augmentation and rhinoplasty, he doesn't play much of a role in hair transplantation, but his presence is indicative of the medical quality available at the clinic. This carries a lot of weight in our reviewing process, and should be the priority of any patient too.
Before and After Pictures
Natural Hair Turkey Transplant Results And Before and After Pictures
There are plenty of Natural Hair Turkey reviews available on the website, with a whole section dedicated to feedback. There are also some impressive testimonial videos using real-life cases and results. This really emphasises the expertise of the clinic, and these elements are important in the decision-making process for any prospective patients.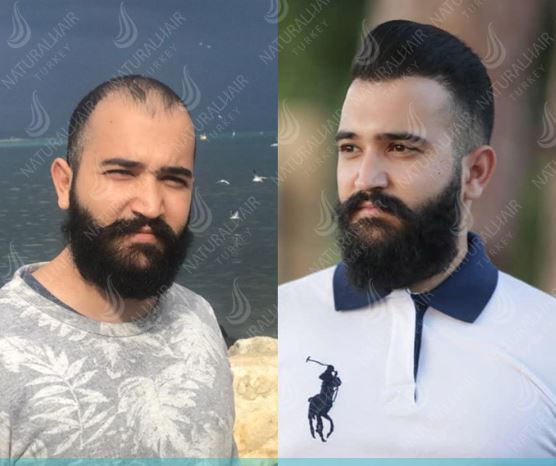 Getting a Hair Transplant in Istanbul Was Never Easier
Natural Hair Turkey Istanbul Transplantation Methods & Treatments
Natural Hair Turkey offer a huge amount of information on their hair transplantation processes on their website, and carry out a number of them in their clinic. FUE, FUT and DHI are all available, and which technique is used will depend entirely on the patient and their hair loss circumstances.
As well as standard hair transplants, Natural Hair Turkey also perform beard and eyebrow transplants, and specific procedures for women. The clinic also offers many other services beyond hair transplantation. Both plastic surgeries and non-surgical procedures are available, as well as dentistry services such as implants, teeth whitening and endodontics.
Natural Hair Turkey Cost of Hair Transplants, Available Packages And Extras
There is no indication on the website of the Natural Hair Turkey price for hair transplantation. In the FAQ section, it mentions that prices vary on a case-by-case basis, depending on the type of hair loss and the chosen technique used. What the website does say, though, is that the price is much lower than having it done in the UK. The elements included in the standard package include:
The notable things that are not included are certain aspects of care and services both before your transplant and after. There is no medication or shampoos involved in the price, and no blood tests on arrival. Everything mentioned here will result in extra costs for patients, something we look to avoid.
Be the first to grab our all-new e-book
Before you can truly commit to a hair transplant it is important to understand hair loss. Together with the experts at IdealofMeD, we wrote an e-book explaining everything you need to know about hair loss. From hair loss causes to practical tips on how to deal with hair loss and the best hair loss products.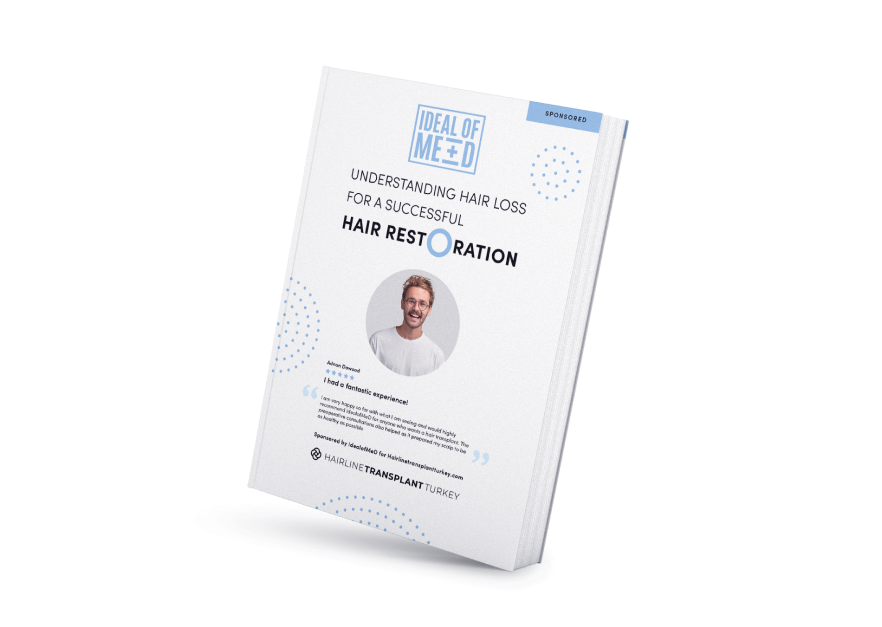 Yes. The Natural Hair Turkey Instagram feed has plenty of before and after results from both hair transplants and plastic surgeries. Their profile is also written in multiple languages, including English. Follow them here: @naturalhairturkeyofficial.
No. The Natural Hair Turkey services are carried out in a specialist clinic. Although equally as safe, it's important to remember that it is not a medical hospital.
No. The Natural Hair Turkey clinic does not hold an A-License, meaning it is not regulated by the Turkish Government. It does have several other accreditations though.
Contact Hairline Transplant Turkey
Our team of experts are always here to help you. You can call us or fill the contact form for any questions about hair transplantation cost or procedure. We are more than happy to assist you. You can also leave your contact information, and we'll give you a call.
Let us answer your questions