Real Hair Center Istanbul Review

Real Hair Center Istanbul was established in 2009. It boasts of advanced technologies and specialises in hair transplants conducted with the latest techniques. Currently, the clinic is one of the most reputed places to get a hair transplant in Istanbul. We have done more research on the centre and have written a detailed review.
Real Hair Center Istanbul review content:
Real Hair Center Istanbul Rating
Real Hair Center Istanbul Review Summary
With the Real Hair Center Istanbul website, booking a procedure doesn't get any easier. The site is in English but, you can switch it to other languages including, Arabic and Turkish depending on your preference. It also has a wealth of information on the clinic, as well as details and videos of their procedures. These are helpful as they help give a step by step understanding of hair transplants and other operations offered in the clinic. Additionally, the site has an FAQ section that answers most of the relevant questions on their services.
There is no indication of the price of their procedures on the website. These details are disclosed to their clients during a free online consultation. To get this consultation, all you have to do is fill a contact form, or you can contact the clinic via WhatsApp or Viber. Following this, they will get back to you with a report on your hair analysis and help you book your procedure.
Pre-Operational Consultations
The Real Hair Center clinic does not provide adequate instructions on their offering of pre-op services on the site. There are no details on whether they conduct an initial examination, nor do they mention any pre-operational kits in their package. Advice on how to adjust your diet and supplements so that they don't have any negative impact on your surgery has also been overlooked.
You should also note that this clinic does not offer their clients a chance to reschedule their procedures. This could be a huge inconvenience, especially if something comes up close to the date of your operation. On the plus side, once you finish the booking phase, they will provide a detailed trip itinerary to guide you throughout your stay.
Upon arrival at the airport, the Real Hair Center Istanbul sends a driver accompanied by a friendly interpreter to pick you up. On top of that, the clinic will take care of all your city transfers.
They also offer a minimum of 3-night accommodation, meaning that their clients can rest enough on the last day before travelling back home. There is no specific information on where the clinic hosts their patients on their site, but it mentions that the hotels they provide are 4-star rated. Unfortunately, this fails to live up to the comfort standards we expect for hair transplant patients.
All these services are catered for in their all-inclusive hair transplant services, so you do not have to worry about extra costs. This makes the price of their procedures all the more affordable compared to those of other clinics in Turkey. Blood tests and other examinations are done on the next day after your arrival.
At Real Hair Center, there are high-quality technologies that allow them to practice a variety of treatment methods suitable for your hair loss. These types of equipment include a laser to measure your desired hairline and donor area selection tools to precisely determine the best donor area. Since 2009, their staff have acquired a high level of expertise in the field of hair transplants.
The clinic is not very keen when it comes to providing comfort for its clients. It fails to state on the site whether the patients are given lunch, entertainment, or an ergonomic chair and bed during the treatment. This is a shame as these services provide a comfortable experience for their patients.
Surgery & Doctor Involvement
This clinic starts its hair transplant operations by sedation. They can also apply the use of needle-free local anaesthesia for those who prefer it. We could not find any information on a notable doctor as their lead surgeon or on any of the members of their medical team for that matter. And, they do not guarantee an English-speaking staff, which could be very daunting for clients who come from abroad.
The Real Hair Center Istanbul is very confident with the quality of their services. For this reason, they guarantee their patients 90% hair growth, and if these results are not met, you will get a free correctional hair transplant. Along with that, they have detailed that the shampoos, and other necessary medical products to be used after your procedure will be provided and are included in their standard package. They have also specified that these special herbal shampoos are offered for three months, which will be helpful during your recovery phase.
There are definitely many positives when it comes to Real Hair Center Istanbul. But unfortunately, there are some notable gaps in their services, which is why our final score for the clinic is 2.0 out of 5.
Their offering of hotel organization and accommodation for all their clients is commendable. However, due to their exclusion of any comfort services in the clinic, our expectations were not met. The Real Hair Center clinic website also fails to communicate effectively on their pre-op services, which is a significant let-down for their prospective clients.
Additionally, the aftercare provided at Real Hair Center does not have a finished feel. The site does not say whether the doctors follow up on their patients through post-op consultations. More information on the doctors and the medical team of the clinic would have been nice. That said, they do guarantee results, which makes us very optimistic when it comes to their capabilities.
Get a free hair loss report today and make sure you get fair offers from clinics
Are Real Hair Center Istanbul procedures done by qualified doctors?
All the procedures at Real Hair Center are performed by qualified experts who are specialists in the field to ensure excellent results. We do not, however, have any reputable lead doctor to mention who oversees the procedures at the clinic. The information on their operational team and their roles in hair transplant procedures, along with several pictures of their friendly faces, would also be a great addition to their site. Clients always like to know who will be performing their operation.
There are no details about care members of their staff, such as nurses on the clinic's website. This information is very important as they are in charge of the on-hand help of patients for a comfortable stay. All in all, this lack of provision of specific expectations on their team makes it hard to gauge the level of treatment and care offered at the facility. Also, they should work with a well-recognized doctor to enable them to stand out among the numerous hair transplant clinics in Turkey.
Before and After Pictures
Real Hair Center Istanbul Results And Before and After Pictures
You do not have to put in any effort to find before and after results of Real Hair Center Istanbul. These are easily accessible on their home page through videos and numerous reviews from some of their satisfied patients. They also continually post their results and more useful information about hair loss and transplants on their social media platforms including, Instagram, Twitter, and Facebook.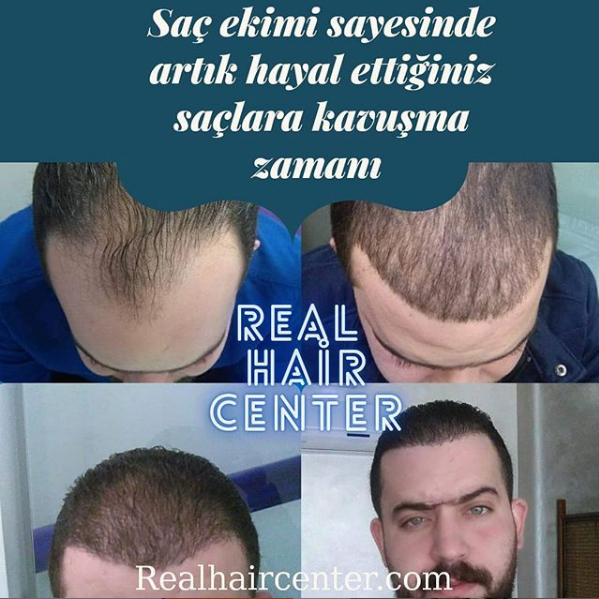 Getting a Hair Transplant in Istanbul Was Never Easier
Real Hair Center Istanbul Transplantation Methods & Treatments
At Real Hair Center Istanbul, they follow all the innovations of hair transplant techniques and practise the most beneficial one according to your hair loss. Majorly, there are three methods used in their procedures, which include the FUE, Sapphire, and DHI techniques. Some of the advantages of these treatment methods include excellent results with low complication rates and minimal scarring.
In addition to hair transplants done on the head, the clinic also provides eyebrows and moustache transplants. Furthermore, they conduct scar and burn marks removal as well as plasma treatment to help prevent hair loss. These services are beneficial for both males and females, and they are dedicated to reaching perfection with all the latest technologies.
Real Hair Center Istanbul Cost of Hair Transplants, Packages And Extras
Though it is clear that the costs at Real Hair Center Istanbul are divided into three packages depending on your treatment method, there are no exact figures on the site. Their prices also vary depending on the care products administered or the number of plasma therapy treatments applied after your procedure. The standard package includes the following:
You can get the precise information concerning your expected expenditure on the entire trip once you are done with the online consultation. If the transplanted hair doesn't come out at the end of the first year, the correctional procedure offered by the clinic will be free of charge. The site also mentions the right hair washing practices for clients after the transplant.
Be the first to grab our all-new e-book
Before you can truly commit to a hair transplant it is important to understand hair loss. Together with the experts at IdealofMeD, we wrote an e-book explaining everything you need to know about hair loss. From hair loss causes to practical tips on how to deal with hair loss and the best hair loss products.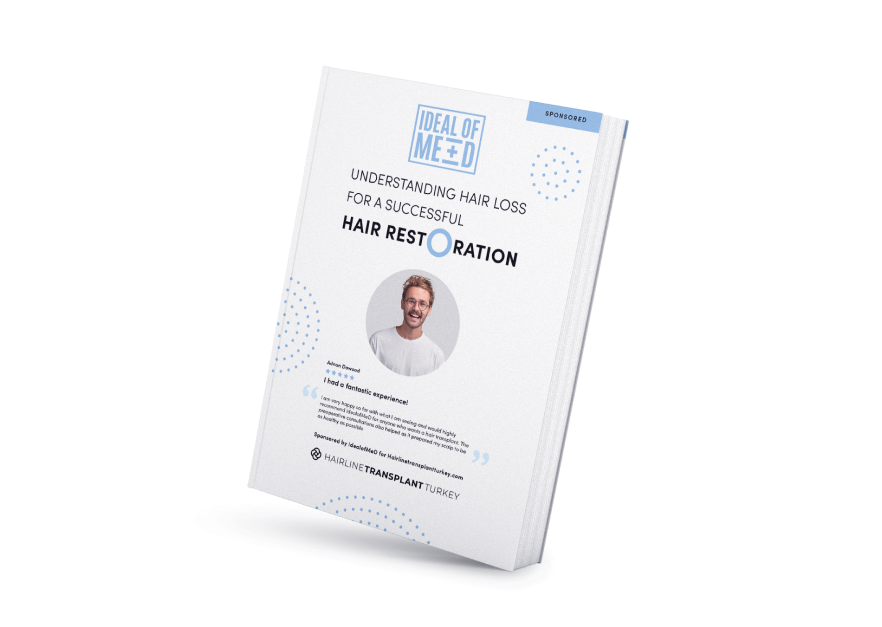 Yes, Real Hair Center Istanbul is on Instagram @istanbulhaircenter where they post up-to-date videos and photos of some of their results along with helpful tips on how to avoid hair loss.
No. Real Hair Center Istanbul conducts its procedures in a clinic, which means that in case a complication arises during the surgery, you will be transferred to the nearest hospital.
Real Hair Center Istanbul does not have an A-License and is therefore not regulated by the Turkish government. However, all their doctors are qualified and provide high-quality care and treatment.
Contact Hairline Transplant Turkey
Our team of experts are always here to help you. You can call us or fill the contact form for any questions about hair transplantation cost or procedure. We are more than happy to assist you. You can also leave your contact information, and we'll give you a call.
Let us answer your questions