Self Hair Clinic Istanbul Review

Self Hair Clinic Istanbul asserts that you can get your confidence back with a hair transplant. The all-inclusive package of the clinic entails free consultation, 5-star accommodation, and VIP transfers. However, does the clinic make a top choice for a hair transplant in Istanbul? Find out all about it in this review.
Self Hair Clinic Istanbul review content:
Self Hair Clinic Istanbul Rating
Self Hair Clinic Istanbul Review Summary
Self Hair Clinic Istanbul has made strides in giving a smooth booking experience. For starters, the website is available in English, Turkish, Deutsch, and Spanish. You fill a form online for hair analysis and attach pictures of your head from different angles. Before discussing anything on the procedure, the doctor will first evaluate the photos and determine the best technique to be used and the number of grafts needed. For flexibility, you can choose the option to chat with the medical specialist via Whatsapp.
You don't need to make a deposit upfront before confirming your booking. All you need is a flight ticket and a confirmation of your details to book an appointment. If you have a busy schedule, the clinic can call you at your convenience, so just leave your number on the website contact form.
Pre-Operational Consultations
If this is your first hair transplant, you will be underwhelmed by the preparations the clinic gives you. The name Self Hair Clinic Istanbul can resound with the fact that you will do most things independently! After sending you the trip itinerary, any information from there is all up to you. You will not receive any advice on your nutrition or suggestions for supplements to take while preparing for the hair transplant.
The only advantage is that the facility does not charge deposits; hence, you can reschedule without a charge. The day after your arrival is when all activities will occur, from the blood test to examinations. In case you have any questions concerning your visa plans, the clinic is more than ready to help.
On your arrival in Istanbul, your driver will be waiting for you at the airport and will take you to your hotel. Self Hair Clinic starts its operations the next day so the arrival date is all for resting.
Given its distance from the closest international airport, the driver's services are necessary to navigate the maze of Istanbul's streets to your hotel. The residence is at the Hilton Istanbul—an international standard 5-star hotel booked for a three-night stay. The first day is for relaxing after you arrive in Turkey, and the last day for your hair wash and removal of the bandage.
The VIP transfers also include your internal transfers to and from the clinic and hotel. In case you need an interpreter, the clinic will provide one. Self Hair Clinic offers a luxurious experience, and if you would wish to extend your stay in the beautiful city of Istanbul, the clinic can organise an extension at your cost.
The aesthetic appeal of the Self Hair Clinic is unmissable. The clinic operates in very hygienic conditions, similar to most hospitals in Europe. The staff goes out of their way to make the environment hospitable and give the clinic a home away from home feel. However, given a typical hair transplant lasts up to 8 hours, you are likely to need to bring your own snacks as there is no mention of lunch or refreshments. However, this might be an oversight in the information provided on the website.
Hair transplants at the facility are efficient since the clinic adopts the latest techniques. For instance, a laser tech measures your hairline, and a specialised tool is used for donor area selection. The clinic operates in a JCI Accredited Hospital, which translates to its commitment to deliver the best level of care possible at all times.
Surgery & Doctor Involvement
Medical specialists carry out operations at the facility under the supervision of Dr Yilmaz Oztorun. All the members of the team of doctors and nurses are present during the procedure. There is also a resident anesthesiologist who administers the local anaesthesia and ensures the operation goes on pain-free. The team converses in English, but a native speaker of your language will be present at all times.
Many pleasant adjectives have been used to describe the medical team, facilities and booking process at Self Hair Clinic. However, the same can't go for its aftercare services which aren't provided at all. In fact, you'll be left to yourself, again. We would expect the clinic to offer post-operation consultations, but the clinic overlooks it. The disappointing tale continues since there are no financing options available. The facility offers no aftercare product to start you off in recovery. All these translate to a below-par service that leaves patients with the burden of post-operation expenses.
We Rate Self Hair Clinic Istanbul
Self Hair Clinic has some impressive qualities and attractions. A lot can be said about its straight forward booking process, free online hair analysis and remarkable facilities. Despite this, it misses the mark on some critical aspects of pre-operation and post-operation care, justifying the median 2.3 out of 5 scores.
Self Hair Clinic offers a lot of significant information upfront. However, they fail to mention the critical issue of prices. It is hard not to imagine the lack of a clear price list as preparation for a nasty surprise when the bill comes. Pre and post-operational care affect the perception of excellent service, and that's why we couldn't rate the clinic higher. Even though the clinic delivers excellent results, it fails to nail the essentials of client treatment.
With the rise in demand for high-quality hair transplants, the apparent advantage of affordable quality transplants in Turkey cannot be underrated. Despite the best marketing and promotion efforts from Dr Yilmaz Oztorun and Self Hair Clinic, it is important to understand that the clinic offers no guarantee with its procedure. However, it promises to deliver the best results.
Get a free hair loss report today and make sure you get fair offers from clinics
Are Self Hair Clinic Istanbul procedures done by Yilmaz Oztorun MD?
If you suffer from hair thinning, you are in good hands at Self Hair Clinic. Before specialising in hair transplants, Dr Yilmaz Oztorun MD was a practising general medical doctor. Dr Yilmaz Oztorun is a graduate of the Faculty of Medicine of Çukurova. He also has credentials in Phytotherapy, Mesotherapy and Medical Aesthetics and continually updates his knowledge. After leaving medical practice in 2014, he became a full-time hair transplant specialist. He is present during procedures and supervises transplants for both men and women.
The team's details and their credentials are available on the website. This familiarises patients with the team and builds confidence in their capacity. The doctor, two coordinators and an anaesthesiologist comprise the operational team. Since its establishment in 2009, this team has conducted hair transplants together at the clinic. They have developed working chemistry and perform transplants perfectly with minimal chances of mistakes. Best of all, being English speaking, you can engage with them during the whole process of hair transplantation.
Before and After Pictures
Self Hair Clinic Istanbul Results And Before and After Pictures
There were not many before and after photos available, but those that we found vouch for the ability of Self Hair Clinic Istanbul to deliver good results at the hands of Dr. Yilmaz Oztorun and his team. From their social media, the team is proud of their work and takes pride in standing beside their patients with video testimonials for some of them.
Getting a Hair Transplant in Istanbul Was Never Easier
Self Hair Clinic Istanbul Transplantation Methods & Treatments
At Self Hair Clinic, Dr. Yilmaz Oztorun prefers to use the FUE technique with sapphire blades which make the incisions more precise. While the Steel blades work well, they lose sharpness over time, leading to the incisions' deformation. This leads to longer healing times and more scaring as compared to sapphire blades.
Since the sapphire method came into existence, it has quickly become the industry standard for hair transplants. The clinic also uses the DHI technique, which transfers whole follicles to donor areas without opening channels thanks to the use of an implanter tool. This technique is efficient for small-scale operations, and the team can handle a transplant for DHI with less than 2000 grafts.
Self Hair Clinic Istanbul Cost of Hair Transplants, Available Packages And Extras
While scouring their website and other sources, we found no indication of the prices charged for hair transplants at Self Hair Clinic Istanbul. Information was also limited to what the added extras of transfers, accommodation, and translation cost. This is counterproductive, given the amount of detail used to describe other services.
Despite a dearth of information on the pricing structure, optional extras, and other services, the clinic does not charge any deposits for the procedure. Charges are only given after a physical examination. This means that you will not get an exact estimate of the costs from the online consultation. A flight ticket and your details are enough to book an appointment at the clinic.
Be the first to grab our all-new e-book
Before you can truly commit to a hair transplant it is important to understand hair loss. Together with the experts at IdealofMeD, we wrote an e-book explaining everything you need to know about hair loss. From hair loss causes to practical tips on how to deal with hair loss and the best hair loss products.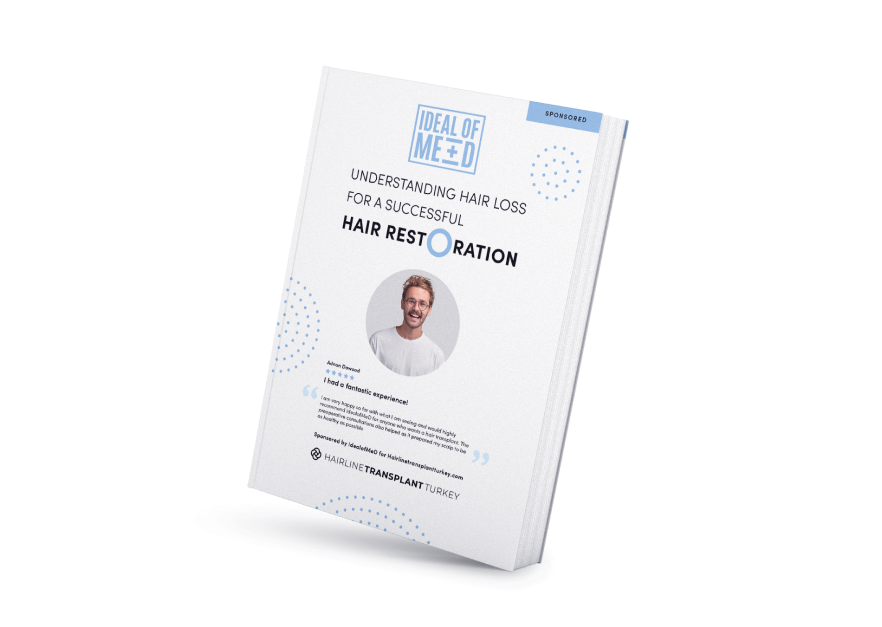 Yes, they are. The company has a strong social media with advertisements of their offering and before and after pictures. However, a considerable number of their posts are in Turkish delineating the international market.
No, they don't. Self Hair Clinic Istanbul exists independently but with associations to the Medicana group of hospitals, which are a large healthcare facility in Turkey.
No, it does not. That's why the clinic cannot perform more than one operation per doctor per day and is restricted from other services by the Turkish Ministry of Health.
Contact Hairline Transplant Turkey
Our team of experts are always here to help you. You can call us or fill the contact form for any questions about hair transplantation cost or procedure. We are more than happy to assist you. You can also leave your contact information, and we'll give you a call.
Let us answer your questions