Sky Hair Transplant Istanbul Review

Sky Hair Transplant Istanbul claims to be one of the first hair transplantation companies in Turkey. The clinic has been featured in the press, including the likes of The Washington Post and BBC Radio, giving it quite a name in the market. Sky Hair is an incredibly popular destination for a hair transplant in Istanbul and the team has performed over 15,000 procedures to date.
Sky Hair Transplant Istanbul review content:
Sky Hair Transplant Istanbul Rating
Sky Hair Transplant Istanbul Review Summary
The Sky Hair Transplant Istanbul website is available in English, not only making it much easier for us to review, but also very helpful for those browsing for information. The website is the very first impression you get of the clinic, and they do quite a good job of looking both trustworthy and professional. The booking process is straightforward, starting like many, with a free hair loss consultation that can be arranged quickly using a short form.
Before you book your hair loss consultation, you will probably want more information on the procedures available and what it will cost you. You will find plenty of helpful guides about the techniques used and recovery times, but unfortunately you won't find any information on pricing. It's quite common that a clinic will want to quote based on your individual circumstances, so this isn't out of the ordinary.
Pre-Operational Consultations
You've taken the first step towards a new head of hair and booked your transplant, so what next? You may be wondering what happens in terms of pre-operational care, advice and guidance. These processes differ greatly between clinics, with some offering plenty in the way of pre-op care, and some practically nothing.
Unfortunately, Sky Hair Transplant falls into the latter category. From the point of booking to the day of your procedure, you won't really have much contact with the clinic at all. No medication or supplements are given in the run up to the big day, and there's no sign of a pre-op consultation either.
There are a few things that we have come to expect as part of a hair transplant package. We're not talking luxuries, but basic fundamentals. Unfortunately, Sky Hair Transplant falls short of some of these standards.
The good news is that you will be staying in a 5-star hotel with all of the perks that come with it, including a buffet breakfast. Your comfortable accommodation and helpful staff will help to make your stay that bit better. This eliminates the need to think about anything other than your recovery.
VIP transfers are included and so you will be picked up and dropped back off at the airport, without having to organise any transportation yourself. The most notable thing is the lack of an English-speaking driver or coordinator from the clinic. A friendly face, speaking your native language, is a sure fire way to settle and feel comfortable upon your arrival in Turkey. Admittedly, it doesn't impact the hair transplant itself, or the results, but it's just a nice touch that is lacking.
With so many clinics to choose from in Istanbul, you would expect each facility to be competing to be the very best place in terms of comfort and patient care. This doesn't seem to be the case at Sky Hair Transplant, which doesn't offer patients any additional extras to enjoy during their stay.
We would always like to see specifically-designed beds and pillows during the lengthy operation, as well as entertainment areas and great food, to make the time pass more quickly. Nobody enjoys being in the hospital, or having a procedure, and so these things can go a long way to creating a more relaxing experience. None of this is mentioned by Sky Hair Transplant. That said, they do sport all of the latest hair transplantation technology.
Surgery & Doctor Involvement
Many hair transplant clinics in Turkey are marketed using their superstar doctor, usually a pioneer in the hair transplantation field. Naturally, patients want to be taken care of by the best, and so the medical team plays a huge part in the decision-making process. There is no mention of a particularly impressive doctor at Sky Hair Transplant, and there is also no guarantee of the team being able to speak English.
The aftercare at Sky Hair Transplant is well below our standards. Similarly to their lack of pre-op care, there's very little to be said about the features of aftercare, either. The lack of a 90% hair growth guarantee is a concern, as this is offered by the large majority of clinics, and is usually a sign of a confident doctor. Not only this, but you won't find any help with payment options and so you need to have the funds available upfront.
We Rate Sky Hair Transplant Istanbul
The underwhelming score given to the Sky Hair Transplant clinic is the result of it falling short of standards across a number of categories. A lack of pre-op care, non-existent post-op care and no special mentions on the medical team are all causes for concern.
We could forgive Sky Hair Transplant for shortcomings if their hair transplant results were above-and-beyond anywhere else, or if they offered something unique. The results are good, but they're no better than the competitors, of which may do a better job of the care aspect. This concern is further emphasised by the lack of hair growth guarantee.
Sky Hair Transplant make the booking process incredibly easily, which makes great commercial sense. Once you've booked your procedure, that's when the standards of care seem to go downhill. We expect a 5-star experience from start to finish and this is not provided by this clinic. Because of this, the 1.16 out of 5 score is accurate.
Get a free hair loss report today and make sure you get fair offers from clinics
Are Sky Hair Transplant Istanbul procedures done by qualified doctors?
The procedures carried out at Sky Hair Transplant are done by qualified doctors, all of which have plenty of experience with what they do. Despite having experienced staff, the clinic lacks the 'face' of the hair transplant team, which is usually a real specialist or pioneer in hair transplant techniques. This isn't make or break, but if you could have your procedure done by a decorated specialist or a standard hair transplant doctor, the choice would be obvious.
The specialist doctors are just the beginning – there are so many other members of staff fundamental to your experience during a hair transplant. From care nurses to operational staff, they all come together to make the process as comfortable as possible. There is no mention of these teams on the Sky Hair Transplant website, which could simply be an oversight, or may indicate that they place less emphasis on the importance of the overall patient experience.
Before and After Pictures
Sky Hair Transplant Istanbul Results And Before and After Pictures
The Sky Hair Transplant Istanbul website features a handful of before and after pictures. There's not as many as we would like to see, but the ones used clearly show the impressive results of their hair transplants. Links to their social media profile take you to more pictures and case studies.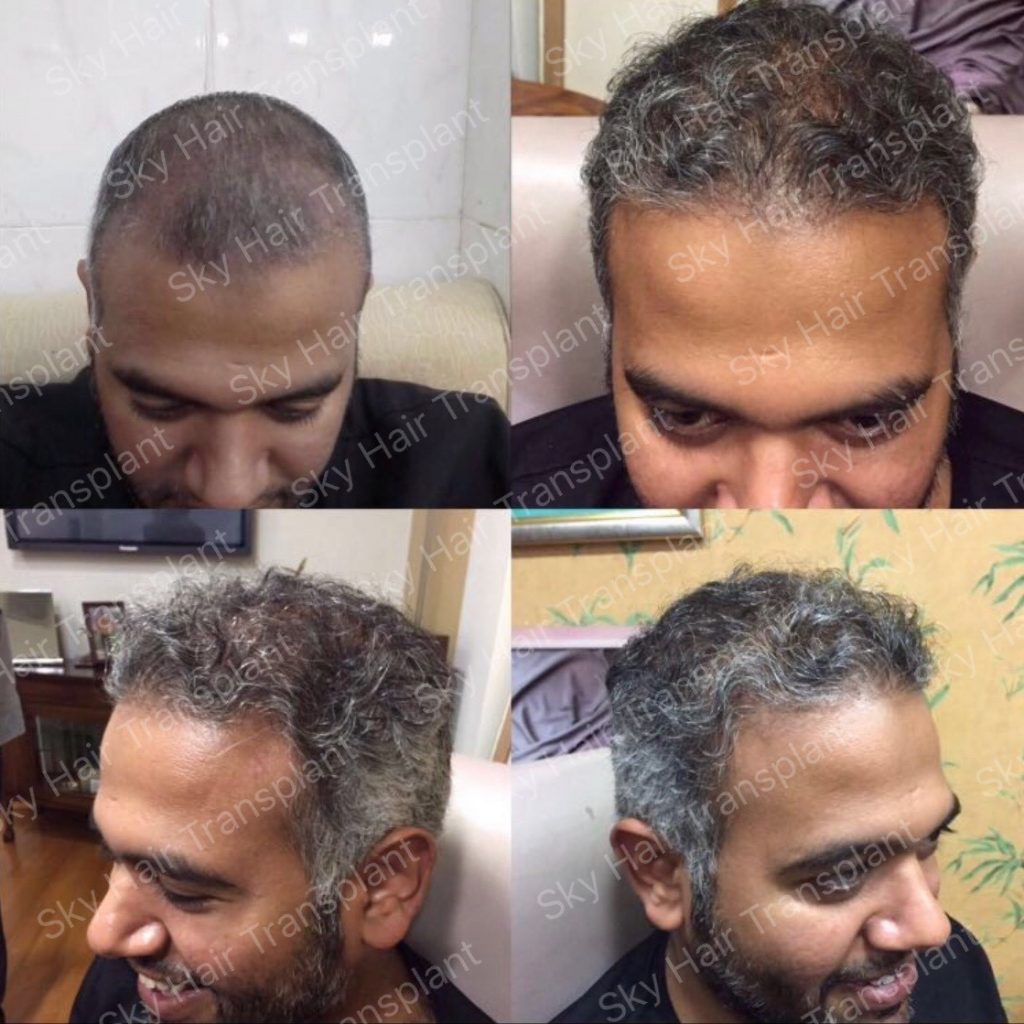 Getting a Hair Transplant in Istanbul Was Never Easier
Sky Hair Transplant Istanbul Transplantation Methods & Treatments
The clinic offers a wealth of procedures, above and beyond just the standard hair transplant methods. You will, of course, find FUT, FUE and DHI available, but there's others word mentioning too. Both Cold Graft Hair transplantation and Milimetric Directional Hair Transplantation were developed by Sky Hair Transplant and offer a whole new way to do hair restoration.
Eyebrow and beard transplants are also available at the clinic, but that's not all. Liposuction, rhinoplasty and facelifts are just some of the other procedures carried out at the clinic by medical professionals. Instead of just a hair transplantation clinic, Sky has created a specialist aesthetic department, attracting patients from around the world.
Sky Hair Transplant Istanbul Costs, Available Packages And Extras
Sky Hair Transplant Istanbul does not disclose its prices to prospective patients, but this is common amongst most hair transplant clinics. Truthfully, it is a very difficult to put a cost on something that varies so much patient-to-patient, and so you will only be given your price following a consultation. The standard package includes the following aspects:
Many of the most important aspects of a trip to Istanbul for your transplant are covered. All that's really left for you to do is to book your flights and get yourself prepared for your procedure. The 5-star accommodation is a great addition, and will be vital to your initial recovery.
Be the first to grab our all-new e-book
Before you can truly commit to a hair transplant it is important to understand hair loss. Together with the experts at IdealofMeD, we wrote an e-book explaining everything you need to know about hair loss. From hair loss causes to practical tips on how to deal with hair loss and the best hair loss products.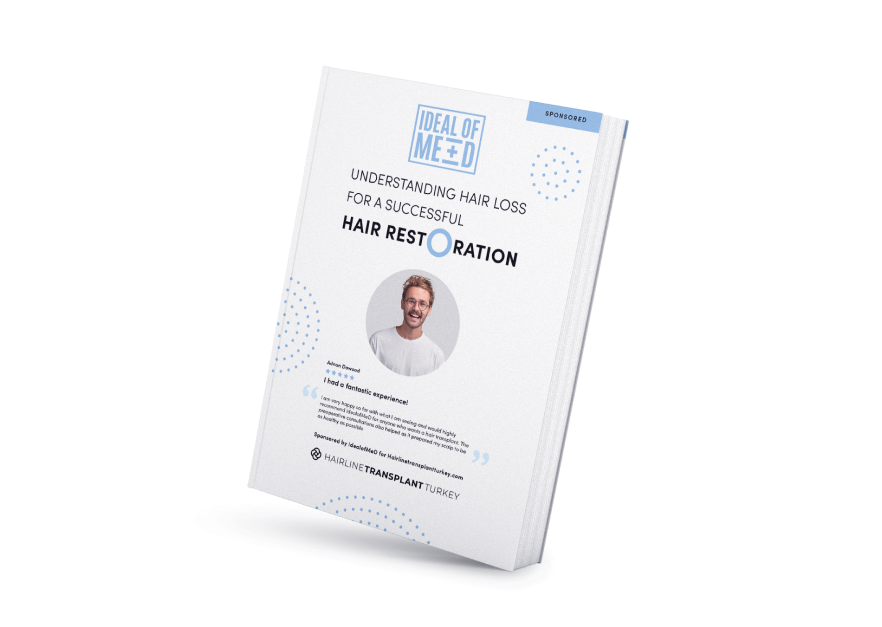 Yes, Sky Hair Transplant Istanbul is on Instagram and can be found with the username @sky_hair_transplant. Their profile features plenty of before and afters to browse.
Yes. The Sky Hair Transplant is a specialist hospital offering hair transplantation services as well as many other plastic surgeries and plenty of aesthetic procedures.
No. The Sky Hair Transplant Clinic does not have an A-License. Although we do like clinics to have these, it is not a make-or-break criteria.
Contact Hairline Transplant Turkey
Our team of experts are always here to help you. You can call us or fill the contact form for any questions about hair transplantation cost or procedure. We are more than happy to assist you. You can also leave your contact information, and we'll give you a call.
Let us answer your questions