Sule Hair Transplant Reviews
Expert review from Joanna Okedara-Kalu (2023) + Patient reviews collected bi-weekly from:

With about 800+ Google reviews, most of them waving the glittering 5-star flag, and another 100+ reviews on TrustPilot, Sule Hair Transplant Clinic looks like they know what they're doing. However, are the numbers telling the whole story? Is it worth it or is it better to look at alternatives for your hair transplant in Istanbul?

Sule Hair Transplant Istanbul Content:
Sule Hair Transplant Turkey Review Summary
This review was published in September 2023. We have also added user reviews and the possibility for you to leave your review directly. If you wish to engage with former patients of Sule Hair Clinic, share your thoughts on the Hair Back App.
Experience With Sule Hair Clinic: First-Hand Encounter
The first thing we did in our review process was to check out Sule Hair Turkey's website to book a consultation. First impression matters a lot and we were definitely not impressed with the customer support.
One of the primary indicators of an Istanbul hair transplant clinic's professionalism and reliability is its ability to provide excellent customer support. It sets the tone for the entire customer experience, as attentive and responsive staff can help answer questions, alleviate concerns, and build trust with potential patients.
Sule Hair Istanbul's website does offer multiple ways to initiate contact, including a WhatsApp chat head, a consultation form, as well as phone and email options.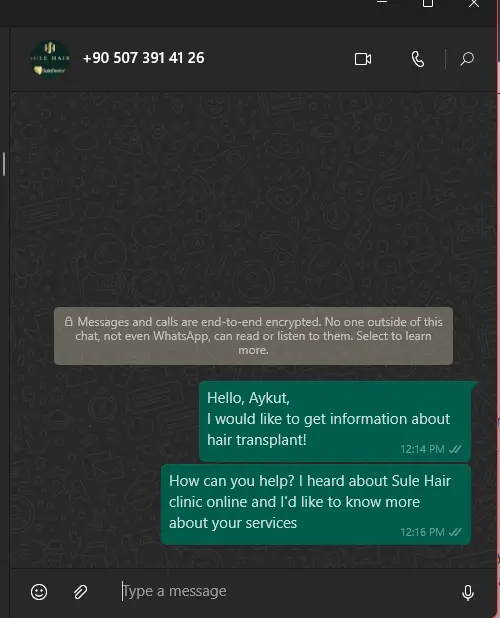 Having encountered difficulties in reaching Sule Clinic Turkey via WhatsApp, we resorted to using their consultation form and email. The form itself was structured as a 4-step process, involving the submission of your contact details, your specific hair transplant requirements (whether it be for hair, beard, eyebrows, or women), photographs of your hair, and any additional information you wished to share.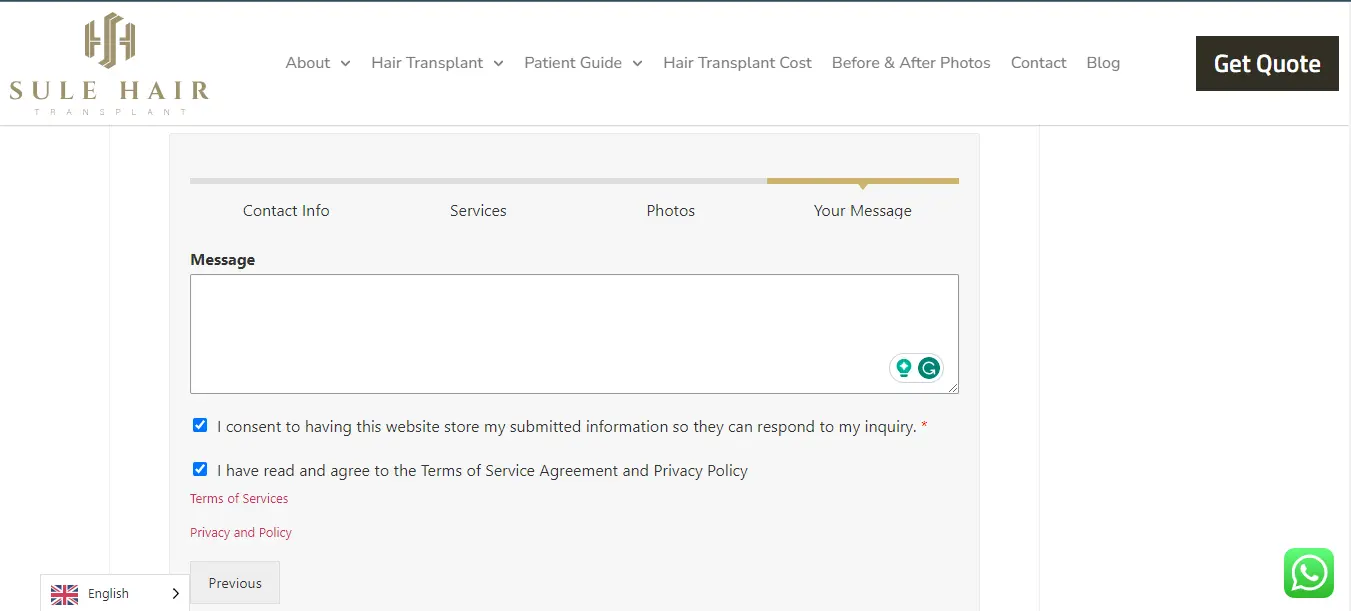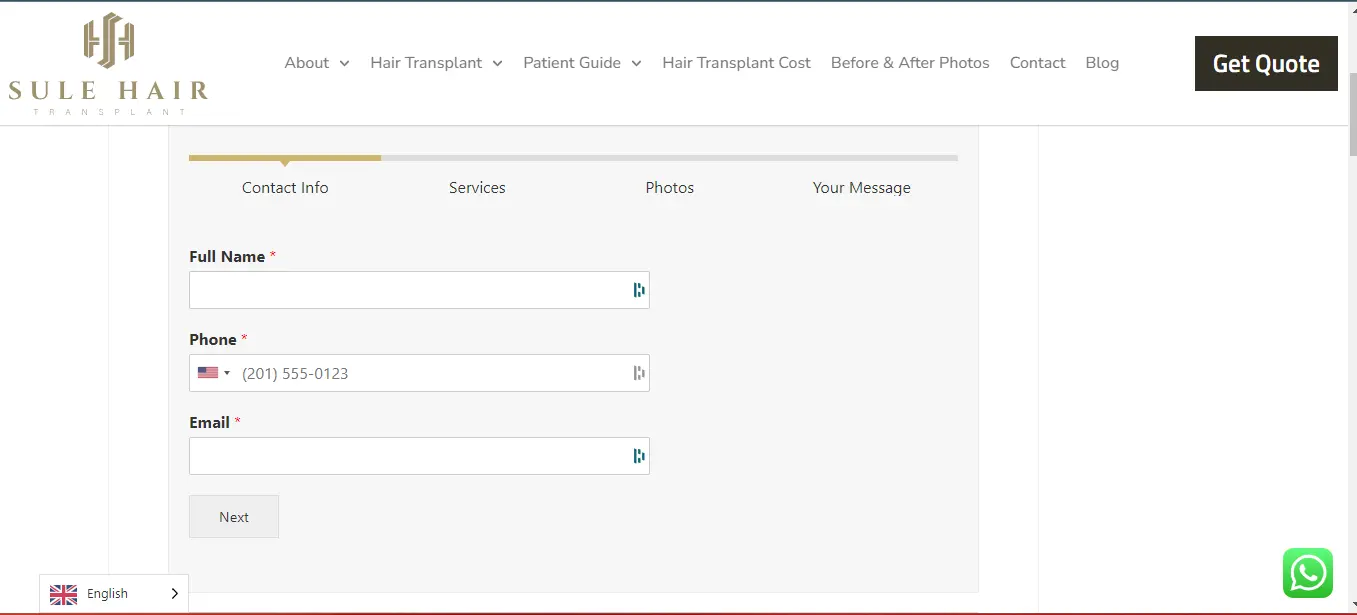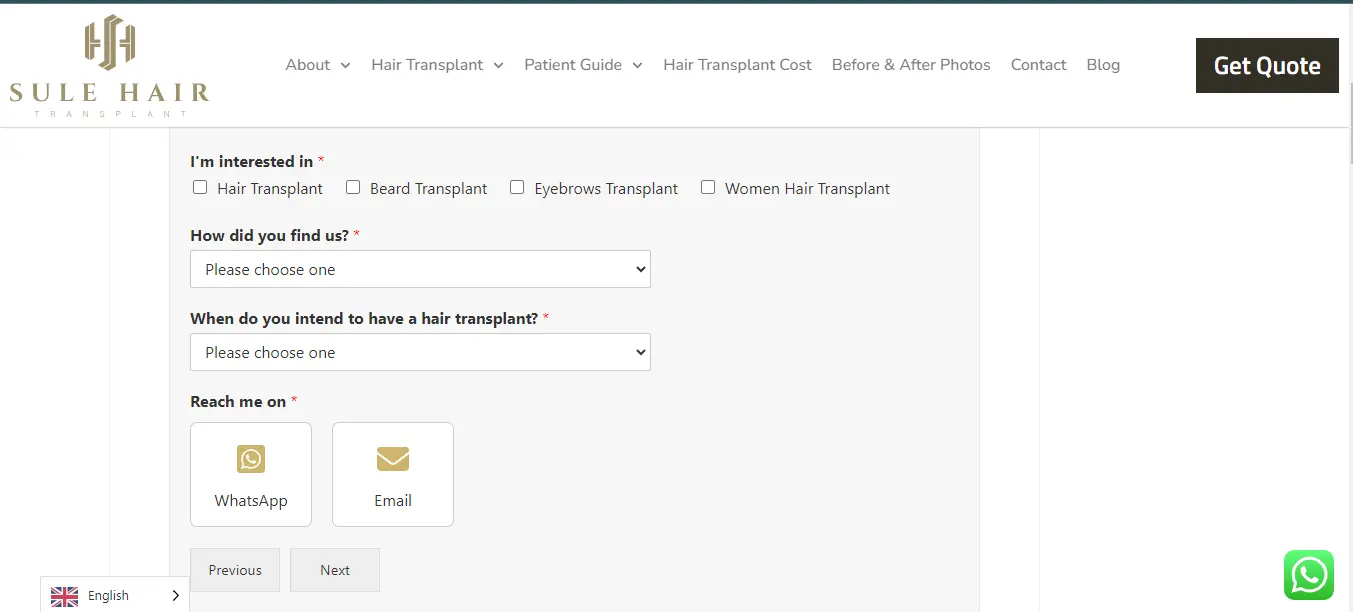 Regrettably, our experience with Sule Hair Turkey's customer support revealed several shortcomings. Communication, at the time of writing this review, was virtually non-existent through the online channels. 
If you are looking to get any feedback or assistance from Sule Hair Transplant Clinic, it appears that a direct phone call is the most reliable means of contact. This lack of responsiveness and communication raised concerns about the overall patient experience and left us with reservations about their services.
The booking process at Sule Hair Clinic involves filling out the 4-step consultation form or contacting them via their contact methods. You are asked to submit photographs of your hair and the type of hair transplant procedure you want.
Now, it's not clear if they received our booking form or not, because we did not receive any message after submitting the form. Another thing to wonder about!
Sule Hair website has enough information about their procedures and patient guides – from arrival to departure. Although they explain their packages – silver, gold, and platinum – there is no clear price list on their website and you'll have to book a consultation before they discuss their prices.
If you choose the Silver package, you'll not have any access to their inclusive accommodation and airport transfer offer, meaning you'll have to take care of your accommodation, feeding, and transportation. There is also no information about the price of further upgrades if you change your mind.
For the Gold package, you'll enjoy access to accommodation, breakfast, and VIP transfers. While the Platinum package offers all the features of the Silver and Gold packages, you'll also get 3-months worth of supplements, access to mesotherapy, and laser hair therapy.
According to Sule Hair Clinic's website, the cost of your hair transplant is a nebulous figure, influenced by the package you choose and the extent of transplantation required. But how, you might wonder, is this calculation made? It's a question that lingers like a riddle waiting to be solved.
Top Rated Clinics in Turkey September, 2023
IdealofMeD
#1 Clinic in Turkey (4.33 / 5.00)
Asmed
#2 Clinic in Turkey (4.20 / 5.00)
Cosmedica
#3 Clinic in Turkey (4.00 / 5.00)
Pre-Operational Consultations
Sule Hair Clinic's website does not have a lot of information about the pre-operational process. However, if you choose either the Gold or Platinum packages, this Turkey Hair Transplant Hospital can arrange your airport transfer and accommodation.
As part of their pre-operational process, Sule Hair Transplant Clinic offers a 3-step process to make things "easier". In the first step, the hair transplantation clinic will send an airport guide to meet you with a sign at either Sabiha Gökçen or Istanbul Airport.
This driver will also serve as your hotel check-in guide and make sure you have everything you need. There is no clear information on which step the pre-operational package will begin for those who chose the silver package.
If you are on either the Gold or Platinum packages, the driver will pick you up in the morning and drive you to the Sule Clinic. Your procedures begin with a blood test, no matter the package. The second step involves payment, and in the third step, the number of grafts you'll be transplanted with is approved.
Does it make sense to wait till the day of the surgery to know the number of grafts you'll be getting? Not sure! But, that's how Sule Hair Clinic does it.
You are expected to be in Turkey for 3 nights to complete the entire pre- and post-operative procedures.
Sule Hair Transplant Clinic is located in the İSÜ Medical Park Gaziosmanpaşa Hospital which is in the Gaziosmanpaşa district of Istanbul. This area may not be known as a major tourist center, so, it is possible to find budget-friendly hotels and accommodation (if you are on the Silver package).
On the Gold and Platinum packages, you'll get access to a 5-star hotel for 3 nights (the exact one was not mentioned), breakfast, and airport transfers. There is also a picture of how you should plan your trip to Turkey on their website. However, we are not sure if they provide a detailed itinerary after you book your hair transplant procedure.
Sule Hair Transplant Clinic Istanbul boasts of having up to 65 doctors. However, their website only shares information about 4 doctors out of 65.
Some customers doubt if Sule Clinic even has an accredited license. Now, that's worrying!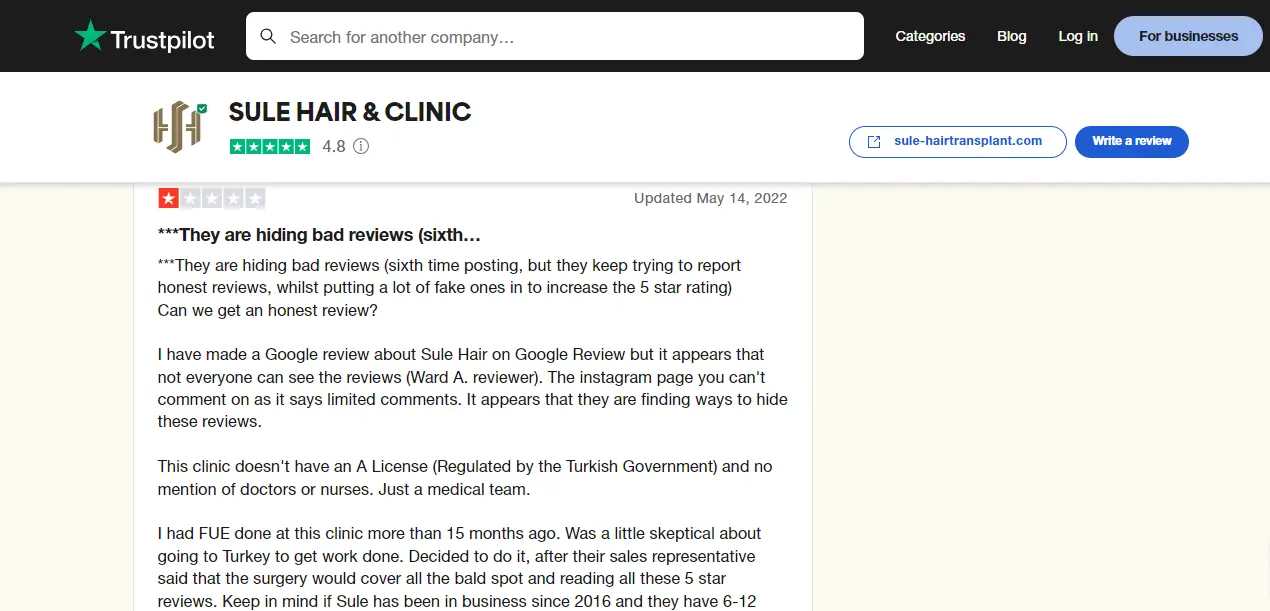 However, our research indicates that Sule Hair Clinic has a certificate to operate as an international health tourism agency. No information was displayed on their website concerning having a license.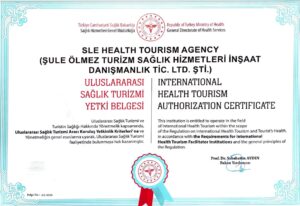 The facilities at Sule Hair Clinic are impressive. You can watch the video tour of their clinic on the website. Their clinic has a waiting room, a consultation area, a "blood sample room", and operating rooms.
We were impressed with their video, although it did not give technical information about the facilities and technology available at the clinic. The person giving the video tour was clearly not a hair transplant expert, and you can deduce it from the way they reviewed each section of the clinic.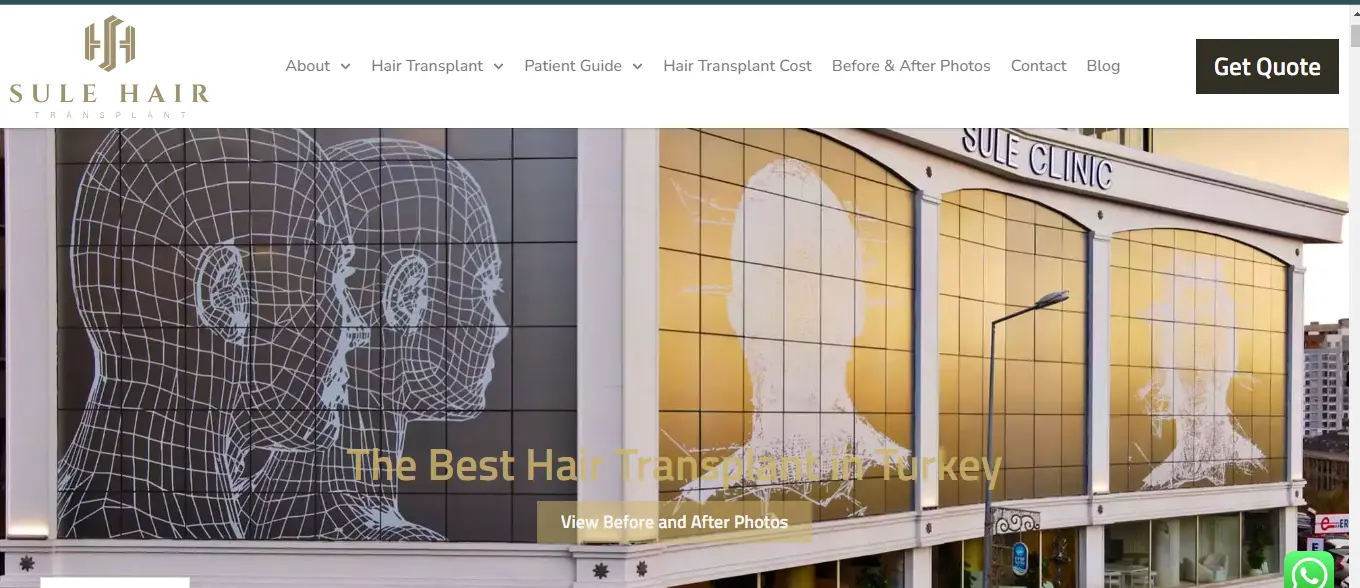 Surgery & Doctor Involvement
Sule Hair Clinic has doctors on ground for each hair transplant procedure. However, it's not clear if there will be a third-party doctor auditing the operation. According to their website, only one of the doctors on the operational team can speak fluent English. We are also not sure if a translator will be available during the operation.
Sule Hair Transplant Clinic's website is not clear on their aftercare procedure. However, if we are to look at what is included in their packages, then some parts of the aftercare services are only available for those who pay for Gold and Platinum packages.
If you pay for their silver package then the clinic will help you with the first hair wash, give you a neck pillow, and probably provide post-op service – not clear which one. In the Gold package, you'll get medication and care products and the aftercare offers in the silver package.
When we compare the aftercare packages of Sule Clinic and other hair transplant clinics in Turkey, a distinct contrast emerges. For instance, let's compare Sule Clinic Istanbul and IdealofMed, a notable player in the hair transplant industry. While Sule Hair Clinic predominantly directs its attention towards the procedure itself, IdealofMed steps into a broader role akin to orchestrating a symphony of holistic care.
Sule Hair Clinic's focus remains primarily centered on the transplant procedure, leaving a noticeable gap in the post-transplant journey. They do offer some aftercare services, with variations depending on the package chosen. The Silver package includes the first hair wash, a neck pillow, and a somewhat nebulous reference to post-op service. Scaling up to the Gold package introduces medication and care products, essentially echoing the offerings of the Silver package.
In contrast, IdealofMed emerges as a harmonious conductor of care, not merely limiting their involvement to the transplantation process. They enrich the patient experience with an ensemble of post-transplant essentials, including hair vitamins, specialized shampoos, and aftercare supplements.
The problem here is that we are not sure what they mean by post-care services. There is also no clear indication of how much these services cost if you want to upgrade. On the Platinum package, you'll get 3 months supplement together with the post-care services in the Gold package.
There is no mention of financing or satisfaction guarantees on their website.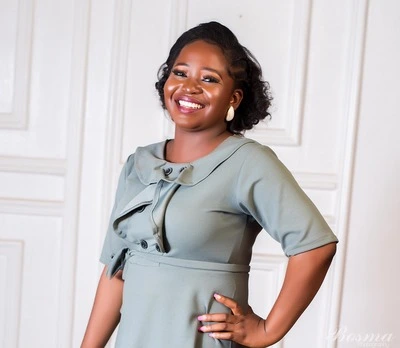 We Rate Sule Hair Transplant Clinic
In the world of hair transplant clinics, Sule Hair Clinic appears to wield the power of numbers, boasting an impressive array of reviews that might tempt you to crown them as the undisputed champions of the trade. But we all know that numbers can be deceiving.
The first red flag we noticed was the flagging issues – pun intended. Sule Hair Clinic's TrustPilot flags raise questions about the authenticity of certain reviews, casting shadows on their overall reputation.
Booking a consultation on their website was another mixed bag. While they provide various contact options, responsiveness through online channels leaves much to be desired, hinting at potential communication challenges.
When it comes to pricing, clarity is conspicuously absent. The absence of a transparent price list and uncertain upgrade costs may leave prospective patients feeling like they're navigating a labyrinth.
The pre-operational process, while offering airport transfers and accommodation for some packages, lacks clear guidance for others. Another thing we did not like is the sequencing of steps and the suspense of graft numbers until the day of surgery – this may leave patients feeling somewhat in the dark.
Facility-wise, Sule Hair Clinic's premises are impressive, yet questions linger about their medical team's accreditation, with limited information available. We know that surgery at Sule Hair Clinic involves doctors, but uncertainties surround the presence of third-party auditing or fluent English-speaking doctors.
Aftercare, a critical aspect of the hair transplant journey, remains enigmatic. Disparities between package inclusions, uncertain upgrade costs, and a lack of financing options or satisfaction guarantees only add to the ambiguity.
In sum, while Sule Hair Clinic may present enticing packages, the shadows of opacity, communication challenges, and doubts about accreditation and reviews suggest a journey fraught with uncertainties. Proceed with caution, and weigh these factors carefully before entrusting them with your hair transplant aspirations.
Get a free hair loss report today and make sure you get fair offers from clinics
What do others think about

Sule Hair Clinic?
Sule Hair Transplant Clinic Patient Reviews
4.9 out of 5 stars (based on 118 reviews)
The staff and hospitality are second to…
The staff and hospitality are second to none, very caring
Great place to get your hair done ever
Great place to get your hair done every one super friendly and nice they make you feel so comfortable pain free worry free pick up drop off everyday to your appointments couldn't recommend enough
I recently went to Istanbul for a hair…
I recently went to Istanbul for a hair transplant with Sule clinic. Of course I was apprehensive before my journey began. I arrived at the airport and was able to find the dedicated meeting point with ease. Staff were waiting for me and communicated well to let me know when my transfer would arrive. All transfers and staff who were driving them were great. The hotel I stayed in was named the golden tulip. Again this was great. Rooms lovely and clean and food cheap and of good quality. The day at the clinic was a good experience. My translator and all stuff involved in the procedure were great. The process was 98% painless and you are offered a lovely lunch half way through. Over the next coming days my transfers to and from the hotel, clinic and airport were all on time. Since returning home the results have been good. The clinic have stayed in contact and have been very helpful with any issues or questions I have raised. If you are in the same situation I was, where you can't decide if you should go or not. Please go to Sule.
Sule clinic pelayanan dan treatment nya…
Sule clinic pelayanan dan treatment nya luar biasa, cerita hair transplant tanpa rasa sakit benar apa adanya dan sangat memuaskan..kliniknya bersih, translator mas hafiz sangat membantu segalanya dan sluruh staff nya sangat ramah
Hair Transplant
I had my hair transplant with Sule hair & clinic exactly 2 months and 3 weeks ago. I traveled from London and can honestly say it was a brilliant journey from start to finish. I was picked up directly from the airport and taken to a lovely hotel in Istanbul. The procedure was pain free (I even fell asleep during the transplantation). I had a translator with me during my surgery who ensured I knew exactly what was happening. Unlike most places everything really was included in the price I was quoted, if your hair is knocking your self confidence I would definitely recommend to anyone who is interested!
I went to this clinic couple days ago
I went to this clinic couple days ago. I got hair transplant procedure done and dental work too.
Pelayanan sangat baik
Pelayanan sangat baik, tempat yang sangat bersih, para staff yang sangat membantu sejak hari pertama saya tiba untuk melakukan operasi
The clinic is stunning
The clinic is stunning, the staff are great and the overal service is next level. I got my hair done here last year and I am over the moon and I came back for dental work.
Best place to try
So help full from booking me a taking there time out be in contact before even reaching here. Once I got here they told me my best option to go for a made my operation stress free a painless.
Wonderful experience
Wonderful experience, welcoming staff, very informative. Quality and price is unbeatable. Would recommend Sule to all attempting hair transplant surgery.
wow what professional help you get here…
wow what professional help you get here at sule hair clinic. Very nice staff and knowledgeable about what they do. I highly recommend for anyone thinking of doing hair transplant. 10 out of 10!
Leave your own SULE HAIR CLINIC review
Get a free hair loss report today
Sule Hair Transplant Clinic
Background Information
Sule Hair Clinic Hair Transplant Team is Led By Dr Sule Olmez
Sule Hair Transplant Clinic's history appears to be cloaked in a shroud of uncertainty. According to their website, it was founded in 2016 by Hair Specialist Sule Karatas Olmez. Yet, a perplexing twist emerges as the website also credits Prof. Dr. Hakan Hanimoglu as the clinic's founder. It's a puzzling contradiction that leaves one to question the accuracy of the information provided.
Dr. Sule Olmez takes the helm as the lead doctor, wielding over 12 years of experience in the intricate field of hair transplantation. Her extensive repertoire includes a diverse set of skills and certifications spanning hair transplantation, medical aesthetics, ozone therapy, and dedicated patient care.
Adding to the intrigue, Dr. S. Alptuğ Yilmaz finds a place on the roster as a "responsible doctor at Sule Clinic." Curiously, despite the clinic's claim of housing over 60 healthcare professionals, the website spotlights only four.
The incongruity in the figures presented by Sule Hair Transplant Clinic raises a legitimate cause for concern. When a clinic asserts it has conducted "over 13,000 transplants" since 2016, it should logically follow that a substantial team of healthcare professionals and doctors would be essential to handle such a sizable caseload. 
However, the conspicuous absence of corroborating information on their website, which lists only four doctors and offers no detailed insights into the extensive medical team required for this volume of procedures, leaves us with more questions than answers. This discrepancy invites scrutiny and prompts one to question the transparency and reliability of the clinic's assertions.
Before and After Pictures
Sule Hair Turkey Before And After Results
One of the first things we checked during our Sule Hair Transplant Clinic review process was their hair transplant before and after photos. For sure, the Sule Clinic website has a lot of before and after photos. You can even check their Instagram page.
Getting a Hair Transplant in Istanbul Was Never Easier
Sule Clinic Hair Transplantation Methods And Treatments
Sule Hair Clinic performs both FUE hair transplant and DHI hair transplant treatment methods. They also perform hybrid FUE and DHI treatments including Sapphire FUE + DHI. These methods are included in all their packages and you may not need to pay any extra costs.
However, if you are looking for hair laser treatment or mesotherapy treatments, then you'll need to pay for the Gold or Platinum package.
Sule Clinic hair transplant cost and price - What is included in the hair transplant package?
Sule Hair Clinic offers 3 different hair transplant turkey package with different offerings and costs – the package prices are not available on the website. However, we were able to dig out their prices online.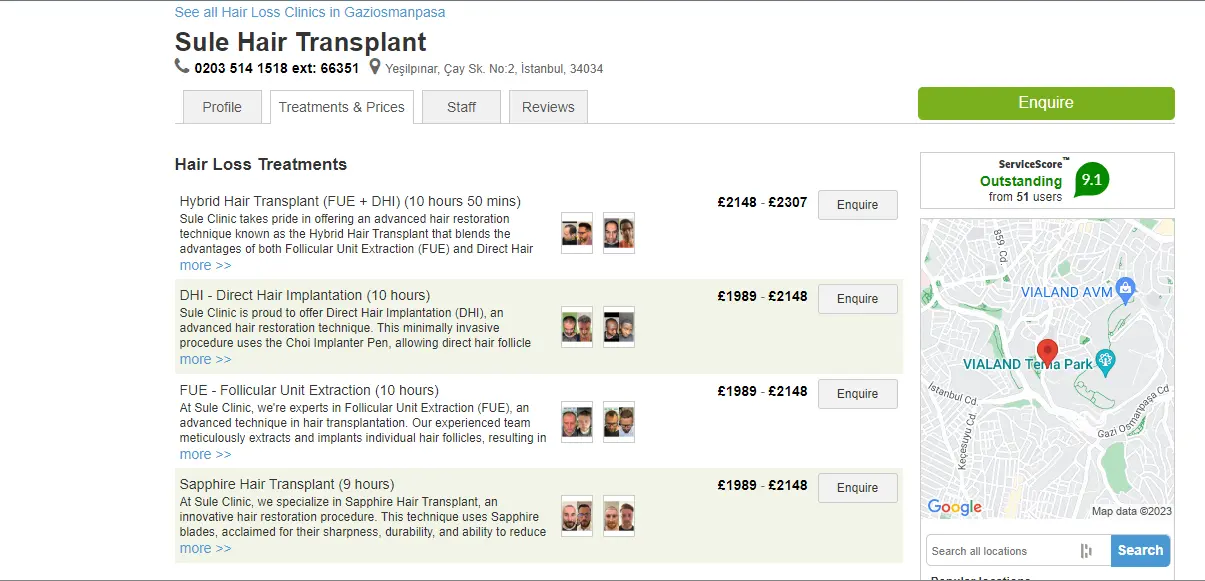 A typical package offers:
Be the first to grab our all-new e-book
Before you can truly commit to a hair transplant it is important to understand hair loss. Together with the experts at IdealofMeD, we wrote an e-book explaining everything you need to know about hair loss. From hair loss causes to practical tips on how to deal with hair loss and the best hair loss products.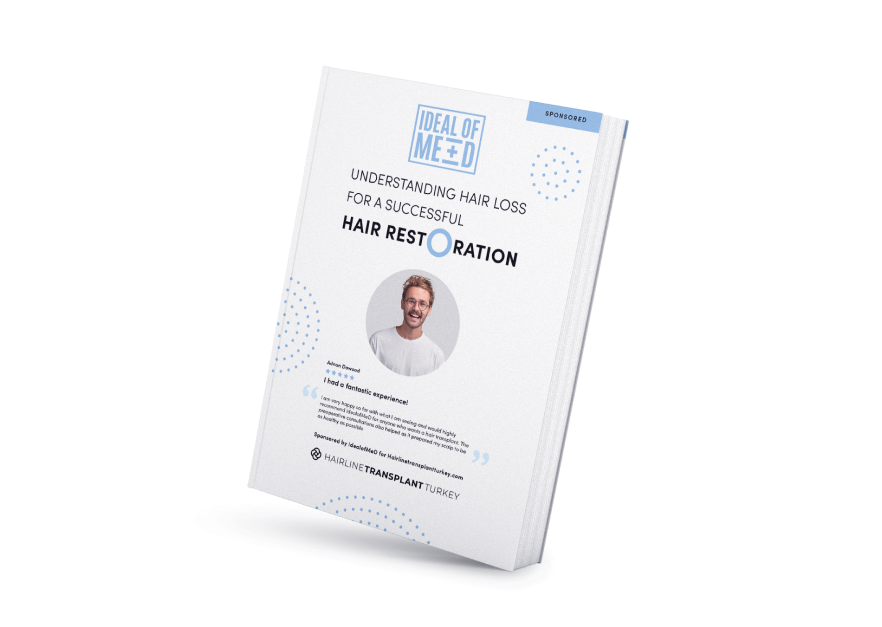 Yes, they are. However, their IG handle is under a different name instead of the clinic's name.
Yes, Sule Clinic is a university hospital, so surgeries can be performed at the clinic.
We are not certain about this as we could not find any information about this on their website.
Contact Hairline Transplant Turkey
Our team of experts are always here to help you. You can call us or fill the contact form for any questions about hair transplantation cost or procedure. We are more than happy to assist you. You can also leave your contact information, and we'll give you a call.
Let us answer your questions