Mono Clinic Turkey Reviews
Expert review from Joanna Okedara-Kalu (2023) + Patient reviews collected bi-weekly from:

Mono Clinic Turkey has a lot of controversy surrounding it. For one, a quick search on Google brings up the terms "Mono Clinic Death" and "Mono Cosmetic Surgery Botched". But, is Clinic Mono that bad? Or was it a one-time mistake? If you are thinking about having your hair transplant surgery at Clinic Mono, then you should read this expert review before making your final decision.

Mono Clinic Istanbul Content:
Mono Clinic Turkey Review Summary
This review was published in September 2023. We have also added user reviews and the possibility for you to leave your review directly. If you wish to engage with former patients of Mono Clinic Turkey, share your thoughts on the Hair Back App.
Experience With Clinic Mono: Our First Impression
Mono Clinic's website was our first point of call in our review process. We observed that the website boasts mobile-friendly functionality, even going as far as detecting your location. However, navigating the site to find specific information about hair transplants might require a bit of patience. 
This seemingly arduous quest could be attributed to Mono Clinic's extensive repertoire, which prominently features liposuction, breast lifts, gastric bypass procedures, and dental surgeries. A cursory examination of their medical team's specialties further reinforces this point; while they excel in various domains, expertise in hair transplantation appears somewhat underrepresented.
The elusive price package also initially eluded our grasp. Hidden away from the main menu, it required diligent exploration of submenus and pages to unearth the pricing details, which ranged from £1,750 to £3,500. On the surface, this pricing seems reasonable, but don't draw any conclusions until you find out what is included in the offer.
One aspect that piqued our curiosity was the terms and conditions lurking in the website's footer. It's a lengthy, convoluted document that raises more questions than answers. Within its convoluted passages lie elements that could potentially pose challenges for prospective and unsuspecting patients. 
For instance, their terms detail a deposit payment system, stating that upon payment, Mono Clinic begins arranging accommodation, transportation, and operation logistics. However, if a patient decides to cancel after paying the deposit, a substantial cancellation fee of 75% of the deposit is imposed, with only 25% refundable, provided no surgery date has been scheduled. Once a surgery date is booked, there is no avenue for a refund, rendering the entire deposit a sunk cost.
This clause certainly raises a red flag in our evaluation. Yet, if there's a commendable aspect to our initial encounter, it's Mono Clinic's responsiveness. 
In stark contrast to our experience with Sule Hair Clinic, Mono Clinic demonstrated a keen interest in engaging with us. They promptly responded when we clicked 'submit,' and their WhatsApp channel provided a personal consultant who remained consistently responsive. Moreover, they generously extended a free call service for individuals in the UK, and their live chat feature allowed for easy messaging.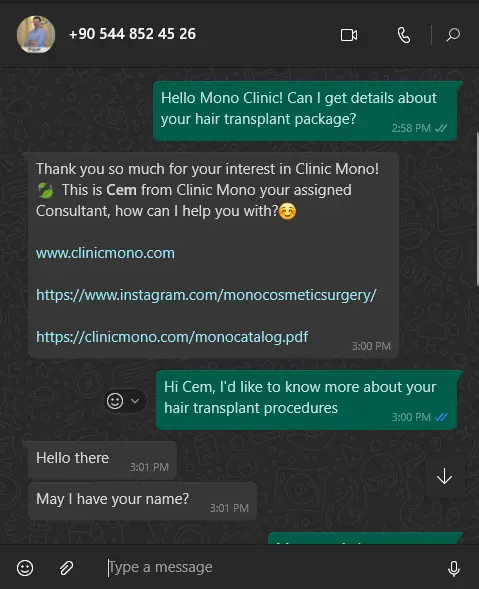 Booking a hair transplant through Mono Clinic's website turned out to be an adventure in itself, albeit a perplexing one. Initially, we stumbled upon a booking fee form discreetly tucked away in the footer of the website.
To our surprise, this form took a rather abrupt detour by requesting sensitive card details right away. We're talking about the card type, cardholder name, amount, currency unit, expiration date, card number, and even the elusive 3-digit security code. It felt a bit like being asked for the secret password to enter a hidden club without knowing what's inside.
Our mission to find a direct pathway for booking a hair transplant proved to be a bit of a scavenger hunt. There was no clear button or avenue dedicated to booking a hair transplant in sight. While it's conceivable that Mono Clinic prefers to unveil its pricing details after the free consultation, offering upfront transparency on pricing can be a beacon of clarity for many patients navigating the intriguing world of medical procedures.
A closer examination of their hair transplant services page revealed a mention of "BlueMagic Group," a name that piqued our interest. Further investigation revealed the existence of a separate entity called BlueMagic Group Hair Transplant Clinic in Istanbul. This raised questions regarding whether the text mentioning BlueMagic Group on Mono Clinic's website had been copied from the latter or if there was a more complex connection between the two.
As mentioned previously, the absence of a clear and easily accessible price list was another notable concern. While some pricing information was buried within the terms and contract page, expecting patients to navigate through these dense documents to determine hair transplant costs seemed impractical. Additionally, an "advance payment" page in the footer redirected to the same Google form, once again requesting card details without offering clarity on hair transplant pricing. While it's conceivable that Mono Clinic discusses prices after the free consultation, providing upfront information about pricing is a transparency standard that many patients value when considering medical procedures.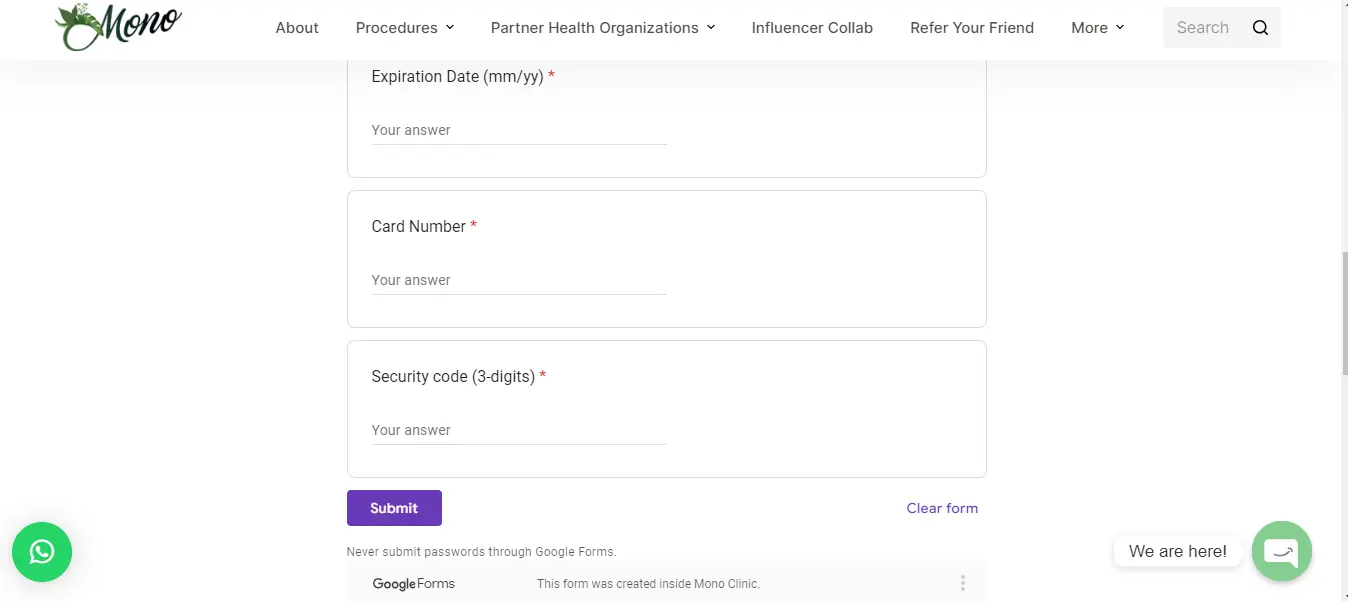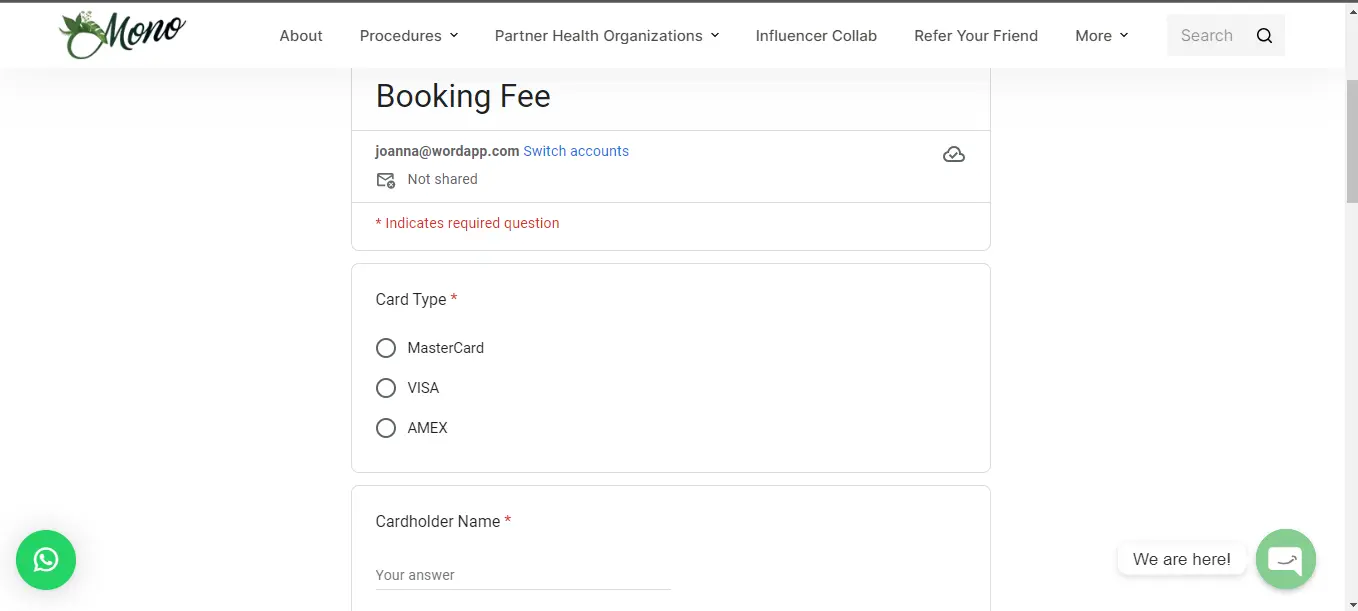 Top Rated Clinics in Turkey September, 2023
IdealofMeD
#1 Clinic in Turkey (4.33 / 5.00)
Asmed
#2 Clinic in Turkey (4.20 / 5.00)
Cosmedica
#3 Clinic in Turkey (4.00 / 5.00)
Pre-Operational Consultations
Clinic Mono's website left us with more questions than answers when it came to understanding their hairline transplant preoperative processes. On their hair transplant page, we found a brief outline of the procedure steps, which included an initial consultation, preparation involving shaving the donor area and administering local anesthesia, follicle extraction, recipient site creation, transplantation, and post-procedure care instructions.
While this overview provided a general idea of the procedure, it lacked the depth and specificity that patients often seek when considering a hair transplant. Our efforts to gather further information about the preoperative process and the potential travel itinerary led us to explore the terms and contract page on their website.
Here, we uncovered details related to what was included in their package, such as the consultation with the surgeon, private transport, in-city transfers, meals, interpreter services, medical tests, and more. However, this information was presented within a dense document that could be easily overlooked by prospective patients.
A notable point of concern within the terms and contract was related to the cancellation policy. Clinic Mono Turkey emphasized the importance of deposit payments for arranging accommodation, transportation, and clinical schedules.
If a patient cancels the operation after paying the deposit, a substantial cancellation fee of 75% of the deposit payment would be incurred, leaving only 25% refundable. Furthermore, once a surgery date was booked and a refund requested, no refund would be applicable, rendering the total deposit a sunk cost. This policy raised questions about flexibility and patient rights.
On the plus side, the website mentions that their "Operations Department" will be ready to answer any questions regarding the itinerary. The website also highlights the existence of a Patient Rights Department for addressing post-operative concerns.
Based on the information provided, Clinic Mono does not appear to offer a clear itinerary before the trip on its website. While they mention some details related to the package, such as private transport, in-city transfers, and meals, it is not presented in a clear and organized manner that would provide patients with a step-by-step itinerary.
There is no mention of the possibility of rescheduling the booking for free in the information provided. The cancellation policy outlined in their terms and contract indicates that cancellation may result in a substantial fee, particularly if a surgery date is booked.
Clinic Mono does mention the inclusion of a consultation with a surgeon in Turkey as part of their package, which is a positive aspect. However, it would be helpful to have more specific information about whether this consultation occurs before the surgery or only after it, as some reviews have suggested.
There is no explicit mention of nutrition advice and supplements in the information provided on their website. Similarly, there is no mention of a pre-operational kit being included as part of the package.
One aspect that Clinic Mono Istanbul takes pride in is its Mono Aftercare Villa. Depending on the package you select and the amount you pay, you may have access to this villa during your stay. While this may seem appealing, the devil is in the details.
The accommodation package covers three nutritious meals in the Aftercare Villa if you choose to stay there. However, if you opt for the partner hotel, meals may not be included, which could be a significant factor to consider when planning your budget.
Clinic Mono Istanbul offers what they term "VIP transfers" for all patients arriving at Izmir airport, regardless of the day or time. This sounds impressive, but it's crucial to assess the practicality of this service.
They mention the presence of an interpreter who can communicate in English, Swedish, and German 24/7 during your stay. Effective communication is a priority in any medical setting, especially when you're in a foreign country.
Additionally, Clinic Mono Istanbul provides access to English-speaking staff throughout your stay. Having staff who can assist in your preferred language can alleviate concerns and ensure a smoother experience.
While they emphasize the Operations Department's readiness to answer questions about your itinerary, they also mention a Patient Rights Department. This department comes into play if you have any dissatisfaction related to your operation after returning to your home country. While this is a reassuring aspect, it raises questions about the potential reasons for dissatisfaction and how they are handled.
Clinic Mono Istanbul tries to emphasize its commitment to providing high-quality treatments with advanced technologies. While their website mentions these advanced technologies, it doesn't specify the exact technologies used, such as Laser Measured Hairline or Density Measurement, which can be a concern for potential patients looking for details about the procedures.
The clinic appears to prioritize patient comfort. They mention that patients have access to a Luxury Aftercare Villa stay, centrally located hotels, and well-organized transfer companies. This suggests that they are attentive to patients' needs both during and after their treatment. However, it's important to note that while they mention comfort amenities like ergonomic chairs and beds, entertainment, and meals, the specific details of these amenities are not provided on their website, leaving potential patients with some uncertainty.
While they state their commitment to high-quality medical services, the specific measures they take to ensure hospital-level sanitation and guaranteed operation are not detailed on their website. Transparency regarding sanitation and hygiene protocols is crucial, especially in medical settings, to reassure patients of their safety.

Surgery & Doctor Involvement
Clinic Mono's website provides a general overview of the various hair transplant procedures they offer, which include FUE hair, DHI, moustache transplant, beard transplant, eyebrow transplant, FUT hair transplant, afro, micro FUE hair transplant, sapphire FUE hair transplant, mesotherapy, and sideburn transplants. However, their website lacks specific details about the surgical team, the availability of a translator during the surgery, or the use of needleless anesthetics.
The website does describe a typical hair transplant process. While these details provide a basic understanding of the hair transplant process, patients may still have unanswered questions about the surgical team's qualifications, the presence of a translator, or specific techniques used. 
Some patient reviews on findhospital.com have raised concerns about not knowing their surgeon until the surgery room, which can be a source of uncertainty and discomfort for prospective patients.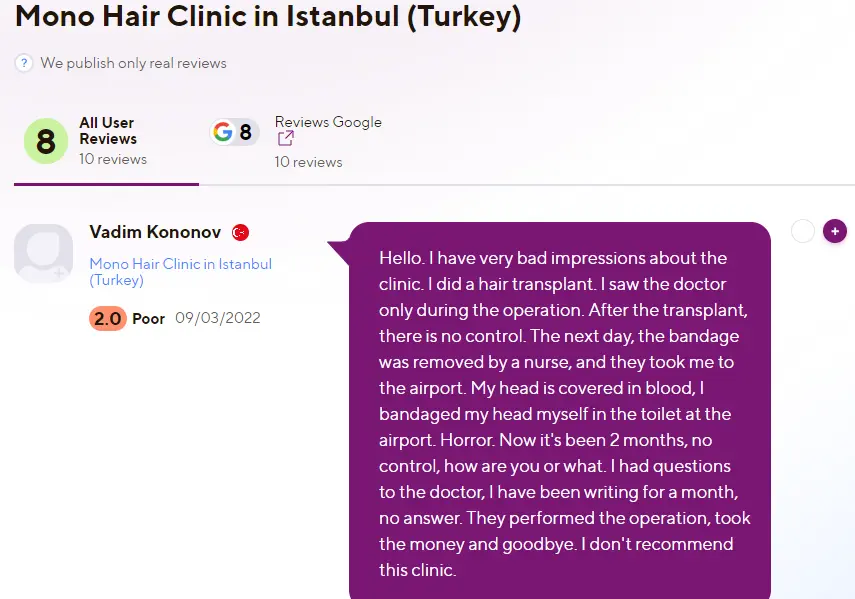 Clinic Mono's website does not explicitly lay out the specific details of its aftercare package. Nonetheless, we can make some inferences based on the information provided.
The website hints at Clinic Mono offering an "all-inclusive hair transplant" treatment package. However, it leaves some questions unanswered regarding the exact components of this package. It's unclear whether this comprehensive package includes amenities like neck pillows, specialized hair vitamins, shampoos, or lotions to support post-operative care.
The hair transplant page on their website does mention that patients receive instructions for post-operative care after the procedure. This suggests that while they provide guidance on caring for the transplanted area, it may not extend to assistance with the initial hair wash or other specific aftercare services.
Although their terms and contract highlight that patients have access to their aftercare villa for 3 days and 2 nights, this appears to sum up the aftercare package. Any extension of the stay beyond this period may entail additional costs.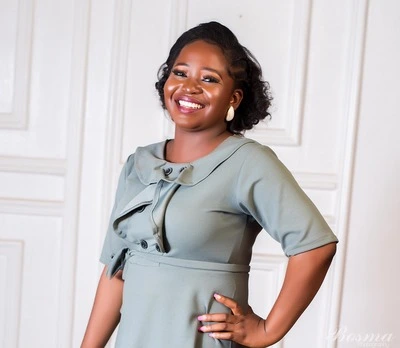 We Rate Mono Clinic Turkey
Based on the comprehensive assessment of Clinic Mono Istanbul, it's evident that there are both positive and concerning aspects to consider. On the positive side, Clinic Mono demonstrates responsiveness and accessibility, providing multi-language support for patients. They offer a variety of hair transplant procedures and mention the availability of post-operative care instructions.
However, there are several notable concerns. The lack of transparency regarding the hair transplant surgical teams and the need for clearer pre-operative information raise questions about the overall patient experience. Additionally, the convoluted terms and conditions, particularly the stringent cancellation policy, may deter potential patients.
Certain reviews have alleged that Mono Clinic presented them with a contract containing clauses that prohibit the expression of negative feedback regarding their procedures, under the threat of potential legal action. If these claims hold, it does raise suspicions. If the quality of their procedures is indeed exceptional, one might question the necessity of such measures to enforce silence among patients.
In terms of aftercare, while some aspects are hinted at, such as post-operative instructions and access to the aftercare villa, the complete aftercare package details remain unclear. Considering these factors, Clinic Mono Istanbul appears to have room for improvement in terms of transparency, communication, and clarity on various aspects of its services. Prospective patients should engage in thorough research and direct communication with the clinic to address specific concerns and expectations before making a decision.
Get a free hair loss report today and make sure you get fair offers from clinics
What do others think about

Mono Clinic Turkey?
Mono Clinic Patient Reviews
4.8 out of 5 stars (based on 970 reviews)
FDL tummy tuck
I had a recent FDL tummy tuck at Mono clinic. Had such a great experience. My patient liason Can was superb and could not do enough to help. From being picked up from the airport to when I left it was a thoroughly first class service. Cannot recommend Mono enough to anybody who is thinking about surgery.
I'd like to thank mono clinic
I'd like to thank mono clinic for a wonderful time, and Burak and Gizme for taking care of my teeth and especially Beste whom helped me all the way answered all my question and made me feel like home I honestly don't think it could've gone any better the food was nice the hotel was lovely 10/10 experience will absolutely recommend to everyone. And I'm so happy I choose Mono Clinic
Dental care
I have just returned home from having quite major surgery on my jaw at clinc mono I was pleasantly surprised at how efficient and fast the first procedure was carried out.
very professional mono clinic
Had to have all upper Inplants and teeth 4 Monday until 8 September had a young lady name was Beste with her beautiful smile waiting to great me at mono clinic Izmir , I was pleased to see her she advised me that she will be with me all the way during my operation . I was glad that I had her as I was on my own she really made me feel confident , talked to me all the way through the procedure explaining to me what will happen on a daily bases . The young lady was wonderful considerate, kind , caring thank you Beste for showing me compassion is my time of need I wish u all the best in ur life and will recommend mono clinic to others , The dentist , his assistant were very friendly, professional all the way through .i was made to feel very comfortable thank you to Beste I don't know what I would of done without you , from the bottom of my heart best wishes to Beste for the future and thanks to all at the clinic . Kind regards I valli
Amazing Team
I have had an incredibly emotional experience with Clinic Mono. I would like to give credit to Cagatay, Ceren, and Hazel. You guys have truly been so wonderful. You have offered me a tailored experience to suit my needs and have been extremely kind, empathetic and generous towards me. Thank you so much Clinic Mono. Truly brilliant!
AMAZING EXPERIENCE AT MONO
After choosing mono for my breast augmentation, I have to admit I was a little nervous upon arrival but I had absolutely no need to feel nervous about anything. From being picked up at the airport to being dropped off to leave after my surgery, my whole experience was second to none. Furkan was amazing from start to finish, he even brought me snacks after my surgery. My surgeon Dr Erin and his assistant Mazlum were amazing, they explained everything about my surgery and what to expect and made me feel very much at ease through the entire stay at the hospital. I took my mum with me and they treat her amazingly well too, after my surgery and my return back to my hotel I was visited regularly by the aftercare team Nese and Busem who were also amazing. I would recommend anyone to choose mono clinic for any surgery.
the mono clinic was beautiful
the mono clinic was beautiful. the doctor cağlar ertekin was perfect. nazim bey as well, he helped us a lot with everything and made us feel very comfortable with everything. nazim bey got involved with our questions and took enough time to answer our questions in detail.
I went to mono to get my teeth…
I went to mono to get my teeth done….little did i know i had to have bone structure and membrane to have my implants fitted…. the guys were great made sure they went over everything with me … and as for beste she was with me all the way …. even while i was having my treatment .. always messaging to make sure i was ok. I have to go back but so far so good.
The experience at Monoclinic was…
The experience at Monoclinic was wondeful. I met a lot of kind and professional people who guided me in all the experience. I want to mention Busem, Beste, Mustafa and the best "gentile" medic Cagri Dereli.
DO NOT TRUSY THIS HOSPITAL WITH…
DO NOT TRUSY THIS HOSPITAL WITH SURGERY!!!!
Very recommended
Very recommended. Had a great experience
Wir waren super zufrieden bei…
Wir waren super zufrieden bei monoclinic.. Unser Ansprechpartner Nazim hat alles super gemacht.
Leave your own MONO HAIR CLINIC review
Get a free hair loss report today
Mono Clinic
Background Information
Clinic Mono Has Over 21 Doctors
Clinic Mono Turkey's website highlights seven different doctors with various expertise. However, the website does not give detailed information about which doctor was an expert in hair transplant surgery.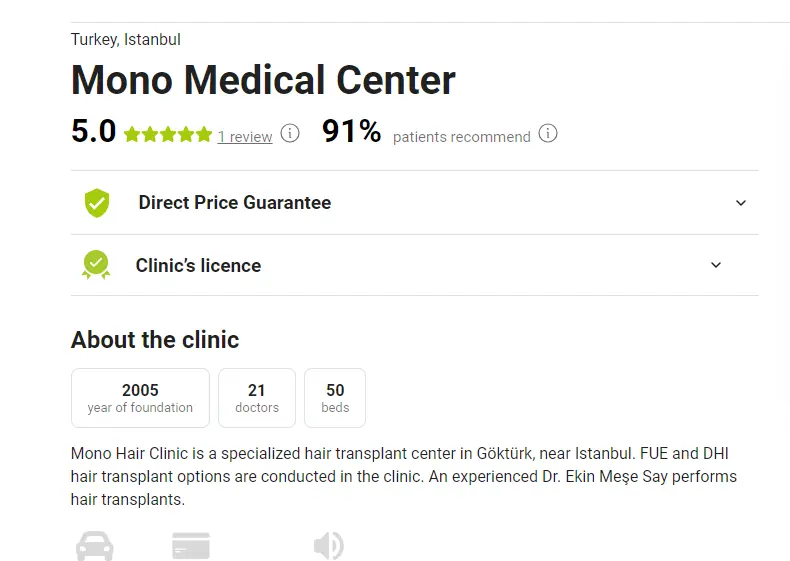 Among the featured experts, we have M.D. Eren Ersöz, M.D. Merve Özkaya Ünsal, M.D. Deni̇z Yildirim, and M.D. Nazmi̇ Yoğurtçu, all of whom are recognized for their proficiency in plastic and aesthetic surgery. Dt. Çağri Dereli̇ and Dt. Alper Temi̇z are renowned for their expertise in cosmetic dentistry. M.D. Çağlar Erteki̇n's specialization lies in general and bariatric surgery.
While the broad category of aesthetic surgery may encompass various procedures, including hair transplants, a closer examination of these doctors' profiles on the website does not reveal any specific mentions of their involvement in hair transplantation surgery.
Intriguingly, during our research, we came across a different website that referenced Dr. Ekin Meşe Say as a specialist in hair transplantation. This disparity in information raises questions about the accuracy and consistency of the details provided on Clinic Mono Turkey's website.
Additionally, it's worth noting that our investigation revealed the existence of approximately 21 doctors associated with Clinic Mono Turkey. This discrepancy between the number of doctors on the website and the actual count suggests that the website may be outdated or incomplete.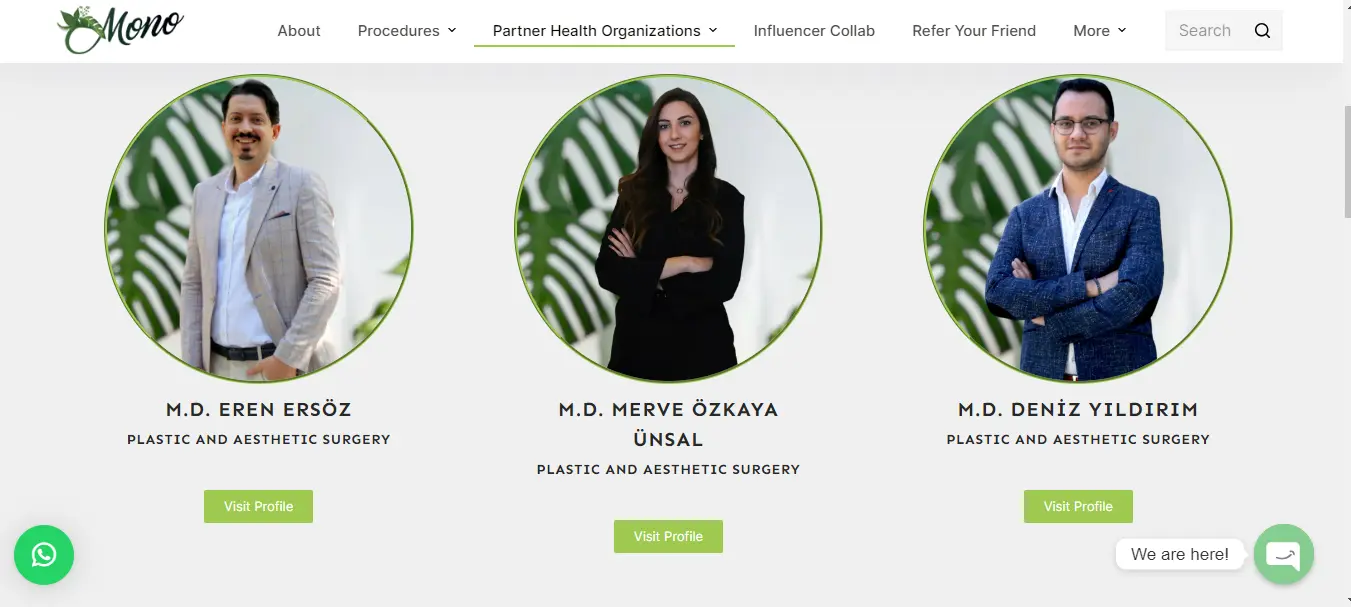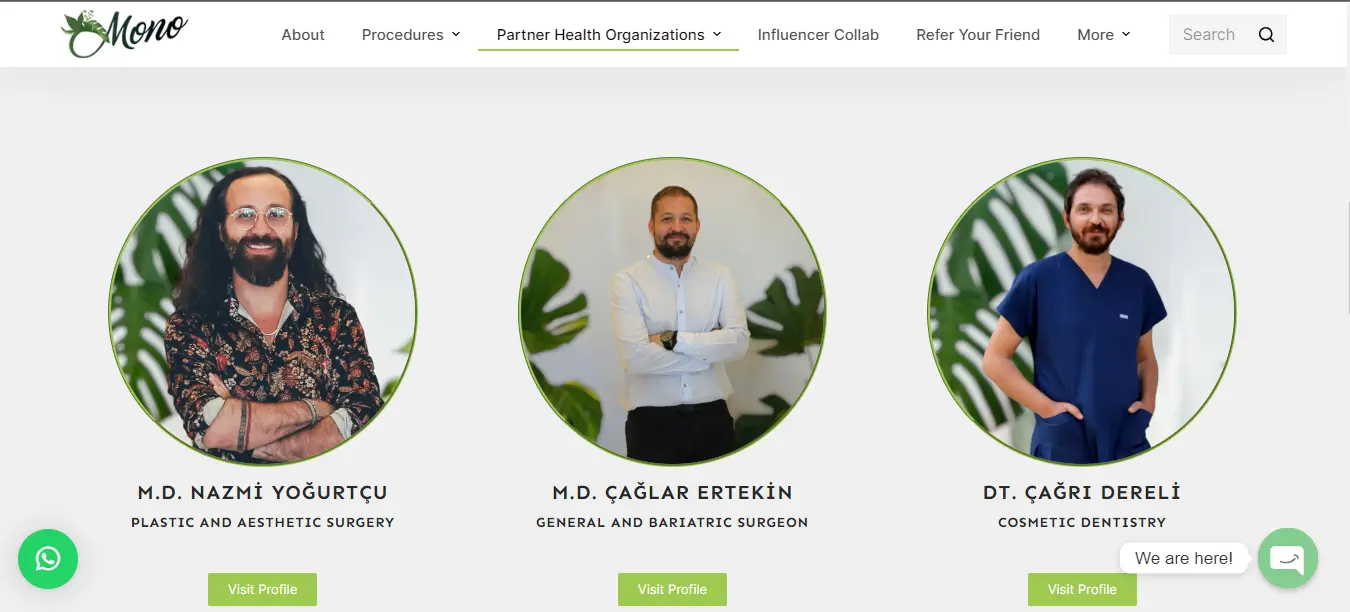 Before and After Pictures
Mono Clinic Turkey Before And After Results
Mono Hair Clinic Istanbul has several hair transplant before and after photos, both on their website and on social media.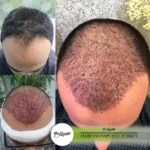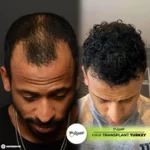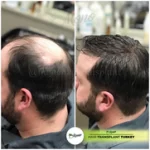 Getting a Hair Transplant in Istanbul Was Never Easier
Mono Clinic Hair Transplantation Procedures
Some of the hair transplant methods and treatments highlighted on Mono Clinic's website include, FUE hair transplant, DHI hair transplant, facial hair transplant, (moustache and beard) transplant, eyebrow transplant, FUT hair transplant, afro hair transplant, micro FUE hair transplant, sapphire FUE hair transplant, mesotherapy, and sideburn transplants.
Mono Clinic hair transplant cost and price - What is included in the hair transplant package?
Clinic Mono's website does not clearly explain what comes with the £1,750 to £3,500 price tag, besides the procedure. However, if you have the time to untangle the very clumsily written terms and contracts, then you'll be able to see what your package may include.

A typical package offers:
Be the first to grab our all-new e-book
Before you can truly commit to a hair transplant it is important to understand hair loss. Together with the experts at IdealofMeD, we wrote an e-book explaining everything you need to know about hair loss. From hair loss causes to practical tips on how to deal with hair loss and the best hair loss products.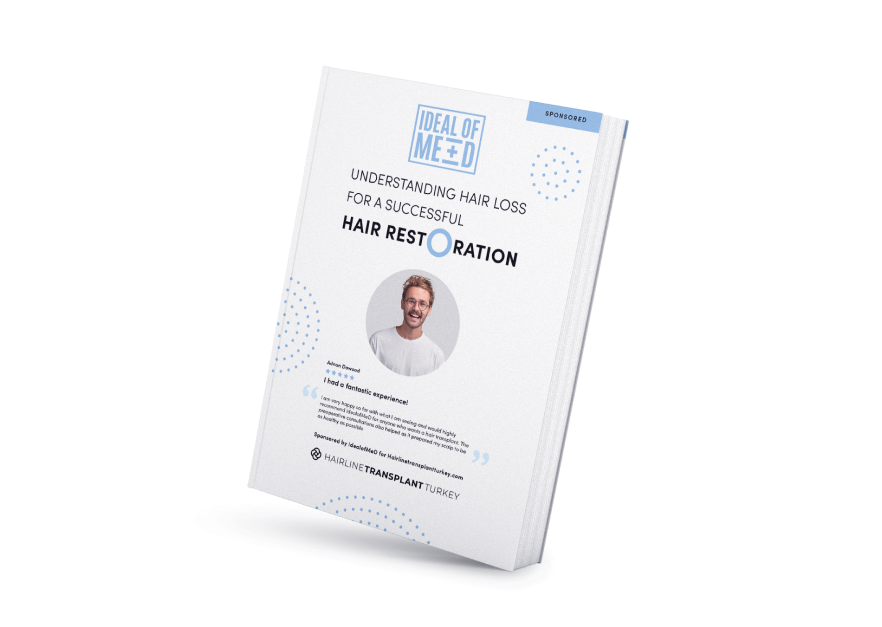 Yes, Mono Clinic is on IG. They also have Facebook, TikTok, and LinkedIn accounts
Yes, Mono Clinic Turkey performs surgeries in a hospital.
Yes, they have an A-License. Their website mentions that they operate in a regulated EU-accredited private hospital, and they have an A-license, which is regulated by the Turkish government. This suggests that they meet the necessary legal and regulatory requirements for performing medical procedures.
Contact Hairline Transplant Turkey
Our team of experts are always here to help you. You can call us or fill the contact form for any questions about hair transplantation cost or procedure. We are more than happy to assist you. You can also leave your contact information, and we'll give you a call.
Let us answer your questions