Hermes Clinic Turkey Reviews
Expert review from Joanna Okedara-Kalu (2023) + Patient reviews collected bi-weekly from:

Hermes Clinic Turkey acts as a middleman that connects patients needing hair transplants with doctors who can perform the procedure. However, if Hermes Clinic Turkey's bad reviews are anything to go by, then patients may fall into some unexpected financial discrepancies. Are there some truths to these negative reviews? Should you try Hermes Clinic at all?

Hermes Clinic Istanbul Content:
Hermes Hair Clinic Rating
Hermes Clinic Izmir Review Summary
This review was published in September 2023. We have also added user reviews and the possibility for you to leave your review directly. If you wish to engage with former patients of Hermes Clinic Turkey, share your thoughts on the Hair Back App.
Our Experience With Hermes Clinic: Step-by-Step
It took a lot of work to find the Hermes Turkey website – mainly because there is another clinic called Hermest Hair Clinic, also in Turkey. So, our first search for Hermes Hair Clinic took us to Hermest instead. 
Like the hair transplant clinics we reviewed in the past, such as Sule Hair Clinic, Mono Clinic, and Onep Clinic Turkey, Hermes Hair Transplant Clinic has a WhatsApp chat head that makes it easy to communicate directly with their support team.
Besides WhatsApp, there is a quick contact form that allows you to fill in your contact details, the procedure you are looking for, and the communication method you prefer (Zoom, WhatsApp, phone call, or Google Meet). You can even take advantage of the live chat functionality on their website. 
As we reviewed the Hermes Clinic website, one thing stood clear to us, there was no mention of hair transplant in Turkey as part of their services. From the main menu and footer menu to the services page and about us page, there was nothing like hair transplant procedures on the website.
Do they perform hair transplantation at all? If they do, their website is silent about it. 
Another thing we noticed is that their website is very slow. It takes a few minutes to load and some menu links do not work. Additionally, some part of the Hermes Hair Clinic Istanbul's website is also not in English.
From what we've seen so far, it seems Hermes Clinic is a third-party medical agent that partners with several doctors and hospitals for different medical procedures. So, in actual fact, Hermes Clinic is not a hair transplant hospital in Turkey, but a middleman that directs people in need of hair transplants in Istanbul to doctors who can perform the procedures.
When we reached out to the Hermes Clinic team on WhatsApp, there was a fast response. Their support team was prompt and had a templated response for each question asked.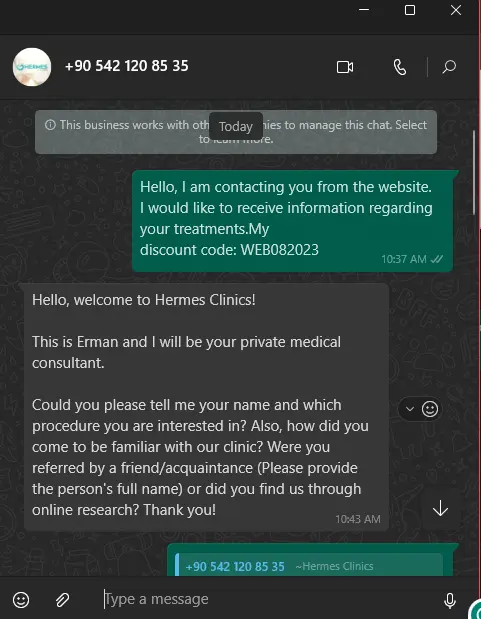 Hermes Clinic Izmir appears to have a fairly straightforward booking process, but it's not without its drawbacks. While their website offers a contact form for booking an initial online consultation, the lack of information about their hair transplant procedures on their site is a significant drawback.
During the online consultation, you'll interact with one of their in-house medical consultants. They'll inquire about your medical history and the procedure you're interested in. According to their website, they should provide you with details about your treatment plan and answer your questions about the procedure.
However, our experience was less than ideal. We did have a medical consultant who asked about our medical history, but we didn't receive any substantial details about the procedure. Instead, we were informed that they needed to consult a doctor before discussing the hair transplant price or package plan with us.
While it's understandable that they want to ensure your safety and tailor the treatment to your needs, the time we spent waiting for a response left us feeling impatient. At that time, we could have explored other hair transplant clinics in Turkey, such as IdealofMed, which offers a more streamlined approach to consultations and pricing discussions.
This delay and lack of transparency in the initial consultation process may not sit well with individuals seeking quick and decisive answers when considering a hair transplant clinic. Clinics need to strike a balance between thoroughness and efficiency to meet the needs of their prospective patients.
Top Rated Clinics in Turkey September, 2023
IdealofMeD
#1 Clinic in Turkey (4.33 / 5.00)
Asmed
#2 Clinic in Turkey (4.20 / 5.00)
Cosmedica
#3 Clinic in Turkey (4.00 / 5.00)
Pre-Operational Consultations
Our exploration of Hermes Clinic Izmir's pre-operative processes revealed both positive and negative aspects. While the clinic offers a variety of communication platforms for initial contact, allowing for quick responses, a key positive, it becomes evident that their consultation process is thorough and personalized.
You'll interact with a private medical consultant who will address your concerns and design a treatment plan based on your medical history and expectations. This level of attention to detail is reassuring for prospective patients.
However, we faced certain uncertainties in our investigation. Hermes Clinic Izmir doesn't provide a clear itinerary before the trip, leaving us without a structured timeline from booking to surgery. This lack of transparency can create some confusion for patients planning their journey.
Another drawback is the absence of information regarding the possibility of rescheduling bookings for free before the initial consultation. Flexibility in this regard is essential for patients whose circumstances may change.
Furthermore, while Hermes Clinic excels in personalized consultations, it falls short in providing guidance on nutrition advice, supplements, or a pre-operational kit, which can be crucial for optimizing results and preparing for the procedure.
Hermes Clinic Izmir does its best to offer a personalized pre-operative process that includes personalized treatment planning, convenient booking, and excellent aftercare. However, the lack of specific timelines at certain stages may leave patients feeling uncertain about the process.
When it comes to Hermes Clinic Izmir's arrangements for arrival and accommodation, our investigation has revealed some notable points.
On the positive side, the clinic claims to provide VIP transfers from the airport, ensuring patients are picked up promptly upon arrival. However, based on a customer review, there seem to be inconsistencies in the quality of this service. 
Some patients have reported long waiting times and subpar vehicles, which is not aligned with the promised VIP experience. This inconsistency raises concerns about the reliability of the clinic's arrival arrangements.
Moreover, when it comes to hotel arrangements, Hermes Clinic Izmir appears to have overlooked certain details. The review we encountered mentioned a booking hiccup where the patient was provided a single bed in their hotel room despite expecting otherwise. 
Regarding accommodations, the clinic does not specify if they arrange stays in 5-star Western standard hotels. Clarity on this matter would be reassuring for patients seeking a comfortable and convenient experience. The duration of the standard stay also remains unspecified.
As we already established, Hermes Clinic is just a third-party health agency, so they depend on partner hospitals for their facilities. According to what's on their website, Hermes Clinic Turkey partners with four medical facilities – Nova Dental Clinic, Dr. Fatma Soysuren Clinic, Medikal Park (Pendik), and Medikal Park (Bahçelievler).
Again, we could only access the link to Nova Dental Clinic. The remaining links were not clickable. It's not clear which facility is used for their hair transplant in Turkey procedures.
It is worth mentioning that Hermes Clinic has an A-license and is regulated by the Turkish government.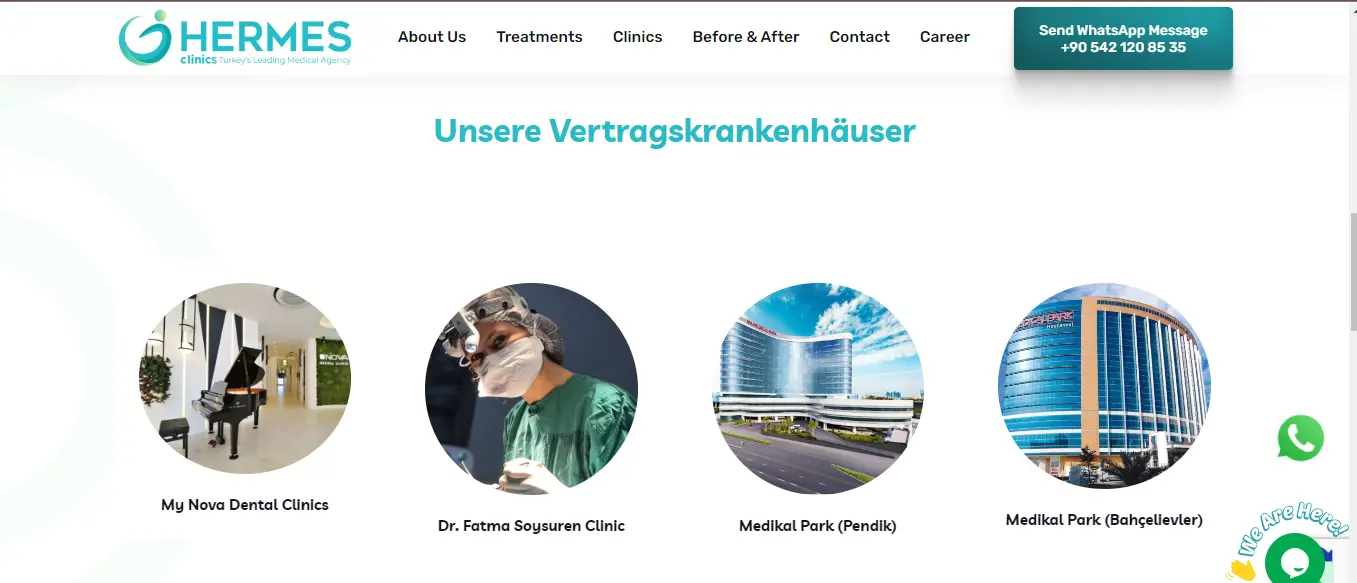 Surgery & Doctor Involvement
Hermes Clinic collaborates with multiple doctors and nurses, yet the selection process for these partnerships remains somewhat obscure. The presence of various medical professionals can provide patients with choices, but it also raises pertinent questions regarding the clinic's criteria for choosing these partners.
One notable concern we uncovered in our exploration of Hermes Clinic is the potential for patients to incur higher costs than the actual treatment expenses.
In such cases, Hermes Clinic might retain the excess as profit, creating a situation that raises issues surrounding transparency and financial discrepancies. These circumstances could leave patients unaware of the actual pricing structure for their treatments, potentially leading to financial surprises.
Hermes Hair Transplant Clinic offers the convenience of connecting patients with qualified medical practitioners – no arguing that fact. However, the lack of clarity in pricing and the possibility of increased expenses due to third-party involvement should be carefully considered when deciding on healthcare services.
Regrettably, Hermes Clinic Izmir seems to be lacking in transparency when it comes to their aftercare processes, particularly concerning hair transplant procedures. Strikingly, we found no specific information about their hair transplant aftercare process on their website, leaving potential patients in the dark about what to expect post-surgery.
To shed some light on their aftercare, we turned to general information gathered from aftercare processes for other procedures. Unfortunately, this approach doesn't provide a clear picture of the unique aftercare Hermes Clinic Izmir offers its hair transplant patients.
Notably, we couldn't ascertain if the clinic provides additional support such as hair vitamins, which can be crucial for post-transplant recovery, as seen in the practices of clinics like IdealofMed. Furthermore, the absence of details about amenities like neck pillows, similar to those provided by ASMED, leaves us with uncertainties regarding patient comfort during the healing process.
While Hermes Clinic Izmir's website briefly mentions aftercare services, the lack of specific information makes it challenging to evaluate the comprehensiveness and quality of their post-surgery support. Patients considering Hermes Clinic Izmir for hair transplant procedures should seek further clarification from the clinic to ensure their specific aftercare needs are met.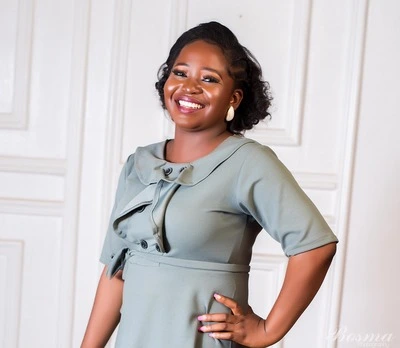 We Rate Hermes Clinic Turkey
Hermes Clinic Izmir presents mixed feelings when considering them for hair transplant procedures. While they excel in providing various communication platforms for initial contact and a personalized consultation process, several drawbacks raise concerns.
Firstly, the lack of a clear itinerary before the trip may lead to confusion and uncertainty for patients. The absence of information regarding the possibility of rescheduling bookings for free before the initial consultation limits flexibility for those with changing circumstances. Additionally, the clinic falls short in guiding patients on nutrition advice, supplements, and a pre-operational kit, which are vital aspects of preparation.
Moreover, our investigation raises questions about the transparency of Hermes Clinic Izmir's pricing, with the potential for inflated costs. The practice of pocketing the difference between fees and actual treatment costs can lead to financial discrepancies and undermine the essence of using a third-party intermediary.
Given the lack of clarity on the packages included in their offer, patients may find it more prudent to directly engage with a hair transplant clinic where they can speak to a doctor from the outset. The hidden charges and potential extra costs associated with Hermes Clinic Izmir's services are concerning, as transparency and affordability are key expectations from third-party facilitators.
Get a free hair loss report today and make sure you get fair offers from clinics
What do others think about

Hermes Clinic Istanbul?
HERMES Clinic Patient Reviews
4.6 out of 5 stars (based on 357 reviews)
This was the best experience from…
This was the best experience from landing in Turkey, the hospital staff are so welcoming and are with you 24/7. You are never alone there's also Bulent the co ordinator he is amazing checks up on you and keeps you updated. Even one the last day the staff was still pleasant. Loved it.
The guidance and professional service…
The guidance and professional service has been beyond reproach. Each agent kept you abreast every step of the way and I loved how we were welcomed in Istanbul. Thank you Hermes team. I definitely recommend you
Everything was great and organised
Everything was great and organised. We had lots of care and fun at the same time.
If I could give a 0 out of 5 I would
If I could give a 0 out of 5 I would, my whole experience from this agency was a nightmare! From arriving to the airport I had to wait over an hour for someone to come and collect me (this was included in the package as a VIP transfer) the car that collected me was an old Renault with a missing rear bumper. Then arriving at the hotel, the reception said the Agency has booked me a single bed! I haven't slept in a single bed since I was 8 years old. The following day I get picked up to go the actual dentist clinic, where they first take X-rays, inspection and try to upsell you services. I got told I needed Botox, a night guard and a "deep clean" they charged me £200 pounds for this deep clean, when the treatment was carried out I quickly realised it was only a metal dentist hook which the dentist scraped in-between my 4 lower teeth. The whole process took less than 5 minutes, which anyone could do at home by flossing. I then had the stress of speaking to numerous people who worked at the company, Sarah, Burak and Can. Who I had to constantly argue with and explain that what they charged me wasn't worth the treatment I received. The "office bleaching" that was done did not have any effect on my teeth, I was then promised they would do an implant on the same visit, which I later on got told is impossible to do in one go. You can imagine what I had to go through to get the money back, I spend my whole 9 days in Turkey stressed to my eye balls arguing with these 3 people, anyway on my final visit to (the actual dentist clinic) which is called Nova, I finally seen the actual prices for the treatments, the so called "deep cleaning" they charged me £200 for, was actually only 40 euros. Hermes Clinic is an agency acting as middle men to take the customers to the Dentist Clinic (Nova) pay them the actual prices and pocket the rest as profit. PLEASE STAY AWAY UNLESS YOU WANT TO GO THROUGH WHAT I DID.
Extremely rude - "f¥$€ you" too
Extremely rude consultants are calling me after I said that I'm not longer interested because the pricing is not competitive. Especially one from 07458***123 phone number who said to me "f¥$€ you!". They want to collect all your medical data from you but no transparency in pricing! BEWARE
Wonderful staff
I booked with Hermes as the surgeon I wanted was working alongside them at the time. Alex one of the coordinators was great. He was always willing to answer any questions I had. My only issue with the process was the pick up from the airport but I can't really blame this on hermes as we were told to stand the wrong side of a pillar by someone outside of the airport. This made our pick up delayed around an hour. Once we were picked up and taken to the hospital I can not fault the care. The staff were amazing and the care received was second to none. The hospital staff from the surgeon to the cleaners were brilliant. Nothing was too much trouble. The Hermes agents checked in on us numerous times and were only a WhatsApp message away if we needed anything.
7 months post gastric sleeve
7 months post surgery, 100% healed with barely visible scaring. Great experience in a beautiful top class hospital. Felt welcomed by the whole from the beginning and having an interpreter on hand 24/7 made me feel relaxed and comfortable. Even lost surgery when feeling awful, the team listened to my needs and fulfilled them. 7 months on have lost 78lbs and results are fantastic. Still losing and the end goal is in sight! Thank you Hermes for making my experience the best I could have hoped for!
Unparalleled support and co-ordination from Hermes
I cannot speak highly enough of the team @ Hermes and the medical staff at VM Medical Park in Turkey. I went for my operation in Feb 2023 and to date have lost 6st 9 lbs. The private transfer was on time and comfortable and the booking-in process upon arrival was very straightforward and hassle-free. Tests, including blood, ECG, X-ray, and CT were all done the day before the operation to make sure you are okay to have the op, and all the results are discussed in-depth. Don't be afraid to ask questions as the staff are amazing and very knowledgeable and reassuring. The aftercare was very very good, with regular visits from nurses and consultants and positive reassurance and encouragement at every step. It is not a case of get you in, chop you up, and send you off. The staff really care about your journey and who you are, and this is evident in the service they provide. The aftercare does not stop when back at home. The team is in constant contact with you and regularly checks in for progress updates and if you need any assistance. I would like to thank you all for the help you have provided me on my journey so far and I would highly recommend Hermes for anyone looking to make a positive change in their life.
7 stars from me
Despite misgivings about going overseas for surgery i couldn't have been more pleased with the whole experience. The hospital put the UK private hospital I have been treated in to shame in terms of facilities and cleanliness. Nurses were caring and I had no issues with language difficulties. The AMAZING representatives from Hermes Clinics were always there to guide me through the numerous tests, far more than the NHS would do, and all completed in an afternoon.
Amazing from start to finish
I am very happy with the service that I received. From the minute I arrived in Turkey everything was just excellent. My coordinator Mervce was just amazing, I can't fault her at all. She was so helpful and made me feel at ease. My surgeon who performed my surgery Prof Samet was absolutely lovely, he came round most days to see how I was getting on. The nurses were so friendly and kept on top of my pain relief. This has been a life changing decision for me and I wouldn't of wished for a better company to have chosen
What an amazing Journey started 31st…
What an amazing Journey started 31st May 2023 in Turkey at the Hermes private hospital from start too finish. My start weight was 154kg 24stone am now a 122.5kg 19st 2lbs. With the Doctors and Staff at this incredible Hospital all outstanding and really really helpful and keep in contact with you after Surgery i bought them two big boxs of Chocolates all I can say too anyone who reads this is keep going and watch the weight come off remarkable energy feel so Confident my goal weight is 88kg which is 14st keep an eye out for another review from myself certainly do recommend Hermes Private Health Care the building absoultley spot less all state of the art equipment do book youre appointment. Once again thank you all at Hermes Private Health Care. And once again thank you too Mevce and Inda for making feel welcome and comfortable.
The first interaction I had with Hermes…I had an amazing experience
The first interaction I had with Hermes was with Basak, amazing lady.keeps all her promises, responds very quickly to my questions,till today.
Leave your own HERMES HAIR CLINIC review
Get a free hair loss report today
Hermes Clinic
Background Information
Hermes Clinic's team is led by Dr. Koray Soysüren. The team comprises various departments, including accounting, HR, marketing, sales, and medical coordination teams.
Their website has a page that has details about the qualifications of their partner doctors. However, we couldn't find a doctor who specializes in hair transplantation.
In total, we could count eight partner doctors on their website.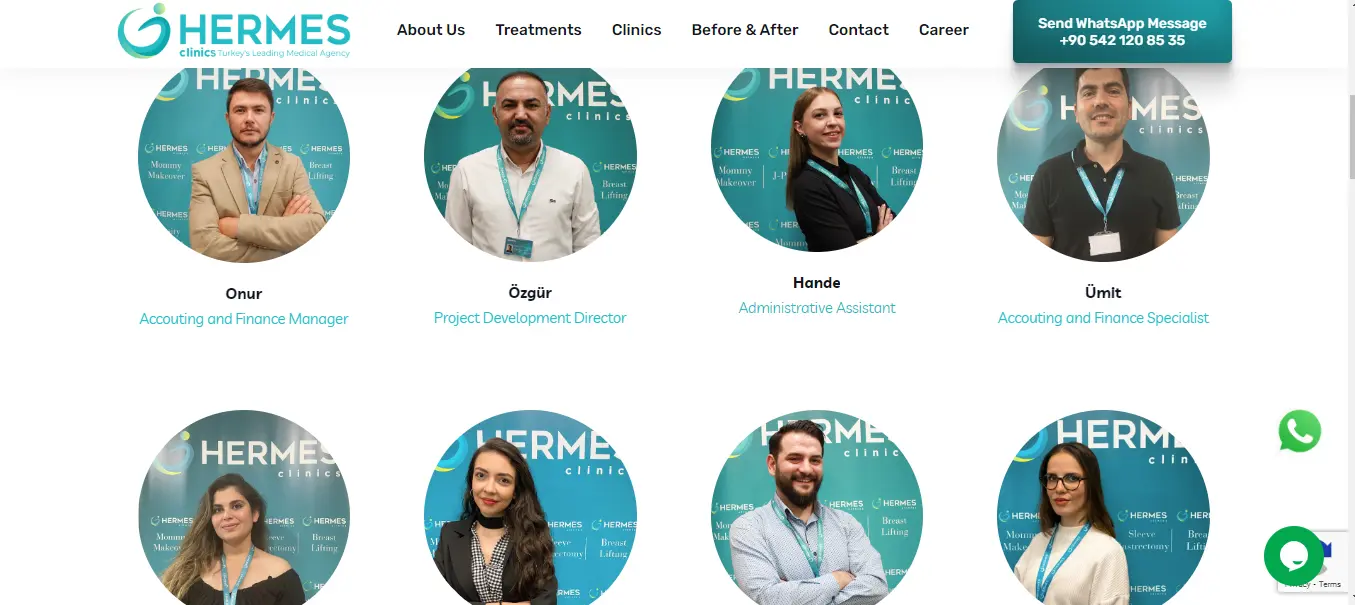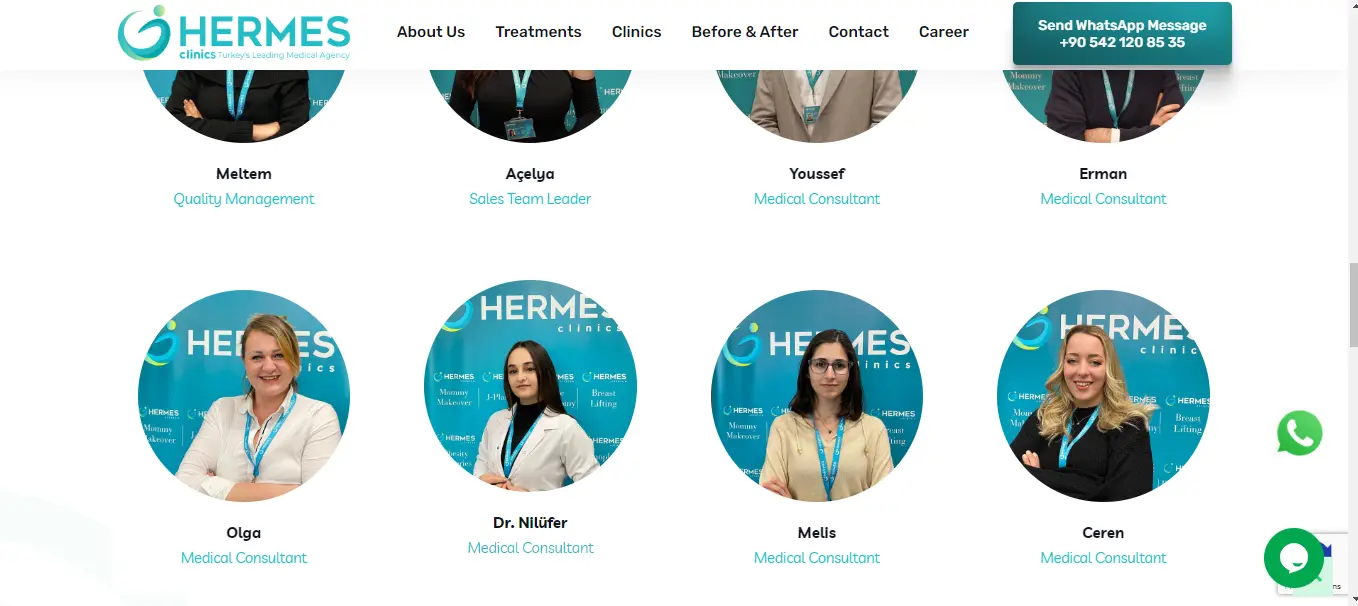 Before and After Pictures
Hermes Clinic Turkey Before And After Results
Unfortunately, we could not find any hair transplant before and after photos on Hermes Clinic Istanbul's website.
Getting a Hair Transplant in Istanbul Was Never Easier
Hermes Hair Transplant Clinic Istanbul Turkey Procedures
There was also no information about the hair transplant procedures and treatment methods on the Hermes Clinic website. You'll only find out the method of treatment after initial consultations have been made with Hermes' medical consultant and partner doctors.
Hermes Clinic Hair Transplant Costs, Available Packages, And Extras
Hermes Turkey prices for hair transplants are not set in stone. Based on our research, individual doctors will determine the hair transplant cost and this will be related to you after your consultation.
We couldn't find anything about hair transplants in Turkey price on the Hermes Clinic website. However, we found some information online about what Hermes Hair Transplant Clinic typically charges.
However, based on information from a different website and what previous patients have indicated, Hermes Clinic hair transplant costs ranges from $1300 to $2600. We are not certain what this hair transplant price covers and if extra costs will be incurred.
Be the first to grab our all-new e-book
Before you can truly commit to a hair transplant it is important to understand hair loss. Together with the experts at IdealofMeD, we wrote an e-book explaining everything you need to know about hair loss. From hair loss causes to practical tips on how to deal with hair loss and the best hair loss products.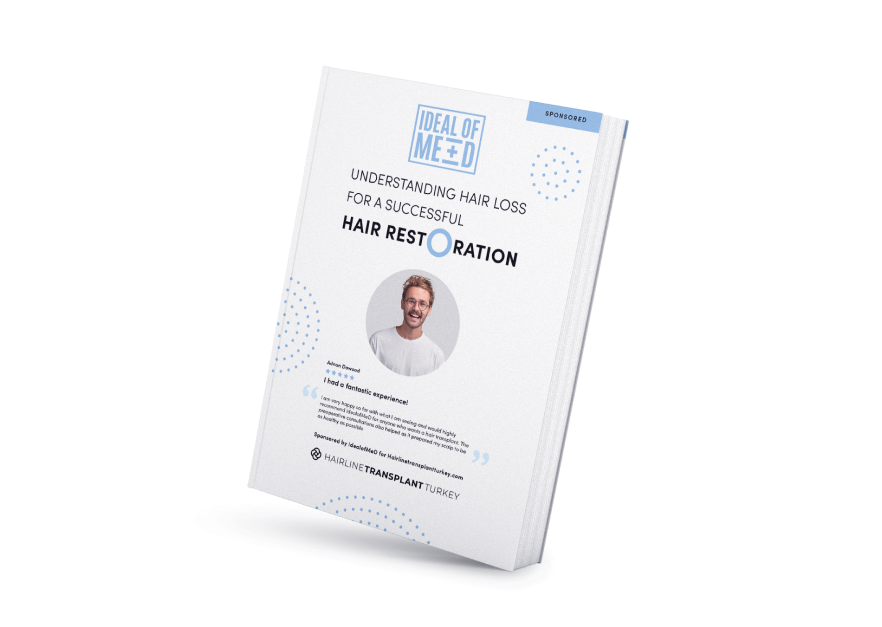 Yes, Hermes Clinic is on IG. 
No, Hermes Clinic does not perform surgeries. They work with hospitals and other facilities for surgeries.
Yes, they have an A-License. Their website mentions that they operate in a regulated EU-accredited private hospital, and they have an A-license, which is regulated by the Turkish government. 
Contact Hairline Transplant Turkey
Our team of experts are always here to help you. You can call us or fill the contact form for any questions about hair transplantation cost or procedure. We are more than happy to assist you. You can also leave your contact information, and we'll give you a call.
Let us answer your questions