Onep Istanbul Clinic Reviews
Expert review from Joanna Okedara-Kalu (2023) + Patient reviews collected bi-weekly from:

At first look, it was difficult to determine if Onep Plastic Surgery Center Ankara, actually offers hair transplant services. Their website has a lot of information about other medical and cosmetic procedures they perform, including, plastic surgery, breast surgery, rhinoplasty, mommy makeover, and even stem cell and genetic surgery. However, there was virtually no information about their hair transplant in Turkey. Onep International Clinic was established in 1981, however, does this translate to expertise in hair transplantation? Let's find out!

Onep Istanbul Hair Transplant Content:
Onep International Plastic Surgery Center Ankara Review Summary
This review was published in September 2023. We have also added user reviews and the possibility for you to leave your review directly. If you wish to engage with former patients of Onep International Clinic Turkey, share your thoughts on the Hair Back App.
Experience With Onep International Istanbul: Step-by-Step
Our first impression of Onep Istanbul's website was not great. The interface was difficult to navigate, the menu took a moment to understand, and it took a while to know what goes where.
Besides these navigation issues, some parts of the website were not in English. Yes, they tried their best to have the multilingual functionality, but, we guess they forgot to edit some elements manually.
Just like our experience when we reviewed Mono Clinic Turkey, Onep Plastic Surgery Center Ankara had a fast response time on WhatsApp. Their customer support system seems great and when we inquired about their hair transplant services, it felt like they knew what they were doing.
One issue we ran into, however, is that Onep International Clinic has two different websites, with two different logos. So, it was difficult to know which website had the current information about their procedures.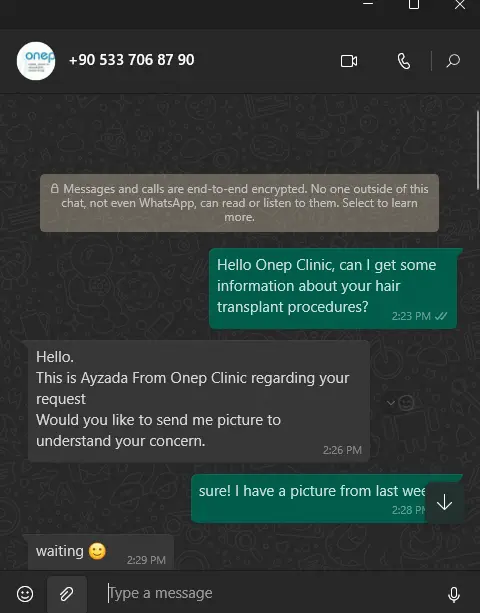 The first website looked scanty. However, it had some information about the medical trip plan and arrival procedure. We also found some generic details and videos about hair transplantation, but nothing about Onep International Clinic's hair transplant procedures or treatment methods.
On the second website, the one with the font and language issues, there was simply nothing about hair transplants in Turkey. The website listed other services in detail, but maybe the hair transplantation service was lost in translation.
Again, we are sure they perform hair transplant surgeries because we reached out to them on WhatsApp and they explained and gave details about their procedures. We just couldn't find anything on their website.
The booking process on the first Onep Istanbul website looks pretty straightforward. There is a contact form you can fill out. However, when we filled out the form, we did not receive any email to confirm the receipt of our form.
When we reviewed the second website, we found out that Onep's consultation was not free, although we are not sure if this applies to their hair loss consultation as well.
Onep's doctors request an examination fee for the first interviews. The lead doctor, Prof. Dr. Onur Erol examination fee is about 1500 TL, and you have to pay this fee even if you haven't made your final decision to do the procedure yet.
Now, this examination fee is not even fixed in stone. Each doctor on their team has the liberty to charge you as they deem fit. They do not mention if your money is refunded if you cancel.
On the plus side, once you pay the initial examination fee, you don't have to pay for post-operative consultations for up to two years. All of their post-operative checks are free of charge
We couldn't find any details of a hair transplant price list on their website. According to them, "It is not considered appropriate to provide information about aesthetic prices on the internet and it is not considered "ethical behavior" to provide information about prices on the web. So we couldn't find any price list or hair transplant packages like we found on Sule Hair Clinic, IdealofMed, ASMED, and other hair transplant clinics in Turkey.
In other words, it is only after this consultation that you get the price list for your hair transplant procedure. Just imagine you live in London and have to travel to Turkey before knowing the hair transplant cost. What if it is beyond your budget? Well, you get to enjoy some sightseeing and Turkey's landscape.
However, we got a rough estimate of what a typical hair transplant with stem cell treatment may cost through our chat with their team on WhatsApp. You can expect to pay about €5000 for stem cell treatments. But this does not cover hotel accommodation or any other package inclusions.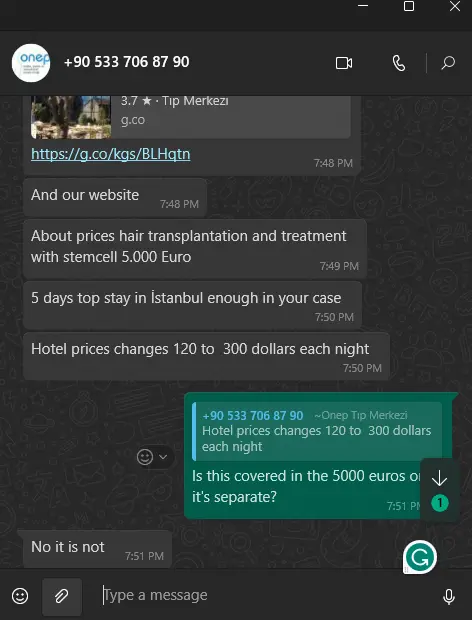 Top Rated Clinics in Turkey September, 2023
IdealofMeD
#1 Clinic in Turkey (4.33 / 5.00)
Asmed
#2 Clinic in Turkey (4.20 / 5.00)
Cosmedica
#3 Clinic in Turkey (4.00 / 5.00)
Pre-Operational Consultations
The only information we could find about Onep International Clinic's pre-operative processes was summed up in less than 100 words of grammatical errors and typos. Unlike other hair transplant clinics we've reviewed in the past, the only thing that is clear here is that you'll get a personal driver and an English interpreter who will guide you, handle logistics, and help you select one of several luxurious hotels in Turkey.
Now, while we couldn't find their price list and packages, we are sure that you'll pay for the initial examination and pre-operational consultations. If during the initial examination, you could not decide if you wanted the procedure or not, then you can reschedule the consultation for free.
What we are not sure of is if you can reschedule the booking before the initial examination. Onep's website carried no information about nutritional advice or hair vitamins. We also couldn't find any information about their preoperative kit.
As we mentioned earlier, Onep Clinic provides a personal driver and an English Interpreter. However, we are not sure if there are VIP transfers from the airport.
According to one of their websites, your accommodation is sorted out in advance, but it's not clear the number of days or nights you'll get at the hotel. However, our chat with their team reveals that their package does not cover hotel accommodation or flights.
Besides the €5000 you'll pay for the hair transplant and stem cell treatments (if that's the method you opt for), you will be expected to cater for your accommodations at additional costs of up to €120 – €300.
We also found that their surgeries are performed on an outpatient basis. Why? They have "technology that allows patients to recuperate in their homes". So, no overnight stay provisions at their medical center.
Onep Istanbul has a modern clinic of over 1200 square meters. Well, that's all we found about their facilities. That, and the mention of state-of-the-art technology. Which one? They didn't mention it.
On the plus side, we are certain the clinic has an A-license and is accredited by the Government. But, the lack of information and transparency leaves room for doubts.
Surgery & Doctor Involvement
Onep Istanbul's website has enough information about their medical team. However, that's just about it. We couldn't find details about their hair transplant surgery.
On the plus side, most of the experts on the medical team are multilingual and can speak English. But, we wish we could have found more information. There is just not enough transparency with this hair transplant clinic in Istanbul.
According to their website, Onep offers free post-operational consultations for up to two years. The clinic also offers easy payment options – installments and financing options.
We also couldn't get details about what is included in their aftercare package.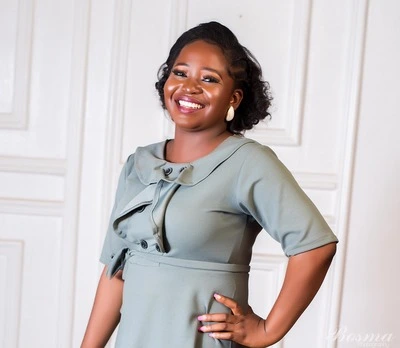 Onep Plastic Surgery Center Ankara have some upsides but also notable downsides.
Their websites could use a serious revamp. They're not the easiest to navigate, and language barriers can be frustrating. On the bright side, they're responsive on WhatsApp, which helps clarify things.
There's a bit of confusion with two different websites. One has info about medical trips but lacks specifics on hair transplants, while the other is a linguistic puzzle with no hair transplant details. But don't worry, they do offer hair transplant services, as confirmed through WhatsApp chats.
Booking is straightforward, but the lack of email confirmations is a hiccup. They charge an initial examination fee, but refund policies are unclear. On the plus side, post-op consultations for two years are included, although the hidden price list might be a budget concern.
Pre-op details are scarce, and information about rescheduling and pre-op kits is missing. Arrival and accommodation are a bit murky, with unclear stay durations and possible additional costs. Surgeries are outpatient, which is convenient.
The clinic is modern and accredited, but facility specifics are elusive. Transparent information about their surgery process is notably absent. They offer free post-op consultations for two years and flexible payment options, but aftercare details aren't clear.
In summary, Onep International Clinic have potential, but their websites need a facelift. Pricing and pre-op info need transparency, and accommodation details should be crystal clear. It's wise to communicate thoroughly before making a decision.
Get a free hair loss report today and make sure you get fair offers from clinics
What do others think about

Onep Clinic Turkey?
ONEP Clinic Patient Reviews
5 out of 5 stars (based on 8 reviews)
Amazing Professionals
This clinic is Best in Istanbul. Stuff and service we did get was out of this world. They are so caring and kind. Me and my husband did stem cell therapy for face and genitals since then we are so happy🤩.
Staff behavior and care is outstanding
Staff behavior and care is outstanding
I am very grateful to Dr Firat for my…
I am very grateful to Dr Firat for my blepharoplasty and pixie ear surgery and Dr Cengiz for my second nano cell facial injections .
hair transplant
My experience at onep Clinic, before I did hair transplant, they said I could only do 3000 grafts, it turned out that I could do more than 4500 grafts, I was very happy
Recommended Stemcells Treatment
Excellent treatment of stemcells that has rejuvenated my skin making it look fresh & glowing😍 my face looks lifted & younger😍This is result of 1 session & I am looking forward to another 2 sessions that will make a tremendous change. Stemcells for hair, knees, scars has also been very effective for me & my husband. We are both very satisfied with the treatment, the doctors who are professional in their work & the staff who are kind, friendly & always cooperative & supportive with regard to our queries. Thank you Onep Team👍🏻👍🏻
We did Hy-Fu and Hair Mesotheraphy both…
We did Hy-Fu and Hair Mesotheraphy both worked incredibly. Special thanks for amazing work
Very good clinic I would defo recommend
I got the nano steam cell facial treatment, eyebrow lift and laser because i was concerned about the redness on my face and the veins. It was definitely good value for money. This clinic is simply the best they all went above and beyond to meet my needs. Everyone is so nice, friendly and welcoming. The hygiene is superb and so clean. I would recommend this place to anyone. I was listened to and I am more then happy with my results. Even the after care is amazing after you have your treatment they don't just leave you you have follow ups to make sure everything is fine. I will always use this clinic from now on. I am absolutely blown away with my transformation and I have definitely got my confidence back so thank you onep for giving me my life back. So so happy. From start to finish professional and clear.
I was very happy with the service and after care
I was very happy with the service and care that I received during my nano stem cell facial treatment .Dr Cenzig and all the staff were very caring and considerate .
Leave your own ONEP CLINIC review
Get a free hair loss report today
Onep Clinic
Background Information
Onep Clinic is Led by Prof. Dr. Onur Erol
The team at Onep Clinic is led by Prof. Dr. Onur Erol. This clinic was founded in 1981 and has a team of experts and cosmetic surgery specialists.
Some of their notable experts are – Prof. Dr.Ege Özgentaş, Dr. Firat Özer, and Op. Dr. Cengi̇z Aşçı. However, we couldn't find information about the number of doctors on their team.
Before and After Pictures
Onep Clinic Turkey Before And After Results
Here's where we got confused. According to Onep's website, the same "ethical rules" that don't allow them to show their price list online, are also responsible for the lack of hair transplant before and after photos – or any other procedure for that matter.
However, during our chat with their team on WhatsApp, we got access to their Instagram page and discovered various videos and photos of cosmetic procedures. Most of the photos looked like stock images and we still couldn't find any hair transplant before and after photos.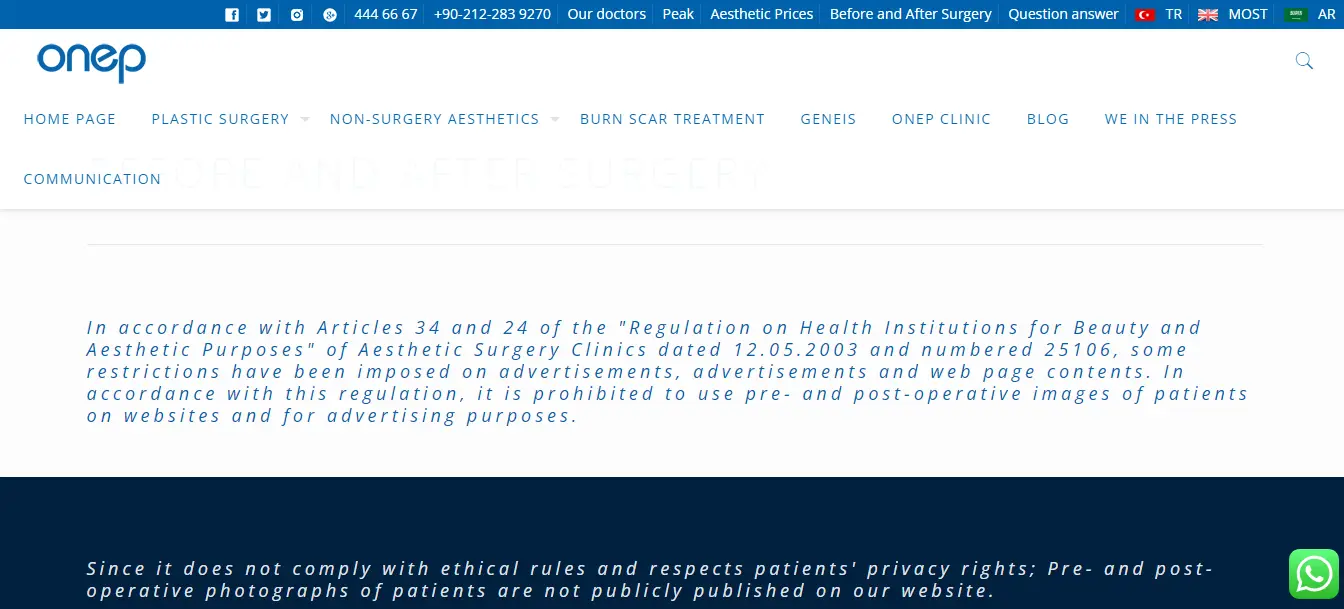 Getting a Hair Transplant in Istanbul Was Never Easier
Onep International Clinic Hair Transplant Procedures
One notable point we discovered during our chat with Onep on WhatsApp was that they ran extensive hormonal and blood tests to determine the cause of hair loss before proceeding to schedule the surgery. As part of their treatment plan, they treat patients with stem cells along with hair transplantation.
We couldn't find further information about their hair transplant treatment plans or procedures.
Onep Clinic hair transplant cost and price - What is included in the hair transplant package?
As we have already established, there was no information concerning Onep International Clinic's hair transplant cost on their website. However, during our chat with the Onep team on WhatsApp, we found out that their hair transplants cost €5000.
This does not cover your flight, accommodation, food, or VIP transfers. You'll have to take care of that yourself.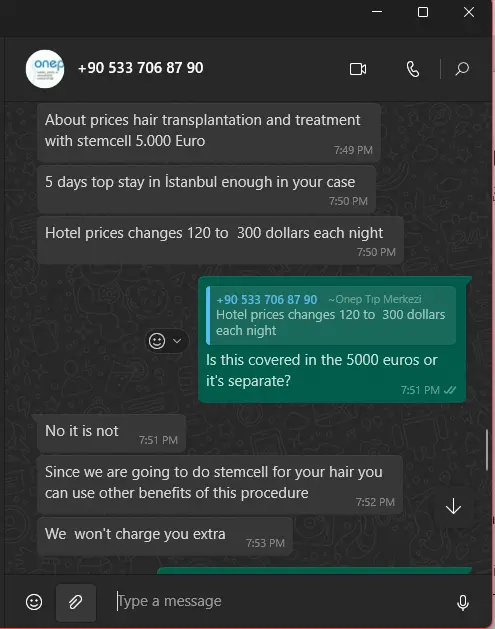 Be the first to grab our all-new e-book
Before you can truly commit to a hair transplant it is important to understand hair loss. Together with the experts at IdealofMeD, we wrote an e-book explaining everything you need to know about hair loss. From hair loss causes to practical tips on how to deal with hair loss and the best hair loss products.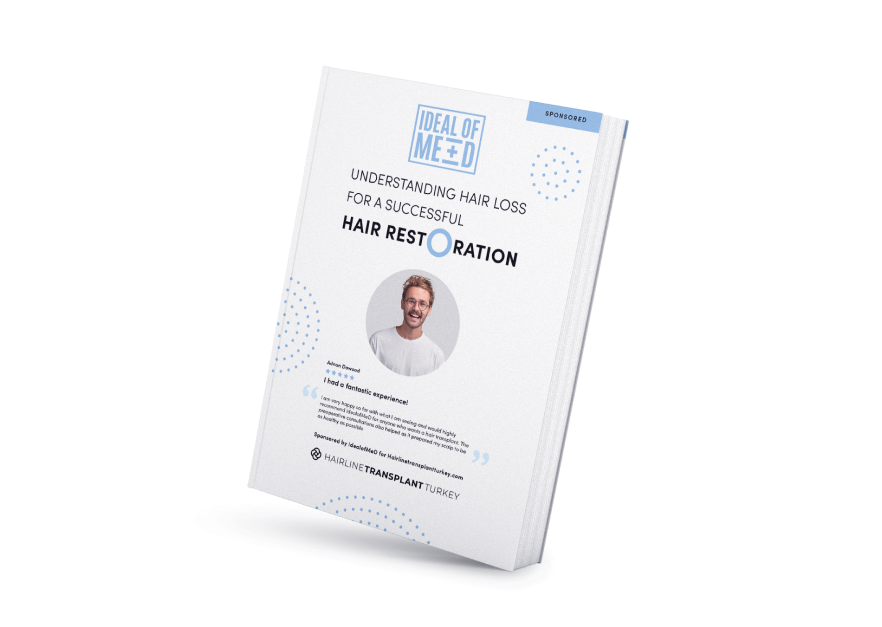 Yes, Onep Clinic is on IG. 
Yes, Onep Istanbul performs surgeries in a hospital.
Yes, they have an A-License.
Contact Hairline Transplant Turkey
Our team of experts are always here to help you. You can call us or fill the contact form for any questions about hair transplantation cost or procedure. We are more than happy to assist you. You can also leave your contact information, and we'll give you a call.
Let us answer your questions